Following our last piece of bespoke tailoring to be analysed in this series –
Ferdinando Caraceni in Milan
– we now turn to the most famous of the Florentine tailors: Liverano & Liverano.
Liverano has received such attention in recent years that this style will be familiar to many.
Its most distinctive features are an extended shoulder, a wide lapel that is cut straight (so it appears to roll outwards) and a relatively high buttoning point. All three combine to give emphasis to the top of the body.
That is reinforced in the lower half, with a shorter jacket than most outside Naples, and quite open, curved fronts (below the waist button).
It's curvy, open but strong.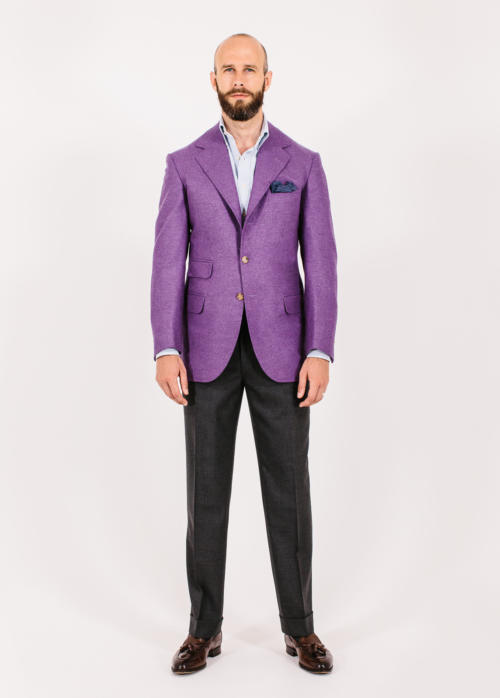 House: Liverano & Liverano
Address: Via Dei Fossi 43R, Florence
Site: liverano.com/en
Cutter: Antonio Liverano
Price of the jacket (at time of writing): €4910
Starting price of a two-piece suit (at time of writing): €5730
The jacket was made and cut for me by Antonio Liverano, during a trunk show in London (though he sadly no longer visits). I then had subsequent fittings in Florence.
I would never, ever have picked this material if Antonio hadn't recommended it. The cloth was dead stock, and something he clearly loved. It is a bright purple woollen, with a pronounced twill.
Others I know have had a similar experience. Antonio has such a passion for cloth, and interest in colour, that they trust him with unusual choices.
In my case, the colour has certainly worked out. I love wearing the jacket, and I've never seen anyone else wear anything like it.
However, it is pretty restrictive. The only way I really like wearing it is with dark-grey trousers, dark-brown shoes, and a blue shirt, either open-necked or with a navy tie.
So not the most versatile piece in the wardrobe, and certainly not something to commission until you're a long way into your sartorial journey. But it's never been a choice I regretted.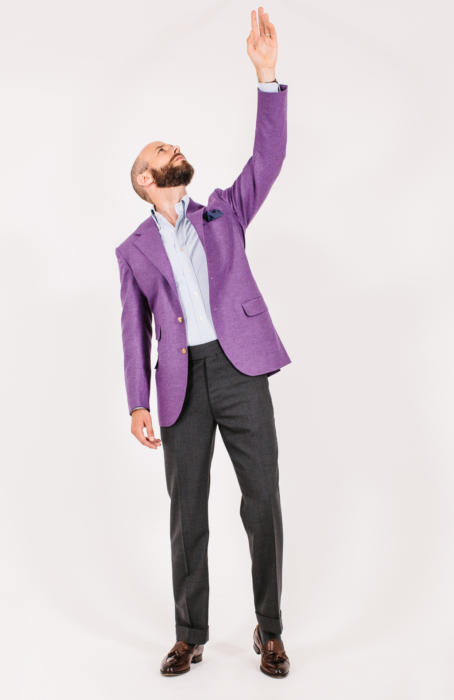 In the front-on image at the top of this post, that distinctive cut with the extended shoulders and wide lapel is plainly evident.
However, the shoulders are actually not as wide as they appear. They measure 6½ inches along the shoulder seam, from where it joins the collar to the end at the sleevehead.
That's the same as my Huntsman jacket, less than my Anderson & Sheppard, and even a tiny bit less than the Caraceni jacket. (As with everything in this series, full measurements are available on those articles.)
I think the Liverano looks wide, however, because of the rather short, wide, square lapels – and because of the second point above, that the jacket is short and the buttoning point high.
In fact, the buttoning point (18 inches from shoulder seam to waist button) is the highest of all of the suits we've looked at in the series.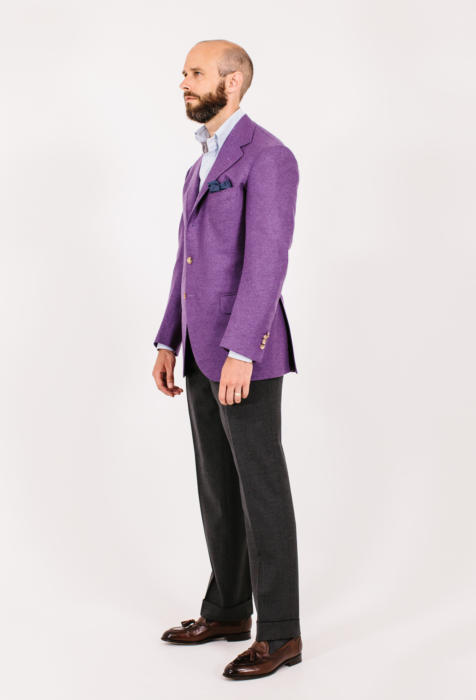 The lapel also looks wider itself because it is so short and square.
It measures 3¾ inches across, which is wide, but the same as both Caraceni and Anderson & Sheppard.
The difference is that the roll only really starts around the top button (see image above), making it shorter. And it's a straight lapel, making it thinner than anything English (which will usually curve inwards).
There's also a very subtle point at work here. The cutter I work with to analyse these suits pointed out that the notch in the lapel is almost a perfect right angle.
This is a small point, but I'm sure it adds to the impression that the shoulder is wide and square (despite actually only having thin padding).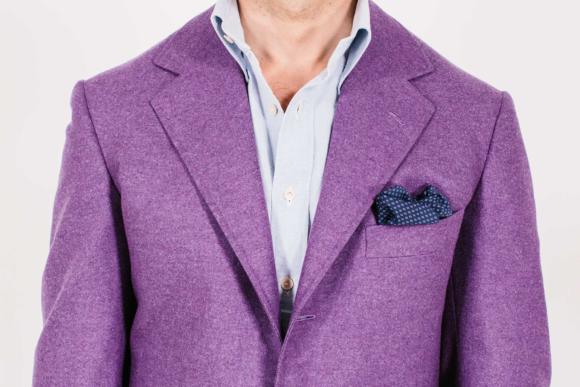 That tailor (who would rather remain anonymous) was also very enthusiastic about the finishing.
Everything is just very precise. That's not an easy thing to communicate about a jacket. It's certainly harder to talk about than Parisian top stitching or buttonholes, for example.
But it's often the kind of thing a tailor will most admire: not more work, but better-executed work. Jettings on pockets that are precise and identical; finishing around internal pockets that is sharp and exact.
That extends, of course, to the making aspect Liverano is best known for: the single dart in the waist of the jacket, which curves forwards into the hip pocket and stops there, leaving everything below clean and seamless.
How easy or useful such a construction is depends on the customer's shape. But it's nearly always harder than using two seams, as every other jacket we've featured in this series has.
It's also something a lot of tailors can do. Panico, for instance, did it on his suit for me just because he thought it was 'more English', even though he wouldn't normally.
Tailors just generally don't because it's harder – and having that lower part of the jacket clean is not seen as a priority.
I entirely understand customers who think it's beautiful, and those that think it's irrelevant.
Elsewhere on the jacket, there is a little drape in the chest, but not much. More than other Italians or French. The armhole is particularly high.
The sleeve and cuff are pretty standard: not as slim as the French or most Neapolitans.
The pockets are interesting. The welt of the outbreast pocket is deeper than most, at 1¼ inches, while the flaps on the hip pockets are small, barely 2 inches. It's hard not to see one more thing that adds weight to the top half of the jacket.
On the finishing, it should also be noted that the seams are top stitched all around the jacket, and the edges swelled by stitching that is a ¼ inch from the edge.
Both give an impression of thickness to the lines of jacket, and casualness that would be more relevant were the cloth not so overpowering.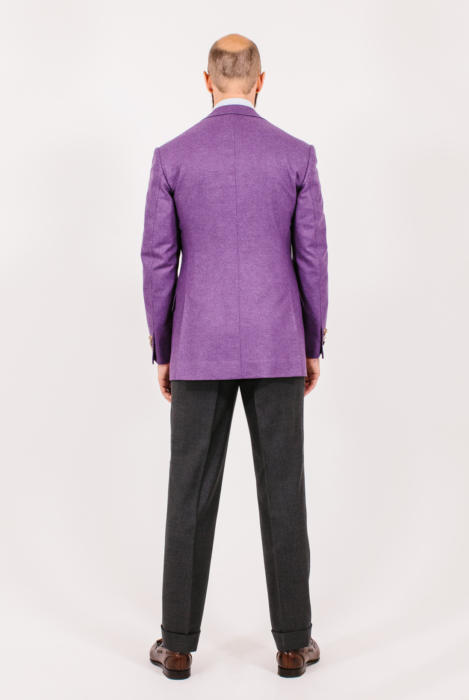 As ever, the articles in this series are not intended to discuss fit, or the images intended to show it accurately.
The chest is a good, clean fit, for example, despite a couple of stray wrinkles in the front-on shots. The pitch is also good, despite what the sleeves might suggest above.
One thing that is true, however, is that those high armholes are catching me, and could have been lower.
The trousers shown with the jacket were not made by Liverano, but by Luxire in Crispaire 337051 (9/10 ounce).
The shirt is made by Luca Avitabile in Permanent Style Oxford fabric, and the spotted silk handkerchief is from Anderson & Sheppard.
The loafers are the Belgravia model from Edward Green, with EG's distinctive burnishing on the toes and heels. The trousers are being held up to better show the loafers off; they're not actually that short.
Style breakdown:
Shoulder width: 6½ inches
Shoulder padding: Thin
Sleevehead: Slight roping
Sleeve: Moderate, regular cuff
Lapel: 3¾ inches
Gorge height: 4¼ inches
Drape: Moderate
Outbreast pocket height: 10 inches
Buttoning point: 18 inches
Waist suppression: Slim
Quarters: Open, cut away from waist button
Length: 31¼ inches
Back seam: Suppressed
Vent height: 9¾ inches
Trouser circumference at knee: 19¾ inches (not made by Liverano)
Trouser circumference at cuff: 15¼ inches
For more articles in this series, see menu at the top right (or below on a mobile device). Also available here.
Photography: Jamie Ferguson