When people talk about an English military cut – the kind of thing that will make you feel like a soldier, stand up straight and give you an air of authority – this is what they mean.
Although other Savile Row houses, such as Dege & Skinner, are similarly padded and sharp, Huntsman is the best known for this style.
Huntsman also has a reputation for being the most expensive, although they are actually cheaper now than Richard Anderson and the likes of Chittleborough & Morgan, though still more than Poole or A&S. (See posts at those links.)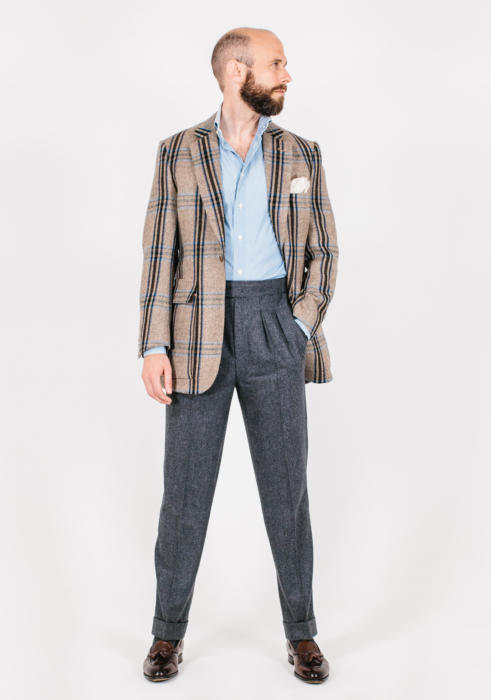 House: Huntsman
Address: 11 Savile Row, London

Site: www.huntsmansavilerow.com
Cutter: David Ward

Price (at time of writing): £5230 (incl VAT)
Suit starting price: £5950 (incl VAT)
The structured, military style is most obvious in the shoulder line. Although this tweed jacket (made for me in 2010) has a moderate pad at the end closest to the neck, it rapidly increases in thickness as it approaches the shoulder.
This is done by adding extra wadding at the shoulder end (rather than, for example, using a thicker shoulder pad and stripping it down closer to the neck).
The effect is to give me squarer shoulders than the rather sloping ones I have naturally. It creates an impression of strength, although as mentioned previously I generally prefer a wider shoulder to a thicker one as a means to achieve this look.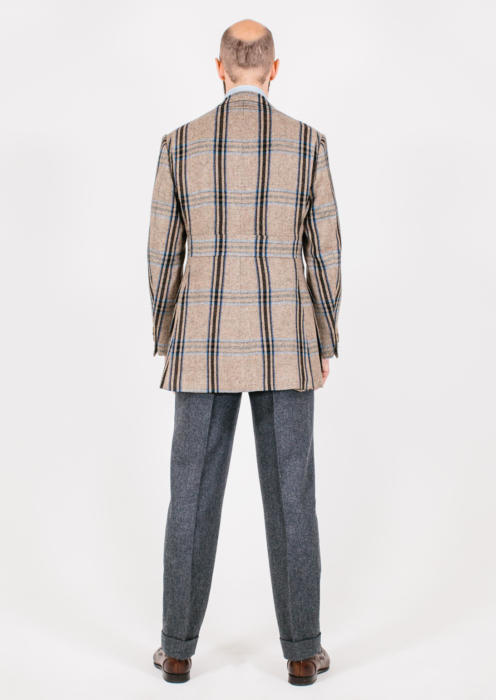 Arguably, the cut is more suited to a business suit or tuxedo: something where the core aim is to make a strong impression.
A tweed jacket would be more versatile in a soft cut from Italy, or in England in a drape cut from Anderson & Sheppard or Steven Hitchcock. It would then be a more suitable partner for jeans or cotton trousers.
However, I still love wearing this jacket – it's use is just a little narrower (similarly to my cotton Caraceni).
I made many errors when I first started commissioning bespoke clothes. As one reader frequently comments, a benefit of this website is helping him avoid the same mistakes.
Indeed I originally made this tweed into not only a jacket, but a waistcoat and plus-fours: a full shooting suit. The romance of it, particularly in a place like Huntsman, was overwhelming.
The waistcoat still sees use, particularly on its own with jeans and an oxford button-down, but the plus fours rarely do. (Other than the occasional Tweed Run.)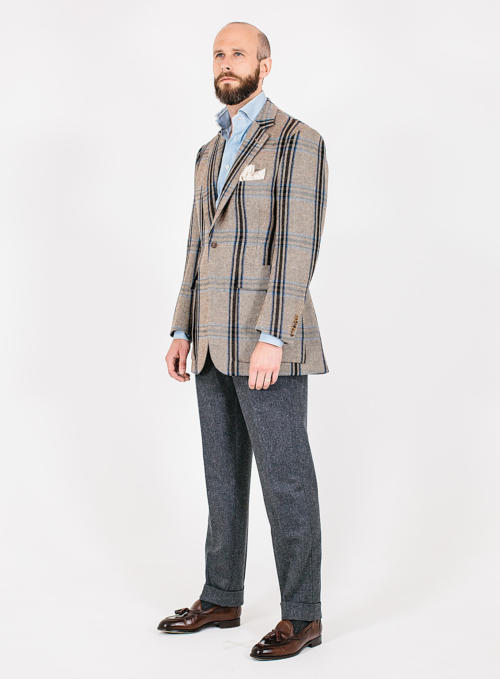 So what else characterises this strong cut?
Well the structure in the chest is pretty standard for Savile Row: three layers of canvas, horsehair and domette. But the jacket is long: 33 inches, compared to 31¼ from Anderson & Sheppard and 32¼ from Richard Anderson.
This creates the impression of a long skirt – the bottom half of the jacket – given the relatively high buttoning point (18¼ inches from the neck, compared to 20 inches in both the other two).
So a strong shoulder, short chest, and then a long skirt – the latter also accentuated by the classic-Huntsman single-button fastening.
While most modern tailoring styles originate in British riding clothing, it is particularly easy to see those origins here. That single, high button would have made it much easier for the jacket to remain fastened when its wearer was on horseback.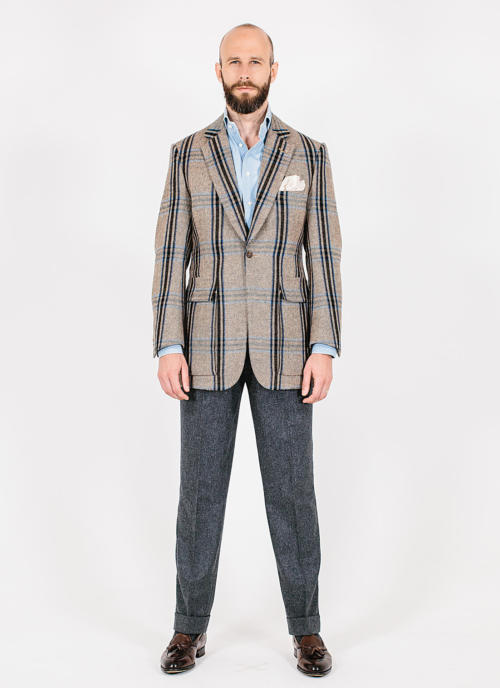 The jacket has a relatively wide shoulder for me, at 6½ inches, finishing in only subtle roping.
The lapel is interesting. It is quite narrow (3⅜ inches), with a lot of belly at the bottom before straightening towards the top.
That top comes relatively far down, with the gorge low at 4 inches from the shoulder seam. Overall, this means the lapel is a little short and stocky – the opposite of the straight lapels (which appear convex) favoured by Florentine tailors.
It's probably the style aspect of the jacket that I like least.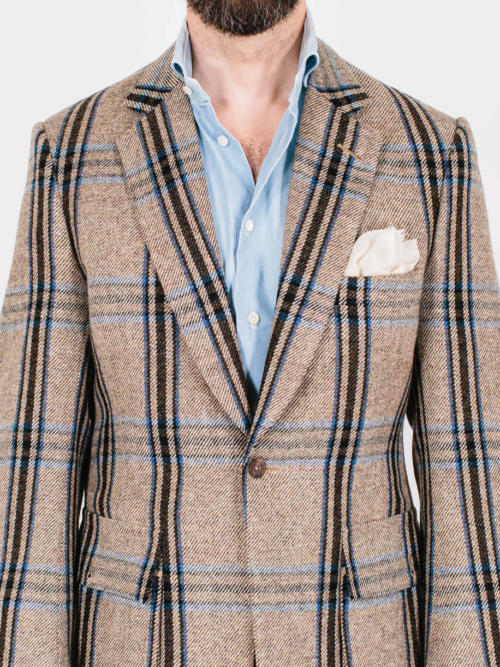 I think the style as a sports jacket, by the way, works here because the trousers (grey flannel) are quite formal and cut high.
They are actually taken from my Panico suit (review coming soon) and have an extra element of formality derived from their double, forward-facing pleats.
The shirt is made in our Everyday Denim cloth (which rather suits the texture of both tweed jacket and flannel trouser) but has a high, cutaway collar that makes it a touch sharper.
The shoes are my tasselled Belgravia loafers from Edward Green. The cream-cashmere handkerchief is from Anderson & Sheppard Haberdashery.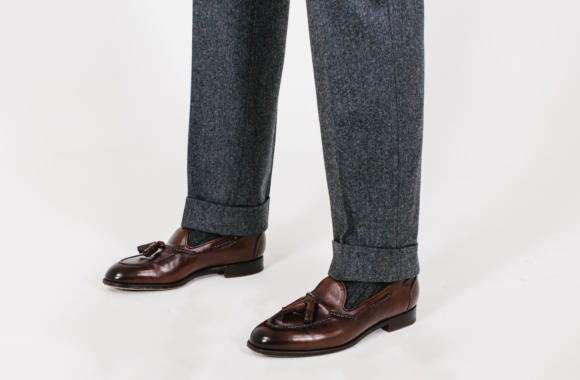 Elsewhere in our style breakdown, the Huntsman jacket has a fairly standard sleeve – finishing in an 11-inch cuff – and a deep vent at 10½ inches.
It is very waisted, coming in sharply just below my rib cage, and has a lot of shape through the lower back as well.
The foreparts (below the waist button) are quite closed, and the outbreast pocket is lower than average at 10¾ inches from the shoulder. There is a little drape in the chest, but not much.
(For an explanation of some of these technical points, as well as an introduction to the series, see our initial post here.)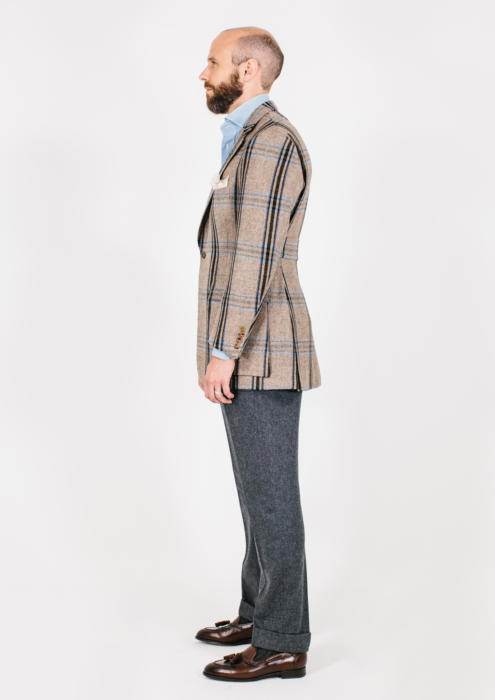 Being a hunting jacket, it also has a few style details that can't be compared to other jackets.
These include large, square patch pockets, a half belt at the back, and an 'action' or bi-swing back. This uses a pleat on either side of the upper back to enable greater movement of the arms (in theory, to lift and swing one's gun).
As mentioned when I first had this jacket made, I had a few issues with the cutter David Ward (now no longer at Huntsman), particularly around the checks matching.
But having discussed these with David recently, I think they were largely down to miscommunication. The cut elsewhere was very good.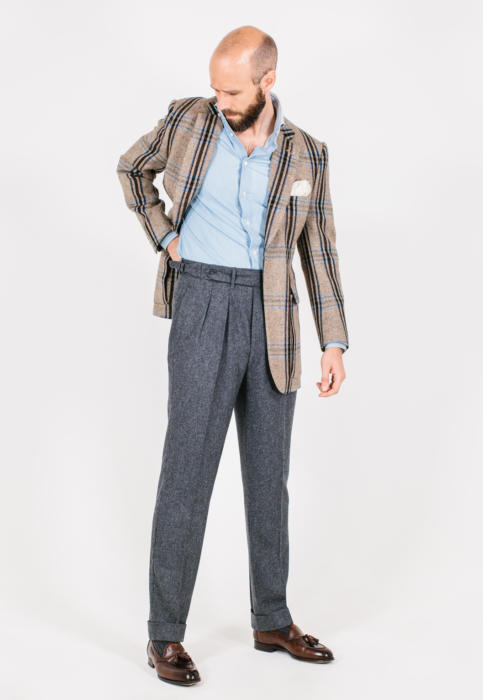 Style breakdown
Shoulder width: 6½ inches

Shoulder padding: Large

Sleevehead: Moderate roping

Sleeve: Tailored, standard cuff

Lapel: 3⅜ inches, belly

Gorge height: 4 inches

Drape: Small

Outbreast pocket height: 10¾ inches

Buttoning point: High, 18¼ inches from neck point

Waist suppression: Slim

Quarters: Closed

Length: 33 inches

Back seam: Suppressed

Vent height: 10½ inches

Trouser width at knee: 20 inches (Trousers from Panico, not Huntsman)

Trouser width at cuff: 15½ inches
Photography: Jamie Ferguson @jkf_man