One of the less-discussed sides of Pitti Uomo is the number of tailors that set up in a hotel or appartment at the same time as the fair, in order to see customers.
Although most visitors to Pitti are buyers from around the world, those buyers are often good bespoke customers - and sometimes, as with the Japanese for example, it's the only time of the year they are in Europe.
Sartoria Panico and shirtmaker Anna Matuozzo set up in Hotel Minerva, on one corner of Piazza Santa Maria Novella - a nice location and only a few minutes walk from the fair.
I had my second fitting there with Antonio Panico (above), on the mid-grey flannel suit we are making (and had been fitted once already in Naples).
The suit is progressing nicely, with only a couple of small tweaks required at this stage. A nip in at the waist and a bit of ironwork around one shoulder blade.
The feeling I had is very similar to that discussed on my recent Sartoria Ciardi suit - of being in good hands, and of the fit and pattern being good from the very start.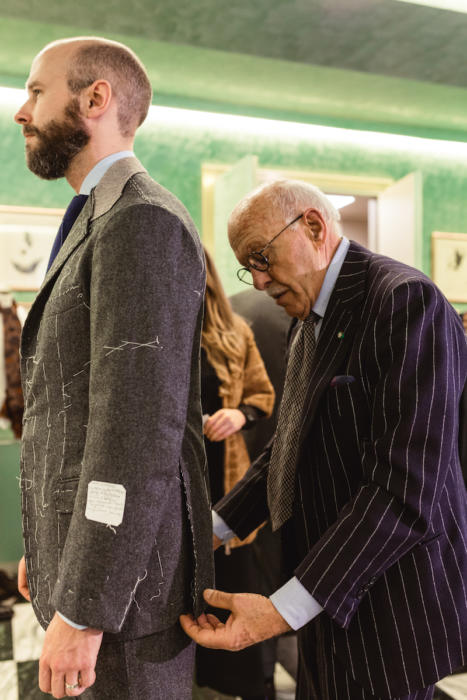 The shape is pleasing, the back clean but with still enough room to move, and the collar nice and flush on the neck.
Look at the number of stitches on the collar, by the way (below).
Although it's debatable how much difference this makes to a jacket, it is more stitching than most Neapolitans, and certainly shows you how much work is going into the suit.
Incidentally, I decided to make two pairs of trousers with this suit, one high-waisted and one low.
Although I generally don't wear high-waisted trousers with braces (see my logic here), I do recognise how flattering they can be, and I thought grey flannel would be a very versatile cloth to experiment with.
Even if I don't end up wearing them with this suit, I will wear them elsewhere (eg with shorter casual jackets perhaps - such as my Gieves bespoke leather).
I'm also trying double forward-facing pleats for the first time.
Although I don't like the look quite as much as backward-facing ones, they may well be more practical on me given how much my seat and thighs pull at the cloth.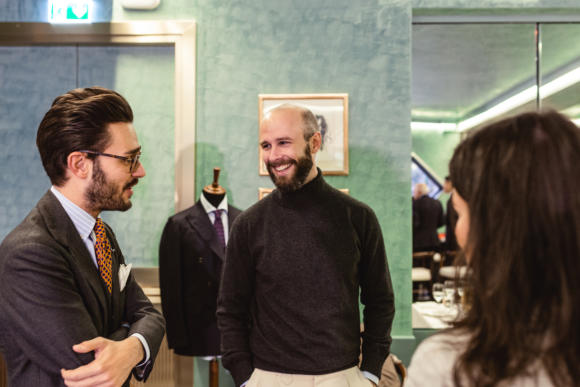 Looking back on these photos now, I remember how exhausted I was after a long day of rushing around Florence - and yet how comfortable in my cream trousers and roll neck.
I think it's another point in favour of the roll neck, as a very smart, sartorial piece in the wardrobe, that is also extremely comfortable and therefore good for travel or long days of walking.
The charcoal roll neck, by the way, is from Drake's, and the trousers are from Pommella in the ecru Fox cloth that they re-wove recently (still a waiting list being operated for that, here).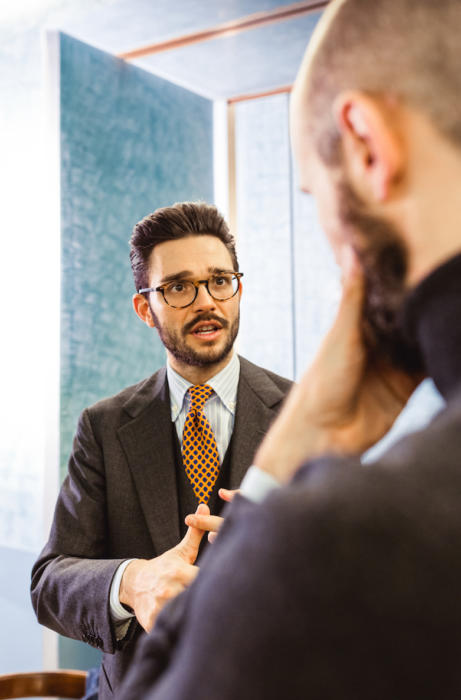 Pictured with me is Simone Ubertino Rosso from Vitale Barberis Canonico (above).
Simone is always a great ambassador for VBC cloth - here in his charcoal worsted, blue/white striped shirt and bright orange tie with a small geometric design.
The always enthusiastic Francesco Vitale Barberis (below) was there with Simone, being measured for a Panico suit. He went for a more widely striped blue/white shirt.
Elsewhere Panico had on display a few more unusual bespoke designs they offer (something so few tailors do well).
These included a raincoat and a flannel hunting jacket.
The full review of the Panico suit should be ready will be in a month or so.
Photography: Milad Abedi @milad_abedi (below)