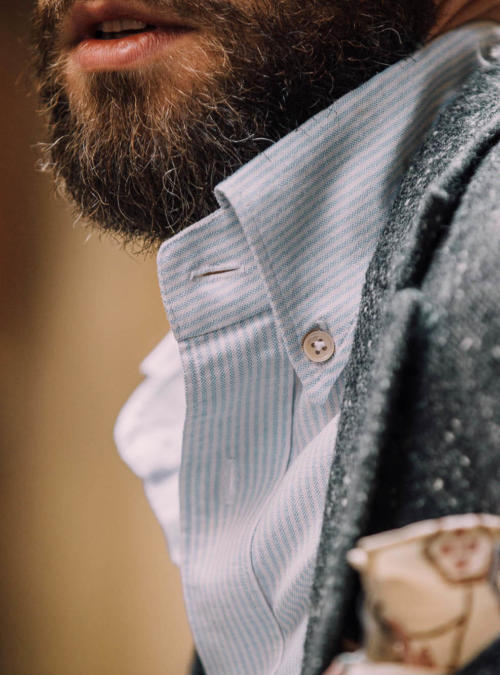 The traditional, nubby oxford fabric we developed last year has proved so popular that we've decided to introduce another option.
It's a little unusual in another way though, beyond the robust, textured yarn. It's an off-white and blue stripe, rather than blue and white.
The difference is very subtle. Few people would notice without it being pointed out. But using this warm, creamy colour rather than a cold white does have a real effect.
A shirt made up in the fabric looks more casual, perhaps a little vintage: rather like using yellowed mother-of-pearl for the buttons on the ready-made shirts.
Most brands offer blue/white stripes because they are smarter and more corporate. Nothing wrong with that.
But this PS Oxford shirting is not meant to be formal or corporate. It's supposed to be more traditional, rugged and robust - a better match for jeans and tweed than a sharp suit.
And as ever with the products on Permanent Style, it's nice to do something a little different. Something that you can't find from a dozen other brands, and fills a gap in the bespoke market.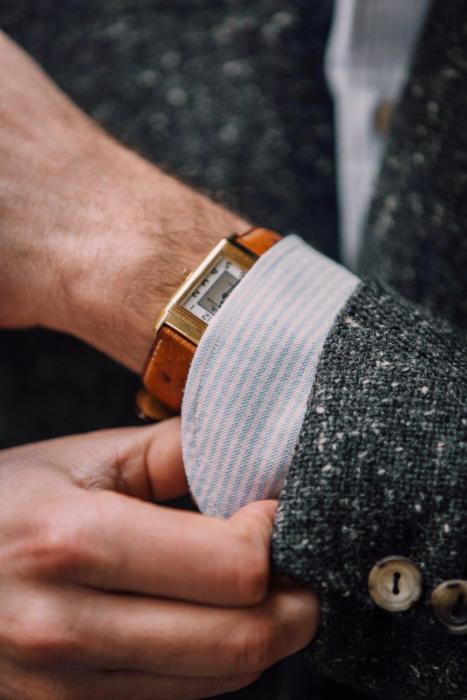 This blue/cream stripe uses the same yarn as the popular PS Oxford cloth introduced last year.
So it has a relatively thick yarn in the weft (1/10) but a finer one in the warp (2/90).
The thicker weft makes it tougher, and wear in beautifully - like the vintage oxfords that inspired it - but the finer warp retains a touch of luxury.
Oxfords with anything near that thickness aren't available as cut lengths for bespoke customers, which sets the cloth clearly apart. But even RTW shirts rarely use single-ply yarn in the weft.
The result is a shirting that reproduces the look and feel of oxford shirts sold by Brooks Brothers and others in the 1950s and 1960s, including the nubby surface that comes from the varied thickness of the short-staple cotton.
You can read more about the development of the fabric, and the research with Italian mill Canclini, in the first post on the plain-blue oxford cloth here.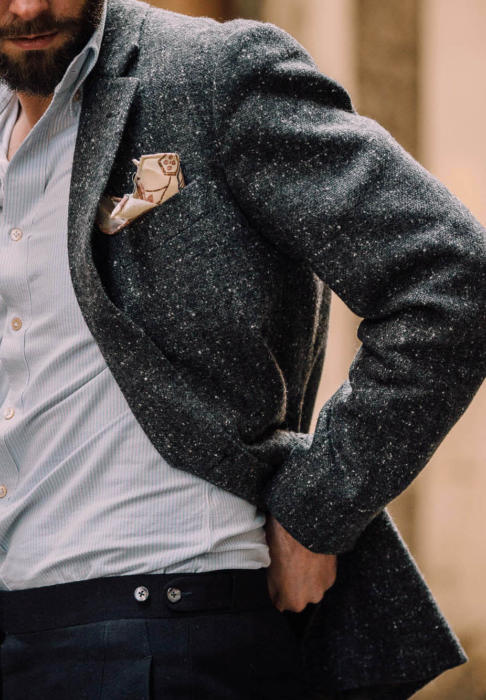 Since I've had this blue/cream stripe, I've found that it also works with a serge trouser and structured donegal, as pictured.
This is very useful. It means I can chuck on the shirt with jeans at the weekend, but also wear it with sports jackets. And given I rarely wear worsted suits these days, it also makes it perfect for travel.
When I went to Milano Unica this week, I travelled in this striped-oxford shirt and had a plain blue in my bag. I wore jeans and a sweater on the plane, changed into flannels and a tie for dinner, and wore the plain blue the next day open-necked with a jacket.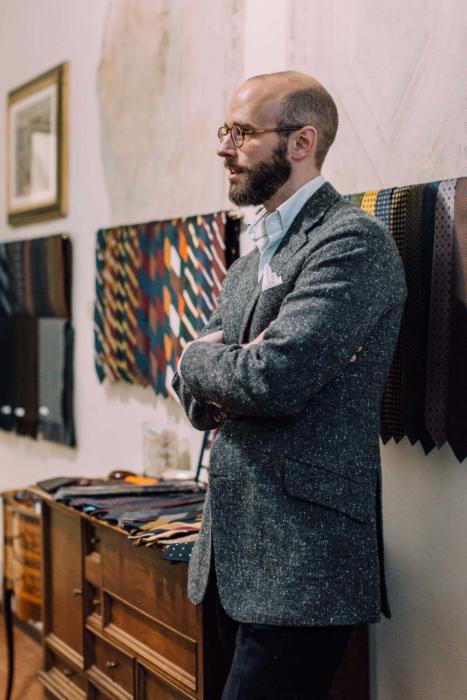 There will be ready-made shirts in this cloth available later in the year, made up by Luca Avitabile.
For now, the cloth is available in the normal 2m lengths, to have made up by a shirtmaker.
If you want it sent directly to a maker, please put them down as the delivery address, including your own name as a reference. Then drop them a note so they know to expect it.
Other details:
Yarn: 1/10 x 2/90

Composition: 100% cotton

Weight: 250g/metre

Cut length: 2m x 1.5m

Fabric pre-washed and should not shrink

Price £55 plus VAT

Available

now on the shop site, her

e
Full information on the PS Oxford cloth and its journey here.
Below, a comparison of the cloth (top) to a normal blue/white stripe (below).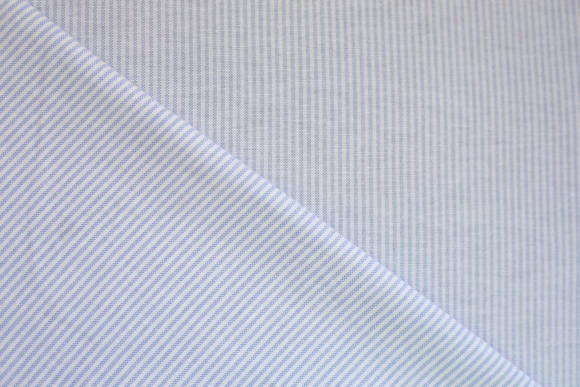 Other items shown:
Photography: Jamie Ferguson @jkf_man