Charcoal donegal-tweed jacket – from Steven Hitchcock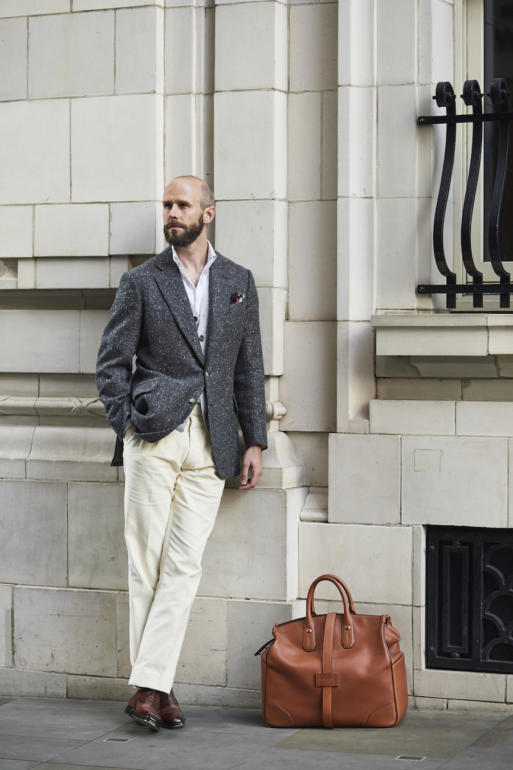 Charcoal is a surprisingly useful colour in an odd jacket.
Great with muted tones of tan, green or brown, it's also dark enough to go with lighter grey flannels.
And charcoal is my favourite colour to wear with cream trousers. It tends to tone down their brightness, where navy seems to emphasise it.
I've mostly done that with knitwear in recent years - as in my rollneck here.
But I commissioned this donegal jacket from Steven Hitchcock with the idea of doing the same with a jacket.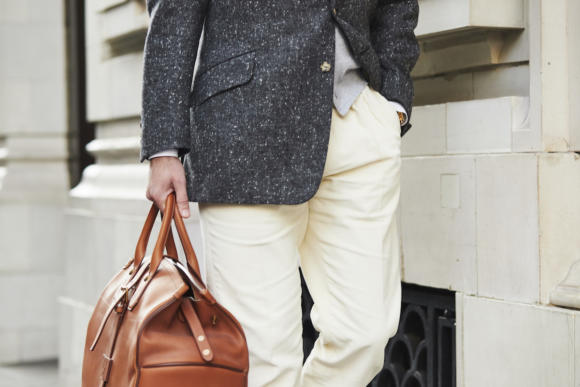 Of course, as a sports jacket it needs some kind of texture, and regular readers will know that I tend to stay away from strong patterns like checks.
Instead I prefer herringbones and other prominent weaves in smart jackets. And in casual tweed ones, as here, I like the flecked pattern of Donegal or the multi-coloured yarns of Harris.
My brown Dalcuore suit is another good example of a Donegal, while my Caliendo jacket shows the appeal of Harris tweed.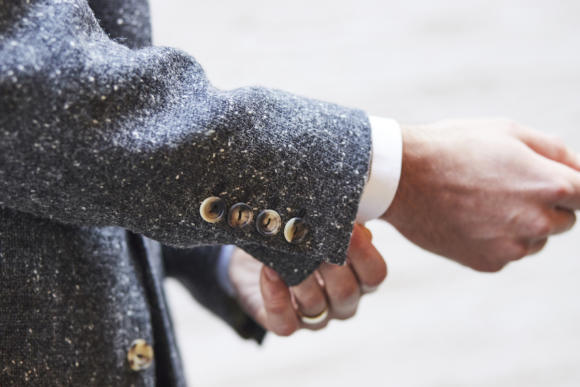 This charcoal Donegal is from W Bill (WB34614) and is heavy at 15.5 ounces (440g).
It's similar to my Caliendo in that regard, and as a result is really outerwear - not to be worn around the office, but in transitional seasons like we have at the moment, instead of a coat.
It could of course also go under a coat if needed, or indeed be layered with knitwear or a scarf to make it a little warmer.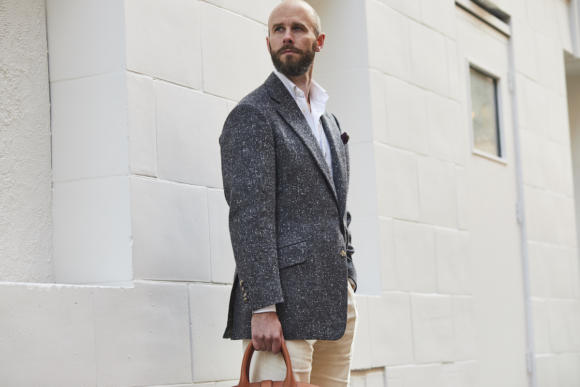 A reader actually asked in a comment recently what he should wear when the weather is so variable.
I generally find that if you have two weights of jacket (like that Dalcuore and this Hitchcock) and have the option of adding knitwear or a scarf, you can cope with most of these temperatures.
And if the day starts cold but warms up, you can take off the knitwear and scarf and put them in your bag.
Here, I'm wearing a thin but long-sleeved cardigan from Brunello Cucinelli under the jacket.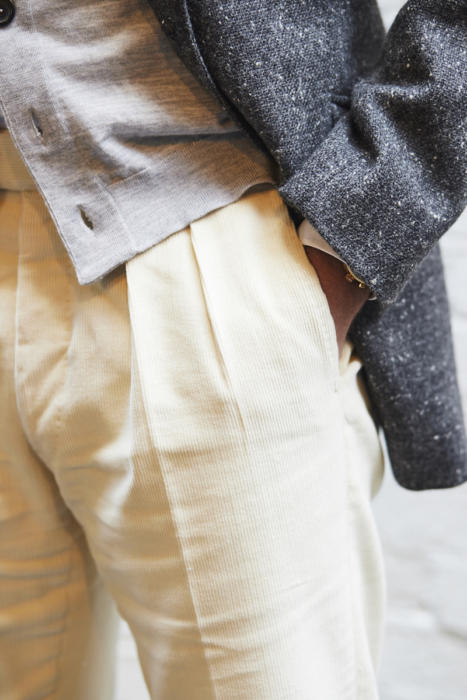 In terms of colours, I like the tonal play of the white shirt, pale-grey cardigan, charcoal jacket and cream trousers.
The only downside to the combination is that without the jacket, the rest is rather pale. Darker knitwear (perhaps a muted green like the Finest Knitwear shade) would be a good substitute.
The shirt is a white-twill button-down from Luca Avitabile, and the trousers are cream cords from Pommella.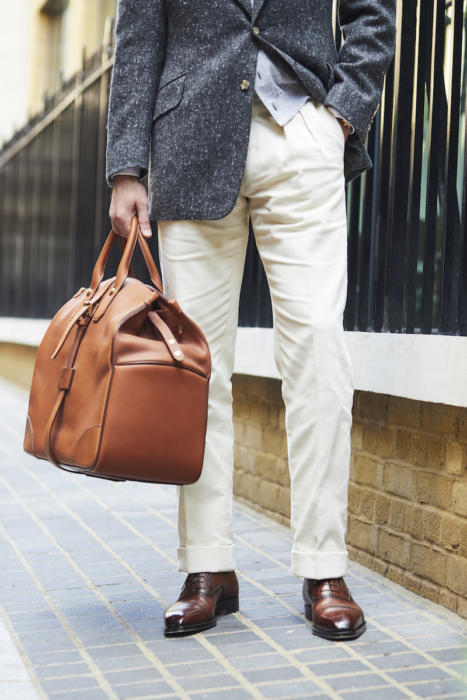 Gianluca at Pommella made me the cords over the summer.
It wasn't easy finding a nice cream shade - even Brisbane Moss, with its multiple cord bunches, only had one in cream (T1 1699, 315g).
There were several whites, but white in trousers is usually too stark and not as elegant as cream (linen in summer is the only time I'd wear it).
Being cotton, the corduroy wrinkles a fair bit, and is rather more casual than something like my cavalry-twill trousers in Fox Brothers wool (also made by Pommella).
But then the cords will also be a little more versatile and easy to wear casually with knitwear and so on.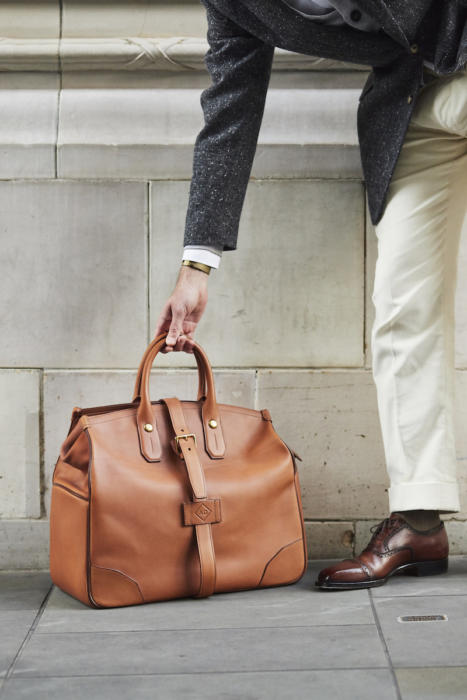 The shoes are my modern-Russian bespoke pair from Stefano Bemer that I covered here.
And the bag is one from last season from Dunhill. As readers will know, I have a big weakness for Dunhill's top line of leather goods, currently known as the Duke range.
It used to all be made in Walthamstow, but most are now made in Italy to the same hand-sewn level - just in softer leathers than the bridle usually used in the UK.
The bag is big, somewhere between a doctor's case and a weekender, but given the amount of clothing I carry back and forward to the office (plus food and gym kit) I'll use it all.
The only issue is weight, given it's all leather. This wouldn't make it great for travel, but on a commute where walks are always fairly short, it's fine.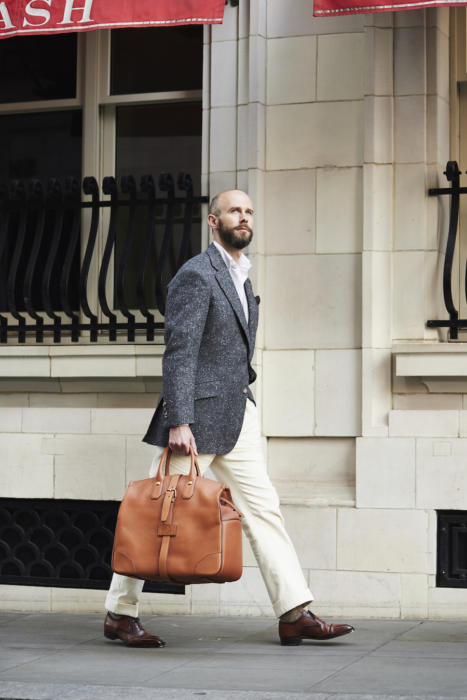 Returning to the jacket, this is the third piece I've commissioned from Steven Hitchcock over the past few years, and if anything they've just been getting better.
I've always liked the drape style for its broader shoulders and flattering chest, but Steven has also refined it, making some aspects (such as lapel line) a little sharper.
He also doesn't normally put the canvas on the bias now, which was a traditional technique to give more stretch, but could prevent the bottom half of the jacket being quite as sharp.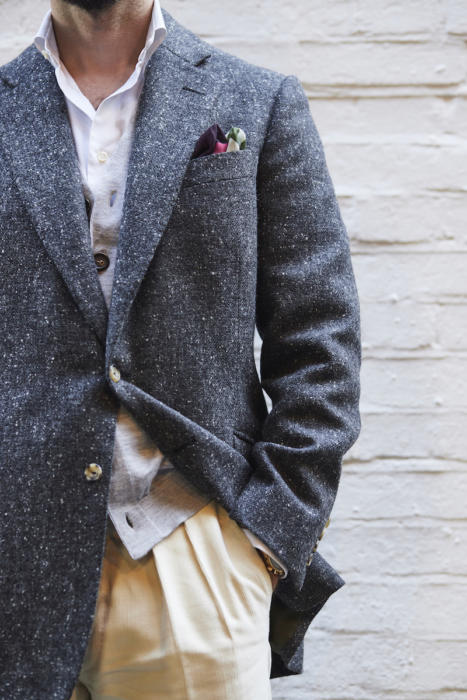 Steven is also always working with consistent coatmakers now, and still cutting everything himself - something he recognises is a limit to growth, but wants to maintain.
He has also added San Francisco to his US trips, and will be there on October 23rd and 24th - after New York, Washington and LA in preceding days.
Details on our Trunk Show Calendar, as always. Suits start at £3600 plus VAT.
Pocket square from Christian Kimber.