The outfit I wore to present our Retailers Symposium last week was a donegal suit made by Dalcuore.
I've liked the idea of a tweed suit for while - taking something so rural (as my mother would say, so 'Farmer Giles') and subverting its connotations with a Neapolitan make, a slimmer fit, a denim shirt, a dressy shoe etc.
The problem is that most tweeds are soft and spongy, without the crispness to work as a trouser.
And I fervently dislike the worsted tweeds that take away all the texture of tweed and leave only its hunting colours - greens, browns and windowpane checks.
This Drapers donegal works, just about. It's still not the hardest of trouser materials, but it's no worse than a light woollen flannel, say.
It comes in more versatile greys and charcoals, but the aim here was to make a country suit and drag it into the city, so I went with a brown.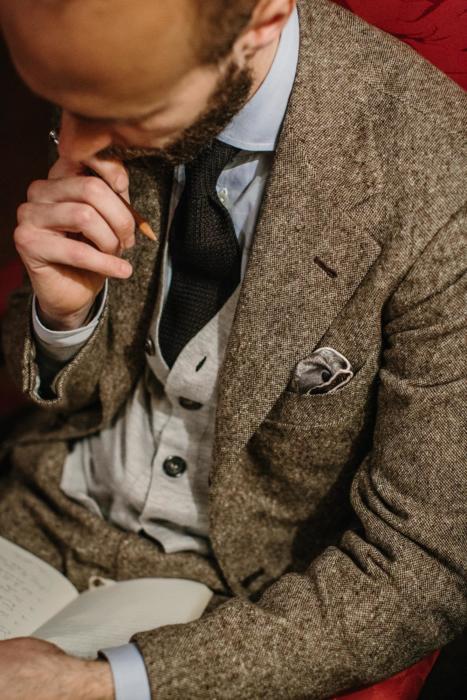 The black grenadine tie is darker and sharper than anything that would normally be worn with such a suit.
The shirt, too, is a standard, business, plain-blue poplin, rather than a brushed cotton, Tattersall check or something more countrified.
The pale-grey cardigan (which I particularly like as a colour against this brown and black) is a fine, dressy cashmere.
And finally the boots are fine, thin-welted, highly polished Edward Greens.
A nice brown in town.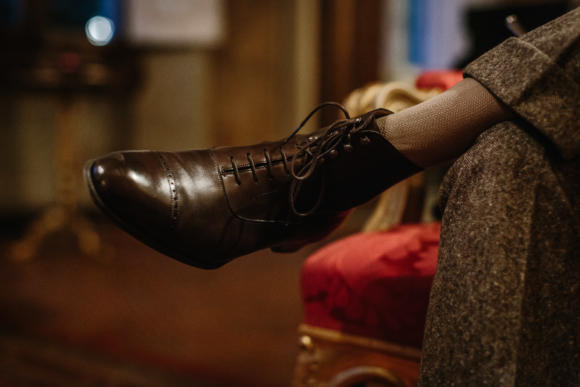 The suit itself was a good fit, particularly given we had only one fitting in London in order to get it ready for the event.
But unfortunately there were a few simple mistakes with the trousers - side tabs that didn't work, French keeper set to a different waist measurement, waist itself a little too big.
Issues like this are something you come to expect from most Neapolitan tailors, unfortunately. The English and French are much more consistent (and generally across nationalities you get more reliability the more you pay).
The jacket, the harder bit to get right, was spot on, with just a little more shape required in the waist.
Photography: Jamie Ferguson @jkf_man