Pommella bespoke trousers – Review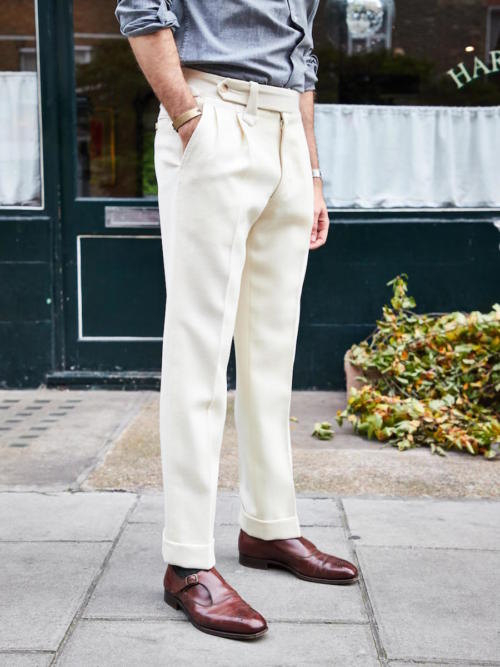 Lino Pommella recently became the latest entrant into a group of travelling, Neapolitan trouser makers - a path forged, of course, by Salvatore Ambrosi.
The other notable one is Cerrato, whom we have covered elsewhere but who only currently travels to London.
Ambrosi travels the world, and Pommella currently visits London, New York, Tokyo and Osaka.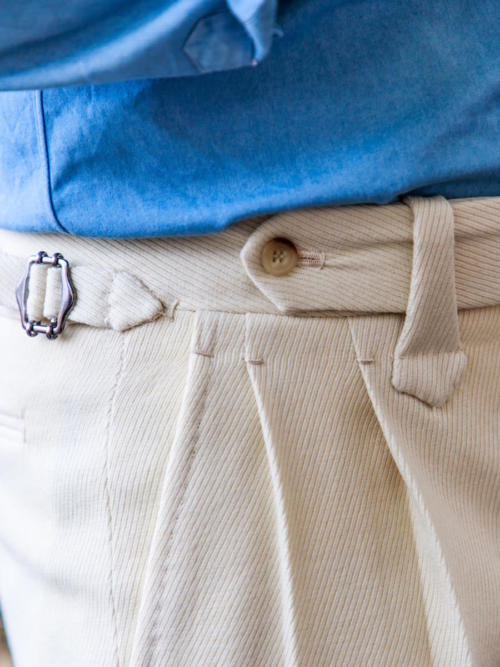 There isn't that much to separate these trouser makers in terms of finished product.
All use extensive hand finishing, with scatterings of bar tacks, pick stitching up the outside seams and so on.
Indeed, this finishing is the thing that largely separates them from the Neapolitan tailors that they also often make for.
The tailors don't tend to offer such finishing, believing (perhaps rightly) that the jacket is more important.
Those tailors can, however, often offer such finishing if requested - and it's one way to access trousers such as these if a maker doesn't currently travel to your city.
It's something I did with my Pirozzi cord suit, which had trousers made by Cerrato.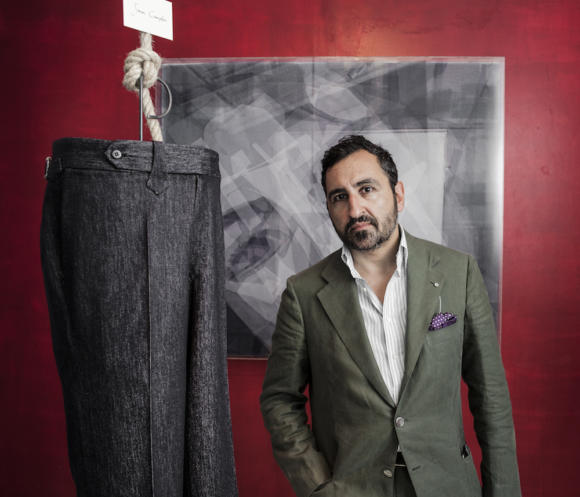 Lino Pommella worked as a trouser cutter at Rubinacci for 10 years, and his father was also a trouser maker. He does not come from an independent house like Ambrosi or Cerrato, therefore, but it is still a family business.
He also has one significant asset in Gianluca Migliarotti (above).
The lovely and talented Gianluca is best known as the filmmaker behind O'Mast and I Colori di Antonio, documentaries about Neapolitan tailoring and Antonio Liverano respectively.
But he is also an investor in, and marketing force behind, Pommella.
His rich style has led to a lot of developments with Pommella so far - in particular the designs that myself, Mark Cho and Antonio Ciongoli made for a display at Pitti in the summer (pictures below).
Mark's design is even planned to become a ready-to-wear style for The Armoury.
As I have often said when describing artisans such as Lino, they have a tendency to underestimate the importance of style - and it was always a part of the attraction with Ambrosi.
Gianluca's involvement is a big plus, therefore, whether present at customer appointments or simply guiding behind the scenes.
Lino made two pairs of trousers for me earlier in the year - one in green linen, the other in vintage Fox Brothers wool.
The latter material was one we featured in our pop-up shop in the Spring, part of a series of vintage bolts that Fox brought up and sold in the shop. It is therefore not currently available (although they are looking at reweaving it).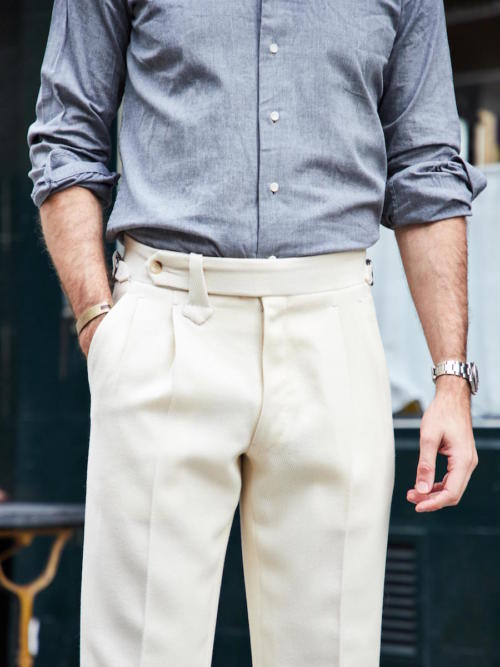 The trousers were, overall, very good.
The fit was spot on, after just one fitting in London. Perfect in the waist and through the seat, with a nice line down to the cuffed hem.
As ever, I warn against concluding anything as regards fit from the photography. I could spend 20 minutes arranging them so they look perfect, but that seems disingenuous. Fit is something readers largely have to take my word on.
What you can see, and is interesting to me, is that there is a subtle difference in the leg line that Pommella naturally cuts, as opposed to Cerrato or Ambrosi.
These trousers actively narrow from the middle of the thigh down to the knee, before running straight to the bottom.
This creates the impression of a rather narrow leg, with even a slight kick in the ankle.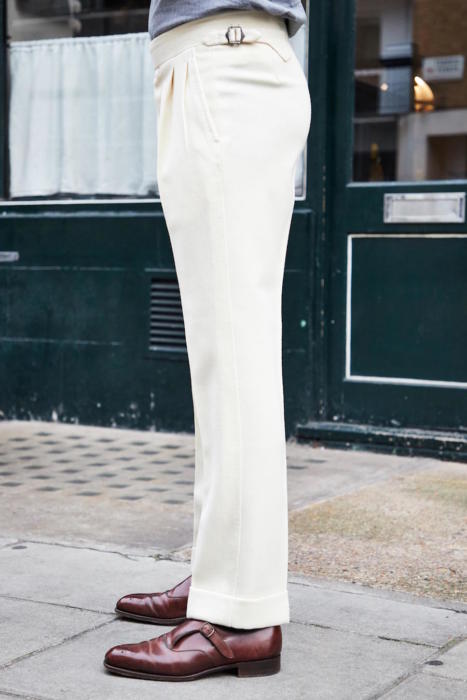 When we profiled Marco Cerrato in his Naples atelier in the summer, he said that he tends to prefer a roomier leg, so narrowing less sharply at the knee, but tapering consistently from the seat to the bottom. To an extent you can see this on my review of his trousers here.
Ambrosi's styles vary far more, but on balance I'd say he sits in between these two.
I should also emphasise that this is merely how Lino would cut the trouser if not directed at all by the customer.
Any line is possible, and most would request taking in or out, tapering more or less, at the fitting stage. I deliberately made no requirements there.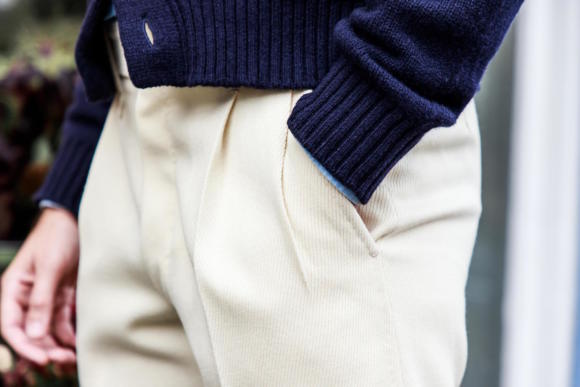 Readers have also noted that these trousers have pleats, which I usually avoid.
This was the result of a direct challenge to Lino.
I described to him and Gianluca the issues I normally have with pleats, with them largely opening and staying open in any cloth, due to the size of my thighs and seat, and a low rise.
Lino said he was sure he could make pleats that didn't have this problem (several others have said the same, and failed) by deepening the pleat, putting in more material underneath.
The result is very good. Better than any other tailor has achieved. I still don't generally like pleats except on high-waisted trousers, but as a technical point this was impressive.
It's also worth emphasising that the Pommella trousers were exactly what I ordered - right cloth, right design - and the quality is good, with no buttons or anything else coming loose.
Given the issues previously with Ambrosi and some other Neapolitans, this is more important than it should be.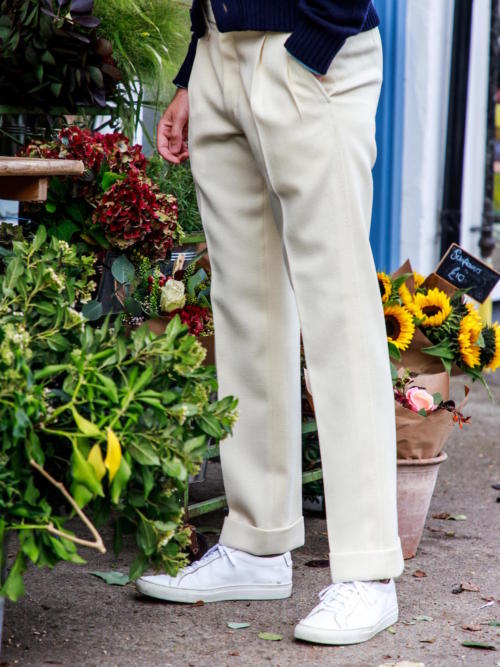 The only issue we had with the trousers was that a 4cm canvas was used in the 5cm waistband.
This means that the top of the waistband collapses slightly, as you can see in the images.
It's an issue we've covered before. Canvas for waistbands comes in standard 4cm-width strips, so the only options for a tailor on a wider waistband are to still use this, or to find an uncut roll of canvas and cut it to 5cm.
Cerrato does this as standard, and I'm pleased to say Pommella has now changed his practice and does it too. I'll get him to change these trousers at some point.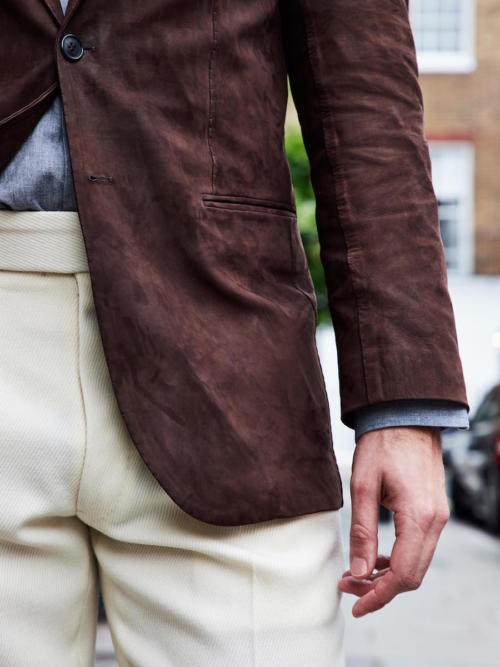 Overall, I can certainly recommend Pommella as a solid option for hand-finished Neapolitan-style trousers.
The product was solid, hecares about his work, and if I didn't have Cerrato visiting London frequently, I would probably start using him.
In terms of price he is more expensive than Cerrato, and a little cheaper than Ambrosi. When Pommella visits The Armoury in New York, bespoke trousers cost $1100 through the shop. In the UK, in trunk shows, they cost €850.
He is now travelling frequently to New York (every two months) and is looking to expand to other US cities. The next trunk show there is November 16-18.
London and Japan are less frequent. The next is Tokyo and Osaka through Strasburgo, December 2-4.
Contact and appointments should be made through [email protected]
Photography: James Munro and Pommella
In the images I am also wearing:
Edward Green Oundle monk-strap shoes
Anderson & Sheppard navy shawl-collar cardigan
Grey Simone Abbarchi brushed-cotton shirt
Sartoria Melina bespoke leather jacket