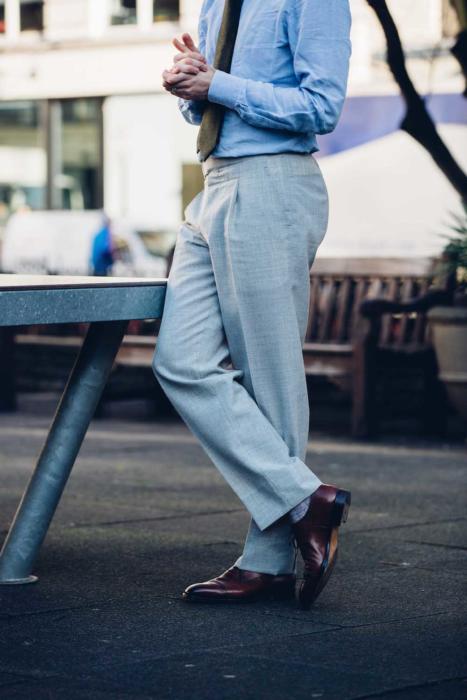 I began the process of having trousers made by Salva (-tore Ambrosi) just over a year ago. Since then I've had two pairs made – in fresco and flannel – and while the quality of the product has been good, the process hasn't.
Salva had problems with delivery when he first became popular; trousers were often late or didn't appear at all. I think it's important to say first that I have had no problems in that regard. My trousers were always delivered when they were meant to be, and at some points were turned around very quickly.
The problems were with consistency. The first finished pair I received fit very well: the waist was perfect, as were the hips and the length. And this is not a usual occurrence – most tailors find it very hard to get the fit right on my seat and thighs the first time.
But the legs were too wide. This might have been a communication problem with inches v centimetres. But they also weren't half lined, as I had requested. And they had brace buttons rather than side tabs.
I returned them, and received the corrected pair when Salva was next in London (dealing with Salva directly throughout – not the Armoury). The brace buttons had been removed, and the legs narrowed. But there still weren't any side tabs, nor a half lining.


An important point here is around communication. It turned out that it wasn't possible to add side tabs, as there was no more of that piece of the cloth left. But Salva didn't mention this until I asked why they weren't there. Customer communication and service like this is something a lot of tailors aren't good at, but I know they lose customers among bespoke newcomers as a result, and that's a real shame.
Salva offered to make a second pair, and these were a lot better. A nice grey flannel, with the right measurements and details. The fit wasn't quite as good – the single pleats that had been suggested opened fully, immediately, and therefore lost any function – but otherwise they were an improvement.
Unfortunately there was still a problem with consistency. I asked for a slightly wider waistband after the fitting, and this wasn't done on the final trousers.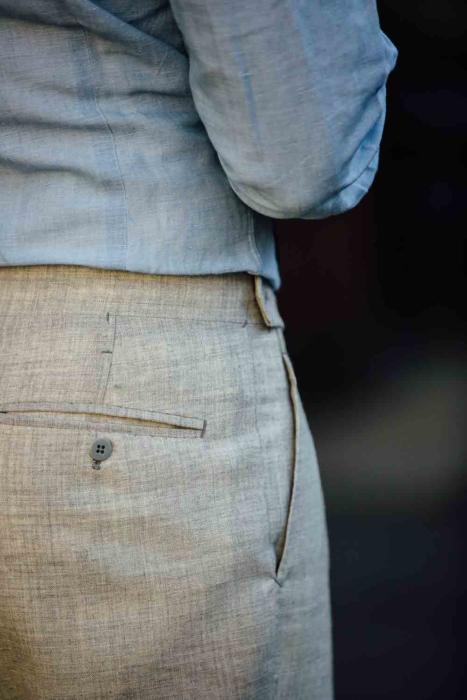 I know a lot of people that have fantastic trousers from Salva. When he gets it right, he nails it, as they say. But it's hard to persist when there is this number of errors – particularly when you live in a city where there are so many alternatives.
Price is also an issue. At around €1000, Salva charges about the same as a Savile Row tailor. And of course he has to travel a lot, which has its own costs.
I have been tempted to spend that amount with other tailors when the trousers were absolutely perfect. John Malone at Anderson & Sheppard, for example, probably cut the best trouser pattern for me ever. And my Cifonelli trousers – as you'd expect – are absolutely beautiful.
But it's very hard to justify that price with the lack of consistency. You're just not prepared to risk the disappointment.
And particularly with trousers. Like shirts, there is a lot less room for style than with jackets. You want a consistent trouser that you can order up in any new cloth you see. A couple of new linen for the summer; cream flannel and cavalry twill for the winter.
I really like Salva (which shouldn't be relevant but inevitably is). But on this evidence he can't be that maker.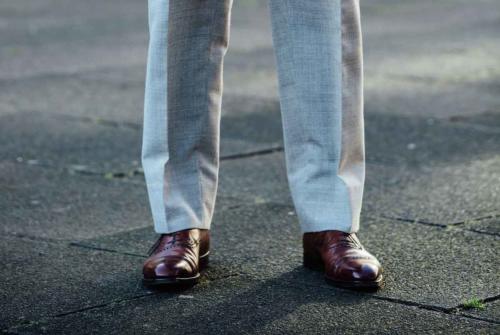 Shirt: Blue linen from Luca Avitabile
Tie: Green wool from Howard's of Paris
Shoes: Bespoke tan oxfords from Stefano Bemer
Photos: Jamie Ferguson @jkf_man
Note: As with all my photos, I like to shoot things when they have been worn, rather than just pressed to within an inch of their life. I think it's more realistic. These fresco trousers had been worn for a day and a half since their last press.