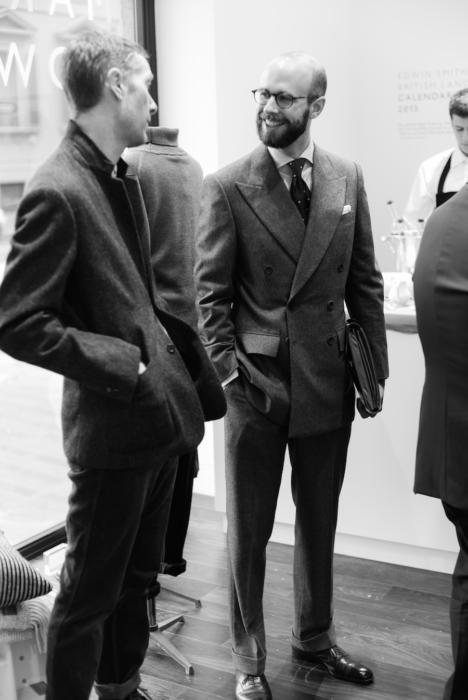 My apologies to readers that have been waiting for these shots of the Edward Sexton suit. Books, corrupted photos and other things seemed to consistently get in the way.
I've always wanted a double-breasted mid-grey flannel. I had one made years ago in Hong Kong, and although it was poorly made, I loved the cloth and its classicism.
This is one shade darker than a real mid-grey. (It is an 11oz flannel from the Smith's Luxury Flannels bunch.) The advantage of this is that it can easily be worn with both black and brown shoes. Any paler, such as my Anderson & Sheppard SB (pictured in this post next to Pat Murphy) and other things have to help the suit towards formality – in general, a white shirt and dark tie.
In the shots here – from the Margaret Howell store in Florence – I'm wearing the suit with a grey shirt and burgundy tie. As mentioned previously, I like a grey shirt for its ability to soften an outfit and remove any 'business' associations. Burgundy goes particularly nicely with it.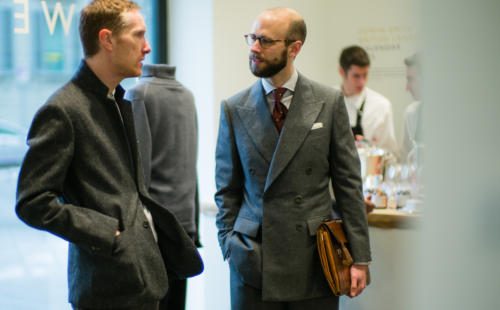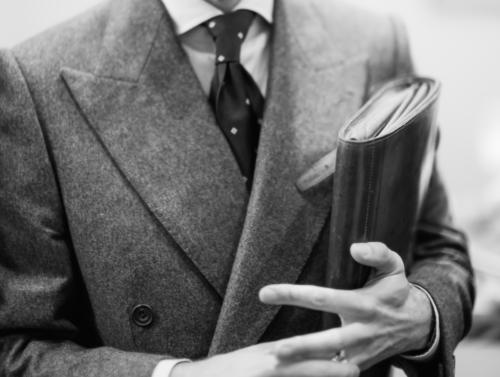 The style of an Edward Sexton suit can best be described as super-structured. The shoulder padding is substantial – heavier than anything I've had elsewhere. If there were a ranking for such padding, by the way, Chittleborough & Morgan would be next on the list, then Huntsman, and then Gieves & Hawkes. Poole and Richard Anderson come some way further down.
The roping of the shoulder is also heavy, which gives the suit breadth and quickly draws the eye up and out. It is probably the element that most drives the style of the overall suit.
The lapel is wide, but not as much as one might suspect for such a 1960s influence. Perhaps more significantly, it also has little less belly than Chittleborough & Morgan, which makes it slightly more modern and the lapel not appear as broad.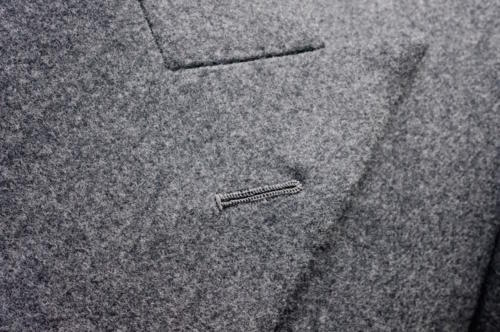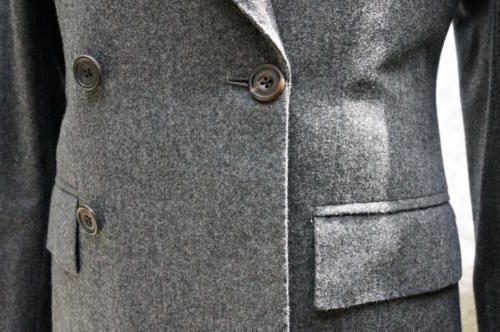 Elsewhere, Edward is keen on a long jacket but not at the expense of a long leg. The jacket always ends at or before the fork of the trouser, therefore, so the maximum amount of light is seen through the legs.
The trousers have two-inch cuffs and side tabs on the waistband. As with most first commissions, by the way, I opted for the house style in pretty much every respect. I had the trousers a half inch shorter than Edward would normally cut, but that was about it.