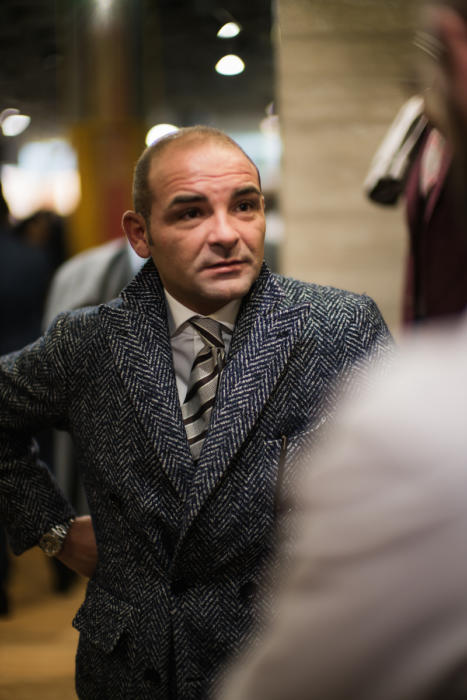 UPDATE: A few people have asked for contact details to make appointments. The event is being hosted by The Armoury – it's [email protected] and [email protected] (Zach is taking appointments and measurements for Saint Crispin's.)
I got to know Salvatore Ambrosi a lot better in Beijing earlier in the year, when we were both at the Brio store for events. He had a strong response among customers there, which was good to see – including the odd customer ordering a full wardrobe of trousers, which we know is often what keeps bespoke makers going.
I admire Salva's work ethic. He was coming off three weeks of travel around Asia when we met in China, and it was starting to show. Being away for that long is never easy – even if you're effectively visiting friends.
More importantly, Salva is also trying to improve what he does. His reputation took some big knocks early on, with deliveries often late, but he seems to have learnt from that and got better. (My first order was perfectly timed, although that doesn't mean everything was right – more of that on another, more detailed post.)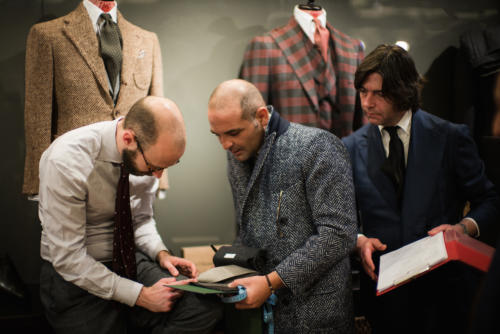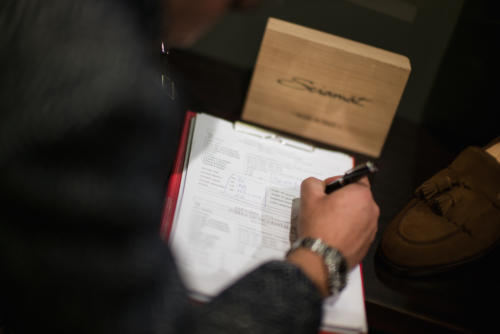 I've met enough second-generation Italian artisans, taking over a business their father created, to know that Salva's work ethic is not the norm. He reminds me of Elia Caliendo in that way, who if anything is taking the quality and ambition of the business to another level than his father's generation.
It's also an Italian thing, and particularly a Neapolitan thing. I can say that because Italians say Italians they're bad, and Neapolitans say Neapolitans are the worst.


Ambrosi trousers are expensive, starting at £800. But believe it or not I think that's cheap for what they are. A good bespoke suit (say £4000) will effectively cost £1000 for the trousers. It's one reason that good RTW or MTM trouser options, such as those at the Anderson & Sheppard haberdashery, are often so popular.
None of those trousers will be made with as many hand details as Ambrosi ones either. Those details are, admittedly, largely decorative – no trousers need quite that many tack stitches, no matter how hard you wear them. But as with many things – like Cifonelli suits or D'Avino shirts – it's about buying the finest of the genre.
Salva is in London for a trunk show at the end of this month – July 31 from 11am-7pm, and August 1 from 11am-6pm. He will be at the Drake's Harberdasher Street location, below the factory in east London. (As will Saint Crispin's, represented by Zach Jobé of the Armoury.)
Pictured at the Sciamat stand at Pitti Uomo earlier in the year. Wearing flannel trousers from Edward Sexton, grey shirt from Luca Avitabile and burgundy silk tie from Loro Piana