Stoffa made-to-measure trousers: Review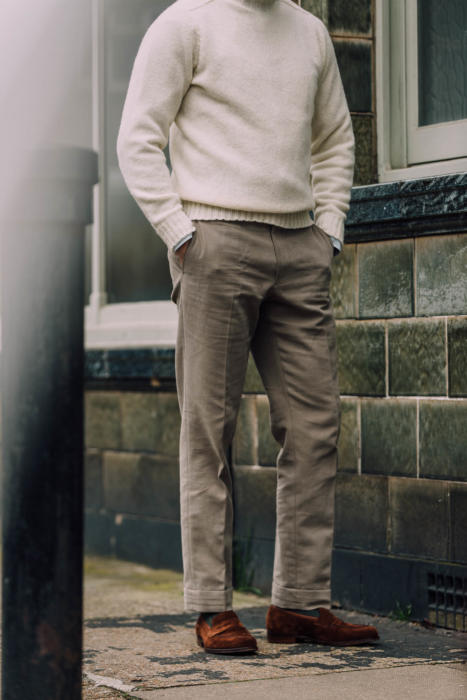 Tailored cotton trousers are, in my experience, an absolute bastard to get right.
I had my first pair made with Anderson & Sheppard seven years ago. The colour was perfect (a light stone grey), as was the cut. But they always felt like old man's trousers, and I couldn't figure out why.
Since then I've tried a couple of times again, with mixed success. The best was probably the Dalcuore ones I had made last summer, in a Drapers cotton.
That was better because it was matte and stiff. But probably too stiff for some - and most other cottons are too shiny and too strong in colour.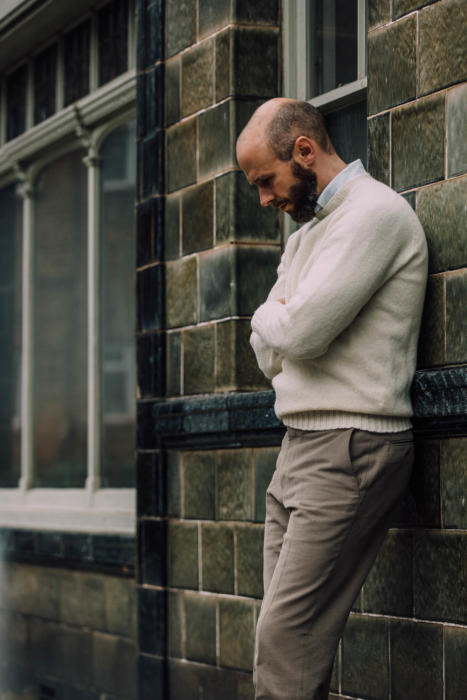 The central issue, often, is that what we expect from a cotton trouser is basically a ready-to-wear chino - as we have come to know from Gap, Incotex or similar.
But those trousers are garment washed. This means they are made and then washed en masse, to soften the material, soften the colour, and perhaps fade the seams and edges.
A tailor or someone offering made-to-measure can't do this. They don't have access to a garment-washing facility, or the necessary volumes. The only exceptions I know are 100 Hands for shirts (who are building their own washing facility); and Zaremba in Poland, who uses a local washing facility there.
The first thing that attracted me to Stoffa trousers, therefore, was that Agyesh achieves something similar in his exclusive fabrics.
Developing proprietary fabrics is expensive, and something few small brands do. But it's central to Stoffa.
Agyesh wants to be able to create the perfect material, in the same way he wants to be able to control the quality and the fit. Just offering trousers made in Italy from the same books as everyone else does not attract him.
Plus, he's a fabric nut. We spent ages talking about this at Milano Unica in February, and it's evident in the sample materials he's currently offering as one-offs to existing clients. There's some weird stuff in there.
When it comes to the trousers, this work means he can create something like this basket weave, which is only lightly piece-dyed, creating light and dark areas in the texture.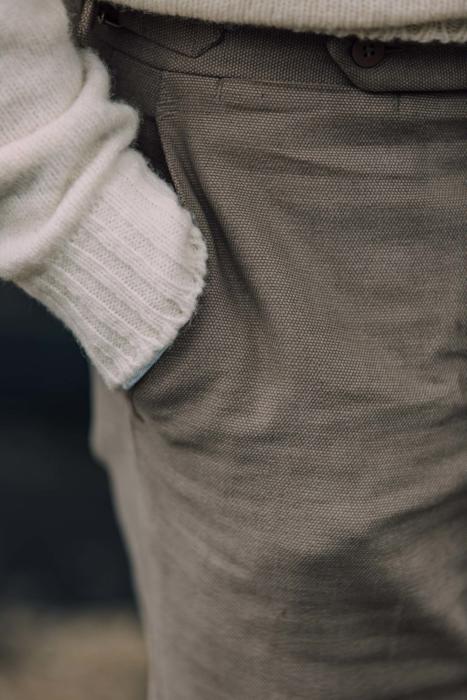 The result is a trouser that I think feels much more like RTW chinos - but of course, made to your fit and specs.
Pictured is my first pair, completed a couple of months ago.
I went for the taupe-coloured basketweave cotton, with a flat front, 5cm turn-ups and side adjustors. There's also a cotton twill which has a slightly deeper colour, though still softer than anything normally offered bespoke.
The leg is slimmer that what I'd normally have for a smarter trouser, but is deliberately similar to my Incotex chinos and Levi's denim - and I've found that the cut works with Neapolitan jackets, if not with more structured ones.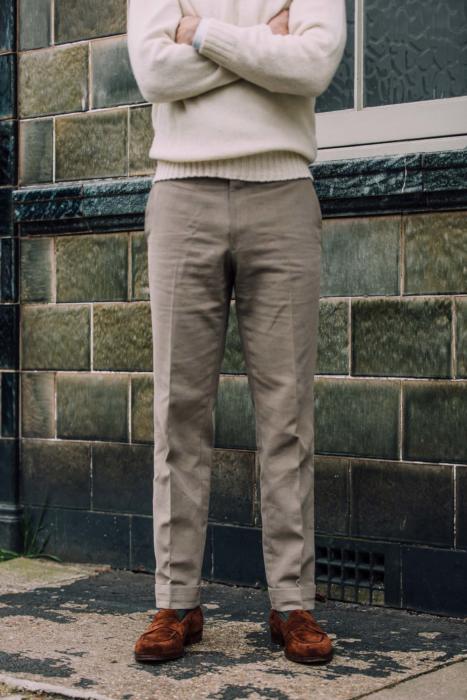 I knew from long experience where the trousers should sit on my hips (they can't be any higher without being two inches further up, on the natural waist, and that's not a look I like).
And as you'd expect Agyesh was very involved when it came to getting the right fit through the seat, thighs and so on.
I've deliberately pictured them after several hours of wearing, so you can see how the cotton wrinkles, without the knees bagging or the trouser generally losing its shape.
It's soft, but not slouchy.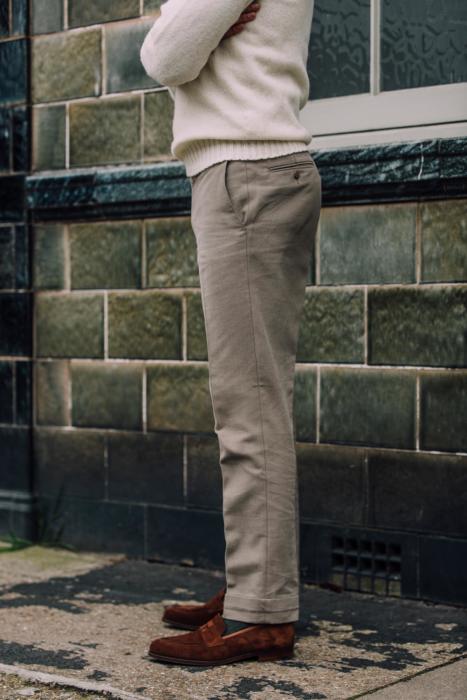 Interestingly, Agyesh's process involves one or two fittings, then washing and wearing the completed trousers a couple of times, before returning them to finish the bottoms.
That's why the cuffs on these trousers have a crease halfway down. Excess material has been left in there to lengthen them if needed after washing and wearing.
Which I did need, adding an extra centimetre on one leg and two on the other.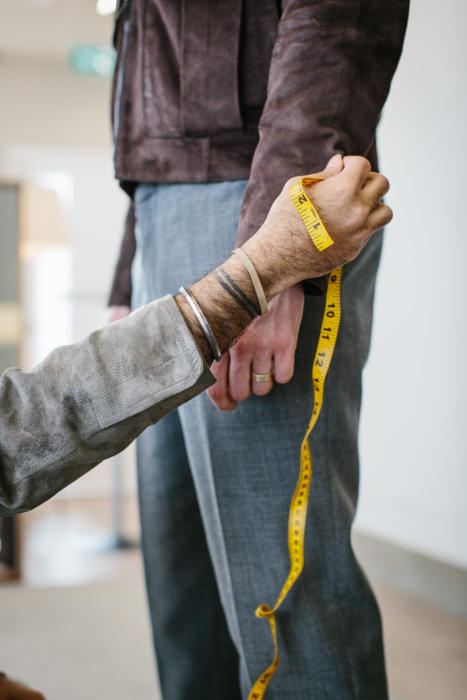 The make on the trousers is neat and strong, without delving into any decorative handwork.
Nice skirt on the inside of the waistband; nice tack stitches to secure the stress points; just no pick stitching or anything non-functional.
The waistband is slightly extended and fastens with two buttons, its shape echoing the side adjustor that it faces. The internal fastening is also a single well-placed button.
It's all elegant, well-considered and non-fussy, basically: exactly what you'd expect from Stoffa.
I have to say I'm very pleased with the trousers, and they've become my default chino. I've now ordered the brown, and over time hope to gradually replace my Incotex.
It's also nice given I found the suede flight jacket I ordered wasn't quite my style - well-done as it was. It's given me a very good reason to use Stoffa, and I'm also considering other things such as the shirt jacket (probably cream wool/silk).
One other thing to bear in mind with Stoffa, by the way, is that the shades vary slightly with each piece of the fabric made. So don't be surprised if the taupe you see is slightly different to the one I had.
The trousers start at $275. Agyesh is next in London from June 13-15, and now has a permanent store in New York, at 54 Mercer Street.
He is also now travelling to Paris - details by contacting customercare@stoffa.co (who are very good, by the way - efficient and polite).
In the images I am wearing:
Photography: Jamie Ferguson @jkf_man