Milano Unica: My first visit to the cloth fair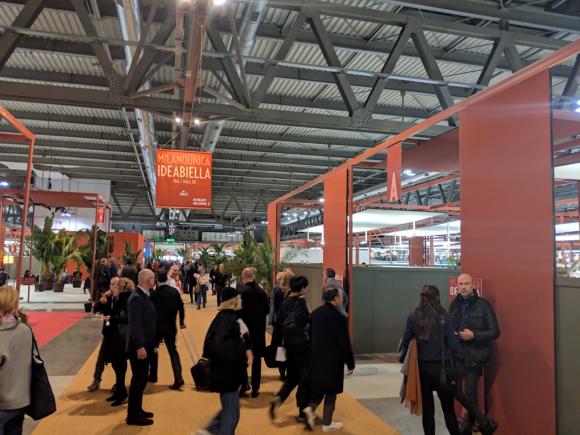 They said Milano Unica was like Pitti without the peacocks. That was partly true.
Certainly, there are no photographers, so even though many of the same people visit Milano Unica (MU), they're not on display. Everyone is noticeably more relaxed: there is no playing or posing.
But a bigger difference from Pitti is the way the exhibitors present themselves - with the same absence of showing off.
At MU, all the stands are closed. From the corridors, all you can see are homogenous brown walls with the occasional 'Loro Piana' or 'Fox Brothers' board sticking out like a street sign.
There might be orders for millions of euros of cutting-edge fabric going on inside, but you'd have no idea.
Inside the booths there is a little more going on, but not much.
A small British mill might have a logo and a couple of lengths of cloth draped over the wall. A bigger outfit like Loro Piana has its own wallpaper and reception desk, but there is little razzmatazz beyond a video screen.
"Milano Unica is such a nice, relaxed atmosphere," Agyesh of Stoffa told me on the second morning. "I do most of our development at the mills, but it's lovely just to see everyone from those mills, to catch up and congratulate them on their work."
So what was I doing there, you may well ask?
Well, Vitale Barberis Canonico (VBC) asked me to give a talk to their agents on the Monday night – basically, to tell them what questions you all ask about cloth every day.
So I thought I'd use the opportunity to stay for a couple of days and tour the show. I'd never seen this side of the menswear industry, though many had told me about it over the years.
(I also didn't have a photographer with me, hence the delightfully amateurish photos.)
My strategy was to spend that first evening understanding how it works for a seller, like VBC.
And then for most of the next day, to piggy-back on the appointments of Mike and Kasia from Private White, to understand how it works for a buyer.
Most of the third day seemed to be spent hanging out with Gianluca (Migliarotti) of Pommella, or talking to Fox, Albini and Canclini about the various cloth collaborations we've done.
The VBC evening was probably the most eye-opening.
The company was presenting its collection to the 30+ agents that represent it around the world, who would be on the stand for the next three days, meeting their clients and repeating the same information.
There were macroeconomic forecasts, a deep dive on the French market (where VBC is the market leader) and 23 new 'qualities' to understand and memorise.
A 'quality' is a new type of cloth, whether due to fibre, weave or finishing. But each quality then has a range of colours and patterns – perhaps a handful, perhaps 20. So the total number of new cloths for someone like VBC is in the hundreds.
With Mike and Kasia (above, left, with Alex of Anglo-Italian) the next day, it sometimes felt like you were going through thousands of swatches. And they all started to blur together.
Mike and Kasia had pretty clear objectives on what they wanted, but given the scope of the Private White range, they still ordered scores of samples.
For someone like Jake and Alex from Anglo-Italian, whom I saw on day one, things were simpler.
They have a very focused idea of what they want and simply looked through everything until they found it – usually no more than a handful of pieces from a mill.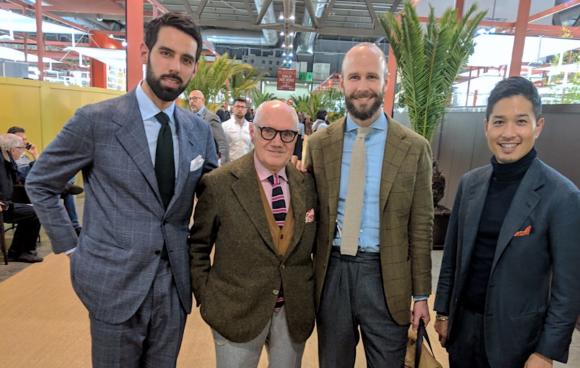 The overall process is: mill presents client with their whole collection; client picks several qualities/designs they like; these are sent to the client a couple of weeks later to make sample products.
Those samples are presented at shows like Pitti Uomo the following June. From these, brands or shops place their orders. And the final garments are made and delivered to shops for January – for us to buy from February onwards.
So the cloth on show at MU in February 2019 is for things to sell in Spring/Summer 2020.
You're going almost six months further upstream.
Fortunately the lunch is very good, and free. But then you can't get into the show at all without being invited – and 'IdeaBiella', where the tailoring cloths are, requires an extra level of access.
For some reason the shirts section, 'Shirts Avenue', is open to everyone.
For me, an unexpected bonus was that I got to meet lots of mills that I've never quite had the time to visit.
Marling Evans, for example, a lovely mill in Yorkshire with some beautiful coatings in undyed yarn (below).
And Stephen Walters, the silk weaver in Sudbury that celebrates its 300th anniversary in 2020. (I visited Vanners, next door, years ago, but never got here.)
It's similar to Pitti in a way: even though lots of the exhibitors are British, it's a lot easier to see them here than to travel to all their factories/mills around the UK.
As a consumer, though, it's very frustrating.
Pitti is bad enough, where you see so many products that aren't picked by buyers and are therefore never available in the shops.
But at MU you see hundreds and hundreds of fabrics that are available to brands to order, but will never make it into a bunch for a bespoke customer.
It's just too expensive for mills to weave all these designs and hold them as stock, in the hope that they'll all be sold, two or three metres at a time.
High on that list was some of the boating stripes and madras checks from Fox, who had one of the most attractive and interesting stands (below - hello Douglas!).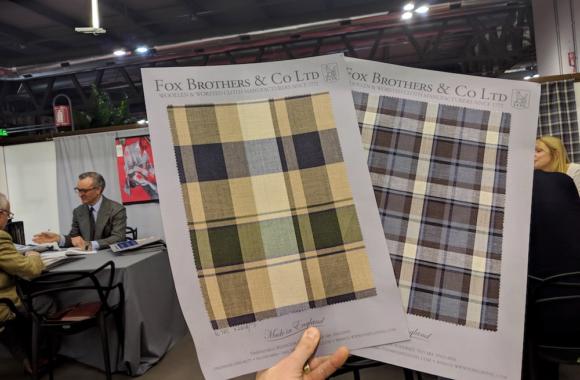 As far as trends in general go, these were pretty consistent:
Performance fabrics. Everyone had new versions to show, whether Albini, VBC, Canclini or Loro Piana: anti-wrinkle, natural stretch, UV-resistant, water-resistant
Sustainability. Just as often, the mill's big pitch was how much water they had cut out of production, or fibres (like tensel, bamboo) that are completely recyclable
Transparency. Providing more information to customers about where every element of their fabric comes from. Something on trend and particularly useful for the mills still doing it all in Italy
Decline. Mills being bought, going out of business, or cutting agents. Usually those not at the top level for quality, and losing business to Asia and elsehwere
Vintage. Linked to the trend of authenticity. Old-fashioned, duller and micro-patterned fabrics that feel vintage and so (ideally) connect the customer to the mill's history
I'm not sure it would ever make sense for me to go to MU regularly, but as with lots of things, I found it really interesting learning the mechanics of this part of the industry.
I hope you did too.
Photography: Permanent Style
What to learn more about how Permanent Style is funded? Details here: 'Is this an ad?'