Summer checked jacket – at the Dalcuore Rakishman day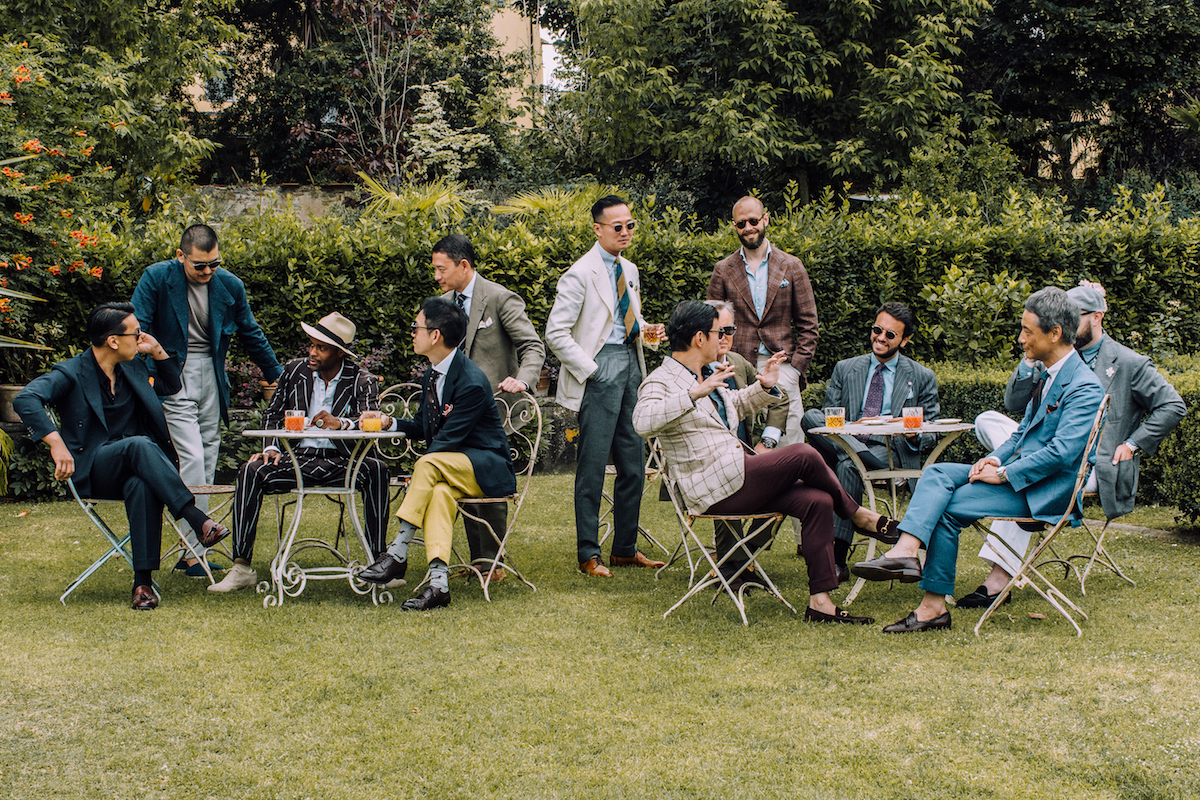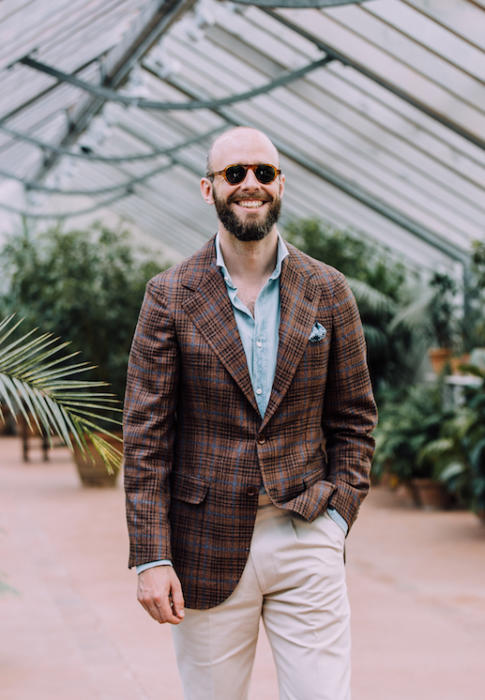 If there's one thing I have a (very relative) lack of, it's summer sports jackets - casual pieces for warm days, using the linen/wool/silk mixes the Italians are so good at.
So it was nice to have this jacket from Dalcuore made up in time for Pitti this year. (In a Dalcuore house Cerruti cloth, so not available bespoke elsewhere currently.)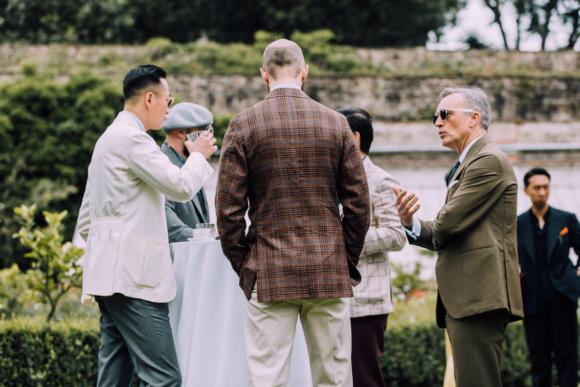 Darker shades of brown and green tend to be the most versatile for casual jackets, and often with a pattern so neither shirt nor trousers need one to avoid the whole looking too plain.
Having said that, this check is slightly louder than I would normally go for. It's a fairly strong brown, with a black glen check and light blue overcheck.
I normally tend towards subtler checks because I want things that are more versatile, and indeed could be worn in many modern offices.
(Not just fashion events, such as the Dalcuore/Rake breakfast pictured here. Most of these outfits, lovely as they are, would be too much for those offices.)
Given the strength of the check, I wore plain and fairly subtle things elsewhere: an old denim shirt from Al Bazar in Milan, beige cotton trousers, and brown suede Baudoin & Lange loafers.
The denim shirt makes the outfit a little less corporate, to my eye.
It is perhaps suited to a more creative office, but could be replaced by a poplin button-down in somewhere more professional.
In an office like that, the handkerchief could be removed, socks worn, and the loafers traded for something more solid and Goodyear-welted.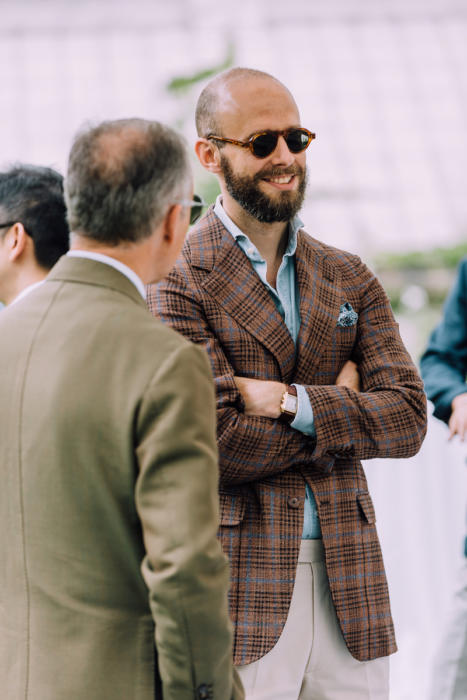 I wear this denim shirt quite frequently, even though the collar isn't perfect without a tie.
I've had it so long that the cuffs and collar have started to fray, and that old-money aesthetic of good-things-worn-to-death really appeals to me.
Of all the ways to avoid the fussy and stuffy associations of tailoring, this has to be one of the most effective. But it has to be subtle - you don't want the thing falling apart, and ripped jeans don't count.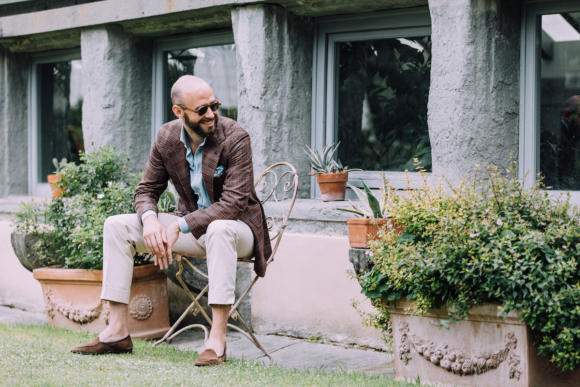 I'm particularly pleased with the trousers - a relatively heavy cotton from Drapers (4838, 420g) - because it's often hard to find cotton trousers that have enough body to hold a crease.
The Italians mostly offer lightweights that wrinkle after an hour or two, while the English aesthetic is more for soft cords and moleskins.
These are a nice mid-point, stiff to start with but softening quickly, and maintaining that crease. And of course cotton trousers are easier to wear with casual outfits that most things in wool.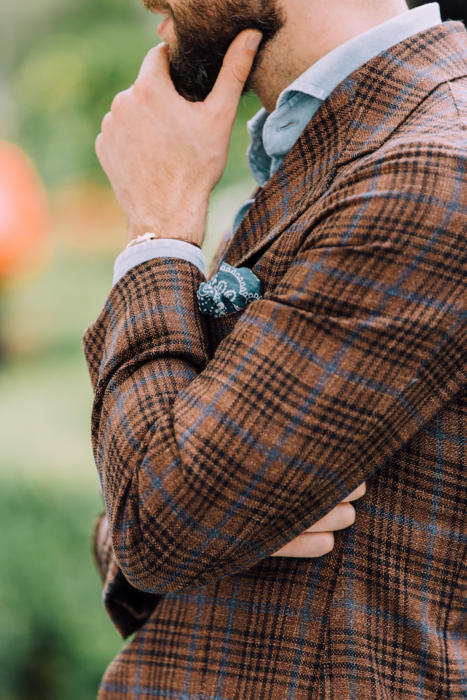 The handkerchief is from Drake's. I think there is something about the pattern - more usually seen on cotton neckerchiefs - that suits the aesthetic of a denim shirt.
Glasses are from Eyevan in Japan, bought at the lovely Ludovic Lunetier in Brussels.
Most Aviator-style frames like this are too big on my face, but this is narrower and the lenses rounder.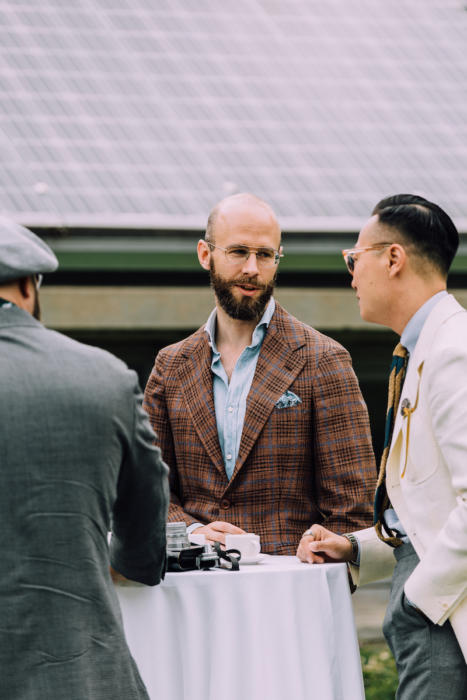 The sunglasses have featured regularly before: the Starsky model from Meyrowitz in London. I like the fact this frame is unusual in its narrowness, when most go the other way and are oversized.
(It's actually correct for my pupillary distance, but of course that matters far less with sunglasses.)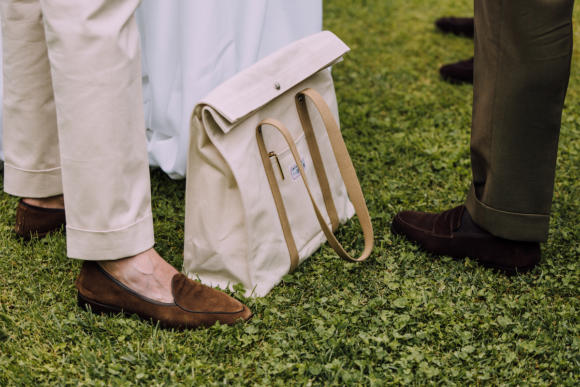 The canvas tote bag is from Trunk - made by Ichizawa Hanpu. They don't offer the same style now, but there is a slightly different model in navy, olive and yellow.
And Baudoin & Lange Sagans on the feet, as mentioned, in oak brown. Just the most comfortable thing to wear on a hot day.
Also pictured in these images (discounting the portrait at top) are:
Douglas Cordeaux, Fox Brothers (green mohair suit)

Ethan Newton, Bryceland's (grey jacket and beret)

Kenji Cheung, Bryceland's (cream jacket and block-stripe tie)

Wei Koh, The Rake (oatmeal jacket with burgundy windowpane check)
George Wang, Brio (blue herringbone jacket and T-shirt)
Photography: Jamie Ferguson @jkf_man