The Armoury trousers: Osaku, Pommella, Ring Jacket, Rota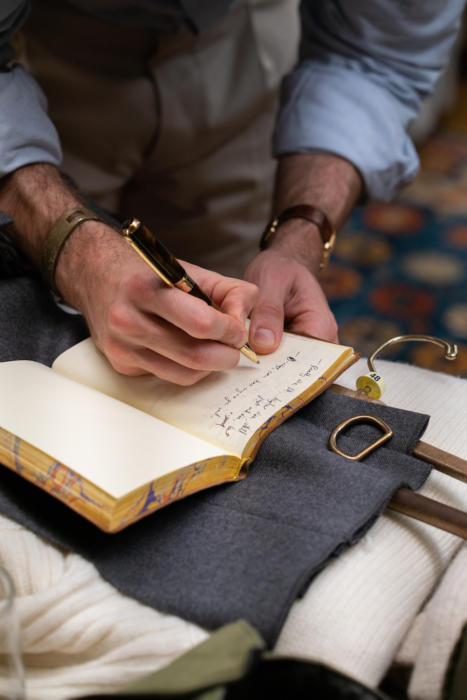 Several readers commented on the post highlighting pieces from No Man Walks Alone that articles on other shops would be helpful, if objective and analytical.
If there's any area that needs this most, it's trousers.
Once men find a model that works for them, they'll stick to it almost exclusively. The problem is trying to work out which model that is, online.
The Armoury carries more brands than most: Osaku, Pommella, Ring Jacket and Rota.
This variation makes it particularly hard to tell the trousers apart, as so many things vary between them.
It's different to someone like Anderson & Sheppard, which although it has 11+ styles, is consistent in finishing, materials and so on. It's a coherent range with a smaller number of set variables, and therefore permutations.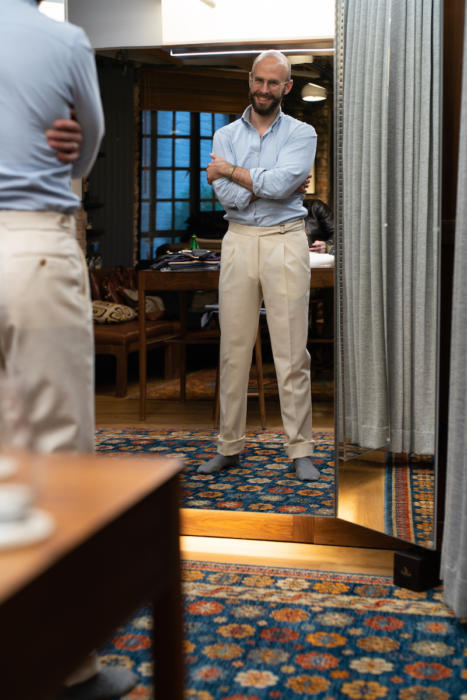 The Armoury brands vary most obviously by price, with Pommella (above) the most expensive at $800. Osaku is the next level down, around $500, with Rota a touch cheaper and Ring Jacket closer to $350.
Pommella's high price is basically down to hand work. These are bespoke-level trousers for those that want the make of bespoke, but not the fit.
So the buttonholes are hand-sewn, as is the skirt on the inside of the waistband, and there is visible pick stitching around the edges.
Personally I'd prioritise fit over finishing, but I know there are men that love that level of finish, and don't want to wait for trunk shows and fittings.
The cut is also a pretty good fit on me - as you can see below.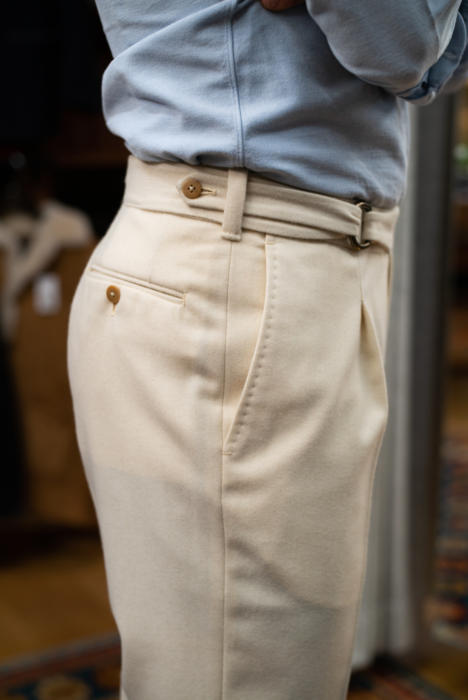 However, hand sewing is only one way Pommella differs from the other brands.
It also has a higher rise, and a variety of different fastenings: belt loops, side adjustors and metal rings.
These design details will be pretty obvious from the website, but I'd add that I found the ring fastening subtler than I expected. This might be down to the fact it's often pictured against high-contrast cream flannel or cotton (above and below respectively).
Also, what's not obvious is that you can unbutton the ring and swap it for a range of others - either to vary the look, or to have something less showy (below).
Among the fabrics used for Pommella, the only one that it's hard to get a sense of online is the reversed moleskin.
This is an unusual cloth, with the moleskin's brushed exterior used on the inside rather than the outside. It's something found more in Australia, and considered very much a workwear material.
It feels lovely, with the warm brushed cotton against the skin. But it doesn't drape or hold a crease - indeed, I might even press the crease out of it.
There is also a flecked texture that doesn't come across well in pictures. I'd suggest trying it in person if possible.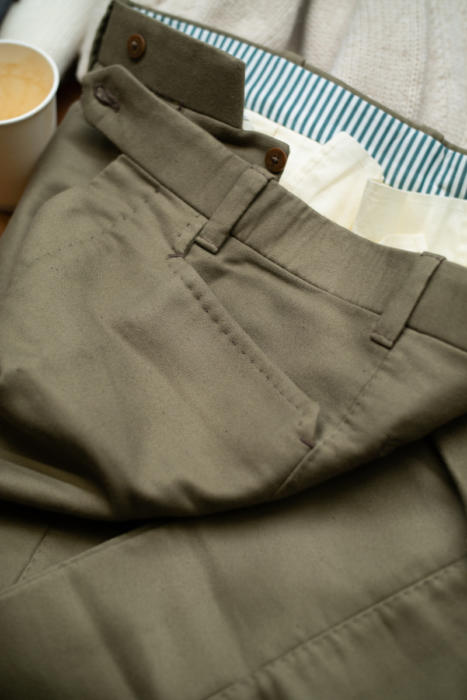 Osaku was my favourite of the four brands.
It's still expensive for trousers at $500, but the make is very good. All by machine, but precise and clean, with nice materials including the shirting on the inside of the waistband.
The leg line is similar to Pommella - slim and slightly tapered - but pretty much everything else is different: a mid-rise, a thin waistband, and just belt loops for the fastening.
So while the high rise was a good fit for me (with my hollow lower back) the Osaku would have to be taken in. It also came up slightly larger than Pommella in the waist (I'm wearing a 48 in both).
On materials, note that the tan and stone cottons from Osaku also have an unusual texture, with short irregular lines running down the leg. This is just about visible in the pictures online.
However, that texture actually adds some nice variation, and the cotton has an effective stiffness, with a sharp crease. I'm wearing the tan cottons below.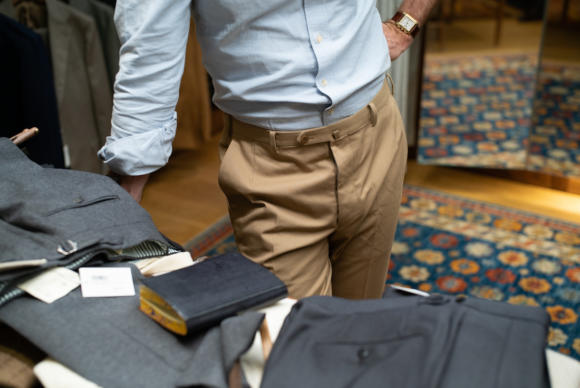 The other two brands, Rota and Ring Jacket, aren't that different in make, though Rota is a little more expensive. The fits do vary, however.
Rota will be familiar to many, and is a fairly standard modern cut, perhaps best described as mid-rise. Ring Jacket, on the other hand, is carried in a 'Model A' cut developed with The Armoury, and is rather higher in the rise. Similar to the Pommella.
Rota is also slimmer in the leg, and this is something I struggle with in terms of their fit. It took a while for Drake's to get their trousers made with Rota right in that regard.
Of the two, therefore, I'd suggest more sartorial dressers err towards Ring Jacket. It also comes in a greater range of materials, including cottons, flannels and corduroy.
Overall, The Armoury has a great range of trouser brands. It's hard to think of someone with a bigger one of high-end, well-made formal trousers.
But the range is also evolving, with this only their second batch of Pommella and first from Osaku. Over time, the design options and cuts will become narrower and more consistent.
In the meantime, hopefully this piece helps a little tell them apart - and find which of the various models is right for you.
Photography: Elliot Hammer
Pommella also offers bespoke through trunk shows at The Armoury in New York, which starts at $1100.
Rota offers a narrow made-to-order service for $595, which is good value for them, and a fuller range of options on design and fit for $950.