No Man Walks Alone A/W: Frank Leder, Monitaly, Soulive, Sage de Cret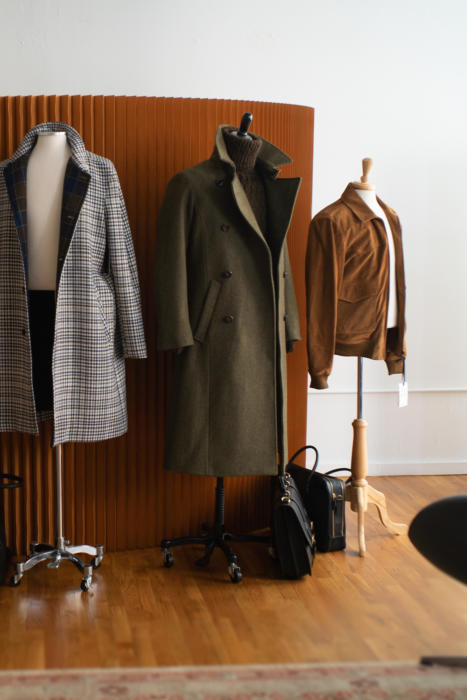 It's been over a year since I last had the chance to browse the stock at No Man Walks Alone and write one of these pieces, for which I blame a lack of travel to New York.
It is possible to select a few favourites online, of course, particularly as I now know most of the brands that Greg and the team carry.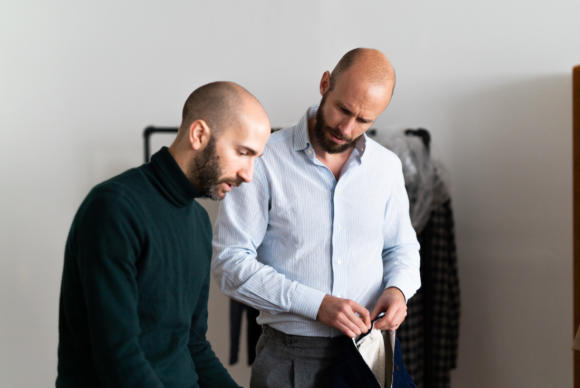 But a nice aspect of these articles is the ability to report on how pieces look and feel, how they wear and hang: all things that are difficult to assess online.
This time the process was made even more pleasant by NMWA's expansion into a showroom next to the office and stockroom, with big windows out onto New York's Garment District.
With sofas, coffee, and over a hundred possible pieces to try on, it would have been easy to stay there all day.
Fortunately, both Greg and I had other things to get to, and we managed to quickly cut it down to a selection of new brands, old favourites, and intriguing designs.
All pieces are currently in stock, and all titles are hyperlinked to the products on the NMWA site.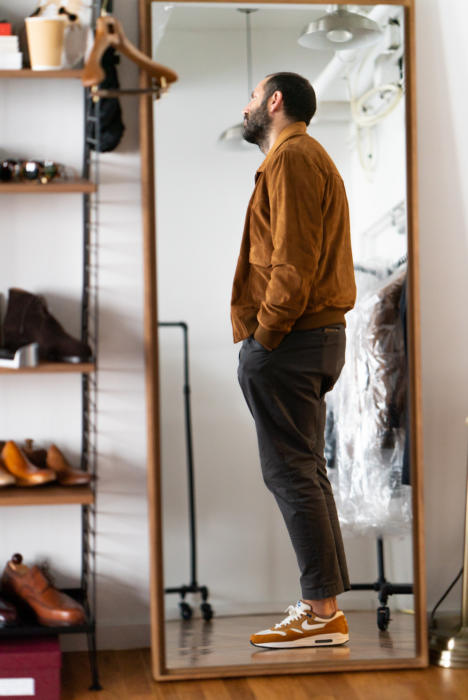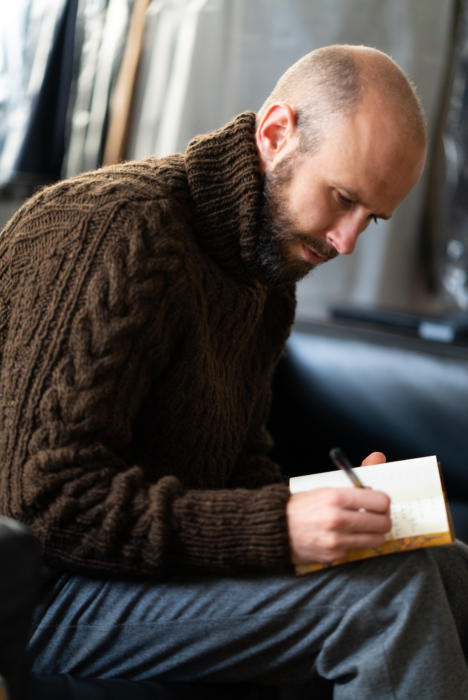 $365
Chamula is the sister company of Monitaly, and brings together artisans in Mexico that specialise in different traditional techniques. This rollneck is hand knitted, making it particularly stretchy, soft and malleable.
It's also softer that it perhaps looks. It's not cashmere, but the merino is lovely, and it feels very soft and cosy.
Style-wise, note that the neck is particularly large, so this must be a point you like.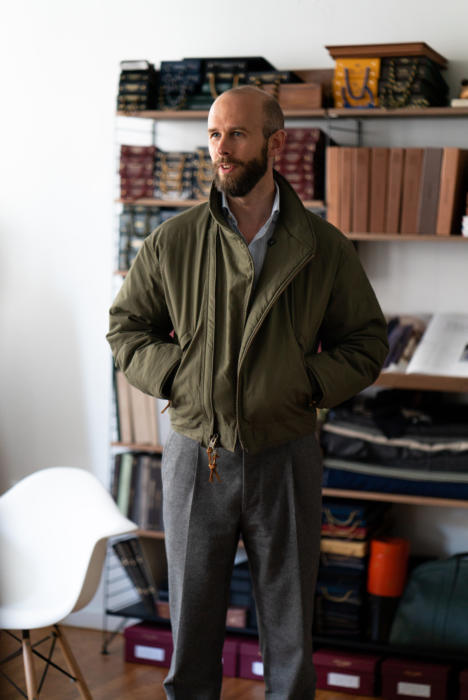 $545
My favourite piece from the Monitaly main line is this short jacket in the American version of Ventile - Vancloth. Just as closely woven as its better-known English equivalent, Vancloth is lightweight and water-resistant.
The jacket is cut particularly short, and will therefore be best with high-waisted trousers. It gathers nicely at the back, with an elasticated hem creating to a full, rounded back.
The nicest style point, however, is the overlapping asymmetric front, which can be worn a variety of ways thanks to its double-ended zip.
$125
Merz B Schwanen will be familiar to most readers, given its reputation for traditional cotton pieces made on German circular-knitting machines. (My background post here.)
This technique makes for very comfortable underwear and knitwear, without any side seams.
I've worn their 103 henley shirts for years, as layers underneath flannel or denim shirts, or shawl-collar cardigans.
The others I have are cream or grey-coloured with cream ribbing, however, and have a definite vintage look. I'm tempted this season therefore to add a plain white version, which NMWA stocks.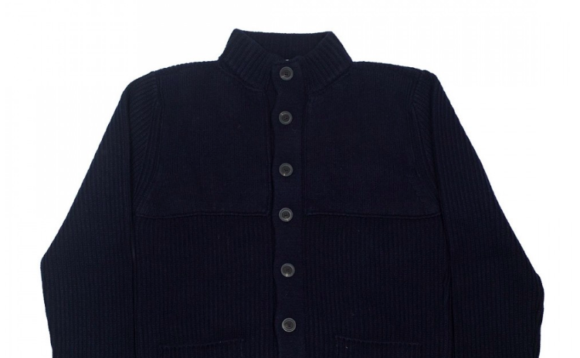 $595
A nice piece over that Merz henley would be the Inis Meain Storm jacket – knitwear that's chunky enough to be worn at home or as outerwear, given its reinforced shoulders and yoke.
Pieces like this are the kind of thing many men want to throw on at the weekend, especially if they find things like shawl-collar cardigans don't hack it as outerwear.
The lack of ribbing on the cuff also makes it a little easier to wear over a shirt.
$845
It's hard to appreciate how heavy and tough this coat is until you've tried it on.
Made with a thick, closely woven wool, it feels bulletproof – certainly a good defence against the wintry winds of Manhattan.
It is also slim in the shoulders and sleeves, however, and I wouldn't recommend it to anyone that would want to wear it over a jacket. Over knitwear, great, but tailoring would struggle to fit underneath.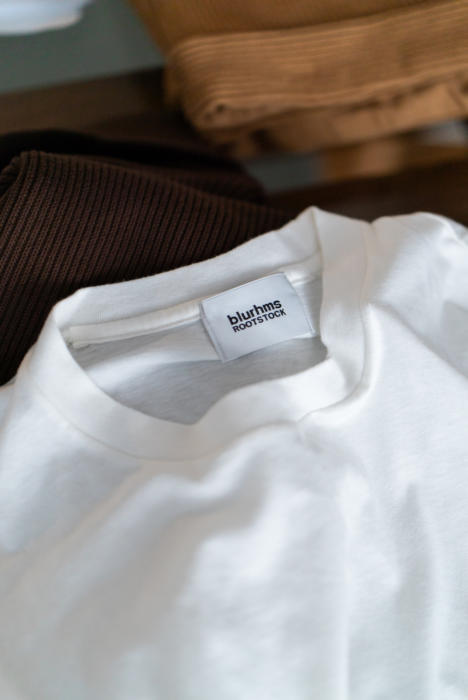 $115
A new brand for NMWA, Blurhms makes fairly simple pieces with little fashion-touches in the design, or unusual materials.
The fashion touches (such as side zippers) aren't for me, but I like the silk/cotton jersey of this T-shirt – combined with the straight cut, it makes the tee feel more like a refined piece to be worn on its own, rather than underwear.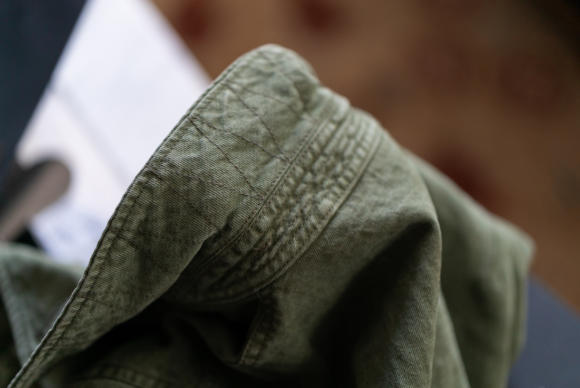 $545
The thing I love most about the NMWA curation is how it makes me aware of small brands that – despite being more casual or workwear-orientated – have a lot of manufacturing principles in common with the classic menswear I focus on.
Sage de Cret is one of those, and the field jacket they offer this season is a particularly nice version of the style – in a cotton/linen mix and heavily garment washed.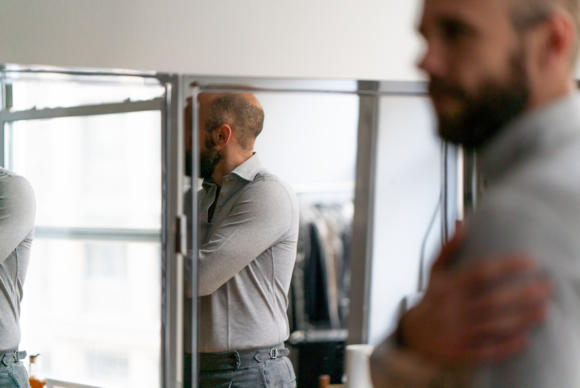 $175
G Inglese combines a fine southern-Italian make with great, understated taste – something not common among Italian brands.
The colours of his polo shirts are often extremely sophisticated, with creams as well as white, petrol green and lilac, and subtle shades like beige or oatmeal.
I liked this pale grey, which would be light enough to wear with mid- or dark-grey trousers (always helpful in the male wardrobe) but even nicer with green or navy.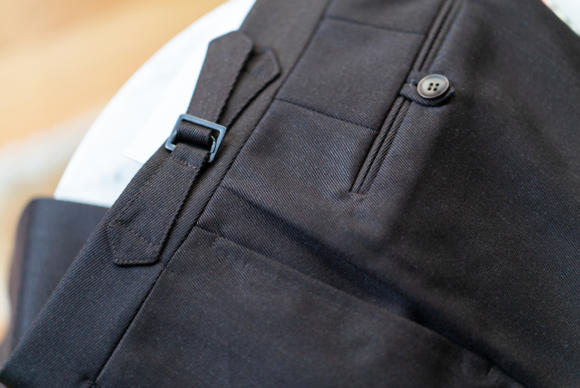 $445
This is just a lovely colour.
Rota needs little introduction, being now widely known as one of Italy's best trouser specialists. And cavalry twill is a great modern trouser cloth: hard wearing and smart without being as formal as normal suit trousers.
But this deep, black-tinged brown colour is what makes the trouser. Wear with a white shirt, black loafers, and perhaps pale-grey knitwear.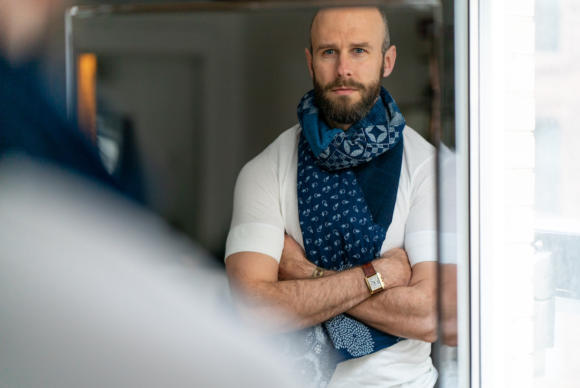 $255
I have a real weakness for Japanese fabrics, something only exacerbated by visiting the country and seeing both products and mills.
Soulive makes particularly great variations, with founder Masato Tanaka largely responsible for making Okayama mill Collect one of the leading names of Japan's home of denim.
This scarf is a mix of navy and indigo prints, and has light wadding along its (long) length, making it as practical as wool.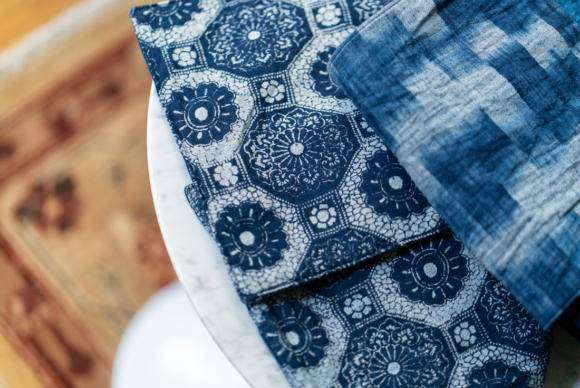 Photography: Elliot Hammer