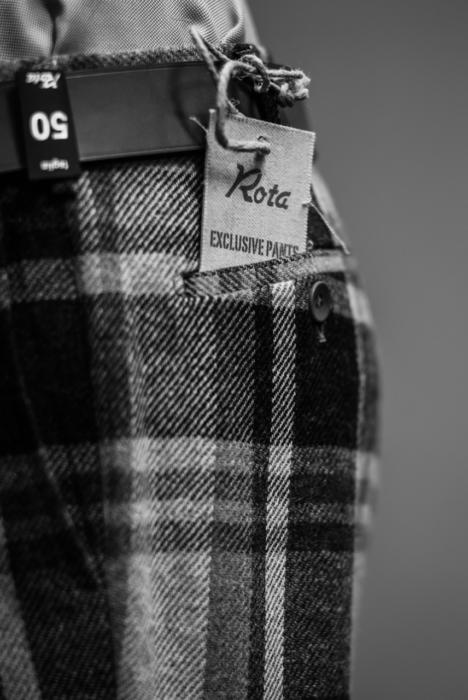 There's no reason you would have heard of Rota, yet it is one of the best makers of trousers in Italy. A small, family-run company, it has been making nothing but trousers for the past 50 years – largely as a third-party manufacturer.
The quality of the trousers is high: hand tack-stitches at pressure points; hand-finished skirt around the inside of the waistband; perfect pattern matching; neat, turned edges. But what sets Rota apart, I learnt from them and their customers, is flexibility.
Rota specialises in low-volume orders, quick turnarounds and made-to-measure services. It keeps cloth in stock for all models, so it can make new pairs and get them in shops within 2-3 weeks. The made-to-measure service also has an average turnaround time of two weeks. And it often works with customers, such as Anderson & Sheppard, to create new models and designs.



I've written several times about the trouser models that Audie, Anda and the rest have developed for the A&S haberdashery on Clifford Street. All of them, from the high-waisted brace-backs to the narrow peg-legs, were made with Rota over several months and many prototypes.
"We offer the highest amount of flexibility in design and construction anywhere at this scale," said Emilio Rota when I met him. "The trickiest part is often changing the shape of the seat, as it can throw the balance out very easily. We also leave a lot of inlay on the seams, even on made-to-measure trousers, so they can be adjusted later on."
Thanks to Rota, A&S can offer a unique range of trouser designs, in a small number of materials but with a large selection available to order. Part of the £300+ price tag reflects this design and flexibility, as well as the quality of the make.
"Altogether, with the family and the people working in the office, there are perhaps 50 people in our company," said Emilio. "It is this small scale that enables us to be so adaptable, to stop production and try something new."
I should clarify that Emilio is not as grumpy as he looks. And he does make trousers that aren't checked.