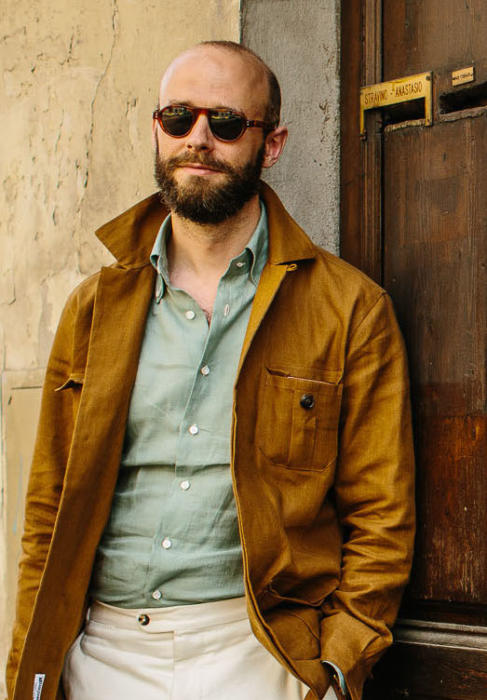 Finding new colour combinations I like makes me disproportionately happy.
I know this doesn't apply to every menswear enthusiast, but for me the interrelationship of colours is one of the most enjoyable and creative aspects of dress.
Particularly in menswear, where colour is often so limited.
This combination made me happy: sage-green shirt, tobacco-brown safari jacket, and cream-cotton trousers.
Accessorised with brown shoes (suede, Baudoin & Lange Sagans) and a brown bag (leather, Frank Clegg x Michael Bastian tote).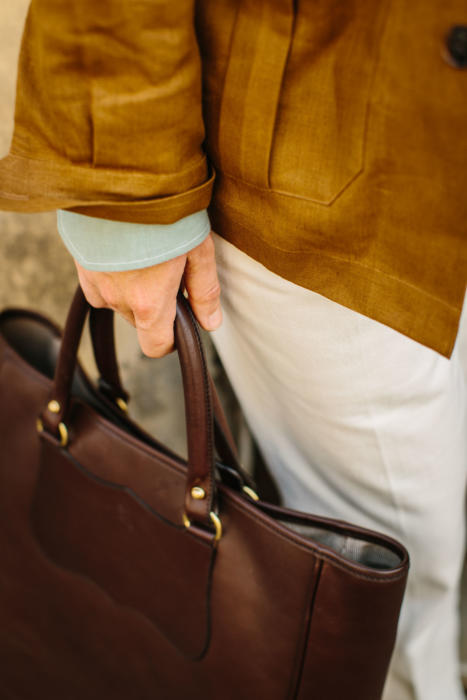 The shirt we have referenced before, as one of the three linen pieces I had made by D'Avino.
I said then that it was hard to wear with anything but blue (including denim) and white/cream, and I stick by that – the shirt needs the off-white trousers here (from P Johnson, reviewed on Wednesday).
It's an important point, for this shade of green often pops up among summer offerings by Italian brands, such as Fedeli.
However, once the shirt has an effective partner, I find all manner of jackets or blazers can be worn over it. A brown-suede blouson perhaps or – as here – a tobacco-linen safari jacket.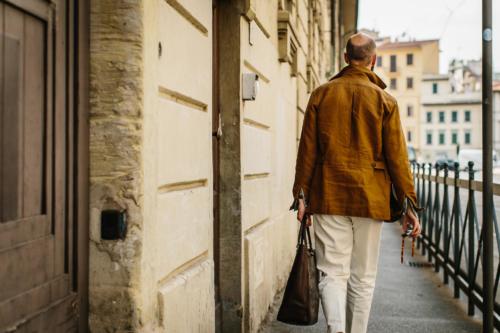 The jacket is from The Armoury, one of two shades it offered the Ascot Chang-collaboration in this year. (Only currently available in large; the navy is available in small and medium.)
It is made from very stiff linen, which means it holds a shape very well, even if it's not as relaxed as overshirts from others such as Drake's.
It can hold a mobile phone easily without distorting the cut; but you do feel you're wearing something closer to a jacket than a shirt.
(The difference is clear if you compare this post with my post on Hollywood-top trousers, which features the Drake's piece.)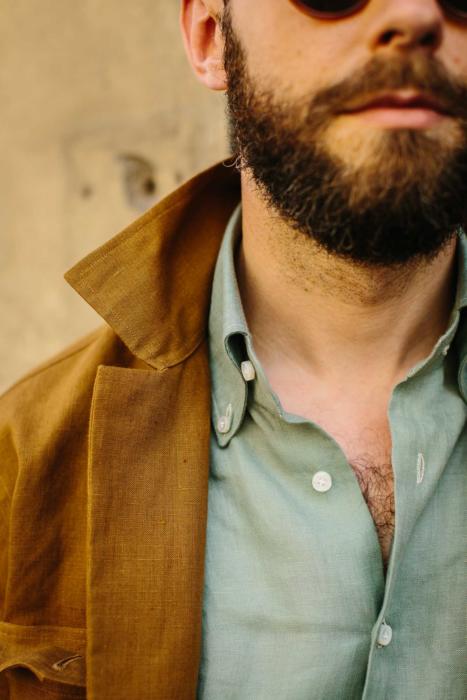 Looking back, I think the combination appealed particularly because it was summery, but not as bright as many summer menswear outfits.
There is colour here – great colour – but it does not have the sugary pinks or acidic yellows that often characterise 'resort' collections.
Strong and summery, but organic and natural. Helped by all the browns elsewhere.
Photography: Jamie Ferguson @jkf_man
Sunglasses: 'Starsky' model from EB Meyrowitz