Readers will be familiar with how excited I was about trying Stoffa - the made-to-measure company run by ex-Isaia man Agyesh Madan - now he is doing trunk shows in London.
Agyesh's aesthetic is beautiful, simple and modern, with jackets and trousers that all work well together and feel contemporary yet subtle.
Perfect for a man that cares about elegance but wants something other than tailoring.
For more on the Stoffa range, and particularly colour combinations, see my previous post here.
The purpose of this post, then, is to review the navy-suede jacket I bought from Agyesh on his first visit.
As he brings a large range of models, I was already familiar with the quality of the lambskin suede (very good), of the hardware (nice, but modern not traditional) and the finishing (also very good).
The questions, therefore, were really just how good the fit was on the jacket I received, and my observations on wearing the style.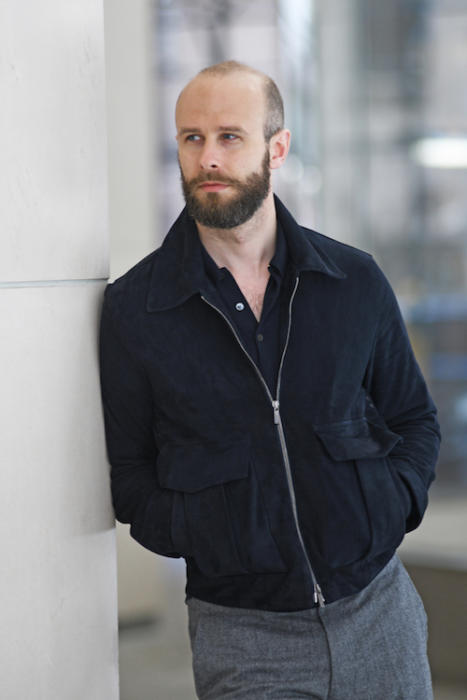 On fit, the jacket was perfect. Close but not tight on the shoulders, a nice line through the waist, good length on the hips, and sleeves perfect also.
When something is perfect like this, my feeling is almost of calm, rather than excitement. Relief, perhaps, that the piece I was looking forward to doesn't have any issues, won't annoy me, won't have to go back for changes.
It feels, perhaps most strongly, that this is how made-to-order garments should be.
It's not bespoke, it's not a blank canvas, so the small changes we are making should be executed perfectly.
It was also useful to hear Agyesh's experiences around fit, and therefore what he recommends. The shoulders are likely to give a little, for example, being soft suede and put under a certain amount of pressure. But the waist is unlikely to.
Finally, this is not the end of the fit process. Agyesh positively encourages people to come back in a few months' time and look at the fit all over again.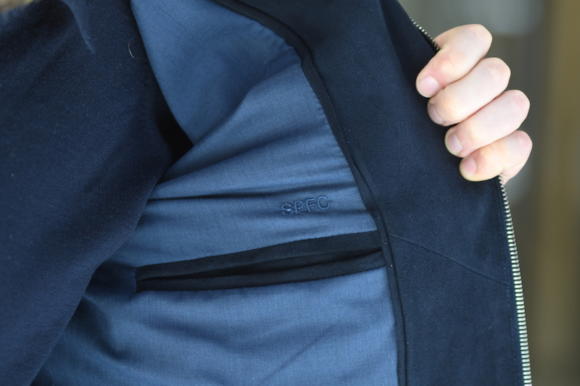 There are a couple of make points on the make that we discussed.
One is the lining, which is a fine cotton in both the body and arms. This is wonderfully comfortable over a T-shirt, but is difficult to get on over a shirt.
Agyesh said they had looked at many different, silkier options (which would mostly be synthetics) but didn't have anything they really liked aesthetically, would be just as comfortable, and would wear well.
I see his point, and it certainly suits the polo shirts he often wears his with; but personally I would go for a silk lining, or only silk in the sleeves.
The other point was the hardware, which is a brushed, grey metal. This feels more modern than most aviators and bomber jackets we cover here on Permanent Style, and may also be more to the taste of many guys. But if I could choose I would probably prefer brass.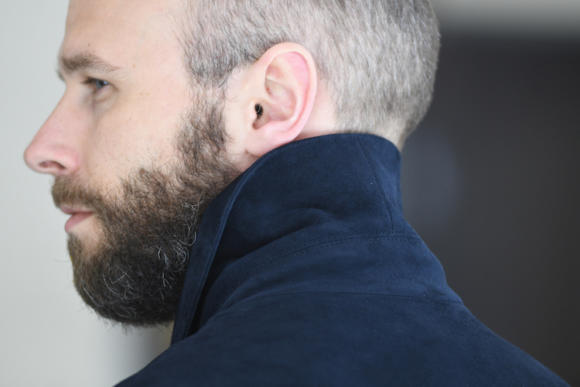 There were far more manufacturing points that I absolutely love, however.
One is the collar, which is oversized, has a properly collar stand, and a reinforced seam in the back.
These combine to create a collar which stays up, yet folds elegantly down on the points in the front.
Another is the hip pockets, which are made of one piece of suede curving over the top and inside. (The body of the pocket, not the flap.)
It's a small thing, but this rolled finish means you appreciate the softness of the suede every time you put your hands in the tops.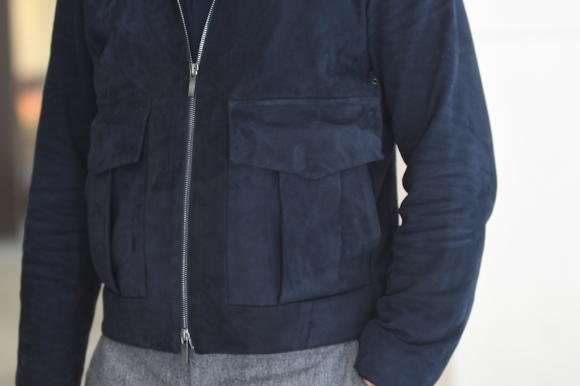 My last thought on the style - and one that will likely evolve over time - is whether the flight-jacket cut suits someone of my build.
The cut is relatively short, close on the shoulders, and adds bulk to the waist with the oversized, bellows-style pockets.
This has the effect of making the waist look bigger and the shoulders smaller - the opposite proportions of tailoring.
Even a traditional blouson is more similar to tailoring, as it sits tight and high on the waist, before ballooning in the chest and upper body.
I think the Stoffa flight-jacket cut works well on Agyesh, and other friends I've seen that are shorter. But I'm slightly unsure of it on me.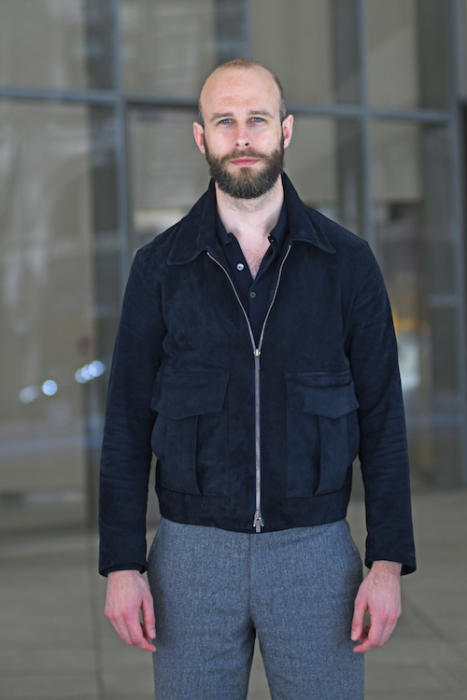 However, the double zip on the jacket does allow one to play with these proportions: creating a single-point waist as a jacket would have, or a long line; changing the length of that line and moving it up or down the body.
So there are plenty of possibilities there.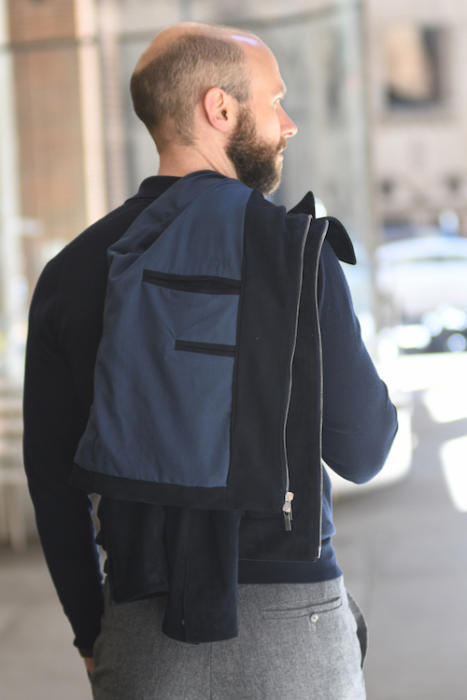 Oh, and I'd also highly recommend navy as a colour for a suede jacket.
Tan and dark-brown are far more common, but in an age when men might wear something like this to the office, navy is smarter and almost as versatile.
Stoffa will be back in London in around five weeks. Keep an eye on the Trunk Shows page for details.
The jacket cost $1500. It would be less in cotton or linen (which both now come with half linings).
Photos by Karl-Edwin Guerre of Guerrisms.