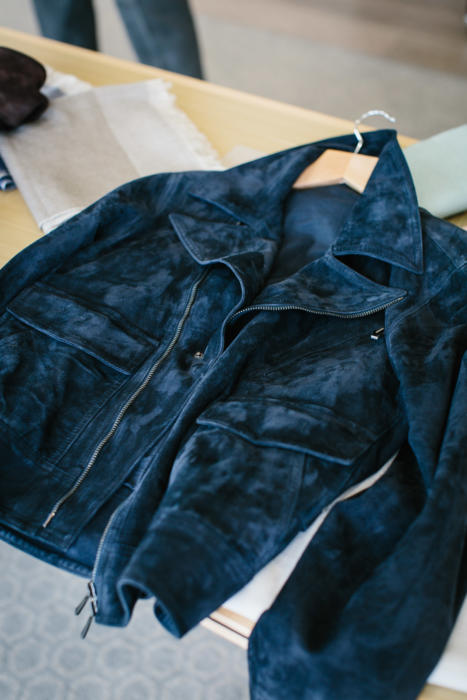 Last week, Agyesh Madan of Stòffa visited London for the first time, in a trunk show alongside Marcus Malmborg (Swedish agent for Eidos made-to-measure, among other things).
Eidos is more of a known entity, and we will cover the service more at a later date.
For the moment, I'd like to focus on the genuinely original styling, business approach and collection philosophy of Agyesh.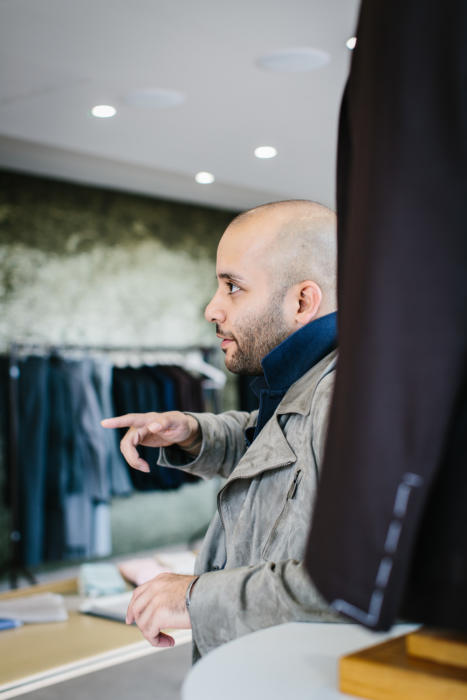 Key to the Stòffa collection is its versatility of style and colour.
The first thing you will notice (or will have noticed) is the suede jackets. Probably flight jacket or asymmetric jacket, most likely. In a dark brown, cream or light grey. And nonchalantly worn - complemented by a polo shirt, chino and perhaps leather bag.
The suede jacket is the most striking piece, and gets people most excited (including me). Particularly as it is made to measure, delivered within 3-4 weeks, and from what I have seen, fits very well when it is.
But there are in fact four designs of outerwear (a field jacket and an overcoat also) plus made-to-measure trousers, hats, ties, scarves and handkerchiefs - and the outerwear comes in a range of materials from linen to wool/silk.
What makes the Stòffa collection seem so versatile, therefore, is not a narrow, tightly edited range but holistic design.
The trousers can be worn with any of the four outerwear pieces, and merely change the look from semi-formal (with a dark coat) to more casual (paler, asymmetric jacket).
The felt rabbit or beaver fedoras pair well with any of the looks. And the scarves (in four sizes, and a dozen or so colours) equally.
This versatility is something that Agyesh portrays particularly well on his Instagram account. (Examples below.)
Perhaps the most important aspect of this cohesive design is a simplicity of line, with subtle changes of proportion.
The flight jacket is clean and refined, with only slightly oversized hip pockets and collar.
The coat (below) shows genius of line, with angled side seams, oversized pocket openings and two off-centre buttons (one just below the ribs, the other at the collar) creating shape out of otherwise entirely unstructured cloth.
In fact, if I could change one thing in the outerwear it would be to remove the side fasteners on the asymmetric jacket, in aid of making it as clean as the other pieces.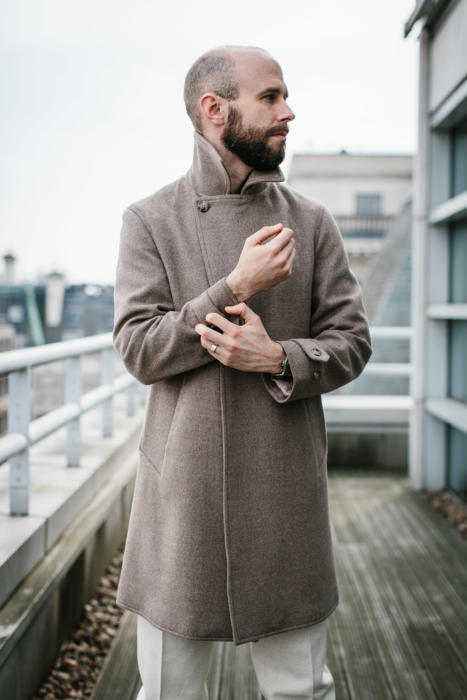 The mutually complementary colours Agyesh picks are perhaps the most interesting topic of all. But also the area that admits of least analysis.
Agyesh himself says it is largely instinctive, something reflected in his references to abstract artists such as Cy Twombly and Joan Miro.
And some of his most interesting Instagram posts are those that suggest parallels between natural colours and those found in the clothing.
In practice, I find many of his colours - the pale sand, the muted taupe - appeal more than more commercial versions of those colours, often because they are paler and less showy. It also gives a more neutral ground for pops of bright green or turquoise.
But it can go the other way. The brown suede, for example, is a touch paler than most mainstream suede jackets, and I would tend to prefer something darker.
There is also a slight danger with the more monochrome Stòffa outfits (cream and pale grey, for example) of appearing more fashion-y than most Permanent Style readers would like. And in paler colours, perhaps more feminine. (Combinations below, left and right respectively.)
But that can always be adjusted with the addition of dark-brown or navy, and is mitigated by the simple, classic nature of the pieces.
Stòffa has an interesting business model, operating entirely out of trunk shows without any wholesale or retail (other than the odd collab, eg with Drake's on hats).
Agyesh travels to New York, Los Angeles, San Francisco, Stockholm and now London, several times a year.
It's a punishing schedule - he did 41 shows last year - but it enables him to escape wholesale or physical retail, and to offer a speedy made-to-measure service.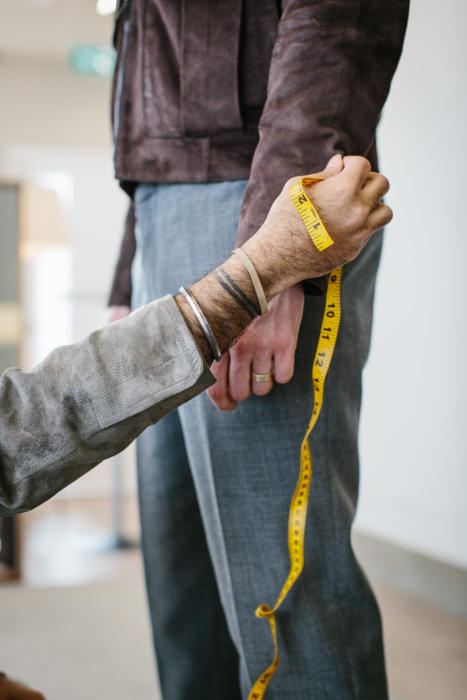 He aims to be in each city every 5-6 weeks, with time in between to complete any orders and deliver them at the next visit. The next visit to London will be April 21-23.
That model also leads to some attractive pricing for made to measure:
Suede and wool outerwear from $1400 to $2200.

Cotton and linen outerwear from $800 to $1500.

Trousers from $275 to $450.
There is much else we could go into here, from Agyesh's approach to product development, to his 800+ days of public product testing on the hats, to his policy on responsible sourcing.
But we'll leave that to another post - after the April trunk show, when I should have something to review, having commissioned a navy-suede flight jacket when we met last week.
I will just say in passing that while the hats, trousers and accessories are lovely, they are perhaps less original and interesting than the made-to-measure outerwear, and so I'll generally focus on the latter.
Details again for the next show:
April 21-23
10am - 8pm
Contact form at stoffa.co/appointments
Below: Marcus in Eidos tailoring, and a Stoffa scarf
Photography: Jamie Ferguson @jkf_man