Jacket and jeans: vintage cashmere from Eduardo de Simone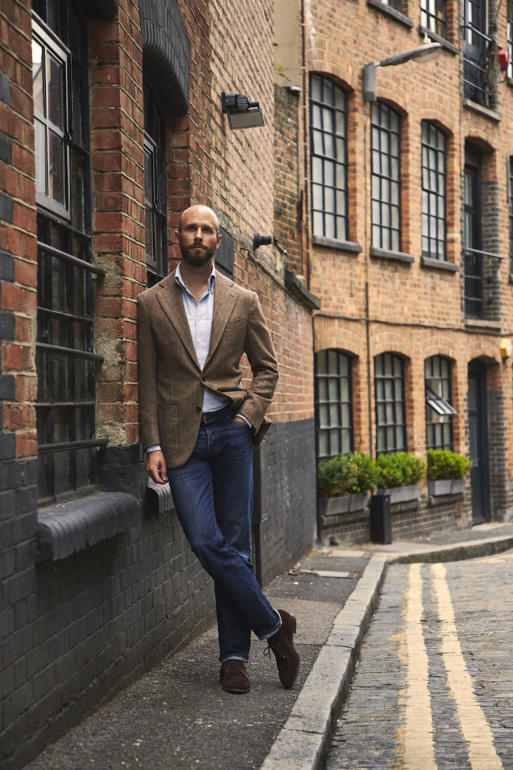 One of the most useful things in this day and age is a jacket that can be worn equally well with jeans and with formal, tailored trousers.
I've talked about this in the past, but in summary I find that for a jacket to work with jeans it needs to be:
Casual in style. Things like patch pockets, 3-roll-2 front, perhaps contrasting buttons

Casual in cut. Rounded edges, open fronts, often a tiny bit shorter

Casual in make. A soft construction with very natural shoulders. Often Neapolitan

Casual in cloth. Something with texture, primarily, like a tweed or fuzzy cashmere. Casual colours help too, like greens and browns
These are roughly in ascending order of importance. You can get away with normal flapped pockets, for example, but not with a square, structured cut.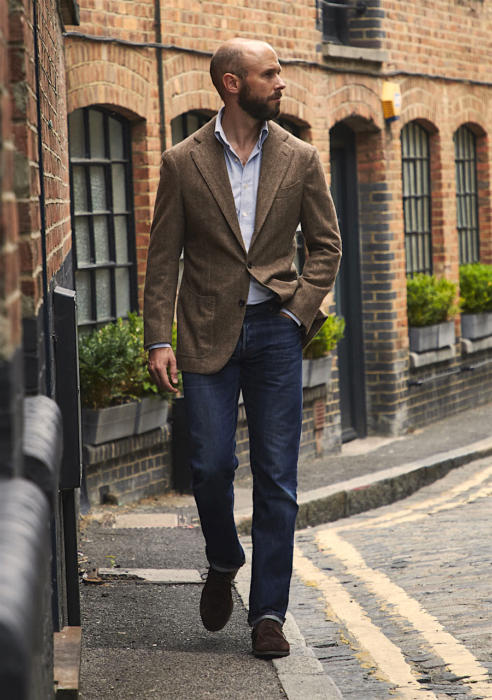 This jacket from Eduardo de Simone in vintage W Bill cashmere ticks all those boxes.
It looks great here with jeans and a blue oxford, but could still be smart with a white shirt and charcoal trousers.
Eduardo made me both a bespoke and made-to-measure version of this jacket, as he wanted me to compare and contrast the two - I'll do that, and comment more on the fit of this one, in a separate post.
The cloth is beautiful but, unfortunately, is a vintage piece that Eduardo had on hand from W Bill. He has enough for 2 or 3 other jackets.
The closest thing I've found in current bunches is the Loro Piana herringbone cashmeres, but they tend to be lighter in weight. (This one is perhaps 13oz.)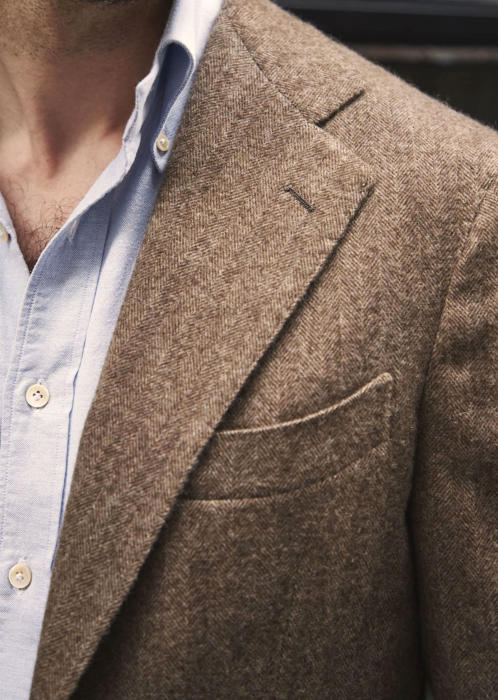 The jacket is a tiny bit shorter than most of my formal ones, but not much, with a back length of 31 inches (neck point to bottom edge).
It has dark-brown horn buttons with some variegation. And pockets with nice curves to them.
The hip pockets, though, are actually a little straighter than most Neapolitan ones - it's the tops with their forward, curving slope, that draw attention.
The jeans are the second pair I had made at Levi's. (Bluer Cone Mills denim, with a slightly lower rise).
Interestingly, I find a slim jean like this works better with tailoring than a wider one that's closer to the cut of a formal trouser.
Wider jeans tend to lose their shape, and not have the clean, straight line of a slim leg. The ones from Anglo-Italian also have that approach, while the Armoury ones I have are wider.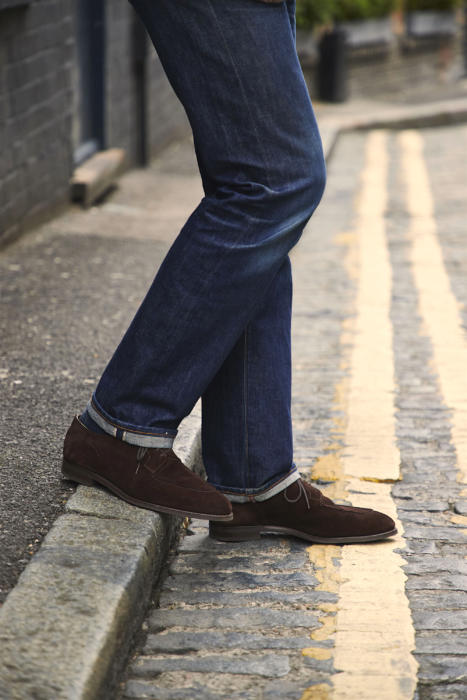 The shoes are unlined Edward Green Dovers, in dark brown ('mink') suede and thin rubber soles.
Going back to our post a couple of weeks ago on Gaziano & Girling's Fresco range, I do find that these unlined Dovers lose their shape a little and look more casual as a result.
But they're also fantastically comfortable, and are one of the few styles I have that can bridge smart and very casual outfits.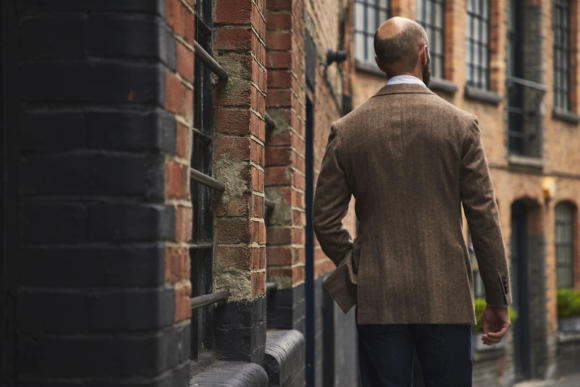 This is an area for shoes that I find interesting at the moment, both because I'm wearing them more and because it's a small gap in my collection. (If you look hard enough and long enough, you'll find one...)
Shoes that fall into this category perhaps include split-toe derbys, loafers and boots, often in casual materials like suede or cordovan, and usually on slightly more casual, rounded lasts.
One way I define this category of shoe is that it has to be casual enough to work with non-tailored jackets - like the Sapayol leather jacket I reviewed recently.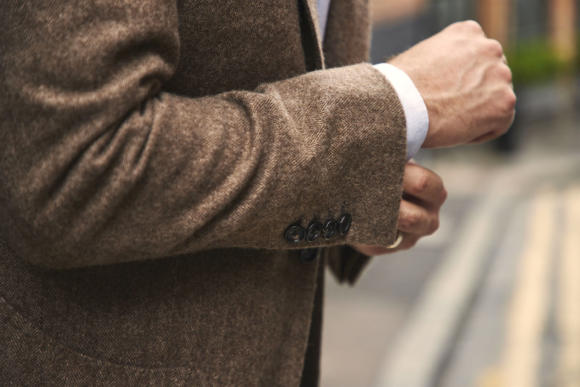 The shirt was made bespoke by Luca Avitabile in our exclusive PS Oxford fabric.
There about 12 lengths of that fabric left to make bespoke, and a ready-made shirt in the same style should be available next week.
Oh, and I didn't wear a pocket handkerchief. I find it feels out of place these days with such a casual outfit.
Photography: James Holborow