Sapayol is an online leather-jacket company, offering made-to-measure pieces manufactured in Turkey.
Like many start-ups, it was founded by a young guy who thought there was a hole in the market - but had no prior experience in the industry.
Here it's Ediz Binder, who lives in New York but is of Swiss/Turkish family, and got into leather while trying to find a good jacket while visiting his family in Turkey.
Starting from scratch meant he had to learn a lot, and spend a lot of time sourcing. Although the product is very good, he admits he doesn't know everything.
Perhaps, though, that means you get to pay a little less.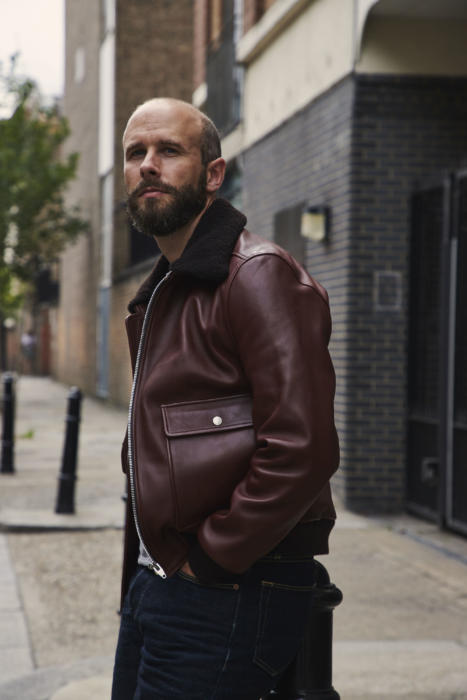 Ediz asked me to trial the service, and the jacket pictured above was delivered a few weeks ago.
Sapayol offers four styles of jackets, covering most of the classics, in two leathers and silver or gold hardware.
This is the flight jacket (the Linden) in brown, with silver.
The process involves picking your design details, then entering your measurements online: height, shoulders, back, chest, waist, arms etc.
There are videos for each stage showing you where to take them.
Nevertheless, I was sceptical about the value of these measurements. I've tried similar services in the past, and find them unreliable unless the measurer is experienced (ideally, a tailor).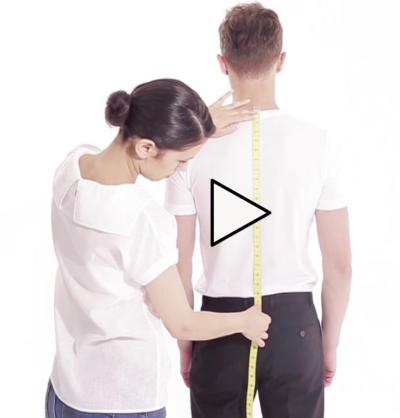 It was only the additional stage of the process that made me think it was worth trying Sapayol: sending trial jackets in two sizes, so you can try them and suggest adjustments.
Seeing physical garments gives you much more confidence in how the finished product will fit. Particularly given that how much excess a brand decides to add for your sleeve, or waist, on top of body measurements is subjective.
Over time I've learnt I'm basically a size 40 with a size 38 waist (often Medium and Small respectively) and so it proved with the sample garments - the shoulders of one and the waist of the other.
I could then suggest small adjustments to the sleeve or body length based on those samples.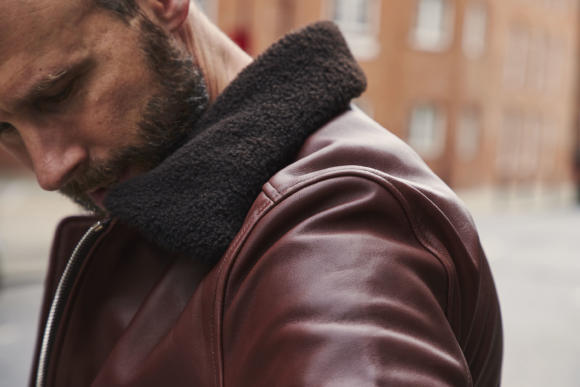 The quality of Sapayol's materials is good, but it's one area in which I think they could improve.
The leather has all the basics right: full grain, vegetable-tanned lambskin. But it doesn't have the richness or suppleness of the top-end brands I own, like Seraphin, Dunhill, Chapal, Ralph Lauren Purple Label, Cromford or The Real McCoy's.
Of course, some of those brands don't work in lambskin. But I have tried lambskin from some of them, and this doesn't feel quite top of the line. The same goes for the sheepskin collar.
Ediz and I talked about this, and about the large amount of research and sourcing work he has done. In the end there's no easy way to measure the quality - but I certainly prefer the leathers from those other brands, based on their softness, suppleness, and how they have worn. And the quality is quite consistent across them.
The fit of the jacket, when it arrived, was very good.
This is always a relief, because fitting at a distance is probably the hardest part of the process to perfect, and I'm pleased Ediz has it working.
The shoulders and waist were good, as were the sleeves. I might have it a touch longer in the body, but not much. My sloping shoulders don't do the back any favours, but we're not at a level where that would be corrected.
Ediz and I did talk on the phone about the fit, and what he would change about the sample jackets based on my measurements.
That level of interaction might have been the reason for this strong fit - though I'd worry slightly how scalable that level of discussion with the customer is.
The make on the jacket is good: clean, precise and consistent. Which again is an easy point to fall down if you're not used to working with factories.
You expect the same quality of finish and stitching on a Sapayol jacket as on one from any large brand, and that's what this delivers.
As noted at the time, my suede jacket from Craftsman Co in Hong Kong (who offer a similar service to Sapayol) did fall down slightly there, with some slightly erratic sewing.
I'm told they have improved since then, though I haven't seen any examples.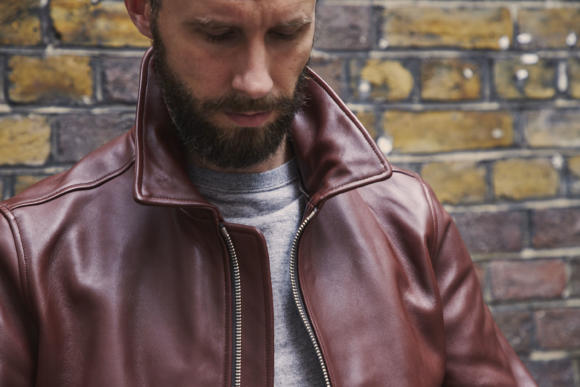 One other area in which again I think Sapayol could improve is design. Less the cut of overall jackets themselves - these are pretty standard - but the details.
For example, the plunge pockets in the side of my jacket don't really function - they're set too far back to be able to get your hands in. This is something I mentioned to Ediz and he said they're reconsidering.
The hardware is also a little cheap-feeling. I would normally have yellow metals on a jacket like this, but the yellow option I saw was very bright. And the quality itself is good without being top-notch - YKK Excella, which is a little below RiRi or Raccagni in most respects.
I also don't think the brown is necessarily a good shade. It's rather red and doesn't feel that natural.
This is a very subjective point, of course. I'm also told there is also a dark-brown option coming.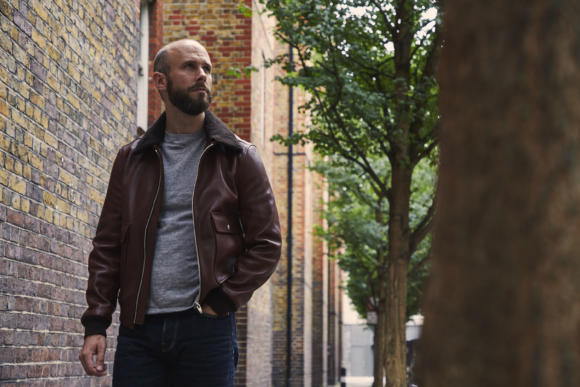 My thoughts on this jacket were brought into sharp focus last week, when I was browsing the new collection at Dunhill.
I tried on a leather bomber jacket with a fur collar and quilted lining. The leather (calfskin) was absolutely wonderful - buttery yet rugged. The hardware was great. And everything functioned very well. In all those respects, a clear step above Sapayol.
Of course, the fit wasn't quite right - but this is leather, not tailoring, and for my body shape all I would really have to do is buy the 40 and slim the waist.
And of course, it was twice the price. It was just over £2000 where Sapayol is just over £1000. I could afford to spend the extra amount, and would appreciate the difference; but that won't be the case for everyone.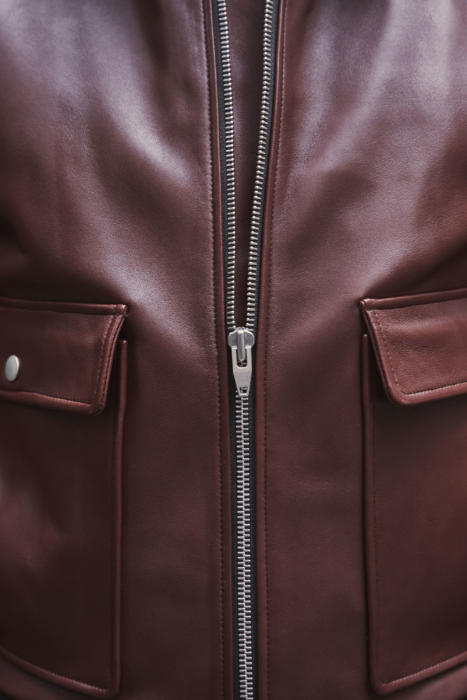 Overall, Sapayol has some very good points, and the product is solid. Great make, great fit (the hardest bit) and nice materials.
It is also a company at the start of its journey, and is already improving.
I'd certainly recommend them today based on fit - particularly if it's something you have particular issues with. And probably on value. Just not as the topmost level of quality.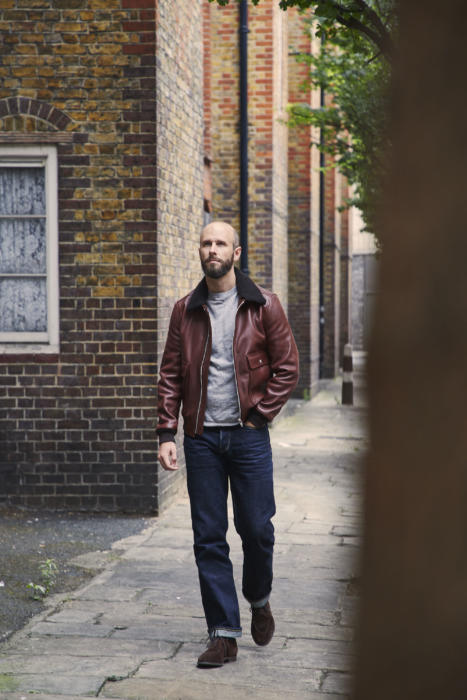 Photography: James Holborow
Worn with: