The style and tradition of Dege & Skinner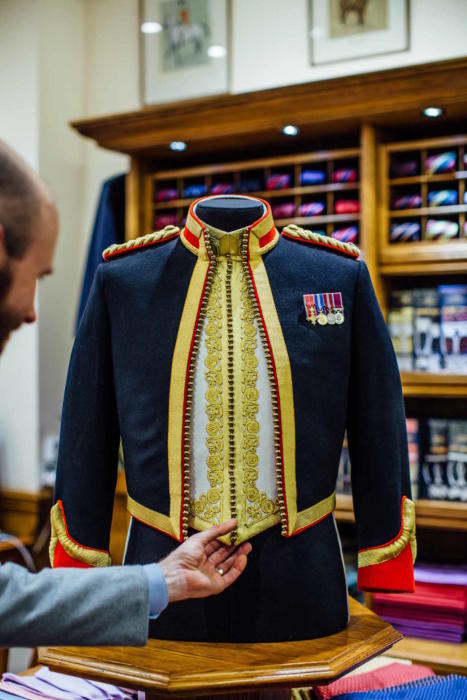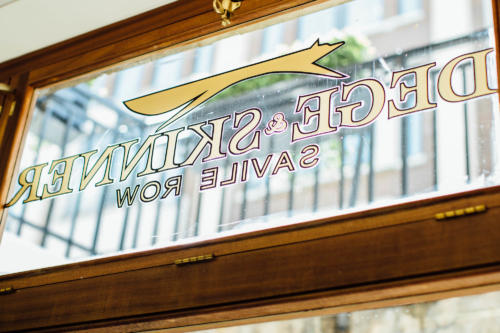 Dege & Skinner have never been ones to blow their own trumpet. But in the past couple of years there have been small signs of the 150-year-old, family-run tailor stepping out.
In 2012 they took over the workrooms under the shop on Savile Row, allowing them to move far more people on site. Last year there were some lovely celebrations for their century-and-a-half anniversary. And last month they began offering ready-to-wear suiting for the first time.
"It'll be interesting to see how it goes," says front of house Matthew Cowley (below). "We get so much foot traffic - partly because we don't have the imposing staircase of the other firms. And while they don't want bespoke, they want something with the Dege look and feel."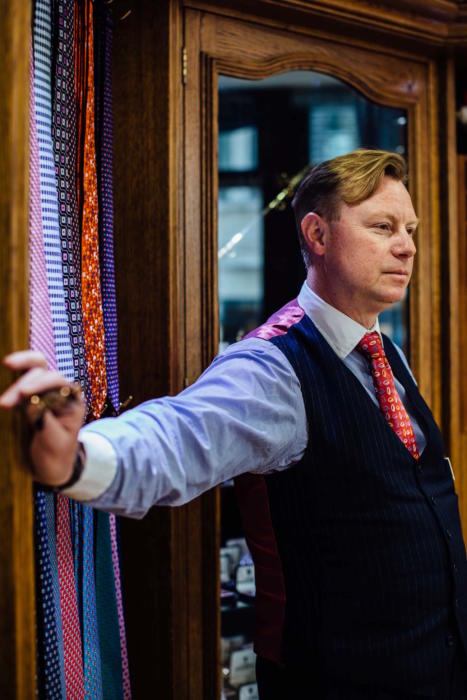 There is a pretty conservative selection of navy and grey suits, and navy blazers, starting at £995. They are half canvassed and made by Wensum in Mauritius.
"It is certainly our style - we tweaked the shape and moved the buttons and pockets a touch," says Cowley. "Plus we do all the alterations in-house, so you get that tailoring expertise." For me, that last point is probably the most significant.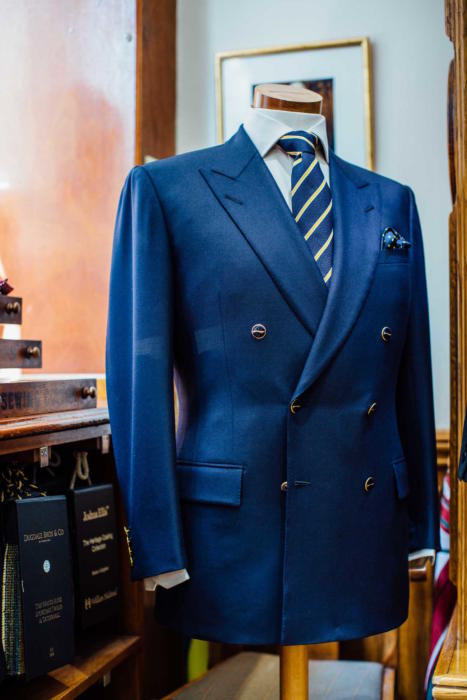 So what is the Dege & Skinner house style? (We'll focus on bespoke from now on, not RTW.)
It is a fairly strong-shouldered, structured look, similar to other Savile Row tailors like Huntsman and Richard Anderson. They don't do many one-button jackets though, unlike those houses, preferring to keep it for dinner suits.
Most single-breasted jackets are two button, with a 'true' (no roll) three button for more casual, country pieces. Not much drape in the chest, and not much flare to the skirt.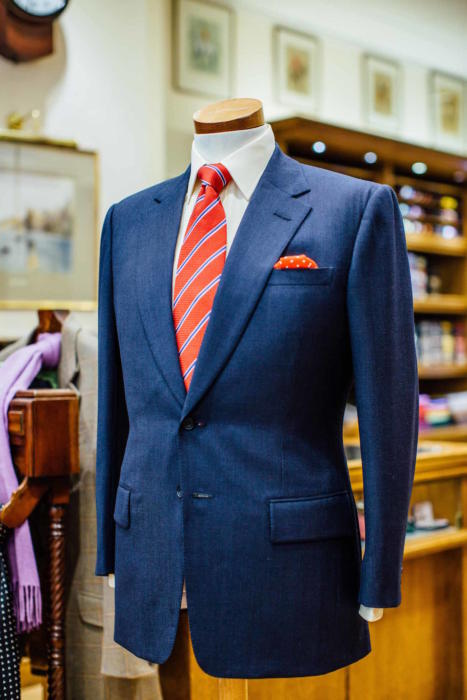 The lapel(3.5 inches in the image above) has a touch of belly. There is little rope to the shoulder. And the cuffs normally have two working and two show buttonholes.
Dege's overall look is clean and close, much influenced by the range of military tailoring the house does (which all the cutters are trained in).
That military tailoring is everywhere around the shop. It catches the eye on the dummies, and jumps out when you start looking through the racks of fittings waiting downstairs.
There's the mess dress of the Royal Lancers above, with its beautiful embroidery and cape-like jacket. Those buttons down the front are used to disguise a zip - if you see one without those, the piece has to be slipped over the head and zipped up at the side or back instead.
This piece was actually designed by Dege & Skinner for a new cavalry regiment. As the number of cavalry units decreases, more and more are being merged, and they then require a new dress uniform that brings in aspects of each's traditional dress.
"They didn't mind that much about most aspects of the design, but they really wanted to keep the waistcoat. That was the thing that defined their dress uniform for them," says senior bespoke cutter Nicholas De'Ath (below).
I think I'll do a separate post at some point trawling these uniforms for little points of inspiration. Apparently some Dege customers do apply them to their civilian tailoring: one recently ordered a frock coat with embroidery up the arms, to wear on his motorcycle.
Below is a beautiful, rich purple mess jacket and vest of the Royal Hussars - similar in design to the Royal Lancers jacket but with that zip fastening up the back.
And for some reason I am particularly taken by the big gauntlet cuffs on the Royal Company of Archers coat below it.
Military tailoring still makes up about 30% of Dege's work. They travel every week to Sandhurst to outfit new officers, and made the uniforms for then Prince William and Prince Harry when they were commissioned into the Blues & Royals. But it is shrinking. "Twenty years ago there were probably 22 regiments, now there are 8," says De'Ath.
The newly acquired workroom downstairs is bright and roomy, with just a few touches of personality starting to creep onto the walls around the apprentices and trouser makers.
(This is often my favourite part of a workroom - the family photos, the pin-ups, the cheery reminders that "you don't have to be mad to work here". But it has to build up naturally over time, like limpets decorating a rock.)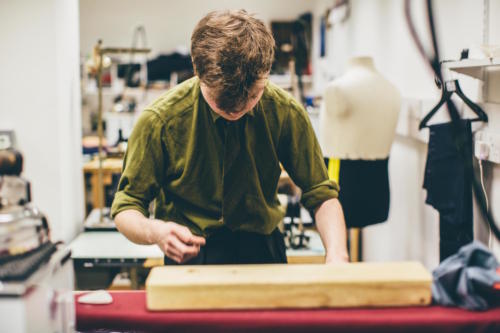 There is one apprentice working downstairs when I visit - Alex Hills, above in the green shirt, working on a series of sleeves. He is just finishing his apprenticeship but next to him is Cristian Greenwood, who is just one year in.
"It's great when people come out of training programmes like Newham College and have a little bit of knowledge of how to work," says De'Ath. "But what they don't usually have is much awareness of how a tailor works - even the difference between a tailor and a cutter, for example."
Photograpy: Jamie Ferguson @jkf_man