Double-breasted cotton jacket and striped shirt
When I first had this cotton jacket made, I noted that it was a tricky one to work into an outfit.
The vintage cotton cloth (more details here) is rather rough and casual, yet the cut and style are quite smart.
Having it as a double-breasted jacket makes it pretty formal to start with, but the combination with Ferdinando Caraceni's padded, square shoulder - plus the big sweeping lapel - exaggerate the effect.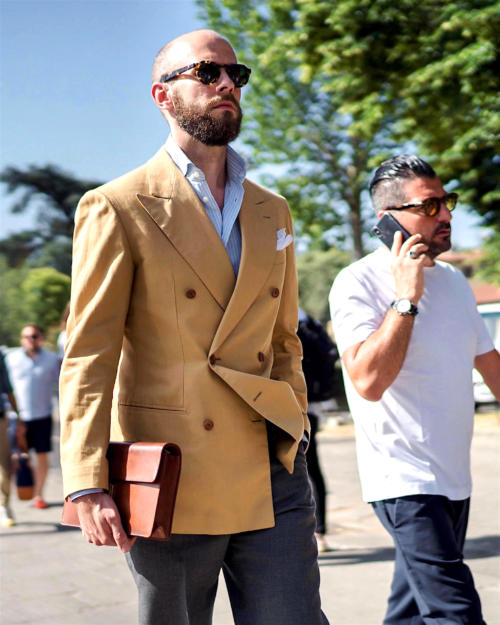 I've generally found, as a result, that simple, classic colours in casual materials make the best partners. Things like grey fresco or flannel trousers, with loafers in brown suede or grained leather.
Here, the trousers are from The Disguisery made in Holland & Sherry's Crispaire fabric, and the brown-suede string Belgian loafers are from Baudoin & Lange.
If it weren't so hot, I'd be wearing fine cotton socks rather than being sockless, and probably my 'Janus' brown loafers from Stefano Bemer (benchmade but on my bespoke last - their 'Blue Bespoke' service).
I do think, by the way, that this is an outfit that could work nicely in a more subtle combination - even a casual office - if the jacket were soft and single-breasted, with those loafers on the feet.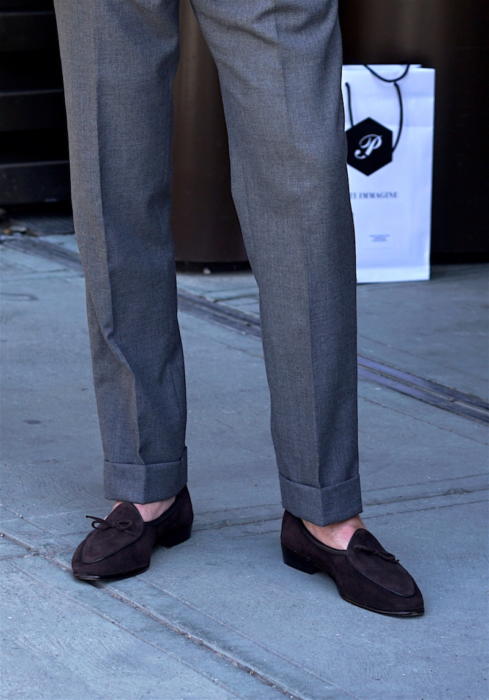 The tricky thing about this jacket is what to wear at the neck.
I've tried many different combinations of shirt and tie, but they all seem too smart for the material - even my mainstay of pale-blue chambray/denim shirt with navy knitted/grenadine tie.
The shirt has to be open-necked, but (like most English tailors) the jacket's collar make and height are too much for most shirt collars, causing them to collapse beneath the jacket collar over time.
This cotton/linen blue/white stripe from Luca Avitabile, however, is an old one before we settled my pattern. It has a slightly higher collar, and that is enough for it to sit up around the jacket collar.
Rolling the collar a little with the fingers, so it curves outwards, also helps - something usually easier with a fused collar than a floating one.
The stripe also adds a little pattern to an outfit that otherwise has none.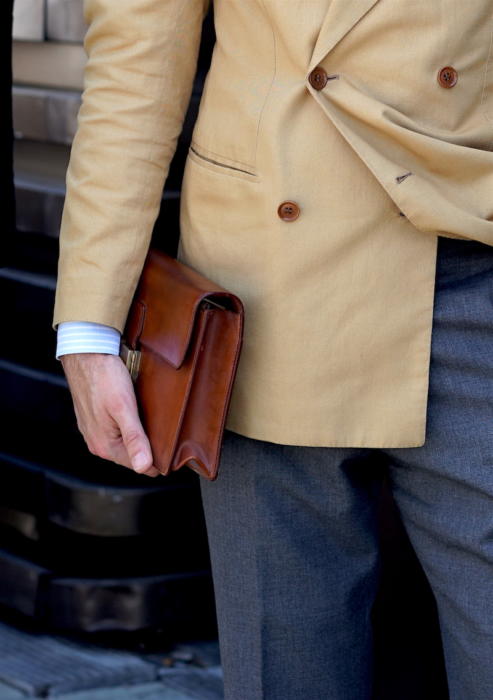 The jacket has flaps, by the way, but like all good flaps they can be tucked away and just leave a straight welt pocket.
I find I like this style on such an angular cut of jacket.
This is also one of only a few jackets where I really like the effect of corozo buttons rather than horn. You can't get this orangey tone with horn, and its strength of colour is nice with the strong yellow of the cotton.
You also only see the wavy patterns of corozo in shades like this; in anything darker they get completely lost.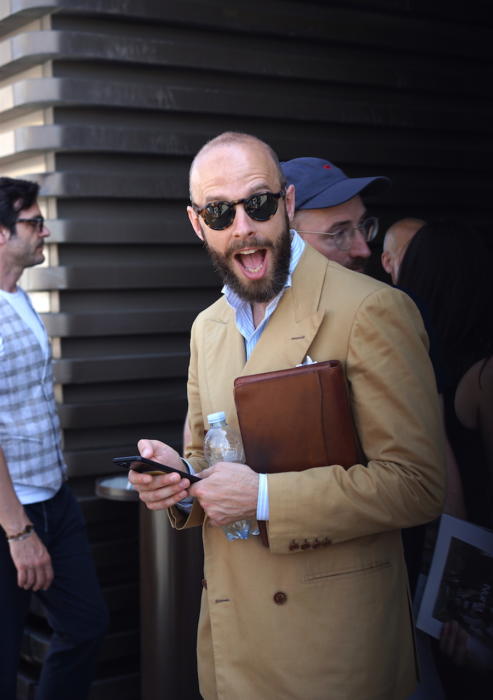 Readers will recognise my vintage Alfred Dunhill box (post at that link) and the sunglasses are from Meyrowitz, but I'll post on those separately.
Photos are from: Jamie Ferguson (top), Fabrizio Di Paolo (next), Buzz Tang (the rest). Thank you all for your snaps.