Now available: PS Oxford shirts
"I've had my shirt in the PS Oxford fabric for three months now, and it's worn in so nicely. It's been worn once or twice a week, softened steadily, and now feels like an old friend."
I was going to start this post - announcing the availability of finished shirts in PS Oxford fabric - with some of my own experiences. But how much nicer is it to use the words of a reader, as emailed to me last week?
There's nothing nicer that getting this kind of feedback, particularly when it's something you've worked on so hard yourself personally.
So, to clarify: the oxford shirt fabric that I developed with Canclini, and has been available just as raw fabric for the past five months, is now on the shop site as finished shirts.
You can buy them here.
As with the denim shirts, these are made by Luca Avitabile in Naples, with handwork in the collar, armhole, buttons and buttonholes.
They have single-cuffs and button-down collars - with that lovely natural roll to the collar that Luca and I designed for my bespoke shirts. It means the shirt rolls around a jacket lapel when open, but also encircles a tie when buttoned, rather than lying flat on top of it.
They are available in four sizes: Small, Medium, Large and Extra-Large (precise sizing and measurements on the shop page).
As ever, we recommend comparing these measurements to a shirt you already have to get the best idea of fit.
However, there are also free returns, so you can buy two and send one back, or exchange easily.
Returning to my personal experiences, I've found my PS Oxford shirt fills a specific gap in the wardrobe: smart enough for almost any sports jacket - from cashmere to corduroy - but also the perfect partner for jeans. It might bridge formal and casual better than any other shirt I have.
I find the PS Oxford is now my default setting, going under anything except worsted suits, and providing a calm backdrop to the brightest patterns or loudest colours.
It is what I put on at the weekend, with jeans or chinos, and then worry about what interesting shoes, knitwear or outerwear are going to go with it.
In terms of details on the fabric itself: PS Oxford is designed as the perfect combination of rugged, traditional oxford shirts and modern desires for fineness and performance.
The things that set a traditional oxford shirt apart, such as originals from Brooks Brothers, are generally a heavier weight, a thicker yarn, and a subtle variation in the blue and white yarns that leads to a varied, slubby appearance.
The weight of good cotton is what makes the shirt comfortable, soften with age, and feel lived-in and personal, while the thicker yarn makes it more casual.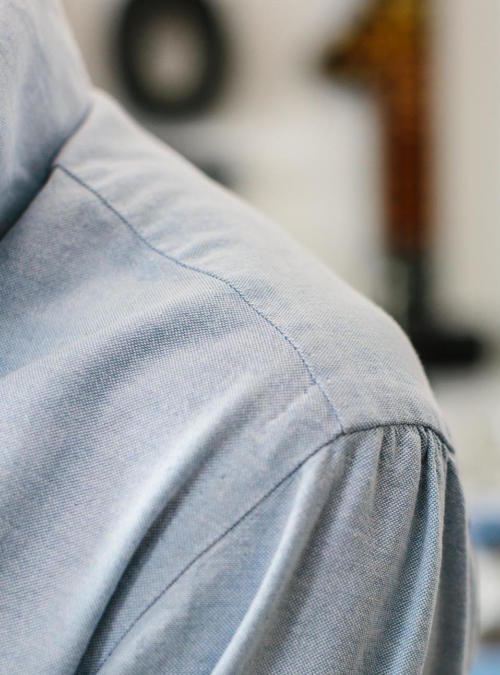 So the PS Oxford uses a thick, coarser yarn in the weft to get this effect (single-ply 10-count). But in the warp, it uses two yarns of a finer cotton (two-ply 90-count).
Having two yarns in the warp means it has a similar thickness to the weft, but the higher thread count gives the fabric a nicer feeling overall.
The final cloth still has that traditional texture, but avoids some of the downsides of short-staple cotton. The perfect combination, hopefully.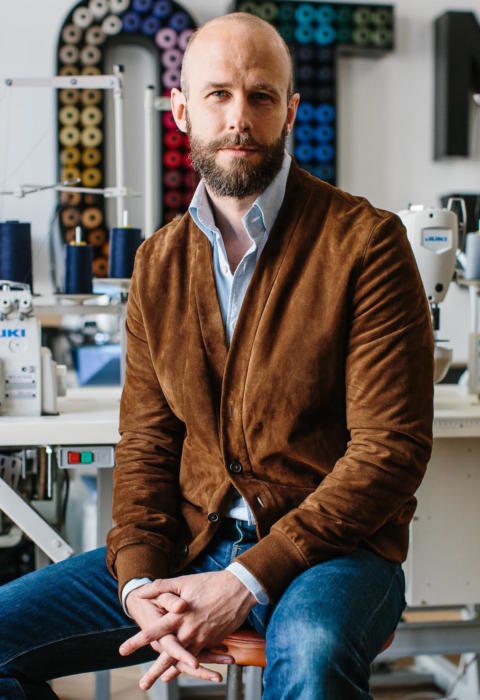 Here's another reader quote to demonstrate what all this produces - from Nigel in a comment on the website:
"I received my PS Oxford button down yesterday from Simone Abbarchi. Cloth and shirt are exactly as I'd hoped. I'm almost wishing for cooler weather so I can wear and enjoy! Thanks to Simon and Simone! N"
Fortunately, that cooler weather is now here.
I hope you all enjoy the shirts, and do let me know if you have any questions.
Simon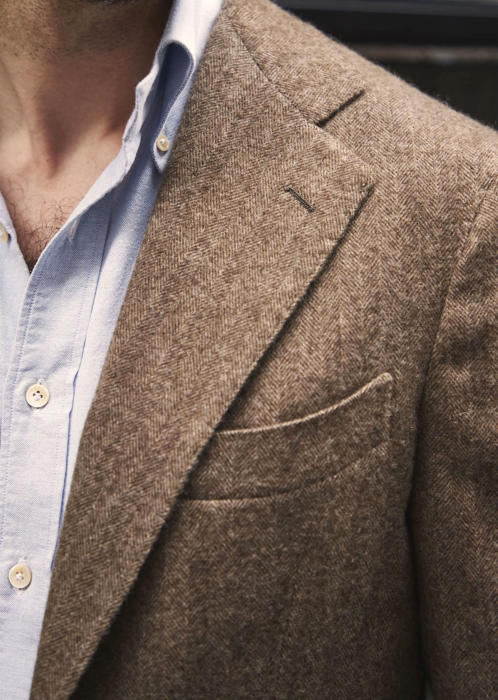 Photography: James Holborow and Jamie Ferguson