The one-piece Friday Polo
This is the latest iteration of our popular Friday Polo - in the same cut, cloth and colours, but with a wonderfully nonchalant one-piece collar.
The heavy pique-cotton of the Friday Polo continues to make it wearable year-round in the UK, and particularly nice this time of year.
The long body, shirt cuffs and bespoke details (like a small armhole) also make it particularly good under tailoring.
But I was keen to explore different options with the collar - something that made it slightly more than a copy of a dress shirt. And the one-piece collar does that.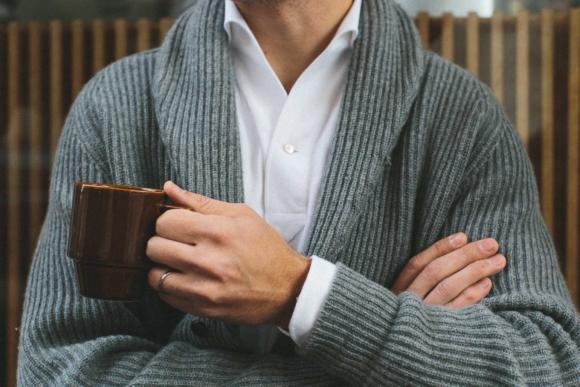 Made from a single piece of material that flows from the placket on the front, up into the collar, round the neck and down again, it has a very different feel to a shirt with its separate placket, stand and collar.
The look is perhaps akin to a shawl collar on a cardigan, or a dinner jacket.
Certainly, the uninterrupted flow of the cloth suggests a similar air of casual relaxation. It is also, perhaps, one more way to subvert the formality of bespoke tailoring.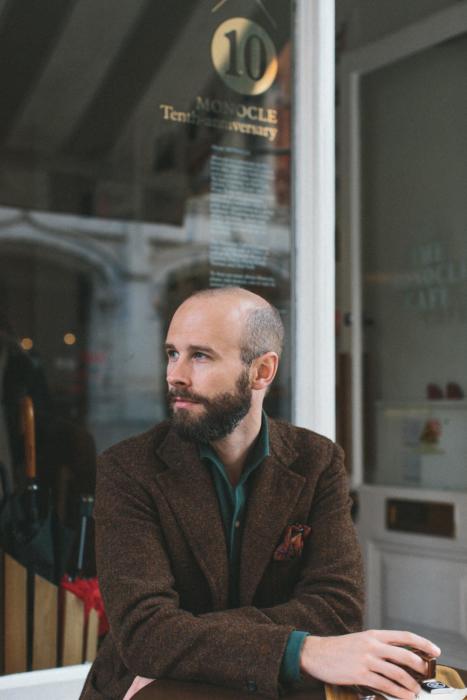 The one concern I had with this collar was that it would collapse under a jacket - not rolling nicely in the way a button-down should do (and thus serving to both open up the neck and frame the face).
So Luca (Avitabile, Neapolitan bespoke shirtmaker, below) and I worked hard on the length and shape of the collar's point.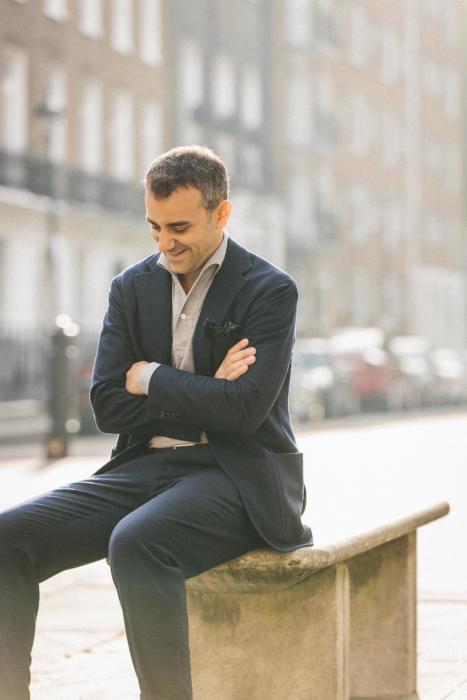 It turned out that a slightly shorter, higher point would encourage the collar to roll more. But it couldn't be so short that it would pop out from under the jacket.
After a few iterations we found the perfect balance, and I actually feel the one-piece Friday Polo rolls more pleasingly around a jacket than the original.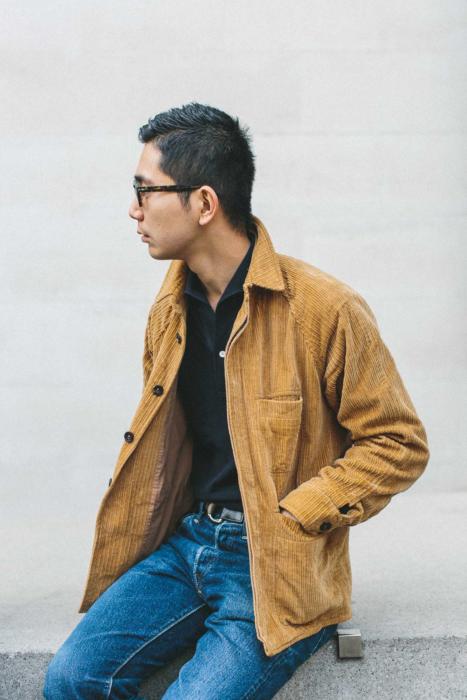 There are of course, lots of one-piece-collar shirts out there.
Loro Piana does them, as does Eidos, as does Luca Faloni and many others. There's nothing new under the sun. (Not even holdall/suit carriers).
But there are no one-piece polo shirts in our Caccioppoli cloth, or in our handmade Neapolitan construction. This is a natural extension and slightly more degagé version of our standard Friday Polo.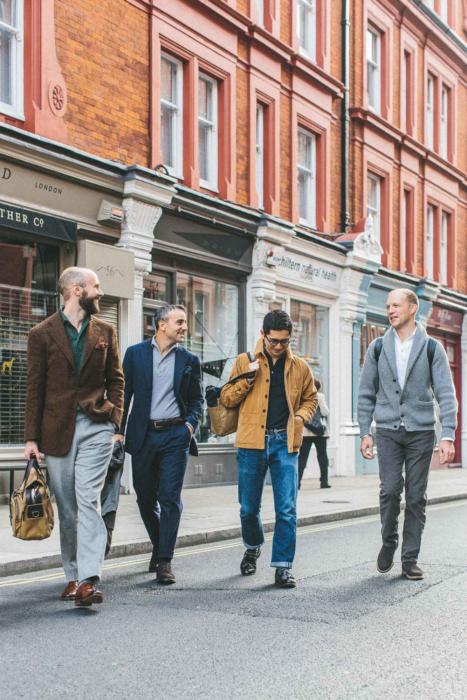 The photoshoot shows the many different ways the one-piece Friday Polo can be worn.
Luca and I are wearing them as they were originally intended - me in the green colour under brown tweed, Luca in a grey under navy flannel.
Worn like this, it is a casual yet well-made and tailored alternative to a dress shirt.
Readers will recognise my Caliendo tweed jacket. The flannels are A&S, the shoes Dovers from Edward Green and the bag a vintage Filson.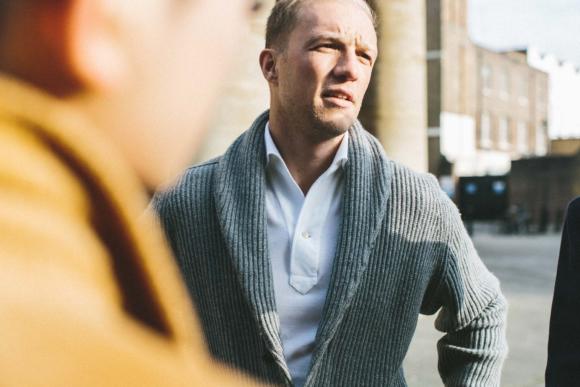 The other two guys are more casual.
Ed Walsh (above - one half of the team behind Alice Made This) is wearing his polo under a Drake's cashmere shawl-collar sweater.
Below the waist are charcoal chinos, and on the feet a pair of Common Projects brown-suede chukka boots.
Keita Hiraoka (above, stylist at Monocle and Trunk Clothiers) is even more casual.
He wears his polo with an SEH Kelly corduroy jacket, jeans from OrSlow and black tassel loafers.
I love it when guys like Keita suggest things I wouldn't normally wear - like black shoes with mid-blue denim. It's the navy polo, I think, that is dark enough to make that work.
It probably goes without saying, given the shots, that the shoot (by Jamie Ferguson) was great fun. Nice to involve a range of people from around the industry.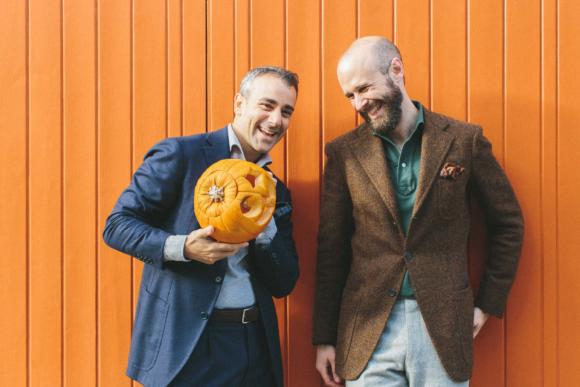 The one-piece collar Friday Polo will be available in the four colours shown: navy, white, green and grey.
These are all colours we have used in the past, so if you have bought a Friday Polo previously, you will be familiar with them.
The new polo will only be available in our pop-up shop for the first week.
This opens today (see you there!), so they will be available online from next Wednesday, November 22nd.
I hope readers will forgive this blatant attempt to get some lovely people down to the pop-up (37 Savile Row - details here).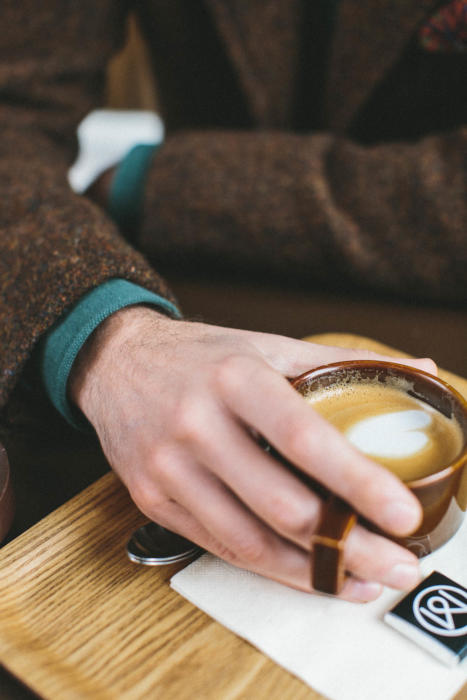 For those not familiar with the Friday Polo, here are some details:
The project was started in 2015 with Neapolitan bespoke shirtmaker Luca Avitabile, who has been making my shirts for a few years.
The idea was to use the best materials and as much as possible make them in the same way as Luca's bespoke shirts.
Everything is hand cut, and there are five points of handwork: hand-inserted sleeves, buttonholes, buttons, gussets, and ends of the cuff placket.
The style is like a shirt, so shirt cuff, and long in the body and tail, designed to be worn tucked in.
Mother of pearl buttons.
The shirts will not shrink when washed, but should expand slightly in the waist. Do wash cool and line dry.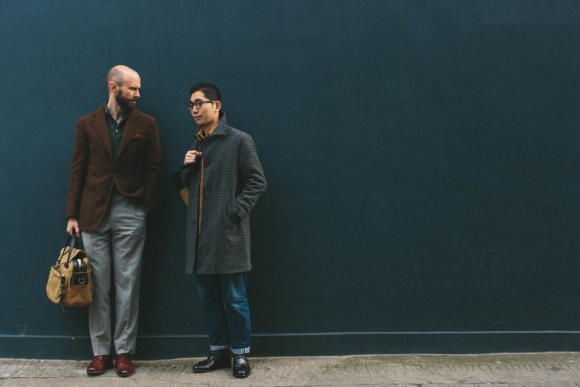 Logistics:
We sell at below the normal retail price. The one-piece polo costs £165 + VAT. With a standard retail mark-up these would be closer to £280.
Four sizes: Small, Medium, Large and Extra-large (see table below for dimensions).
Shipping from the UK.
Returns and refunds available if the product is in a resellable condition, although we do not cover the cost of return postage.
Sizing:
The shirts have a moderately slim fit.
In the images we are all wearing mediums except Keita, who is wearing a small.
If you are unsure about fit, we recommend comparing the measurements below to a polo shirt you currently own. They are in centimetres.
Chest Waist Yoke Sleeve Body
S 102 92 40 61 75
M 106 96 44 65 76
L 116 106 47 69 81
XL 124 114 48 69 81
Photography: Jamie Ferguson @jkf_man
We do plan another run of the standard polos next year, but not until the Spring.