Masaru Okuyama bespoke shoes: Review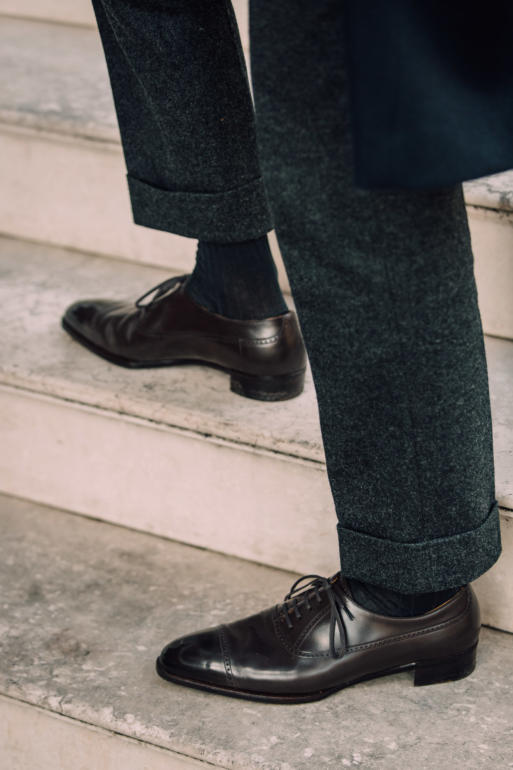 Masaru Okuyama - the Japan-trained but Hong Kong-based shoemaker - made me this pair of shoes over the past 10 months.
Their relevance is twofold. As a review of Masaru and his work, of course, but also as an experience of Japanese shoemaking, as this is my first pair from a Japanese maker.
In brief, the make is superb and the fit very good too. There are some minor issues on the fit, but overall these might be the best first bespoke pair I've had.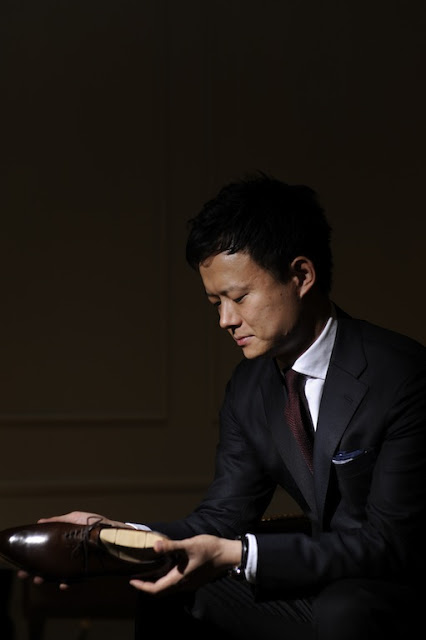 Masaru is slightly unusual among Japanese shoemakers in that he learned in Japan but - despite a few months travelling around - didn't then train in Europe.
He was advised by Ricardo Bestetti not to waste his time starting at the bottom with a house in England, France or Italy, when he could already make everything from scratch.
He is also unusual in deciding to set up in Hong Kong (in 2010), rather than Japan. This has made him more accessible for some customers, given the number of people travelling through Hong Kong.
However, in recent years his travels have increased that accessibility more significantly. He is one of the few Japanese makers that travels to London (twice a year) - which is one reason I decided to work with him.
He also travels to Singapore, Beijing and Hanoi three times a year, and Shanghai twice a year.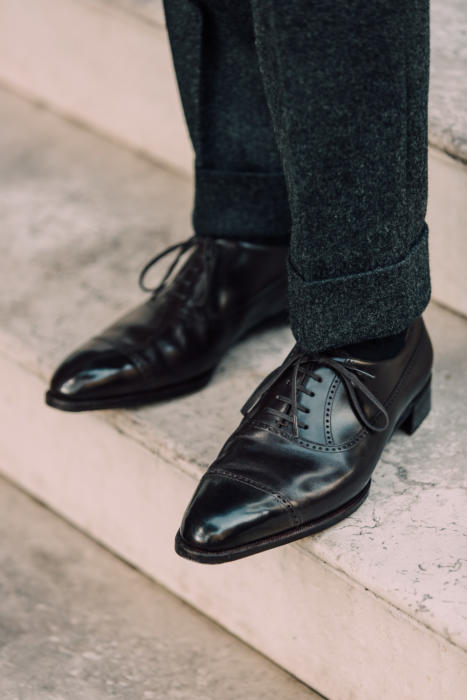 Although based in Hong Kong, Masaru's style isn't really influenced by it.
He is a Japanese shoemaker, and as a result tends to a finely made, slim shoe on an elongated last. He can make different styles, but he has this tendency in common with many other Japanese makers.
Those makers can also be divided up by their European influences and training of course: a simple English shoe, a flashier French one, or a longer Italian one, perhaps.
But even though there are these differences, I think it's fair to say the Japanese as a whole have this tendency towards slim refinement.
You see that in Shoji Kawaguchi (Marquess) and Yuki Shirahama, even though one trained in England and the other in France.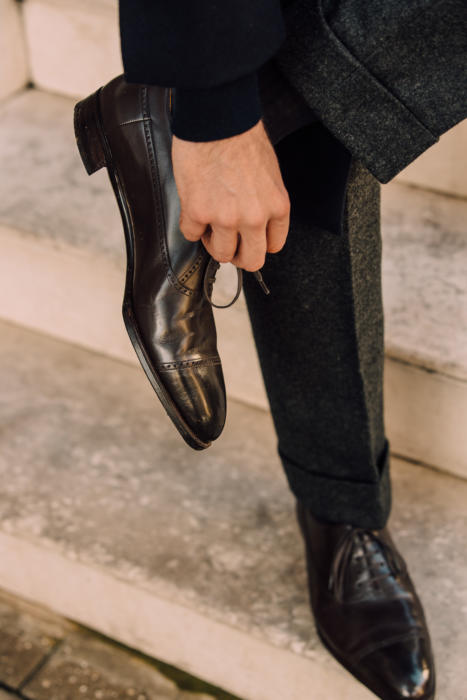 The execution of those points on my shoes is superb.
I have to say I had high expectations, but these have fulfilled them.
The way the heel cup runs smoothly into the heel itself; the slight pitch of the heel; its curve on the bottom into a bevelled waist; the consistency of the finishing all round the welt.
These are all points for the enthusiast, but it's what you can get from a handmade shoe - and should perhaps expect from a good bespoke one.
I illustrated them (with helpful red lines) on my review of Foster & Sons bespoke.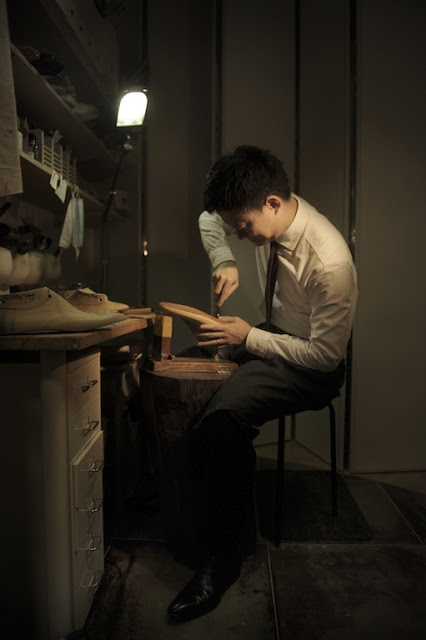 At this point in my journey through bespoke shoes, I would never expect fit to be absolutely perfect on a first pair.
It's one of the big problems with bespoke, and something I reflected on with my second pair from Stefano Bemer.
The biggest argument for bespoke footwear is as a long-term project.
If you have one maker, and make a pair every year or two, then 20 years down the line, it will seem virtually irrelevant that the first pair wasn't quite right. But it doesn't feel that way if you only buy one.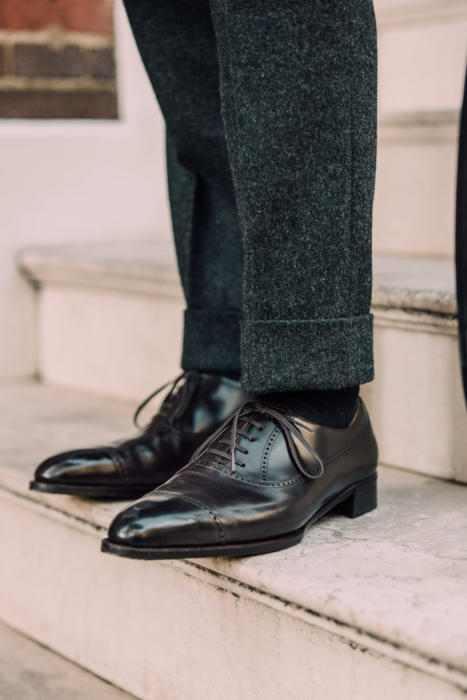 Masaru came close with this pair.
The heel shape is perfect, the toes have plenty of room to move (without the shoe itself being too wide - a delicate balance) and the arch of my foot is followed precisely.
The issues are with the vamp, where you bend the shoe as you walk. There is a little too much room here, which is causing wrinkling.
This is a delicate balance though - I have a high joint on my big toe, and when other makers have left too little room here, that has been pressed painfully.
Personally I also think the wrinkling is down to the length of the shoe. Because it's long, the vamp is creasing in almost two places. A shorter style might remove that problem.
However, Masaru will be able to diagnose it better the next time he's in London. Although he checked the fit when he delivered the shoes to me, it will be much clearer when they've been worn 10 or 20 times.
A tightness on one side of the heel has already subsided, as the leather has softened.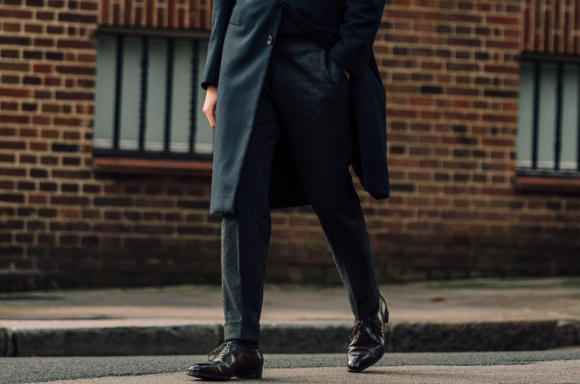 From a style point of view, it's also worth noting that as with a lot of bespoke makers, Masaru does no real finishing on the shoes.
They're polished of course, in a similar colour, but there is no patina, no burnishing. This makes them look a little flat - particularly if you compare them to a ready-made shoe - but that will come in time, as I polish them myself.
I've already started using a little black polish on the toe cap and heel, and that will build slowly. Character will also come through the creases and little signs of wear.
Lastly, I think I made the wrong decision on the style around the heel.
This is a balmoral oxford: 'balmoral' referring to the horizontal seam running along the side of the shoe, rather than curving down to meet the sole.
At the back, Masaru suggested tweaking the style, so that the vertical seam on the heel is moved around to the side of the shoe.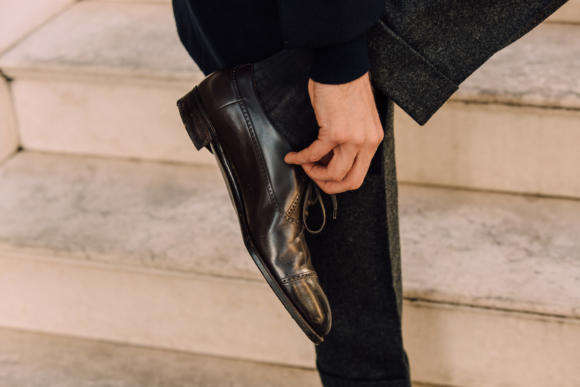 This makes the heel look cleaner (no seam); and because the seam is placed on the internal side of the shoe (between your two feet), it is also not that visible.
But when you do see that seam (as you can above) it looks of place to me. Floating; unmoored. I should have left it on the back.
Oh well. Contrary to what you might expect, I know that in the long term, that imperfection will almost make me more fond of the shoes, not less.
Masaru's starting price for bespoke is currently HK$38,000 (£3,695). Delivery time is around 10 months.
He also now offers an MTO service, where shoes have a hand-sewn welt but outsole sewn by machine. They are based on ready-made sizes, with the ability to alter width and in-step height. It starts at HK$16,000, and delivery is four months.
You can see a full range of Masaru's styles on his Tumblr here. There is also a nice interview with Masaru going into more detail on his background, here.
Shoes worn with trousers in charcoal 19oz flannel from Fox Brothers (FS405/A2069/33), made by Whitcomb & Shaftesbury. Experimenting with a slightly slimmer leg (19cm bottom).
Photography: shots of shoes on me, Jamie Ferguson; of shoes in isolation, Permanent Style; of Masaru, Masaru Okuyama.