The best fit yet: Stefano Bemer tobacco-suede oxfords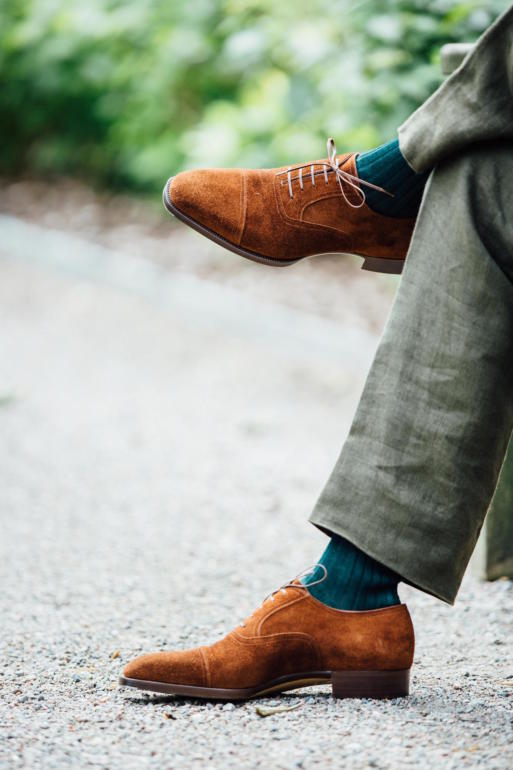 These bespoke oxfords from Stefano Bemer are the best fitting shoes I have ever owned. The zenith of - from a fit point of view - everything that bespoke should be.
But before I go into the product, I want to talk about the style. Because whatever the brand, I would like to recommend this colour of suede shoe.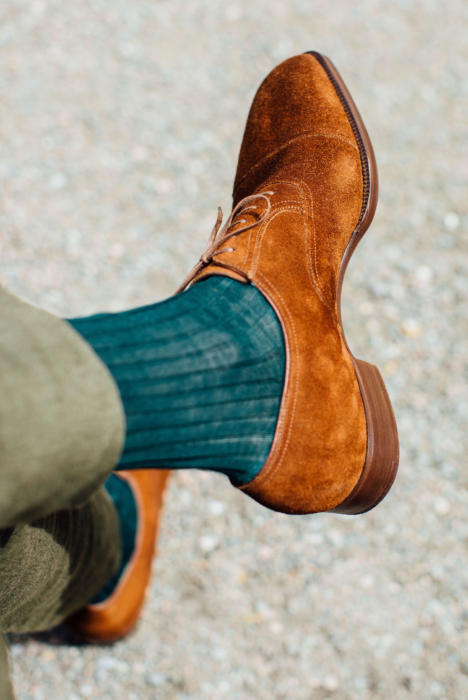 Men are naturally attracted to tan shoes. They're bright; they're shiny; they're particularly susceptible to building up a hard-won hand-polished patina.
But they are not very versatile. Men, unfortunately, often wear them with navy suits - which pretty much always looks awful. Tan is a casual colour and does not suit a formal suit.
Men also wear them with (slightly) more success with denim. It's still not the ideal setting (that would be a pale grey or cream trouser), but denim can take a lot of things.
But a better option is a tan- or tobacco-coloured suede shoe, as shown here.
The suede immediately makes the shoe more casual, suiting it to denim or other casual trousers. You get all the colour attraction of tan, but without the formality of the leather.
Tan suede is never going to be as useful as dark brown - always the first choice for a suede shoe - but it is surprisingly versatile. And it is a gorgeous colour with flannel trousers, perhaps with a tweed jacket worn up top.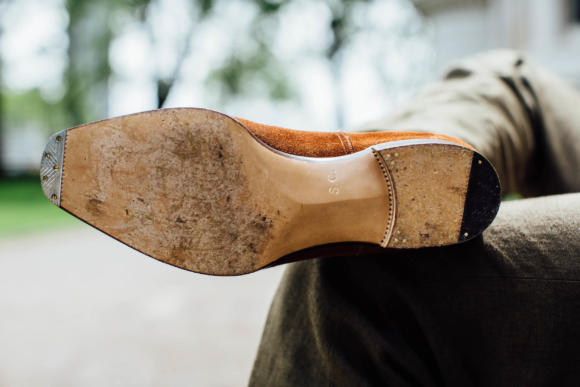 Now to the fit. I really liked the fit of my first pair of bespoke shoes from Stefano Bemer - tan oxfords, as it happens (I don't wear them with navy).
But there a couple of fit and make issues. A little too much room around the joints, and the toe puff not extending as far as the end of the toe cap.
The fit through the heel cup and the support in the arch was superb (so much so that I videoed myself doing a little jig in them, which is on that post). But they weren't quite perfect.
This January I showed them to Masako, and she made many little scribbles on the last. A couple of months later, I received the final pair and everything was right - the arch, the joints, heel, everything. Absolutely perfect.
Bespoke is not an easy process, in any field. It is as much psychology as physiology. But when you've got it bang on, it is uniquely satisfying.
Suddenly it feels very strange when (as I did today) you put on a pair of ready-made shoes and they are not sculpted to your foot. They feel like they were made for someone else.
Of course, you forget about that after a while. And unless there are any specific points of discomfort, you are left with just the aesthetic benefits of bespoke. But it's a hard feeling to ignore.
Stefano Bemer bespoke from 2450 euros, plus initial 600 euros one-off fee for making the last. Fiddle-back make, as shown here, from 3600 euros plus that fee.
Photos: Jamie Ferguson @jkf_man