Building a wardrobe: Bespoke shoes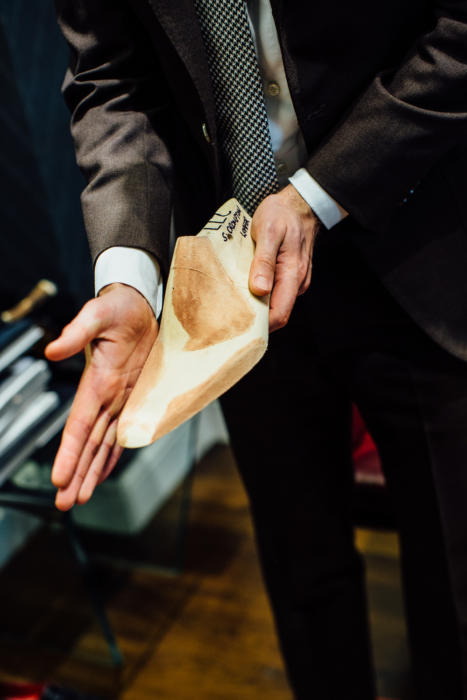 As the last post on building a wardrobe - focused on Neapolitan tailoring - proved popular, I thought I'd do a second looking at shoes.
But rather than look at my whole shoe collection, which numbers more than 40 pairs and would take a long time to go through, it seemed more effective to focus on bespoke shoes.
The bespoke set is both more consistent and reflects many of themes in the wider collection.
As with the first post, the focus here is on style and building up a functional, versatile wardrobe - rather than comparing the makers.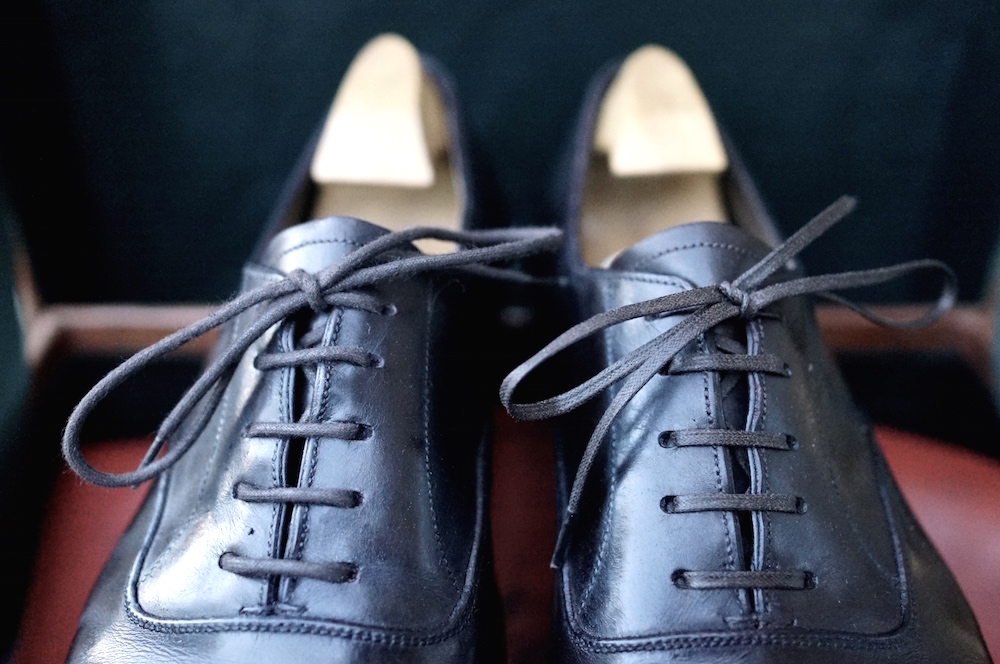 Cleverley dark-brown oxfords
November 2010
www.permanentstyle.com/2010/11/bespoke-shoes-at-cleverley-12-the-compendium.html
The first thing to note about my commissioning of bespoke shoes is that it is boring. Or to put it in a positive light - practical and consistent.
My first pair, from Cleverley, is a case in point.
The colour is very-dark brown. The kind of brown that goes with every suit from charcoal to tan. For anyone buying a pair of formal shoes, I highly recommend it.
I also recommend oxfords as a starting point if you wear formal clothing at all. It is more formal than a derby and goes with anything up to chinos and jeans.
Having said that, the shape of the Cleverleys - with their 'Anthony Cleverley' elongated toe, makes them more formal than most oxfords, and I wouldn't wear them with most casual trousers as a result.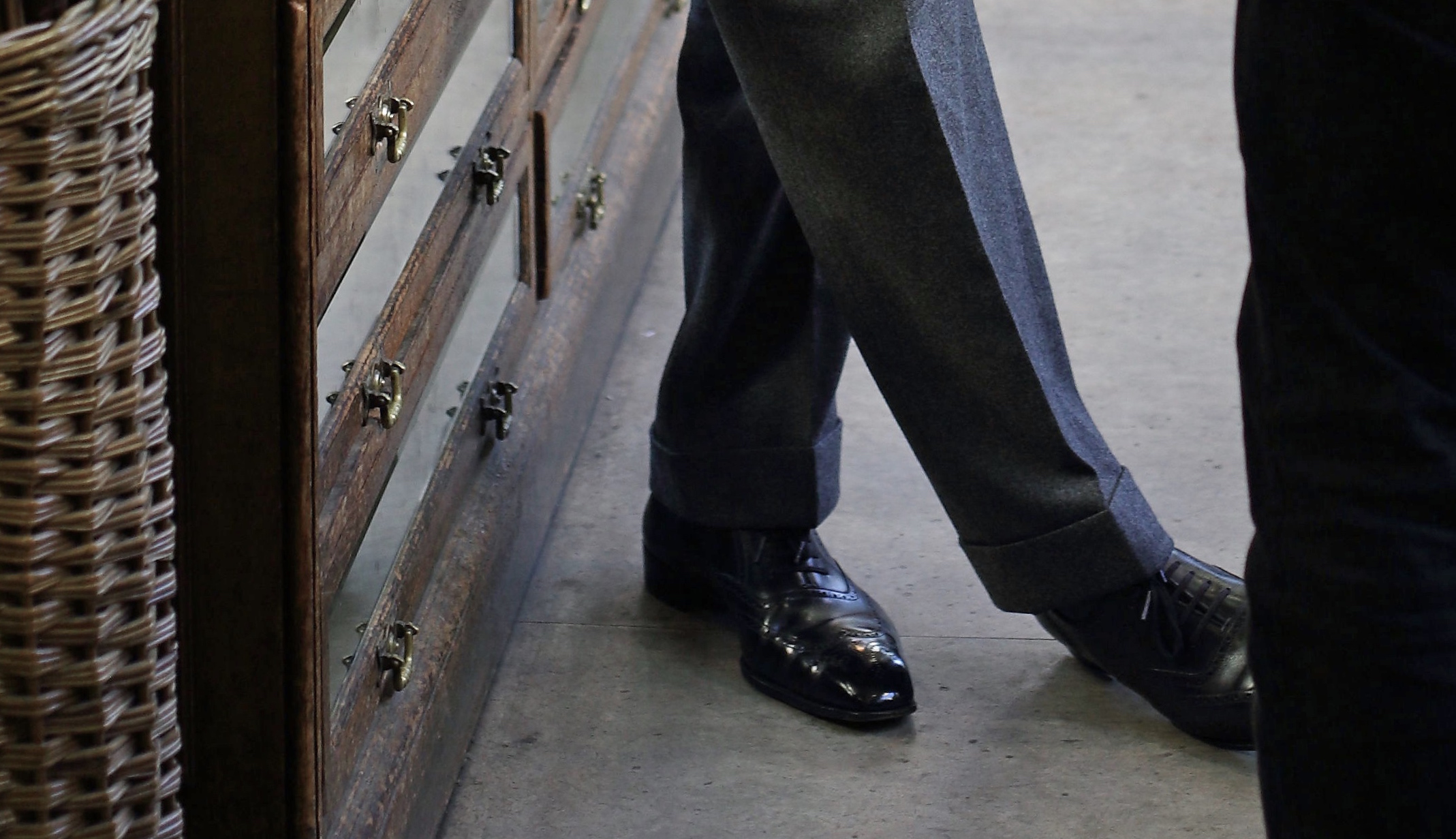 Cleverley black imitation-brogues
July 2011
www.permanentstyle.com/2012/01/cleverley-imitation-brogues-final-pair.html
The second pair were black. This also felt practical, although as you will note down the list, they became my only pair of black bespoke shoes.
Although black is great to have for the most formal or conservative of occasions - a lawyer's office, an evening event - shades of brown are always more useful outside of that.
Brown is also more interesting to polish. A touch of black to the toe, perhaps even around the heel, and it can gain a lovely range of tones. Black, by contrast, is rather dull - all you can do is make it shiny.
Which is one reason why British shoemakers have never been great at colour and patination.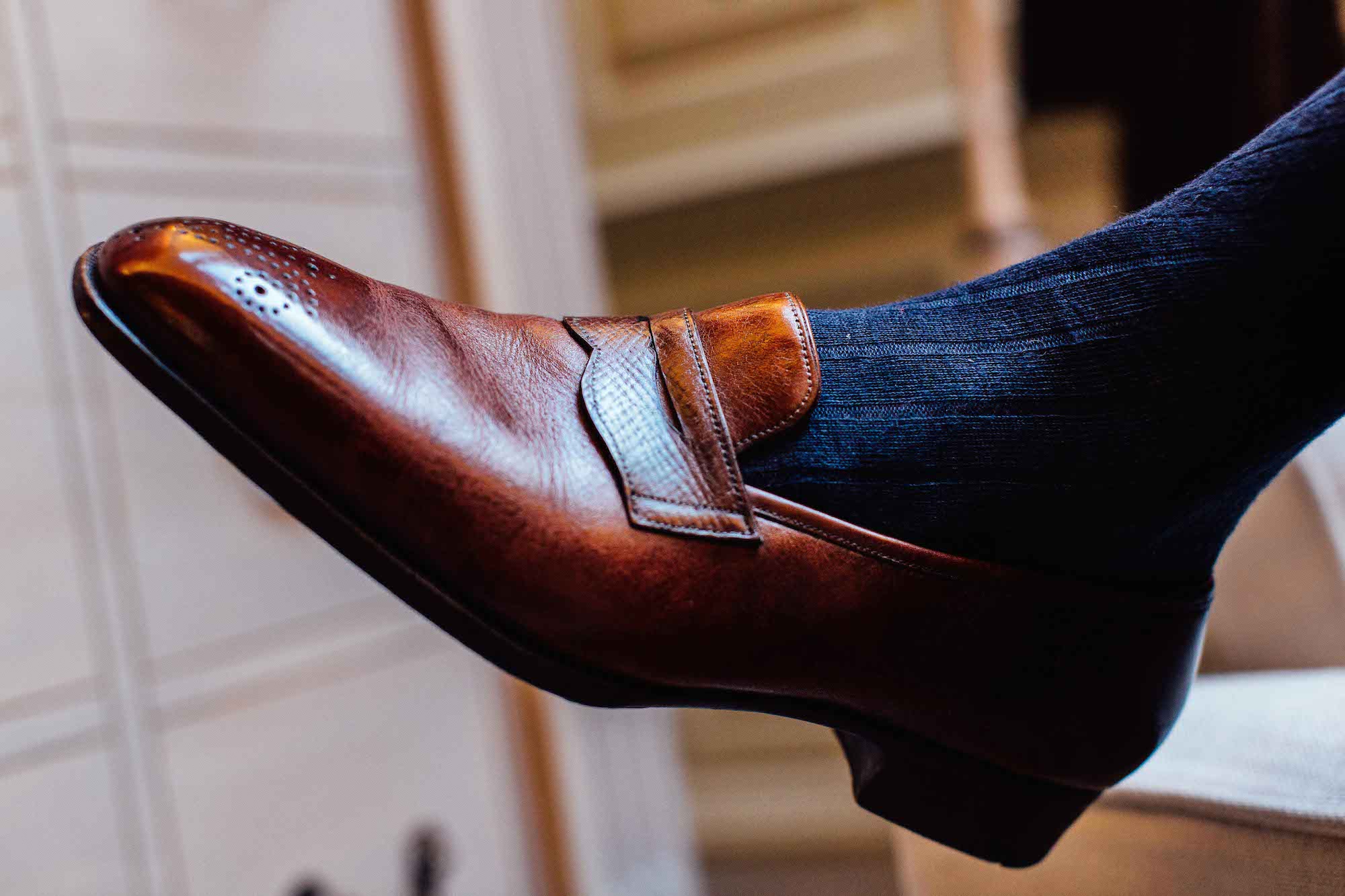 Gaziano & Girling seamless light-brown loafers
June 2013
www.permanentstyle.com/2013/10/the-divergent-styles-of-cleverley-and-gaziano-girling.html
The collection so far lacked anything resembling a casual shoe, and so my next commission was a loafer.
And, in terms of shades of brown, we could call this a light brown (not tan). Inappropriate with a navy or charcoal suit in terms of its colour - and most suits in terms of its style - but excellent with everything else.
Together with the next on the list, this has become my most useful shoe.
The only thing it lacks is a casualness that would have come from a more rounded toe and less elongated shape.
This is worth noting closely, as it applies to suits just as much as shoes - the more stylised, elongated, drawn out the shape of a piece of clothing, the less it is suited to casual wear.
That's why pretty much any Alden shoe will be more casual than a G&G shoe.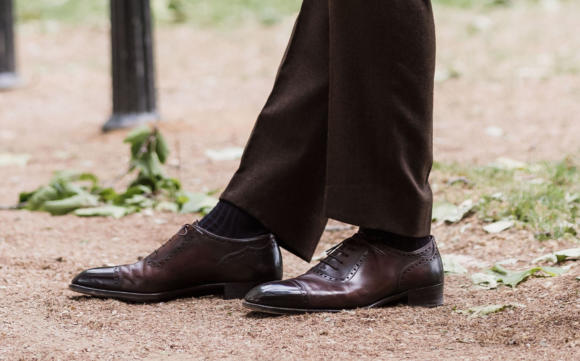 Gaziano & Girling mid-brown adelaides
March 2014
www.permanentstyle.com/2014/03/gaziano-girling-bespoke-adelaides.html
These adelaide oxfords ('adelaide' refers to the line of the section around the laces) were originally made in tan by mistake.
They were meant to be mid-brown. Somewhere between the dark-brown Cleverleys and the light-brown loafers, and for me the most useful colour of all.
When I travel, as an illustration, I will always take one pair of dark-brown shoes and one pair of mid-brown, no matter what else there is. That covers most eventualities.
(And it's usually three pairs as a minimum - you should obviously rotate every day if you can, and if one starts to cause you pain for some unknown reason, you don't want to be left with just one pair...)
The adelaides were patinated by G&G for me - to turn them from tan into this mid-brown - and to give some nice variation of colour in the toe and heel.
They have become probably my favourite pair of shoes.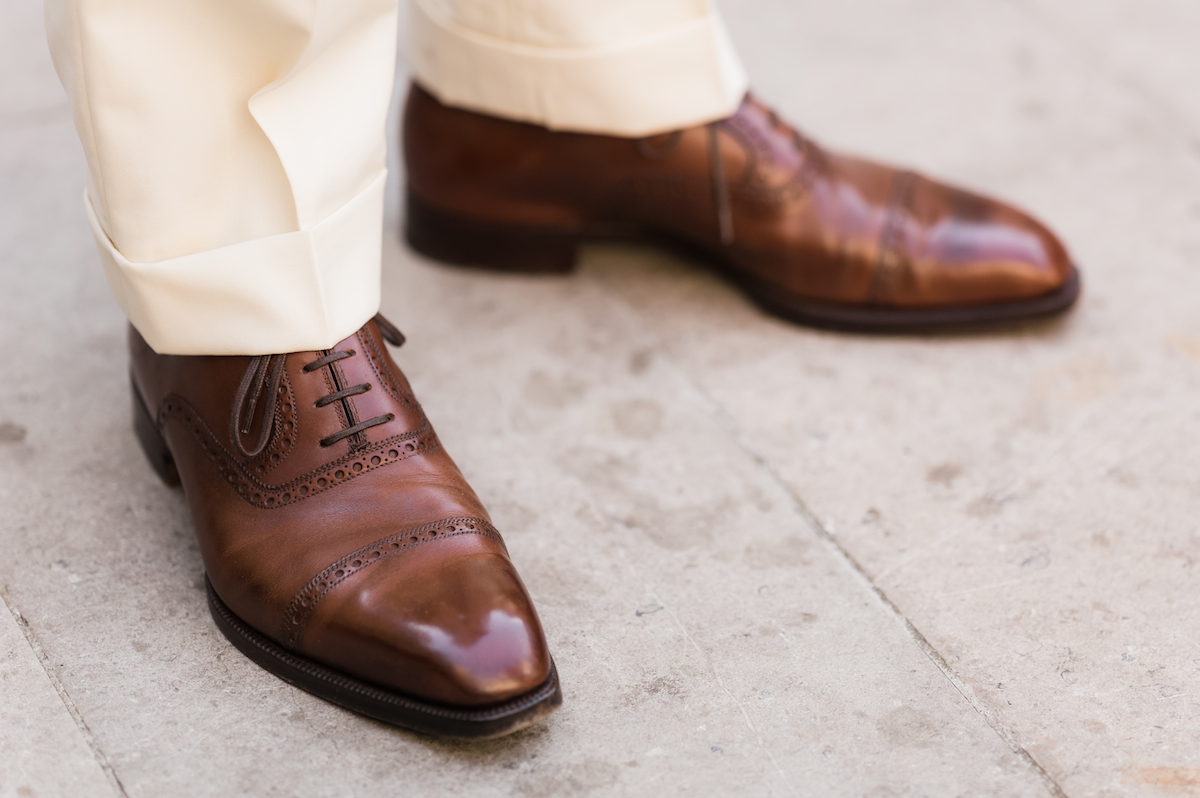 Stefano Bemer tan oxfords
July 2014
www.permanentstyle.com/2014/07/stefano-bemer-final-bespoke-shoes.html
OK, so now it was time for tan. All other shades of brown had been covered. (They are slightly lighter than photographs suggest.)
Again, it was an oxford, to maximise its versatility with most of what I wear (suits and sports jackets/trousers most of the week - certainly all the working week).
And it had a slightly thicker sole than, for example, the Cleverleys, to help it be that little bit more casual. That also tends to be the Stefano Bemer style.
I have to say, I love tan shoes and I can completely understand why so many guys want to wear them with navy suits, with grey suits, with everything. There is a lovely richness to the colour and they are great to play with polish on.
But the rule of thumb that a shoe should be darker than the trouser it is worn with remains a good guide. Certainly, tan with navy is too far.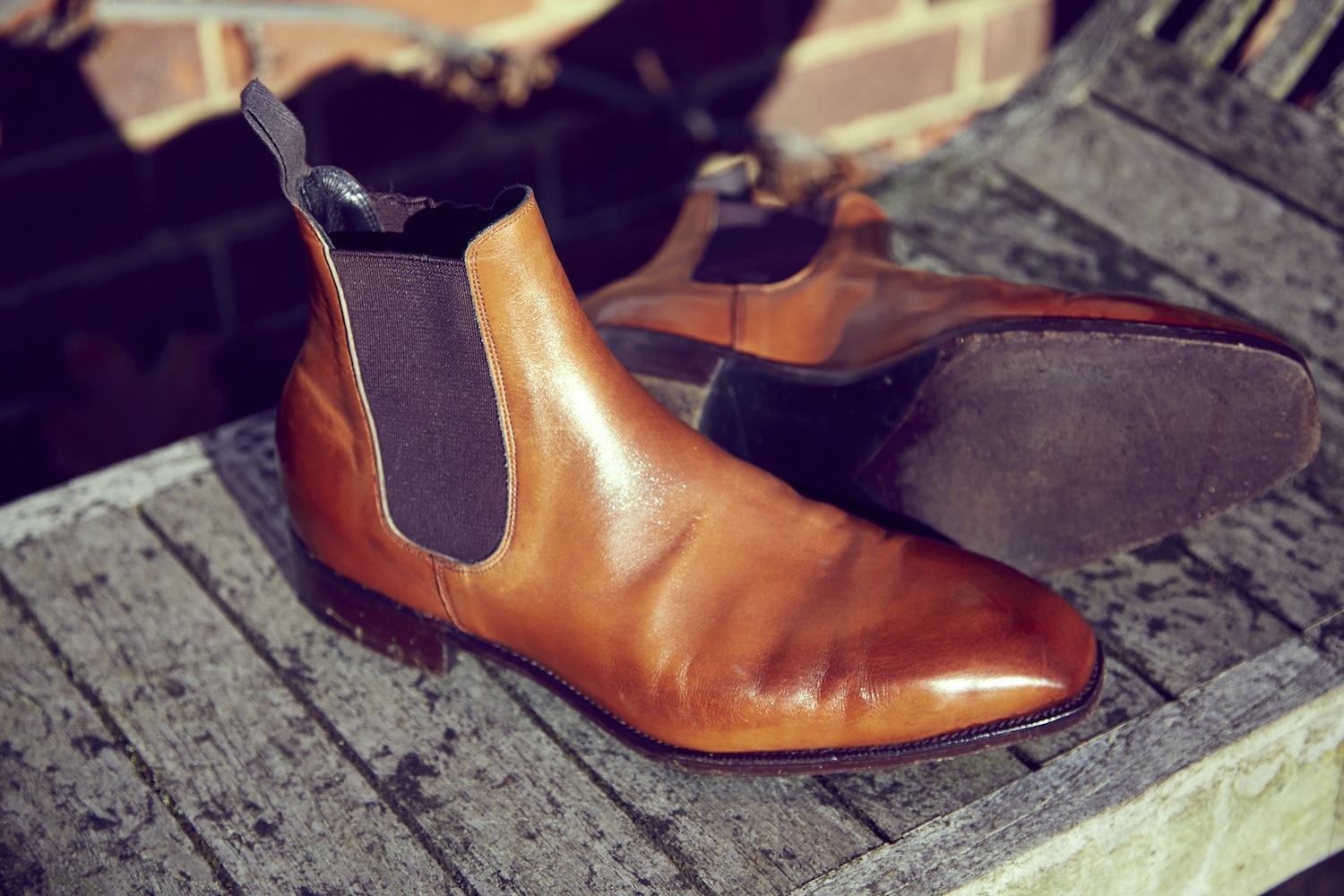 Tim Little tan chelsea boots
October 2014
www.permanentstyle.com/2014/12/tim-little-bespoke-chelsea-boots.html
Interestingly, as with the Neapolitan jackets wardrobe piece, there would appear to be few mistakes in this series of commissions.
But these tan boots certainly fall into that category.
The appeal of tan had a role to play, and there is always something attractive about the amount of leather involved in a boot as opposed to a plain shoe. I also had a teenage association with chelsea boots.
But these have not seen much wear.
I rarely wear boots during the week, as they will become too hot in an air-conditioned office. And at the weekend I tend to prefer a suede shoe, a split-toe shoe or my Common Projects.
There is also, I have to say, something about a chelsea boot that I find I don't like in practice. It is to do with that same uninterrupted volume of leather at the bottom of a trouser leg, which has a touch of the dandy about it.
I will have them patinated to a dark brown at some point, however, and see if that appeals more.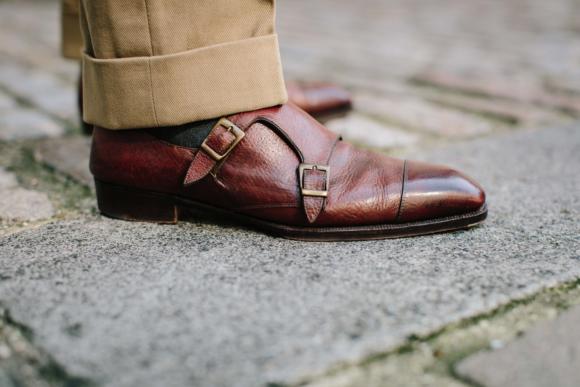 Cleverley Russian-reindeer double monks
December 2014
www.permanentstyle.com/2014/12/cleverley-russian-reindeer-double-monks.html
If there is an overarching theme to this post, it is of realising - again and again - the virtues of being boring.
For me, this applies to shoes in particular because I generally prefer to experiment with tailoring rather than shirts, shoes or accessories.
My shirts are largely pale-blue, my ties mostly dark, and my shoes dark brown. It makes it a lot easier to wear toabacco linen or green flannel.
So here, with these beautiful Russian-reindeer double monks, I should have gone with an oxford.
I do like monk-front shoes. My first ever pair of good shoes was a single-monk Oundle from Edward Green, and I am very fond of them.
These Cleverleys were also beautifully executed, with the antiqued brass buckles and hatchgrain of the Russian reindeer.
But they would have been more frequently worn, and taken travelling, if they had been oxfords like my Stefano Bemers.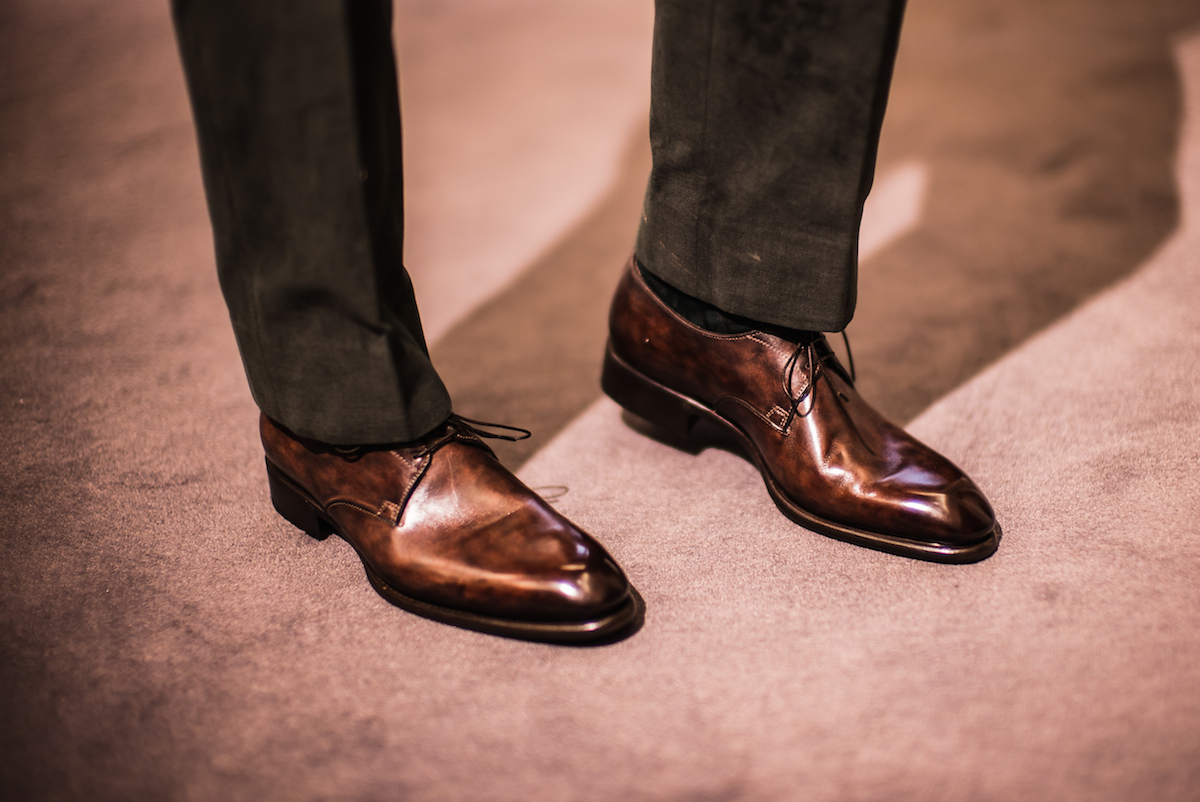 Santoni dark-brown derbys
July 2015
www.permanentstyle.com/2015/03/bespoke-santoni-shoes-fatto-a-mano-su-misura.html
The next commission, at Santoni, learnt from that lesson.
Although derbys (the first bespoke pair) the colour was that super-versatile mid-brown of my G&Gs and they have proved very useful as a result.
The high shine and patina makes them a little less casual, but the derby construction is arguably more important. Great with dark-green cotton trousers, as shown.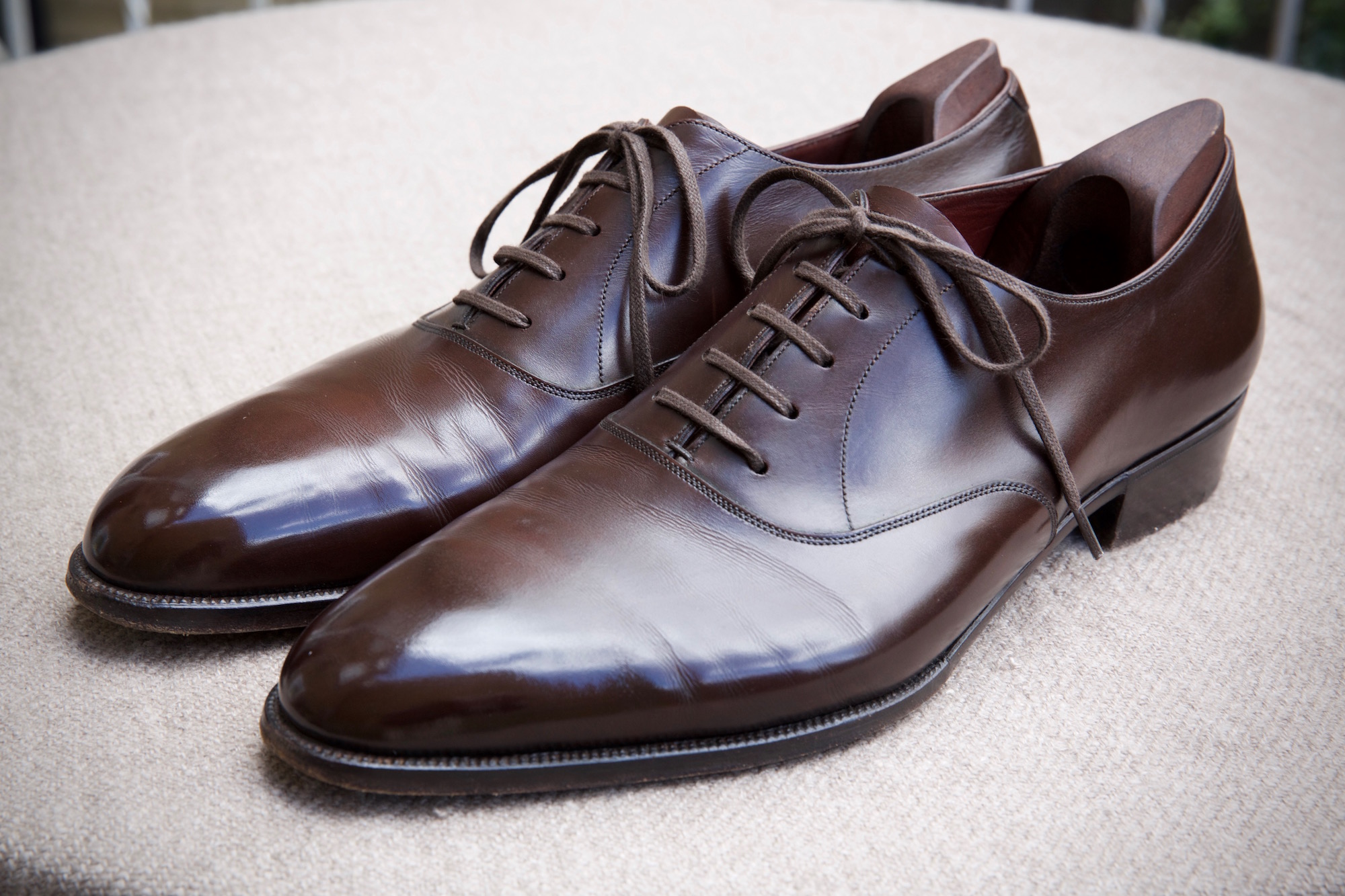 Foster & Son dark-brown oxfords
April 2016
www.permanentstyle.com/2016/04/foster-son-bespoke-shoes-review.html
Readers will be familiar with the issues I had with my Foster's in terms of the finish - which was patinated to a dark brown but quickly came off.
The mid-brown it was replaced with was much better in terms of consistency, but lacked the variation in colour, largely as a result of it being an aniline leather.
It is a conservative oxford in other respects, although also not the best fitting of the bespoke shoes I have had, and so they are used largely as a back up.
(Having said that there is plenty of toe space, which is the area I most commonly get pain if I'm on my feet all day. So they can be useful for travelling.)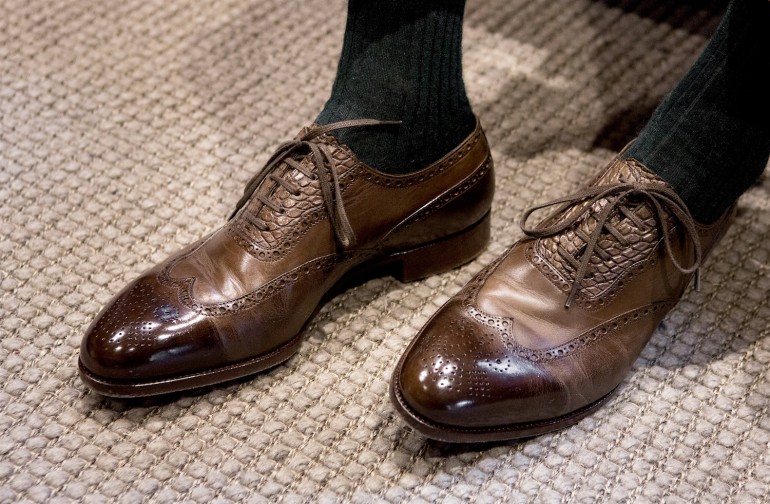 Saint Crispin's croc wingtips
May 2016
www.permanentstyle.com/2016/05/saint-crispins-shoes-review.html
Picking this design as my first pair of Saint Crispin's was a good compromise.
Although they are best described as a mid-brown, it is a rather greyed brown that is a little unusual (one of the benefits of Saint Crispin's dyeing their own uncoloured leathers).
And of course there is the crocodile around the laces. Altogether it makes for a shoe that is just about as unusual as I can wear with most things.
I should mention that I also keep three or four pairs in the office, as I cycle to work most days and change when I arrive.
This is another reason for versatility - and the SCs just about qualify for inclusion.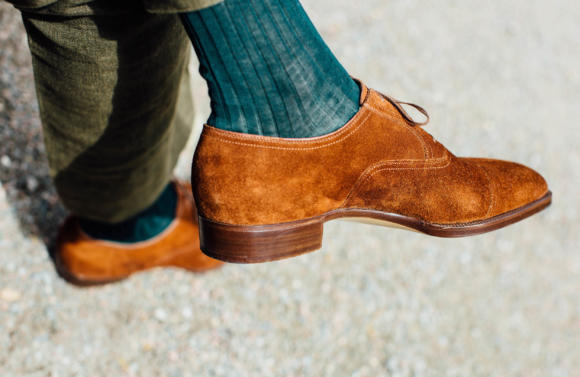 Stefano Bemer tobacco-suede oxfords
July 2016
www.permanentstyle.com/2016/07/the-best-fit-yet-stefano-bemer-tobacco-suede-oxfords.html
Suede! The one material clearly missing from my bespoke collection thus far.
In the past year I have found I wear suits less during the week, and more of those Neapolitan jackets. This has created a focus on more casual shoes, such as suede, and less on long-toe Cleverleys.
Controversially for me, I went with a light-brown tobacco suede rather than dark brown, and they have had less wear as a result.
But they were beautifully made - as I reported at the time, my best fit yet - and are a pleasure to have in the collection.
Indeed, there is a point here about wardrobe building that we haven't touched on yet.
When you're investing in clothing for the first time, it makes sense to start conservative.
It's hard to do (I splurged on a pair of calf/suede Corthays as my first very expensive shoe!) but is more rewarding. Start with something you know you'll get a lot of use out of, and build up.
Tobacco-suede shoes are a much more sensible buy as your eighth pair of shoes than as your first.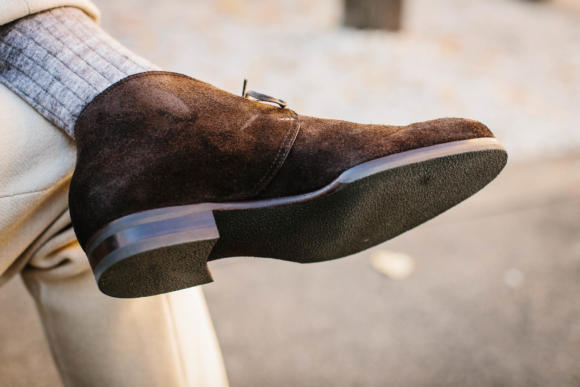 Saint Crispin's brown-suede chukka boots
December 2016
www.permanentstyle.com/2016/12/saint-crispins-relasting-boots-and-us-activities.html
Finally, most recently, my chukka boots from Saint Crispin's. I'm including SC in this list of bespoke, by the way, as both pairs involved an amended last and a hand-sewn welt.
These boots have proven a very good choice.
My feet don't get as hot - not being a full-height boot - and they are dark and smart enough to be worn in the office with some outfits.
In fact, in some ways these chukkas are a perfect illustration of my preferred, always subtle, style.
They are, at first glance, merely a dark-brown boot, and if worn at the weekend with chinos or jeans, get few second glances.
But the curved shape of the quarters, the two-lace fastening, and of course the hand-cut waist that curves in beautifully underneath, elevate it in a very subtle way.
Rather like the best bespoke tailoring, most people would say they thought they looked great, but would struggle to put their finger on why.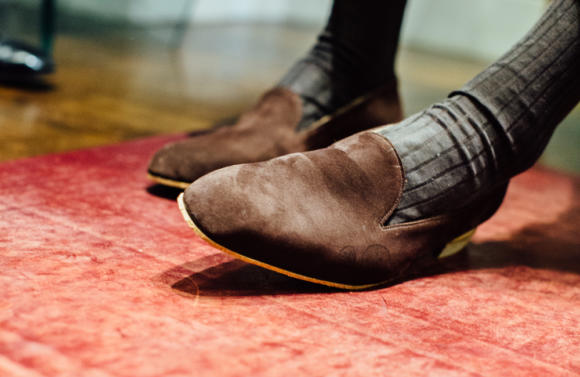 There are other bespoke shoes in the works, of course, which pushes this collection out more prospectively.
Continuing the suede theme, there are some brown-suede slip-ons being made at G&G (above). Norman Vilalta and I have been working on a boot project that has taken (a very enjoyable) five sessions in two years. And I have just commissioned a pair from Stivaleria Savoia in Milan.
They are dark-brown oxfords.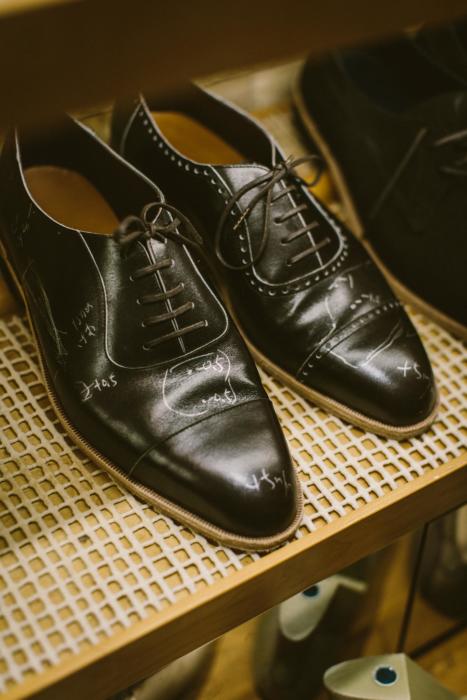 Photography: Jamie Ferguson, Horst Friedrichs, Luke Carby, Jack Lawson and myself.