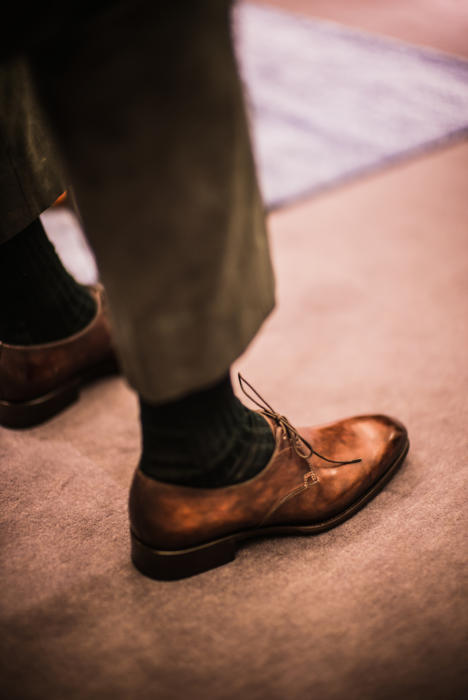 Yes, Santoni does bespoke. Or close enough that I'm happy to give it that label.
Italian colour-meisters Santoni will do a bespoke version of most shoes in their collection (which of course changes more and is wider than any other shoemaker we cover here on Permanent Style). They don't always create an entirely bespoke last, however – if the customer wants a model from the collection, they amend an existing last and cut it down or build it up, in order to get the perfect fit.
The welt and sole are both hand-sewn. This is done on the Fatto a Mano offering too, which ca be made-to-order or ready-to-wear. The bespoke service is called Fatto a Mano Su Misura.


I was measured at Harrod's last year and did one fitting there a couple of months later. Santoni were keen to let bespoke aficionados know that they had a bespoke service too, and offered to let me try it out. The fitting was on a trial leather, but with a fully made shoe – sole and heel attached.
I then picked up the shoes in January this year in Milan. The turn around can be very quick – less than a month between stages – but it made sense to see them in January when I would be visiting the showroom anyway.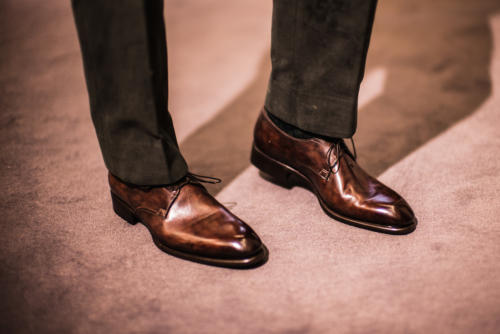 So what was the result like? Let's break this down into sections.
First, the make. A Santoni shoe, even one that is Fatto a Mano Su Misura, does not have a bespoke make in many of the ways we have come to think about it. There isn't much bevelling of the waist; the heel is pretty square (in pitch and in run-in to the waist; the hand-sewing isn't really used in any way to refine the shape of the sole. The sole is essentially the same as a RTW Santoni shoe you would pick up in the shop.
Second, the fit. This was good at the fitting, and better with the final shoe. But in a similar way to the make, there aren't any of the bespoke touches of other bespoke makers. The heel cup isn't cut in to shape around my high, narrow heel – as it is with other makers (particularly Cleverley and Bemer). The in-step isn't built up any more than normal. It feels like what it is – a ready-made shoe that has been adjusted to better fit my foot.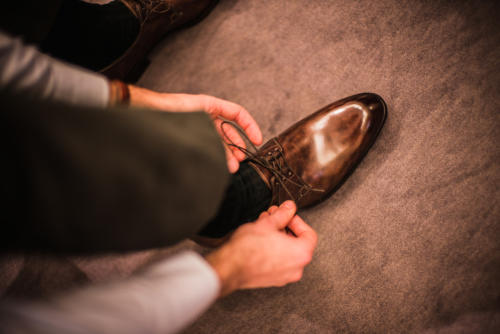 Third, the colour. This I specified, and Santoni really are masters at it. The depth, the shine and subtle variation of the patina are better than Berluti, Corthay, re-patinated Gaziano & Girling, or independents like Dandy Shoe Care. A beautiful, deeply shiny pair of shoes.
In suit terms, perhaps it's best to think of this as made-to-measure, rather than bespoke. Even though there is lots of hand-work involved, it hasn't produced the kind of refined manufacture we expect from bespoke makers elsewhere. The price also puts it at a disadvantage – €4500, and €900 for plain Fatto a Mano. I stand by the fact that much of the RTW is value for money; but it's hard to say the same thing about the bespoke.