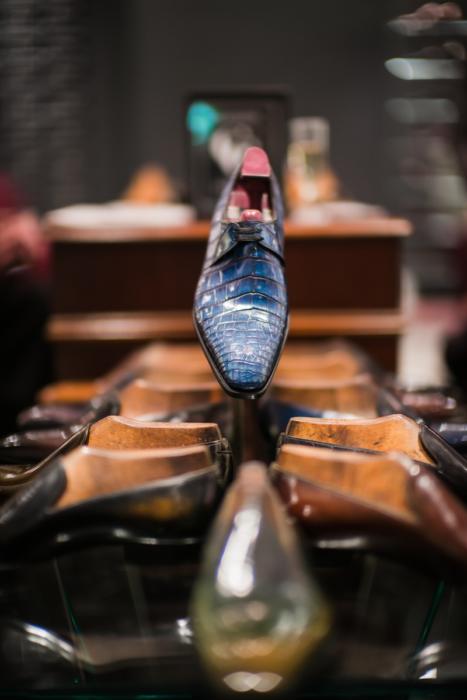 Last week was the launch of the new patina service at Gaziano & Girling on Savile Row. For anyone not familiar with the English shoemaking industry, this is a big step – for the first time, a Northampton maker is offering the same hand-painted finish that the French and Italian makers like Berluti, Santoni, Corthay and others have been known for.
Combine that with the traditional burnishing finish G&G already offers, plus the bleaching that is used to fade parts of the Deco line, and you have the complete package. This puts them ahead – in that respect – of all Northampton makers, most continental bespoke, and way out in front of the other English bespoke firms.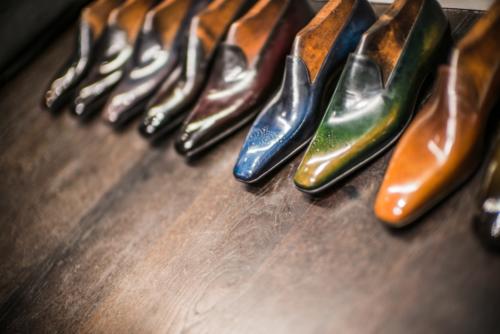 On the evening there was a little party with Thomas and Neus replicating some of the nine patinas that G&G will be offering in the store from now on. Starting from a plain tan base, they worked them up into dark-brown and green finishes respectively (Thomas's before-and-after shown below).
As long-time readers will know, I've seen this done at a fair few makers over the years – even having a go myself on my Berlutis back in 2010. My favourite bit is when the second coat of colour is added, which requires the patineur to flick the brush lightly across the leather, adding a light layer without any hard lines from touching the sole or seams (also below).


In terms of the details of the service, Gaziano & Girling is now offering to patina any pair of ready-made, made-to-order or bespoke G&G shoes, for a charge of £120 (including VAT). The nine colours are only suggestions, although the price may rise slightly if customers request something far more colours and work. Belts or other leathers can also be matched, though again that might be more complicated. The work will be done in-house by Thomas or Neus (both ex-Corthay) and should take no more than a week.


I've had a couple of things painted by Thomas – my JM Weston whole-cuts, to give some variation to the plain brown they were made in, and my G&G Adelaides, to switch them to the dark brown they were originally intended to be. I can highly recommend it, though it's worth saying that the shoes should still be regularly polished. Any patina is not a perfect, scratch-proof service, and it will gain in character with a little polishing now and again. The surface will also slowly dry and wear away if not looked after.
Interestingly, shoes with a grain are among the hardest to patinate, because the leather has a treatment applied to make sure the (printed) grain is retained. The paint usually either sits on the surface (and therefore comes off fairly easily) or erodes the treatment and therefore causes separate problems. Worth avoiding.




Images: Luke Carby