I've always liked indigo in tailoring, and find navy a good partner for it.
The deep indigo of this linen shirt from D'Avino, for example, is significantly quietened by the navy blazer over the top, and makes that top half a story in tonal variation.
Indigo can also be hard to find good trousers for. I rarely find I like it with grey, for example, which is frustrating given how many grey trousers I own.
Better usually is a pale or military shade of green (such as these Incotex chinos), or cream and naturals (pictured).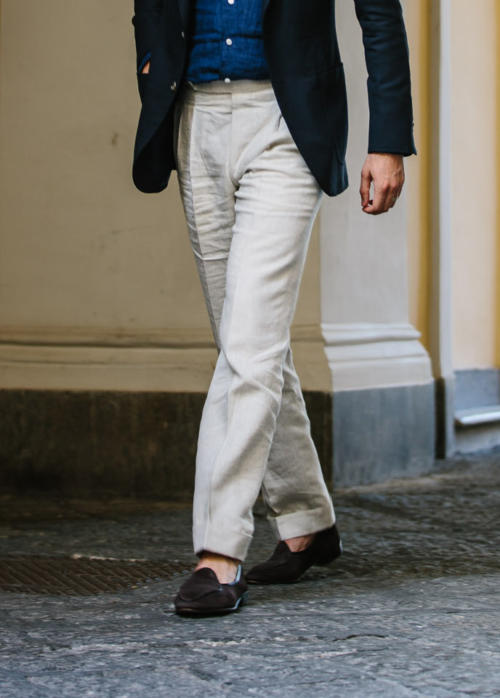 Cream might be the most versatile of any trouser colour in menswear, but it is rather impractical. Easier is a natural, more oatmeal-y colour like the linen here. (Harrison's Mersolair 28109, made to measure by Ambrosi.)
Natural colours can take a little dirt and dust, and they often have natural flecks that help hide small marks.
The shots, by the way, were taken after a morning walking around the streets of Naples. Regular readers will know that as a rule I like to photograph tailoring after it has been worn, rather than fresh from the presser. It's so much more realistic.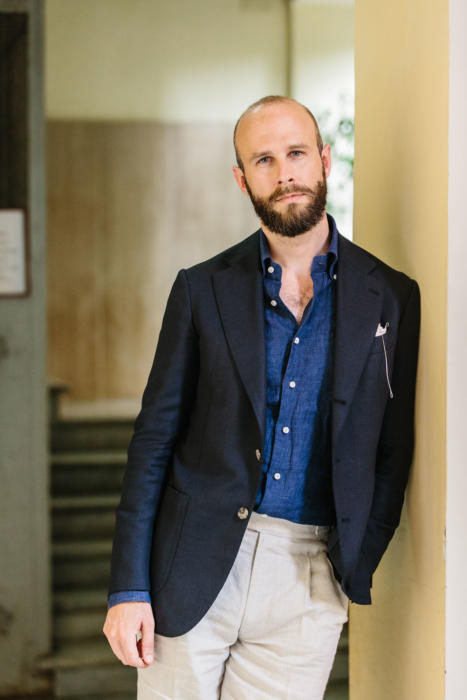 The jacket was made by Ettore de Cesare (outside whose workshop these shots were taken, up in Vomero) and was previously reviewed here.
Made in Holland & Sherry mesh fabric (not actually hopsack, strictly speaking) it has proved just as versatile as I hoped.
The only issue is it's a little short, and the next piece Ettore will make for me (a dark-green corduroy) will be 1-2 centimetres longer.
Elsewhere here, I'm wearing Sagans from Baudoin & Lange in the bark-grey colour I worked with them on. I still find it interesting how versatile that colour is.
And the hat is my sisal straw from Anderson & Sheppard.
I usually reach for this rather than my Brent Black panama, even though the latter is more finely made. Unfortunately I think the shape of Brent's piece isn't quite right for my face (a little too square in the crown).
These are the perils of ordering online, and perhaps a reminder that style always trumps craft (though of course we aim for both).
The sunglasses are 1950s Ray-Ban Caravans in filled 12k gold-filled wire.
The Caravan was the first style Ray Ban made explicitly for civilian use, having previously only produced models for sport and the military. It was their view of a clean, mid-century modern look.
I got this pair from vintage dealer Retrospecs last year, when they were showing at Pitti. (They made a film of myself and a few others in the industry which is on their Instagram.)
Originally gold-filled pairs are relatively rare, as most were melted down over the years for their gold content. Retrospecs specialises in old pieces like this – and repairs them, with mine adding gold-filled nose pads to the frame for example.
Retrospecs have their own stores in LA, San Francisco and Las Vegas, and then supply around 250 opticians around the world, including 36 Opticians in London and Bergdofs in New York.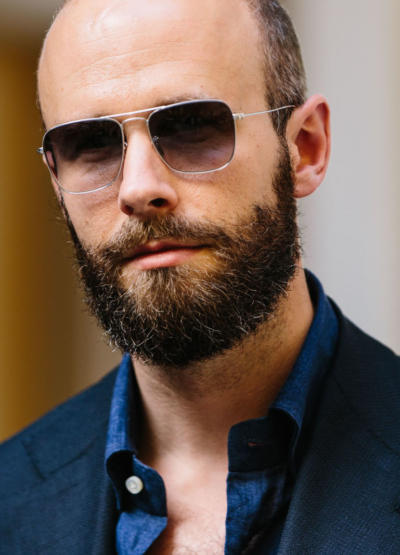 I usually wear yellow metals, but the metal here has a little warmth to it, and I particularly liked the fineness of the frame
I think the shape suits my face too, given it's not too wide. Which is good, as it means I haven't fallen into the same trap as the panama – ignoring style in favour of craft.
They'll make a lovely accessory during Pitti this week.
Photography: Jamie Ferguson @jkf_man