This is the second in our series presenting all the cloth bunches currently available for bespoke, summarising what they contain and picking out our favourites.
The summaries should help determine which bunches readers need to see, or request. And the favourites selection should hopefully help with some final decisions.
The first of these was a guide to the current seasonal Spring/Summer bunches, largely from the Italian mills.
The second, below, looks at all the bunches available for pure linen.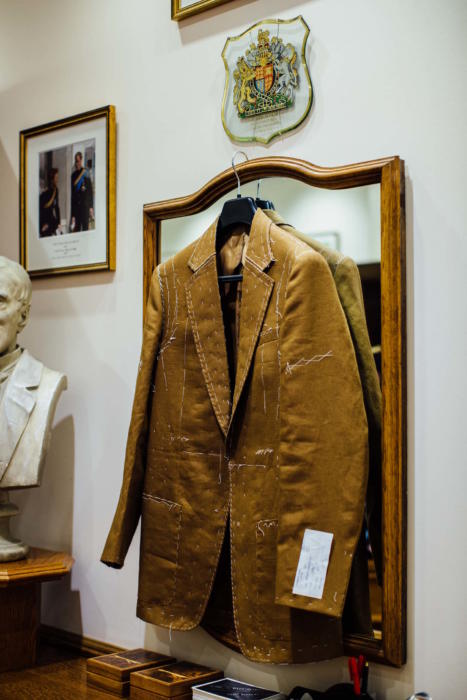 There are at least 15 bunches from various mills and merchants offering linen. But they can be categorised fairly easily.
The first and most important distinction is between the heavier, largely Irish linens and the lighter, largely Italian ones. Almost all the Irish linens range from around 10oz to 13oz, while the Italians go from 7oz to 10oz (usually expressed by them in grams - 200g to 280g).
The advantages and disadvantages of both types were discussed in this separate post on linen, part of our Guide to Cloth series.
That series gives advice on what types of cloth to use, what colours, weights and styles, and how to browse them. This series purely assesses the range currently available.
Irish linens
The heavier Irish linens are carried in the following bunches, all English:
- W Bill, Fine Irish Linens and Pure Cottons
- Harrison's, Mersolair
- Dugdale Bros, Lisburn
- Dugdale Bros, Crommelin
- Dugdale Bros, Natural Elements
- Huddersfield Fine Worsteds, Cotton & Linen
- Holland & Sherry, South Pacific Linens
Classic plain weave
The majority of these are 10-13oz, in a plain weave, and with an obvious starch (which often comes out after cleaning). This is the classic Irish linen, as seen on my tobacco suit from Dege & Skinner above.
Those linens don't vary much between the bunches, and have a lot of overlap in colours.
However, Holland & Sherry has the biggest range of colours among the merchants (as it often does) with 32 compared to 9 to 13 in other bunches. So if you're after an unusual colour, look for the South Pacific Linens bunch.
Perhaps nicest among the bright colours is 204012, below, while 204022 is a subtle shade of olive.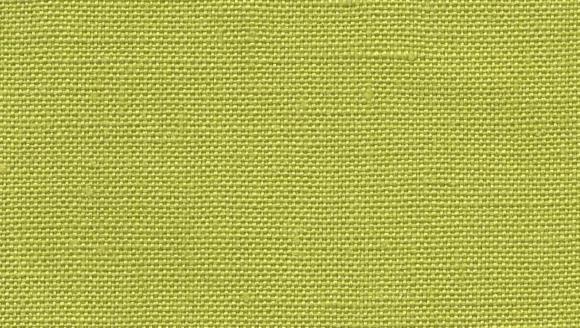 If you can find them, the bunches from the couple of Irish mills that supply the various merchants actually have the largest range of colours - Ulster Weavers for example. But they tend to be all plain weaves, in these heavier weights.
Twills and herringbones
The next sub-category is weave. While the majority of the Irish pure linens are plain weave, some bunches carry a few herringbones and twills.
Herringbone can be nice if you want a little pattern to your linen. Three bunches carry herringbones, but Lisburn has the biggest range of colours, with 19 (the others have 4-8).
It's also worth highlighting that South Pacific Linens has narrower herringbones than the others, such as the navy 204204, below.
Twill is denser than a plain weave, and therefore usually won't breathe as well, but holds its shape better. Good for a sharper pair of trousers, perhaps.
Mersolair is the only bunch with twills - 3 in 10.5oz, 3 in a heavy 17.6oz. Below is the biscuit-coloured 28146. There are also some softer plain colours in the bunch that are a little over 12oz, but unstarched and a slightly more open weave than most of the traditional Irish options.
Patterns
The final way these English merchants vary is with patterns, and there are a few unusual ones tucked into the various bunches, often with only one or two options.
Dugdale's are the best here. Lisburn has some interesting patterns, with differently coloured warp and weft, and some looser, more open-weave variants. Crommelin is the king for patterns though, with windowpane checks, gun-club checks and others - such as windowpane 7207 below.
Crommelin also has some stripes, as does South Pacific Linens. The other good bunch for patterns is Mersolair though, which has some glen checks, nailheads, fibre mixes (mohair/linen and cotton/linen) and even two Madras checks.
The nicest of those is the madras 28105 and glen check 28104.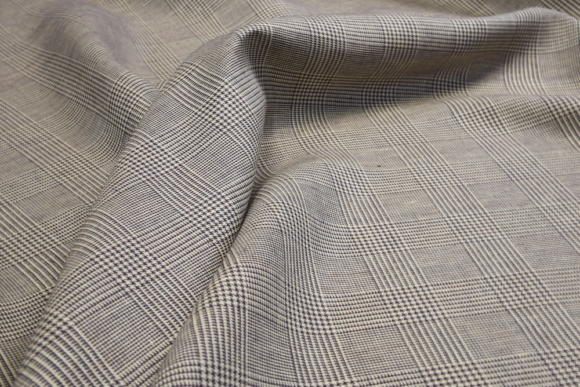 Italian/European linens
There is generally less variation among the Italian and European pure linens than the heavy Irish ones. Although there is the occasional 200g (7oz), the vast majority are 250g-280g, which is not a difference you're likely to notice.
These bunches also all carry some normal linens and some washed ones - a 'delavé' effect. Whether you like this look is a matter of taste, but personally I would only use it in the most casual, unstructured jackets (not trousers).
The bunches here are:
- Scabal, Pure Linen
- Caccioppoli, Cotton & Linen
- Lanificio Ermenegildo Zegna, Cotton & Linen Summer
- Solbiati, Nobel
- Solbiati, Tolomeo
- Solbiati, Quarantalino
The distinctive thing about Pure Linen is that it carries a few very light linens (7oz) and that the non-delavé ones are Irish, but lightweight.
I'd stress, however, that the biggest difference between the Irish and Italian linens in general is their weight, and you're unlikely to notice much difference between the two in the same weight.
Cotton & Linen from Caccioppoli has the usual split of normal and delavé, and most of these colours overlap with the others too.
The only difference is five slightly heavier, slightly rougher linens (350g, 12.5oz) that might be likened to a linen canvas. Nice for more casual trousers perhaps. We like 380502, below.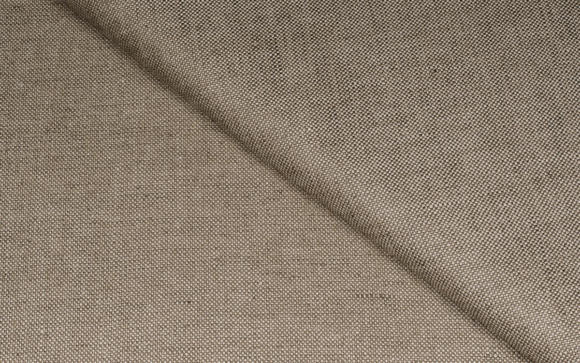 Zegna's bunches are quite seasonal, and we covered in the Italian seasonal bunches feature.
Solbiati, now part of the Loro Piana group, has by far the biggest range of linens from the Italians. They divide their plain and delavé linens into two different bunches - Quarantalino and Tolomeo respectively.
The offering in these two bunches is similar to the other Italians, except for the volume: 30+ of each type, as opposed to a dozen from the others. So if you want the full spectrum of options, or something more unusual, worth seeking out these two.
S04012 is a nice delavé option, or the indigo-like S04027 (below)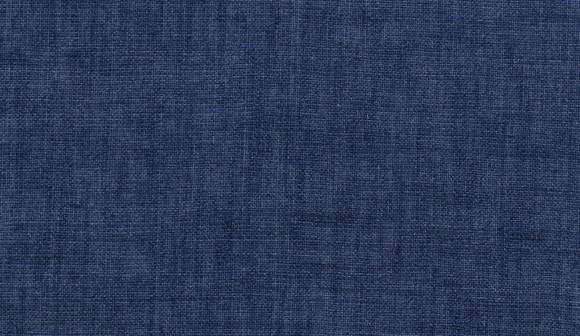 Nobel we covered in our seasonal piece and therefore won't be available for as long as the other two bunches. But this is where all the variants are - stripes, checks, twills, herringbones etc. Find it only if you want pattern - eg S09021 below.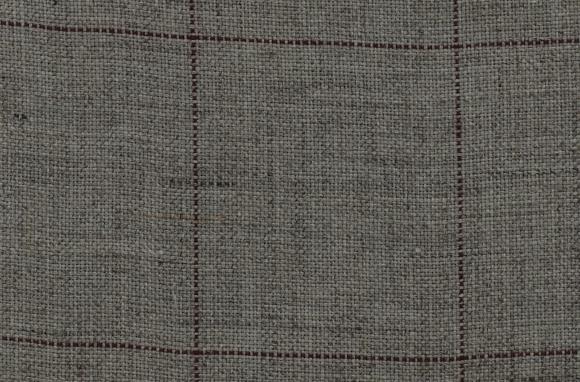 I hope you find this a useful guide to all the linen options out there. The plan is to revise it every time enough bunches have been changed, so it remains a contemporary guide.
If you have any suggestions on things you'd like to see in this series, please let us know.
(I say 'us', by the way, because James Girdwood did much of the legwork for this piece, and deserves a lot of the credit.)
Note: In general, English mills quote weights per square metre, while Europeans quote per metre of cloth. This means that the Europeans are even lighter than indicated. We have kept the weights quoted on the bunches, however, to avoid confusion.