A cream jacket is more useful than you might think.
Certainly, I've found myself using this one from Jean-Manuel Moreau more than I expected since I received it earlier in the year.
This post describes, and illustrates, three ways I've liked it in particular.
A nice side effect to this versatility is that it makes a full cream-linen suit easier to justify.
For while the suit is unlikely to be worn at anything but a wedding or garden party, both the trousers and jacket are more useful. You can see examples with the cream trousers here. (And a similar pair in Florence, here.)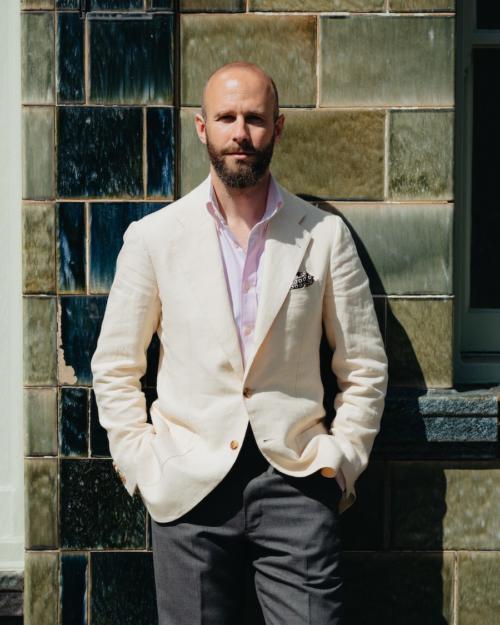 Outfit 1: Formal
The easiest partner for a cream jacket is a pair of lightweight grey trousers.
They can be a high-twist wool, cotton gabardine or (if you like the cloth) worsted flannel. But grey is always an effective foil for something as bright as cream.
And once you have the cream and grey together, almost any shirts look nice: a blue linen, a butcher's stripe, even madras or denim.
Indeed the choice of shirt pivots the whole look, given how much of a blank canvas the cream and grey are. It can be wedding-formal (with a white shirt), playful (a bright pattern) or much more casual (perhaps denim).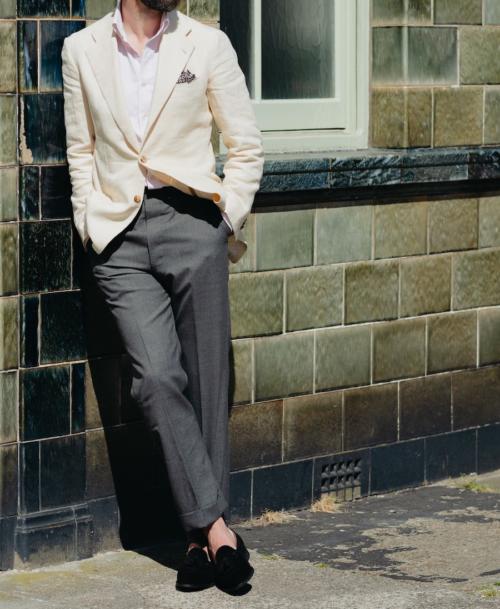 My favourite is pink. Pink's always nice with grey, but I think it is especially attractive with the grey and cream together.
This particular shirt is the pink PS Oxford, which is really a little heavy for summer. But I don't have a pink-linen shirt yet. (I'm currently in the process of correcting that, with D'Avino.)
The grey/brown handkerchief helps tie the outfit together, I think, reflecting the colours below the waist. In fact this is a good example of where adding a pocket handkerchief really enhances the outfit, rather than being a default (see our recent discussion on the rarity of hanks).
On the feet are black-suede loafers. Dark brown would work too, but black is often nicer with a bright colour like pink.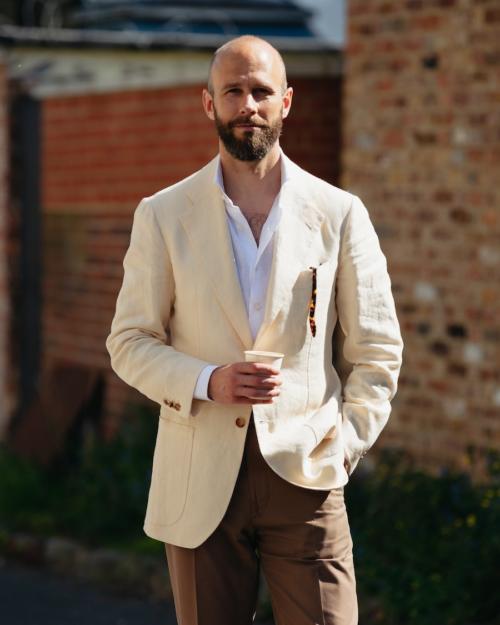 Outfit 2: Tonal
The best alternative to grey trousers, I find, is brown.
Particularly a pale brown, like the cotton gabardine shown here (they're the trousers from my Elia Caliendo suit).
The advantage of brown over grey, of course, is that it looks less business-like, and formal. There is less suggestion here of a wedding or some other daytime event.
The lighter shade (café au lait?) also feels more summery than a dark one.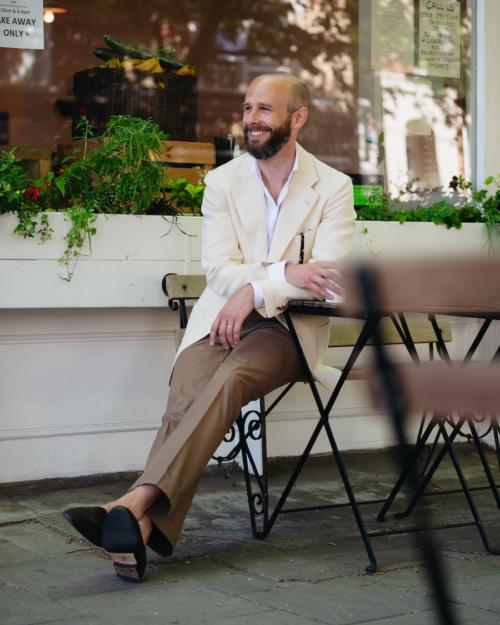 I liked this jacket and trouser combination when worn a white shirt and dark-brown loafers. The result was pleasingly tonal, contemporary even. Tortoiseshell sunglasses help too. It feels earthy, natural and relaxed.
The loafers are the Sagan Classic from Baudoin & Lange. The sunglasses are from EB Meyrowitz.
Thanks to the lovely Spinach cafe for letting us shoot outside.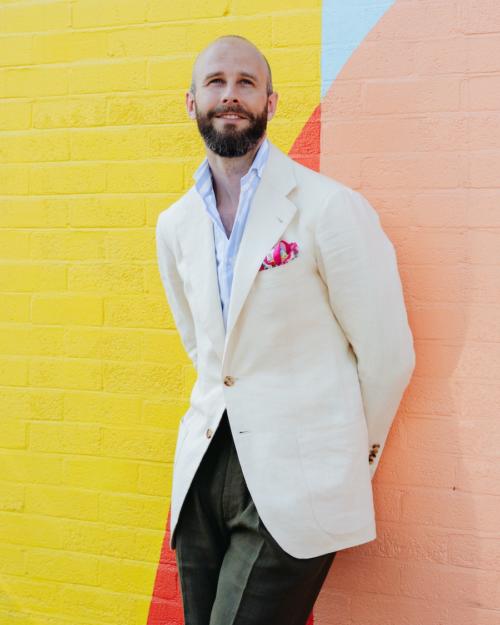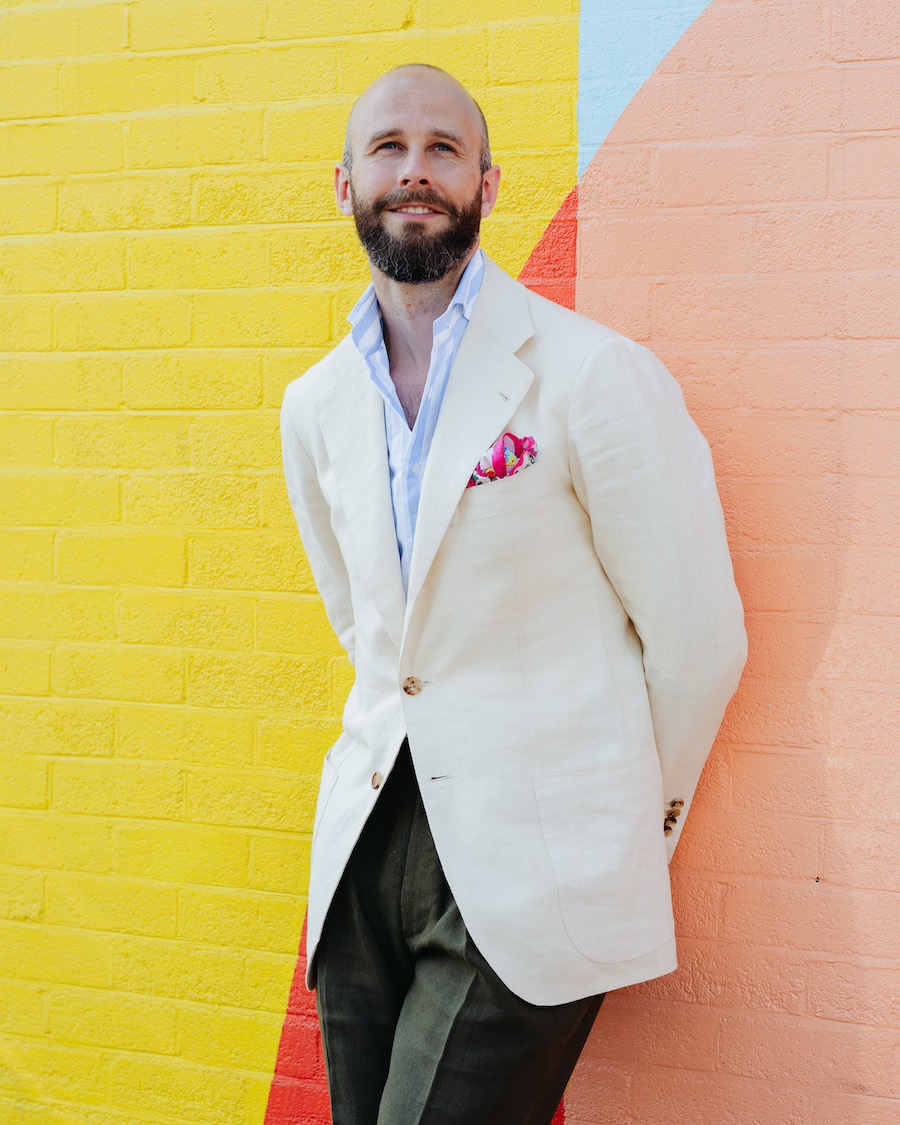 Outfit 3: Colourful
I'd describe that previous outfit as very me. It achieves my persistent aim of looking subtle and understated, in tailoring.
The third outfit is a gear change. Here, I wanted to show how well a cream jacket can work with strong colours – if that's more your thing.
So the shirt is a broad awning stripe, the trousers a dark olive and the handkerchief a hot pink. Even the sunglasses (from Bryceland's) have a coloured lens.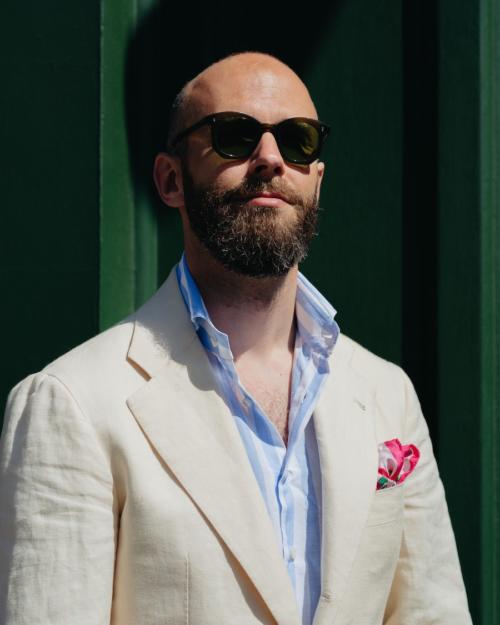 It would work without the handkerchief. It would also be smarter with the grey trousers shown in outfit one. They'd both be nice combinations.
But this shows how nice a playground the jacket is for colour. Even a bright tie wouldn't be amiss.
The shirt is a cotton/linen, made by D'Avino. The handkerchief is from Anderson & Sheppard – a souvenir from a event years ago they did with LimoLand. The trousers are ready-made from Paul Stuart (I have yet to find the same dark olive as cut-length linen.)
Dark-brown suede loafers serve to ground the outfit, and send the eye back up again to the colour up top. They are, like the black suede, the Belgravia from Edward Green.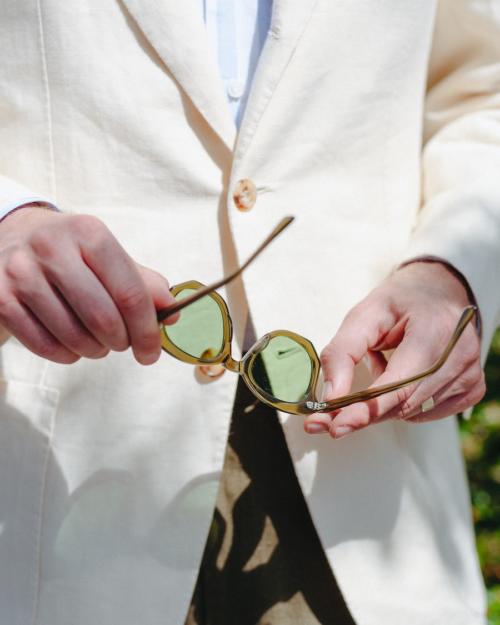 As I said, I was surprised how often I wore this jacket, and the different styles it could accommodate.
I commissioned the suit as a replacement for an old one from Kent Haste & Lachter, which was too structured (and on which I made poor design decisions) to work well as a jacket. But I never expected it to be this useful.
I'd go as far as to say it should be in the top three or four jackets for summer – alongside a brown or green wool/silk/linen (like my Solito), a navy hopsack (Ettore de Cesare) and something in the tan/oatmeal area (Caliendo).
Jacket part of a made-to-measure suit by Jean-Manuel Moreau – review here
Photography: Alex Natt @adnatt