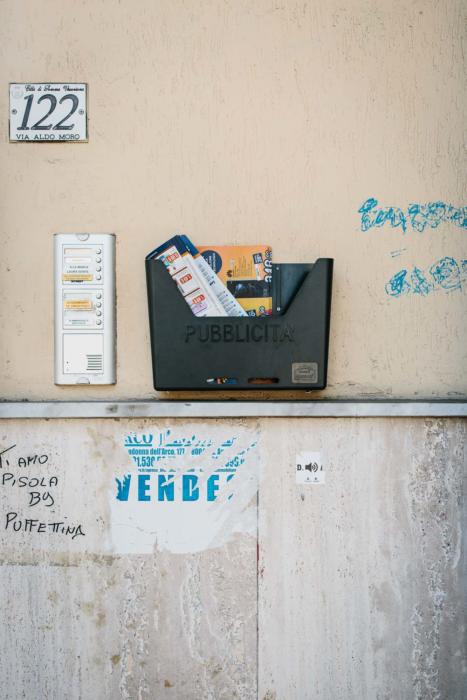 As mentioned in our post on Marco Cerrato last week, much of the sartorial industry in Naples occurs outside the city - in the suburbs and towns of the surrounding area.
Much of this is in the north-east, just above Mount Vesuvius, the still-active volcano that sits on the horizon, perpetually hulking over the city.
On the northern slope of Vesuvius is Somma Vesuviana, a quiet suburb where shirtmaker Fiorenzo D'Auricchio has his workshop. His brand is D'Avino.
(Not to be confused with Avino, the ready-to-wear and bespoke shirtmaker that is not far away.)
The area has hundreds of shirtmakers (nearly all women) that work at home on the finishing and hand-sewing of shirts.
The larger makers in Casalnuovo, north-west of here (Attolini, Isaia, Borrelli) all make use of these shirtmakers.
When Fiorenzo was at Borrelli (he was the head of quality control in hand finishing for 15 years), he was in charge of 50 women in the area.
Today all his D'Avino shirts are made in the workshop - something he is very proud of.
"In an area like this, it is one thing that sets a maker apart," he says. "We invest in people, we work together all day long, myself and my wonderful employees. I need to keep them happy, and they know that."
He gestures to one lady (all six of them are women) who came with him from Borrelli: "We've been working together for more than 20 years. So far it's been a pretty good relationship."
Fiorenzo's mother also worked at Borrelli, and it was she who taught him to sew when he was young. Later he went to college to study design and pattern making.
The women of D'Avino do everything in-house, from the side seams to the buttonholes - and there is an awful lot to do.
I've written before about the quality of the work at D'Avino, which is the highest I have come across. Everything that can involve some hand-sewing, does. Both the practical things (attaching collar, armhole etc) and the aesthetic ones (hand-rolling the bottom hem).
A white shirt is set up in one room, with all the hand sewing done in blue, to highlight it.
You can see some of that below: the stitching under the collar around the collar-stay, and the top of the shoulder.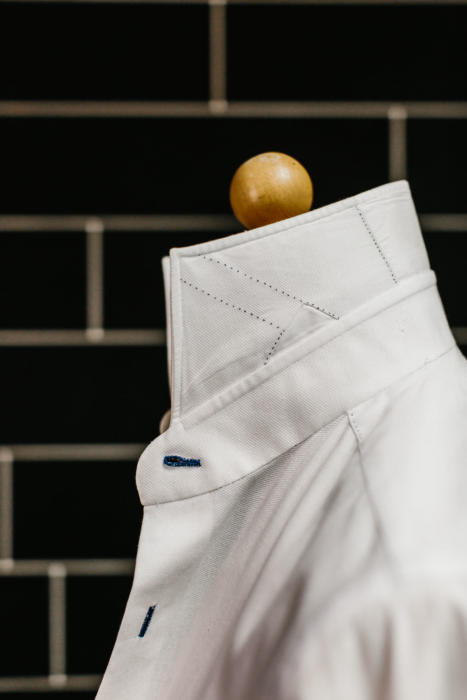 Fiorenzo even invented a method of using an extended collar-stay in the collar, making it easier for the women to sew in perfect, straight lines around it (below).
"I always want to try to look to innovate, to improve these age-old processes whenever I can," he says.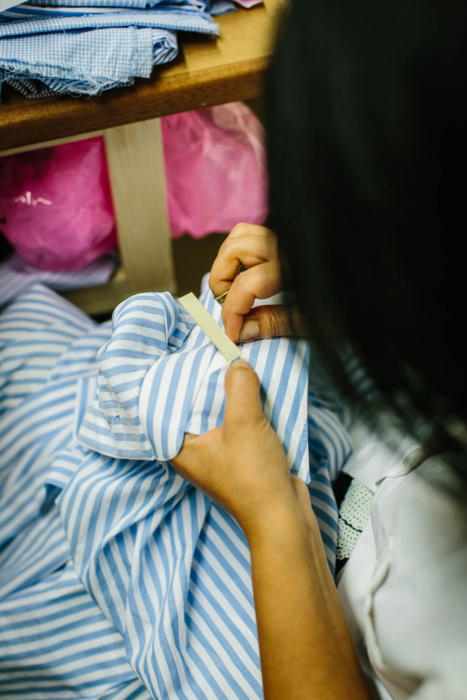 Fiorenzo shows us around the workshop, starting with the paper patterns created for each customer, then the washing machines outside to wash all the material before working on it (linen is always washed twice).
Then there is the cutting table, where Fiorenzo does all the cutting himself. "I need this kind of oversight, to be able to see everything at every stage," he says.
"In my previous job I had maybe 30 seconds to check the work on every shirt - it wasn't real control."
Another of his innovations is a button-hole sewing machine that he uses just to create guides for the women, rather than actually sewing the holes (below).
"I do this myself usually," he says. "If there isn't any thread in the machine, it will just cut the cloth and the create a dotted outline of where the buttonhole should be. It can then be sewn by hand but with more accuracy."
The underside of Fiorenzo's collars always have a middle section in linen/cotton (the white bit you can see in the image below).
This is softer than the rest of the collar, and makes it a touch more comfortable. The ends need to be cleaner and sharper, where the middle does not.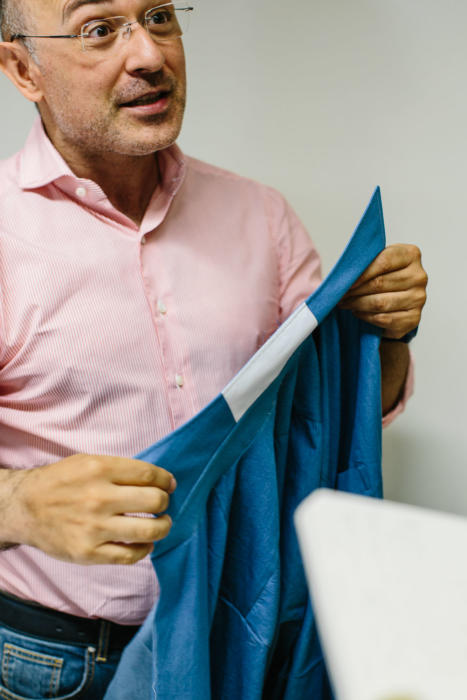 Interestingly, Fiorenzo increasingly offers a floating lining in his collars as well as a fused one.
Although I personally prefer the look of a fused collar, I do appreciate the extra work required for floating lining, and it is nice to see that Fiorenzo offers both.
There are three thicknesses of lining, all on rails in the picture below. All made in France.
It's always nice to see the workshop where your favourite clothes are made. The fact they are often small, personal places is a further bonus - and a lovely aspect of bespoke clothing.
After Fiorenzo and I had toured the workshop, we wandered down to the local cafe in Somma Vesuviano, and talked about the area.
The land around here is particularly good for growing fruits and vegetables, partly because of its volcanic earth. This is something I had spotted on the farms on the drive in, and I noticed several shops offering fresh produce.
After we had ordered coffee, Fiorenzo's brother-in-law (a lawyer) and his assistant joined us.
The assistant spoke fluent English (Fiorenzo's is not perfect) and we had a pleasant conversation about the history of Somma Vesuviana while Jamie wandered the street, taking shots of shops and brickwork.
I'm not sure when I would ever go back to the D'Avino workshop, given Fiorenzo's travel to London and its location outside Naples.
But every time I see Fiorenzo, or indeed wear one of his shirts, I will have a pleasant and very personal memory to go with it.
Photography: Jamie Ferguson @jkf_man
I am wearing my tobacco-linen suit by Dege & Skinner. Details on the suit at that link, and thoughts on the combination coming soon in a separate post.