Today is a lovely day in London (the day I write this, that is, July 3, not the day it's published). Sunny, a light breeze, a few clouds drifting across the sky.
It's twenty-three degrees celcius. The kind of temperature where you can wear a T-shirt and shorts if you want, but also happily a linen jacket and tie.
It's weather you get on a good spring or summer's day in London. Much hotter days, 30 degrees or above, are rare.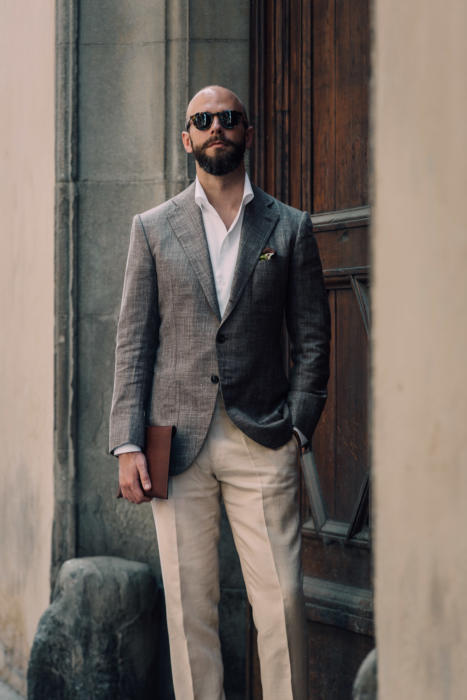 Clothes for that kind of weather are a whole category of their own. Clothes whose driving purpose is coolness, while trying to retain as much elegance as possible.
If I didn't go to Florence for Pitti every June, or often travel to Naples in the summer, I don't think I'd own many of these clothes. Sagan loafers – for example – would be a style choice more than a functional one.
But I'm glad I do. That week in Florence, driven by pure survival, plus Naples and perhaps the family summer holiday, are enough to justify a separate batch of clothes for that very hot weather.
And less selfishly, it means I have more personal, practical advice to offer readers living in Italy right now. Or in the tropical humidity of Hong Kong. Or the baking streets of New York.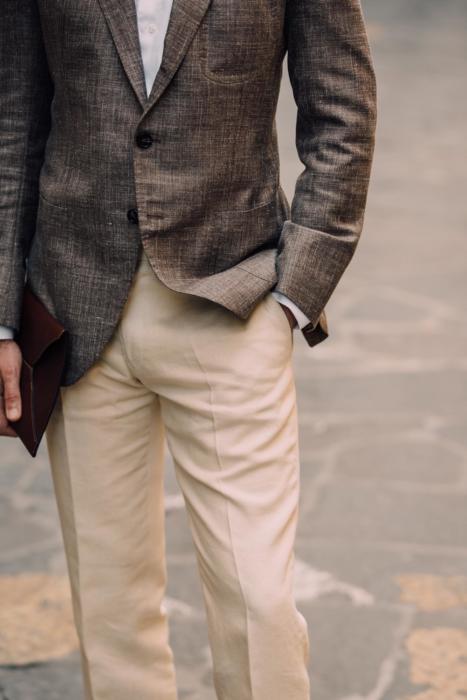 The earthy, tonal summer outfit pictured here on a 35-degree day in Florence is a good example.
I find I can cope with anything up to 40 degrees as long as the fabrics and light and breathable and – most importantly – there is free flow of air around the neck and ankles.
There's a lot of blood running close to the surface of the skin there. Wrists too of course – but I'm not about to push my sleeves back Miami Vice-style.
There are some more details on these points in this piece from Naples.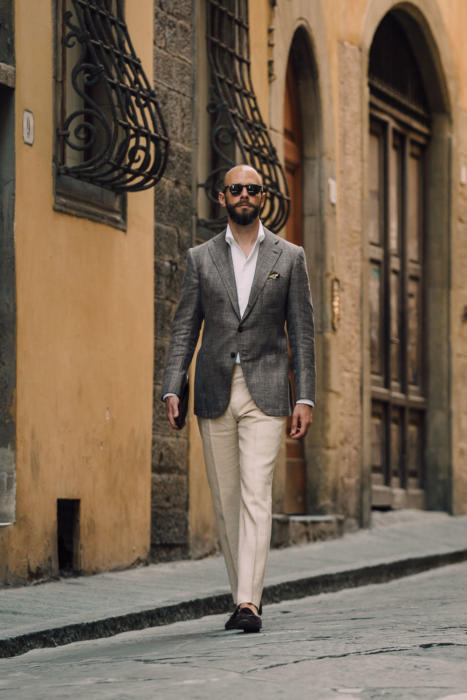 The jacket is my Caccioppoli wool/silk/linen from Biagio Granata. As mentioned in my original review, it is too short and a little big on the front, but otherwise a good fit.
Unfortunately – as a brief update – I still haven't received the trousers for it.
The tweed jacket has arrived, but while it fits well around the shoulders, it is too tight and the vents gape. It's not really wearable. Hard really to recommend Biagio on that basis.
In better news, I was entirely wrong about the cloth of this jacket: it does work well as an odd jacket rather than part of a suit.
It feels quite sleek up close, and more like a suiting. But at any distance, that is far outweighed by the white slubbiness running through it.
I've found that before – that sometimes it's hard to get perspective on your own clothes until you wear them a few times, perhaps see them reflected, or get the odd comment.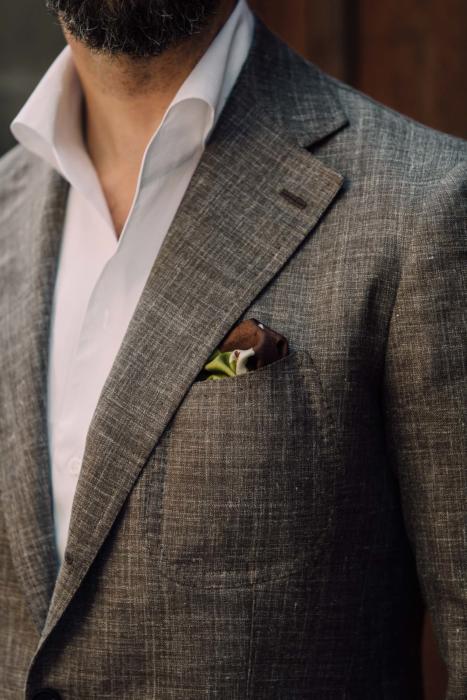 The shirt is a one-piece collar style from Marol. I'll do a fuller review on it and Marol more generally at a later point.
For now, I'd only comment that I think the one-piece collar works best in an outfit like this – when everything is fairly subtle, when the collar is something you'd only notice when close up, and it feels summery and relaxed.
A one-piece collar feels like a holiday shirt to me, essentially, and I think is therefore most at home in a suitably relaxed outfit.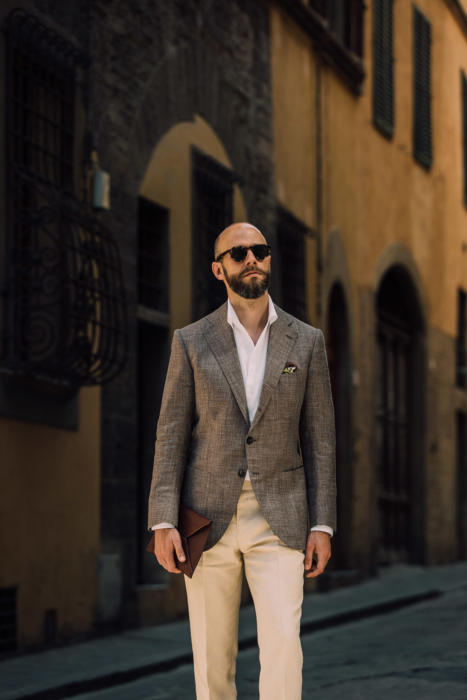 The trousers are an old pair of cream linen, made as part of a suit by Kent Haste & Lachter. The jacket isn't wearable anymore unfortunately, but the trousers are – and the colour of the linen is lovely. Just enough contrast with the white shirt.
Overall, as readers will know by now, I find colour combinations like this the most satisfying: not bright, not loud, with a natural feel.
It feels like the word 'refined' is appropriate: you've refined and distilled everything you like down to simple, subtle combinations.
Perhaps the word 'sophisticated' as well. That's far more of a value term, of course, but it is harder to get tonal combinations just right.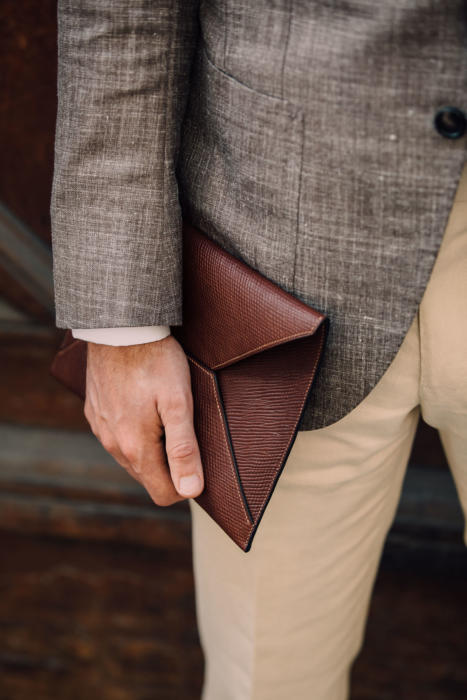 The brown folio is the Russian calf version of the folio I developed with Charlie at Equus Leather. Details here. They are available from him, made to order.
The shoes are the string Sagans from Baudoin & Lange, in dark-brown suede. I think the string bow sits better, personally, on a thin shoe like this than tassels.
The tortoiseshell sunglasses are from EB Meyrowitz – full article on those, and why you should pay for good advice, here.
And the handkerchief is from Tom Ford. I think it came from Century 21 in New York, a long time ago. I find patterns like this – large and blotchy – rather useful as they never clash with the patterns of a tie, shirt or jacket.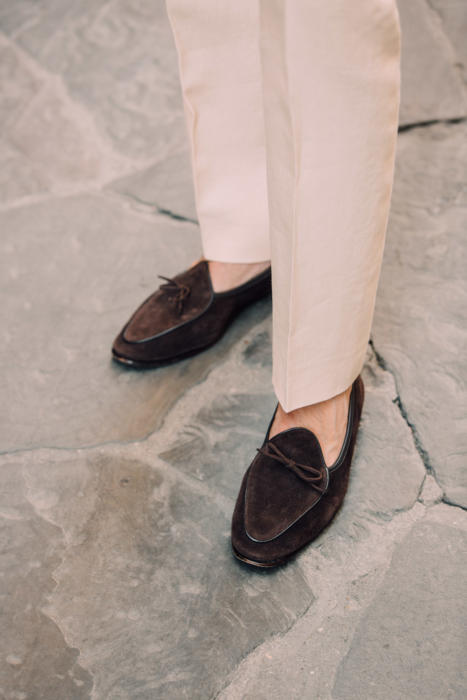 Photography: Jamie Ferguson @jkf_man