Biagio Granata summer jacket: Review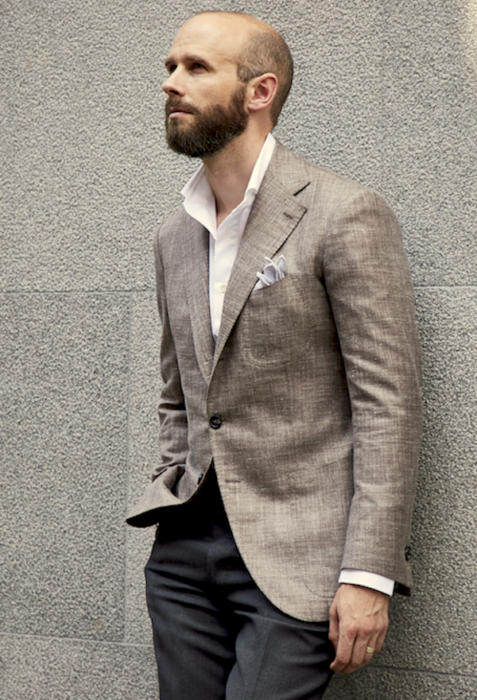 Two years ago, young Neapolitan tailor Biagio Granata messaged me to say he was coming to London for the first time, and would like to make me something.
I had heard some good things from others, and was interested in trying him and spreading the word to readers.
Biagio promised real bespoke, but without any frills of nice fitting locations or regular, planned visits - in return for a much cheaper price (€1600 for a suit and €900 for a jacket, plus cloth).
Unfortunately, two years later I have one jacket that is part of a suit - which was delivered last summer - and nothing else.
From what I've been able to see, Biagio's work is actually quite good. But the process has been frustrating and perhaps most importantly of all, his English is not good enough to either communicate this, or to have that relationship with a tailor that is a large part of the appeal of bespoke.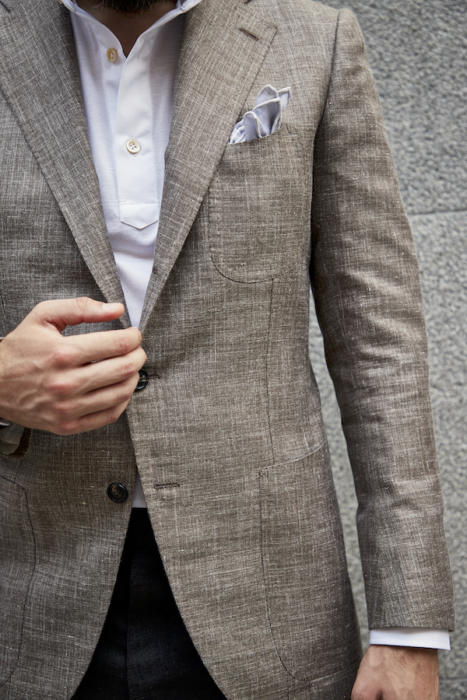 The jacket pictured is in a 240g wool/silk/linen from Drapers (370130). It just about works as a separate jacket, but would be better as a summer suit.
Unfortunately the trousers were the worst bit of the process. They looked decent at the first fitting, but at the second fitting had been taken in, not out.
The third fitting was an improvement, but still not great. And Biagio had had an English-speaking friend at the first fitting, but not any more. There was a fair bit of using Google Translate, as a result, but it was hard to communicate much.
At the second fitting he also brought a friend who made shirts and wanted to make something - but I haven't heard anything about that since.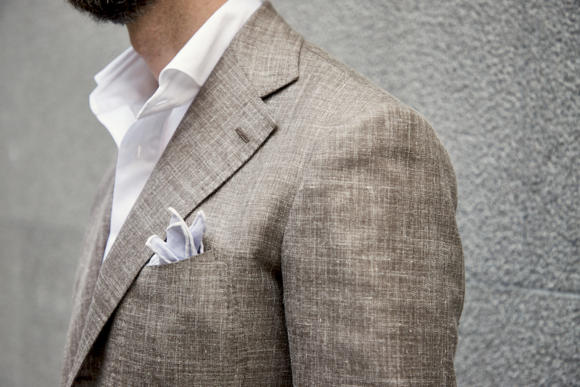 The trousers had to be scrapped, to start again. Meanwhile the jacket was looking good, but at each fitting often one or another change had not been made.
The language issue also made it hard to communicate finer points - for example why I wanted the buttoning point lower, or that I wanted the sleeve length taken from my shirt, rather than my hand.
After four fittings, we had the jacket pictured, which as I said, is not bad.
The balance is good, it's clean and sits well through the neck and shoulders. The only real issue is that some of the style points I tried to request were not built in.
For example, I wanted it a half inch longer, but this wasn't done and the jacket then finished to the point that it was no longer possible.
We have had two more meetings since, in order to re-fit the trousers. They had a better start, and hopefully will be wearable, but I have yet to receive them.
In the meantime, Biagio wanted to make a tweed jacket to improve on the summer one. We have had two fittings on that, but I have yet to see the final result.
I have been waiting for the past month to receive that jacket before writing this review. But nothing has arrived, despite Biagio saying several times that it had been sent.
Hopefully the process as a whole has been long enough to offer some decent conclusions.
I should add that aside from the English, Biagio has not been great at communicating, often arranging trunk shows at the last minute.
This lack of organisation is something he has in common with some other Neapolitan tailors, but not usually to this extent.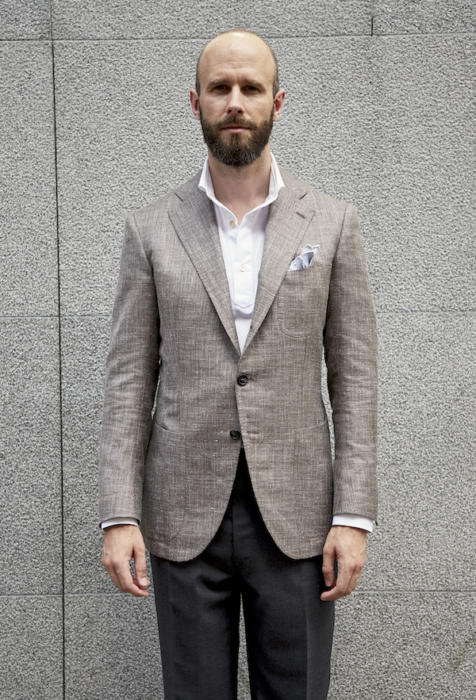 From what I can tell, Biagio is a nice, genuine guy. He is not trying to defraud anyone.
But his English is just not good enough to communicate with non-Italian speakers, and the only reason to recommend his tailoring would be the price.
I don't wish to generalise too widely, but I do think there is a tendency for young tailors and fans of bespoke to try and undercut on price, but fail to plan for how that will work out long term.
The real cost of travelling to see a customer three or four times in order to deliver a suit. The chances that you will make a loss for at least the first year. And the need to focus on one location, rather than going everywhere to try and scoop up as much demand as possible.
They are things I covered previously, of course, in my post giving advice on such trunk shows.
As with all reviews like this, I have told Biagio in advance that it will be published, and the issues it will describe. I do not wish to spring anything on anyone.
Biagio has said that he will correct any issues, and emphasised that he is still learning.
I genuinely wish him the best. But I don't think a tailoring business can work on this basis.
He needs an English friend to help translate at every meeting (as Vergallo have done, for example, with great success) and he needs to charge a price that means he can spend a year travelling to London, or Stockholm, and building up a strong customer base.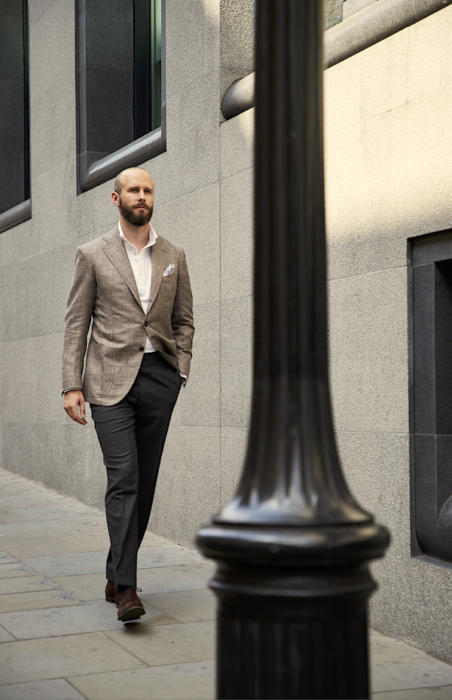 The jacket is worn in these images with a lightweight Friday Polo, grey Fresco trousers and grey linen handkerchief with white border. In a whole tonal-look kind of way.
Photography: James Holborow