Meyrowitz sunglasses with tailoring; Paying for good advice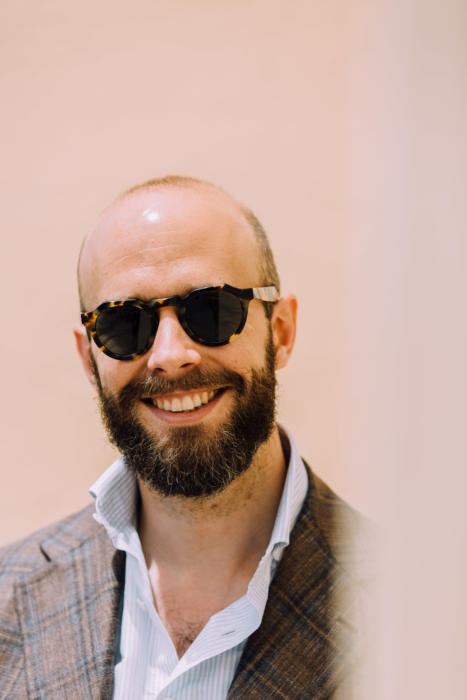 The harder it is to know whether something fits well, or suits you, the more valuable expert advice is. And the more valuable it is to have it in person.
(It's one reason some categories, like accessories, work better online than others, such as knitwear.)
I've found over the years that this particularly applies to eyewear.
I've commented before on the tiny margins for error there are with glasses - when having pairs made at Bourgeat and General Eyewear for example - and recommended that readers work from a ready-made pair as a result.
But the importance of expert advice was brought home to me strongly a few weeks ago, when picking a pair of sunglasses to wear with smarter outfits.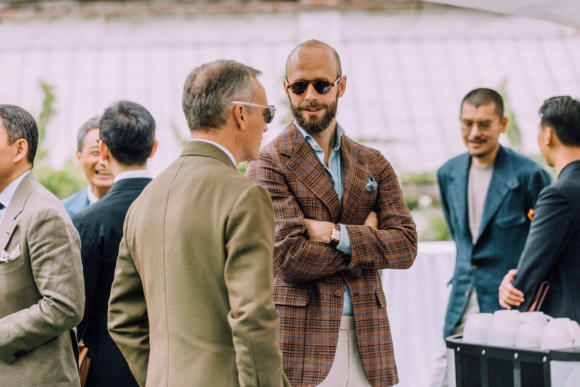 My favourite pair of sunglasses are in the Starsky model from Meyrowitz (shown above).
The frame is narrow enough for my face and small pupillary distance, and the style is unusual without being showy.
But I find it doesn't suit suits. It looks a little too sporty somehow, and out of place with tailoring.
I couldn't figure out why, however. This was frustrating. As anyone that has been reading PS for a while will know, I always want a logical reason for anything (even if there isn't one).
And so I went to Sheel at Meyrowitz in the Royal Arcade seeking an explanation - and a pair of sunnies to go with a suit.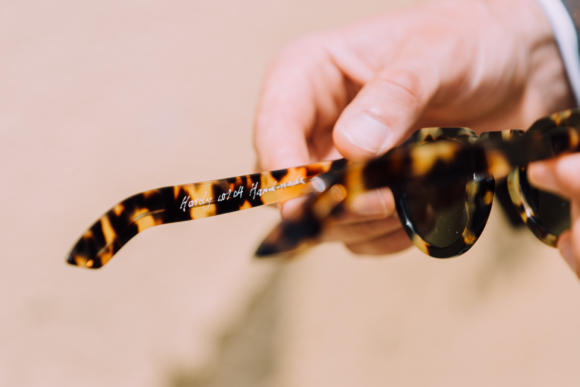 Sheel is an expert, but she wears it lightly. She will give extremely knowledgeable, personalised advice, but modestly.
So she will explain how one frame suits me more (despite being big) because the sides slope inwards more than others, running parallel to the edge of my face.
Or she will point out that although a frame has an unusual, flattened topline, this is largely hidden when I wear the because it sits on top of my eyebrows.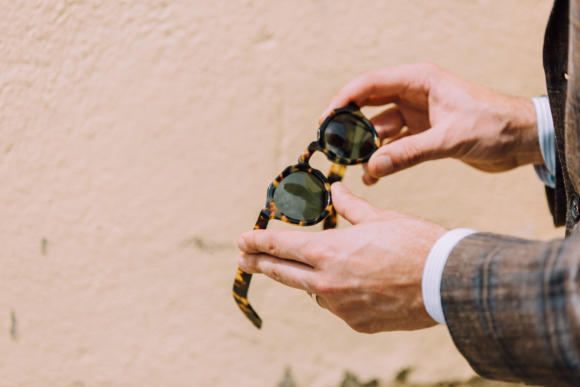 With the search for a more sartorial pair of sunglasses, I had assumed I'd want something with a finer, more delicate frame - even metallic - and in a sharper overall shape.
This didn't prove to be the case when we started trying pairs on. Although large and with a thick frame, the Hardy style above was classic enough to sit nicely with a suit.
It still suited my face because of the points on slide-slope and topline mentioned above.
And the high-contrast tortoiseshell made it seem more classic and traditional: the same model in a dark or mid-brown didn't seem so dressy.
(Which, again, is the opposite of what I would have thought - usually in clothing higher contrast patterns are more casual.)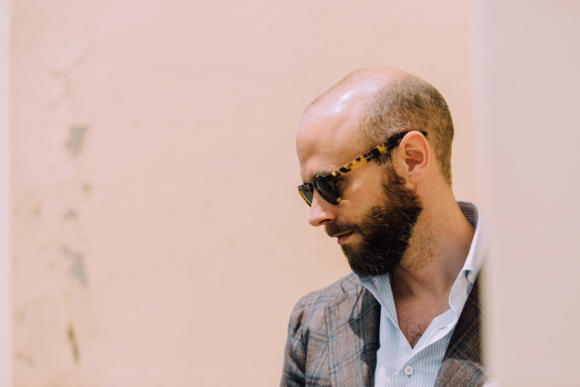 We must have spent an hour trying on different options, with me looking at myself in the mirror wearing them, looking at Sheel wearing them, and Sheel taking pictures of me wearing them looking at her, so she could point things out on the photo.
Throughout, she would always qualify her opinion by saying, 'But it's your decision of course - you have to wear them ': flattering my idea that I could make a good decision on my own, and making me carefully consider each piece of advice.
A helpful reminder was that my pupillary distance (the distance between my eyes) mattered considerably less with sunglasses than with opticals, as others wouldn't be able to see whether the eyes were in the middle of the frame or not.
The Hardy we ended up with was great, and just required some small adjustments to fit the arms perfectly around the ears.
I've worn them consistently since, with great pleasure and confidence.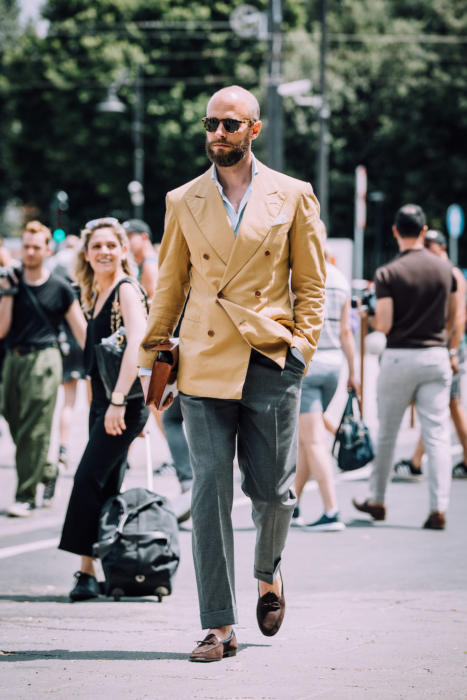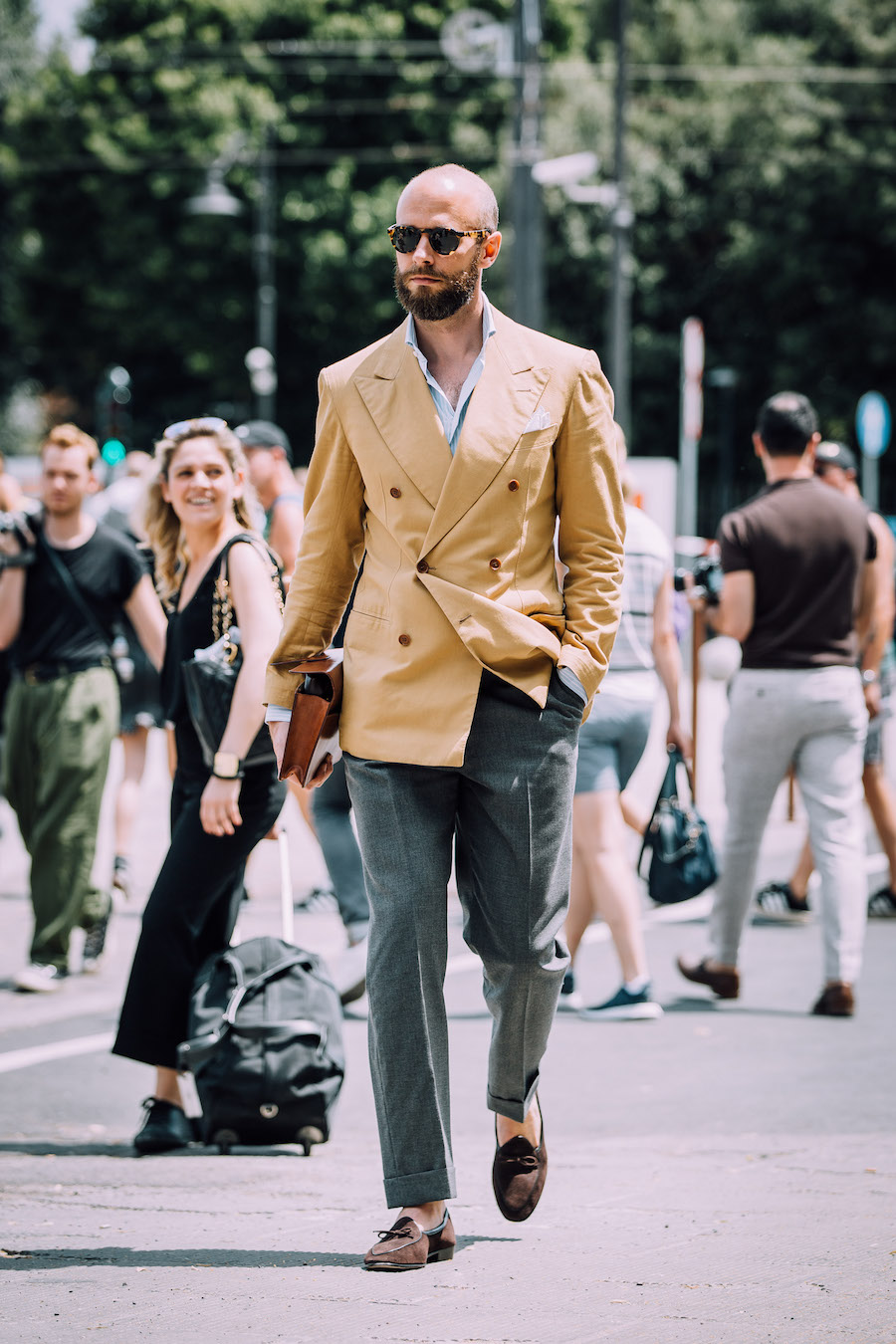 If you want to buy a pair of socks, you don't need this level of advice. But with glasses, or the proportions of a jacket, it is invaluable.
I also think it's central to the question of price and value. A good price for glasses shouldn't just consider the material and the handwork, but the advice that comes with it.
Indeed, I don't think it's too big a generalisation to say that this is how all retail will survive.
If part of the price you pay for something is the cost of the retail and the rent, then it should come with highly qualified staff.
I'm quite happy to pay a premium for Meyrowitz or anyone else, if I can walk in anytime and get this level of detailed, personal, experienced service.
An expensive shop filled with people that can barely show you where the till is - as many department stores are today - seems like a monumental waste.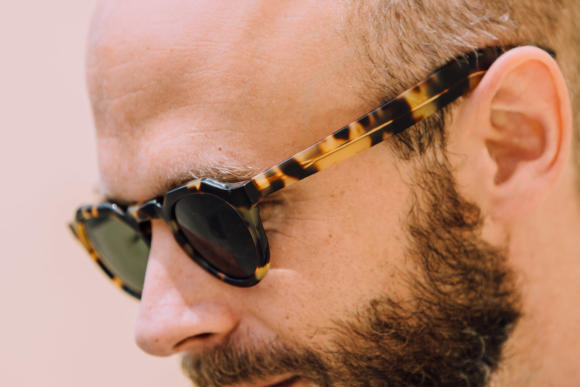 These ready-made (and handmade) frames from Meyrowitz cost £595. Bespoke versions of frames are available from £1200.
The London store, by the way, has no affiliation to the stores of the same name in New York or Paris. Indeed, Sheel now does trunk shows around the US herself- details of her schedule here.
Photography: Jamie Ferguson @jkf_man