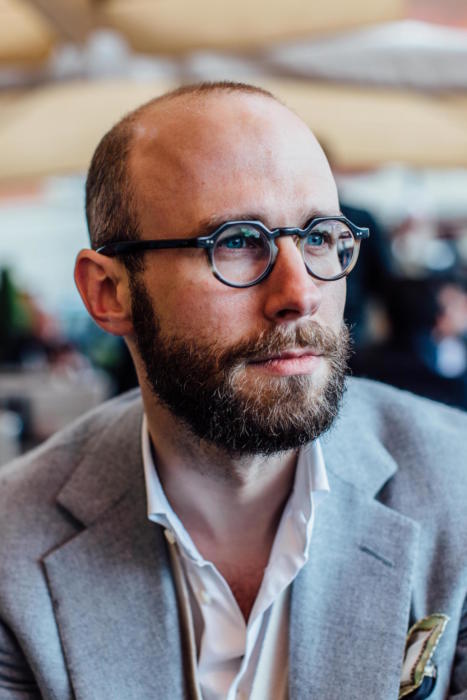 *Since this article was written, Maison Bourgeat closed and Guillaume left the business. It has now re-opened under new management*

A few weeks ago I received my finished bespoke glasses from Maison Bourgeat in Paris. The results are superb – though there are some frustrations to having a 'lunetier' so far away.
The frames were made from buffalo horn, which is a fairly common material for luxury glasses. The next level up from acetate.
It tends to have less texture than acetate – like the dappled effect that mimics turtle shell – but is attractive for its subtle colour variations and streaks.
Horn is also a natural material, unlike acetate, and has the advantage of warming to the temperature of the body (again, like turtle shell) making it a touch more comfortable.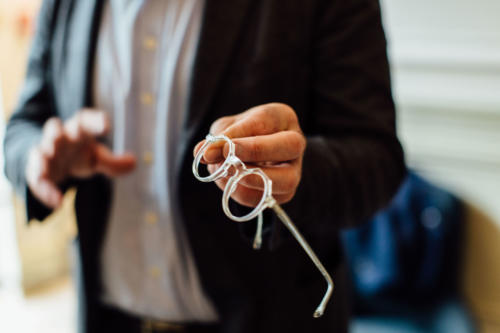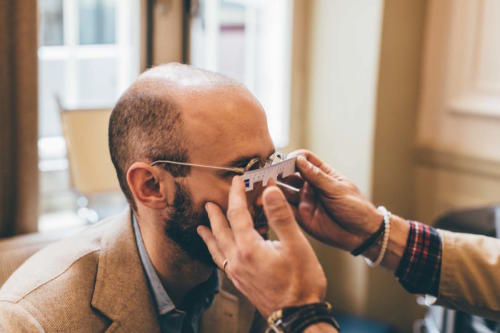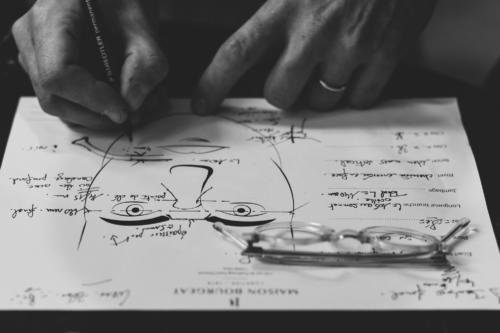 When you select a piece of buffalo horn, it is done from a plate (as shown above) into which you then have to imagine the shape of the frame being cut.
This leap of imagination is not easy, given that only a tiny amount of the plate will actually be used. (It's even harder for acetate, if you pick from a plate for that, given the strength of the patterns involved.)
For that reason, I would recommend anyone having a pair of bespoke glasses made to pay close attention to the ready-made pieces already on display. You are putting a fair amount of judgment in the hands of the maker, and have to have faith in his design approach.



Fortunately here, that design was the first thing I liked. The grey/brown background colour (a common one with horn) is lightened considerably by the broad cream strip running across the frame. In various thicknesses, it is there all the way across.
Such a strong contrast between light and dark looks very dramatic on the original plate, but is considerably softened when that small area of frame is cut out.
The challenge is perhaps similar to that of selecting a boldly patterned cloth for a suit, where the input and experience of the tailor can often be very helpful.
It's also a reason why I recommend to both glasses makers and customers to rely more on examples of the finished product – no matter how romantic it might be looking at plates of buffalo held up to the light streaming in from the shop window.

The lightness created by that broad streak was important for another reason.
My eyes are set rather close together. One of the reasons I'm interested in bespoke glasses is that it is very rare that I find a ready-made frame where my eyes sit in the middle of the lens (horizontally).
As a general rule, your eyes should sit in the middle there, and a touch above the middle vertically. It allows the eyes to stand on their own, and not be hidden by the frame. For you to wear the frame, essentially, rather than it wearing you.
Now having small, dark glasses is not particularly flattering. It can make you appear a little bug-eyed and even sinister. (As I have found from years of trying on such ready-made frames as fit my pupillary distance.)
So leavening that darkness with a little light-coloured horn works well. The fact that horn is so often a muted, greyed brown rather than a very dark, strong colour, also helps.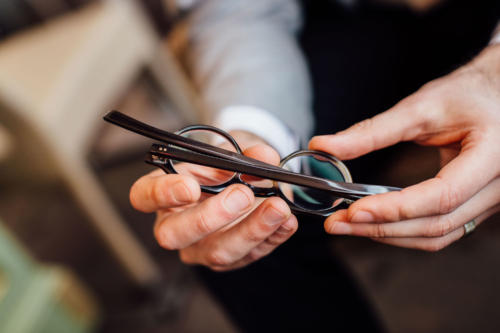 The decision to pick a design with the top of the frame squared off seemed daring at the time. But interestingly, I've found no one notices. They remark on the colour, and the streak, but never the squared-off tops.
That, it turns out, was more subtle than I realised. (I also liked that it was a classic model taken from Bourgeat's archive.)
I won't go into the craft side of the glasses, as I covered that in some detail on my original Bourgeat post. But they are wonderfully hand made, with delicate rounding of the nose piece, for example, that you would never get on a machine-made pair.
The only frustrating thing has been the fit. Guillaume was keen for me to try straight arms, rather than curved ('hockey' ends). But I should have known this was a mistake, as we tried the same at Meyrowitz years ago without success.
The fit is still good, but they tend to slip off a little towards the end of the day, or during anything particularly active.
I'd like to get them adjusted by Bourgeat, but that means waiting a couple of months until I am back in Paris. I may just have to find a friendly optician in London instead. (I do recommend Cubitts, incidentally. More on them at some point soon.)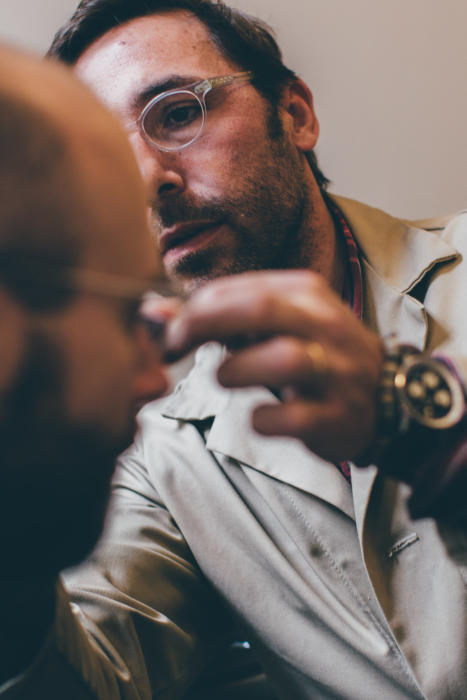 Photography: Jamie Ferguson @jkf_man