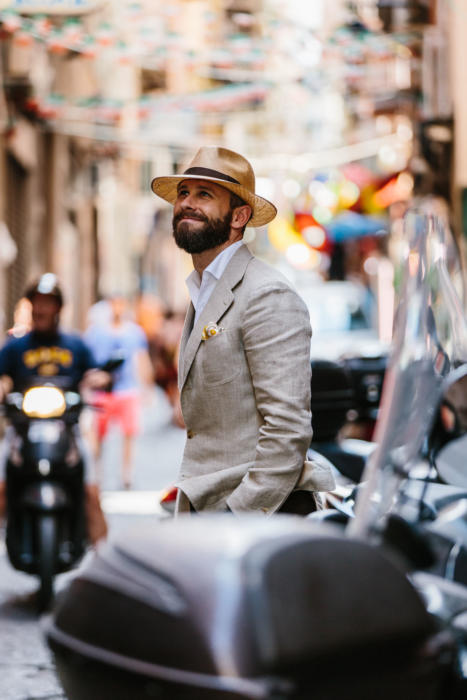 As mentioned on my 'What I pack' post, I've been travelling a lot in high heat recently.
There was Pitti in Florence, where the temperature topped out at 37 degrees. Naples in July was very similar. And Puglia at the end of that month was hotter, if anything.
So what do you wear in such heat, if you want to remain elegant?
Here are my recommendations, based on trial and (sometimes painful) error. They are of course subjective, but I'm sure readers will find them useful.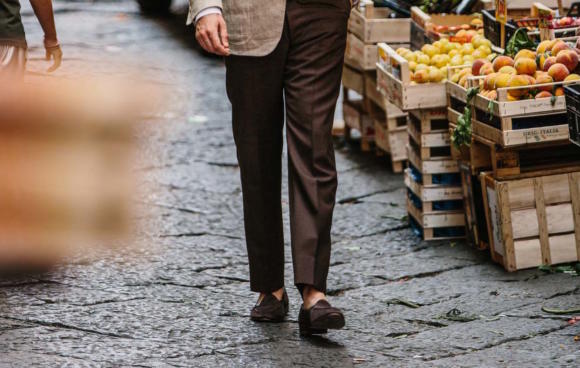 1 Keep the ankles bare
There's a reason splashing cold water on your wrists makes you feel cooler. Veins run close to the surface here, and it is an effective way to cool the blood as a result.
Ankles are similar. Keep them uncovered, to breathe and benefit from the occasional breeze, and it makes a disproportionate difference to how cool you feel.
Most of the time, therefore, I wore loafers or Sagans with only 'hidden' socks inside the shoes.
The only limitation to this is formality.
I wouldn't go sockless with a formal worsted suit, and if one was required I'd wear calf-length socks (albeit a very fine cotton, or linen).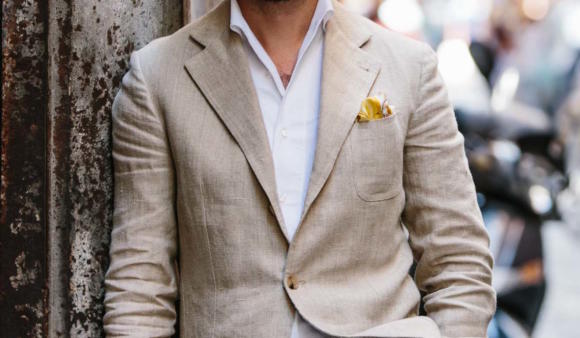 2 Avoid a tie
This one might be controversial, but I rarely wore a tie.
The two times I did – once in Florence, once in Naples – it was in order to wear a particular suit (and I pretty much never wear a suit without a tie). But I regretted it.
A closed shirt around the neck, further covered by a band of silk, proved to be the biggest heat-inducer after socks.
The neck gains almost as much from exposure as the ankles, and an open shirt allows some circulation of air down the chest.
Again, the only restriction was formality.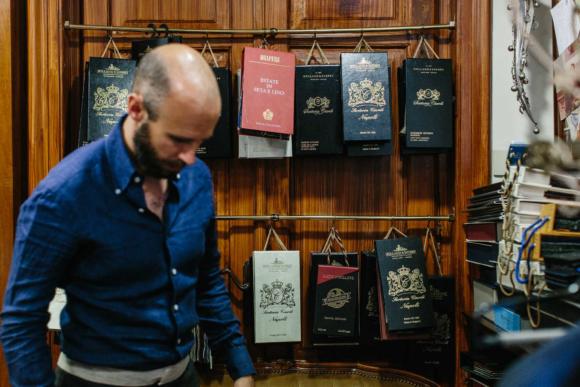 3 Don't stress about materials
During those trips I wore cotton shirts, linen shirts and cotton/linen shirts in a variety of weaves and weights. I didn't notice much difference between them.
It's still worth avoiding the heaviest cotton twills, and brushed cottons obviously, but don't worry too much about having just linen shirts, for example.
This is almost as true of suitings. I wore linen, cotton and lightweight worsteds, and didn't notice much difference.
All the worsteds were 9oz or so, and although I do particularly like the comfort of cotton in the heat, the differences between materials were small compared to points 1 and 2 above.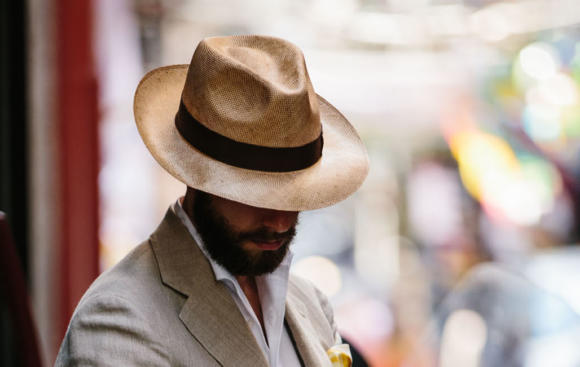 4 Carry a hat
Hats are a pain.
Unless you have a rolling model (which I don't generally like the style of), a panama has to be carried onto the plane, and ideally kept in the lap rather than putting elsewhere, where it could get knocked and bent.
It's also a pain to put down, in a restaurant for example, and then remember to pick up later.
But covering the head does make you cooler if you're in the direct sun. It's the same reason traditional Middle Eastern outfits all involve long, body-covering robes. Exposure heats the skin.
Also, hats look great. If you think you don't have a head that suits a hat, you're wrong. Everyone used to wear a hat, and they all looked great.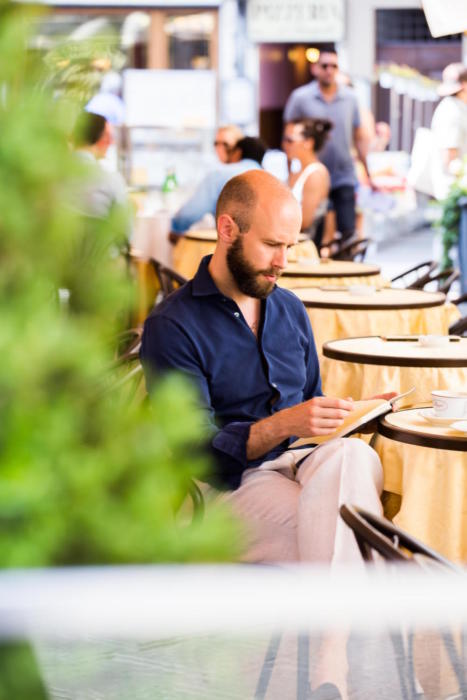 5 Shorts and untucked shirts for off days
Most of the time on these trips I wanted to remain smart and sartorial; because I considered the appointments important, and because I was meeting craftsmen – tailors, shirtmakers and so on.
I was on duty, in other words.
When I was travelling or relaxing I occasionally wore shorts – still a well-made, precisely tailored short (from Bardelli, Milan) – which was cooler still.
And untucked shirts. Only casual styles, such as polos or camp-collar shirts, and only ones with a length designed to be untucked. But that again was a touch cooler.
The example pictured here is the Fedeli polo offered by Drake's this summer (pictured, in blue), which is cut away nicely at the hips to suit being worn untucked.
I find a piece like this is separated from very casual clothing (such as a T-shirt) by virtue of having a collar, by being long-sleeved (even if the sleeves are pushed back) and by its cut – in that order.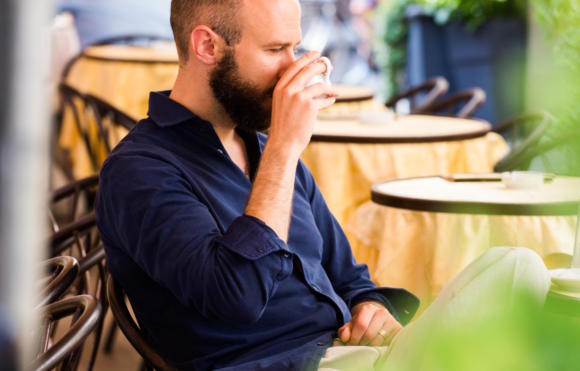 Number 5, however, should be considered something of a side point.
The rest are what would now constitute a summer uniform, and are what I would pack by default for similar high heat: Jackets, open-necked shirts, trousers, sockless loafers and a hat.
And the good news is that even though I may have to do away with some much-loved items of dress – such as a tie – I know I will be perfectly comfortable walking around and working all day in 38 or 40 degrees.
And (I think) look great.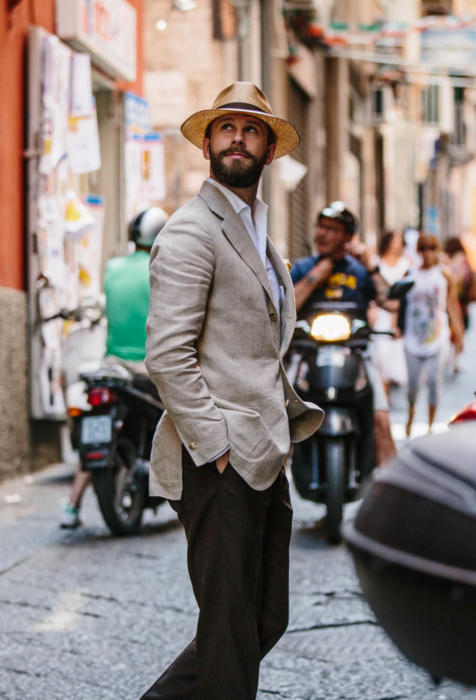 Clothes worn:
Main outfit:
Vintage linen jacket by Elia Caliendo (covered previously here)
One-piece-collar shirt by Luca Avitabile
Yellow-silk handkerchief by Rubinacci
Brown Crispaire trousers by Dalcuoure (suit covered here)
Bark-grey Sagan loafers by Baudoin & Lange (my personal colour – see post here)
Sisol hat from Anderson & Sheppard
Cafe outfit:
Blue polo shirt by Drake's x Fedeli
Linen 'Hollywood top' trousers by Edward Sexton (covered here)
Same loafers
Outfit in fitting room:
Photography: Jamie Ferguson @jkf_man
Except for cafe outfit, photography by James Munro for Drake's