As I return from two summer trips – one for a week in Florence, the other a week in Naples – it seems a fitting time to run through what I pack for trips such as these. I know readers have asked about it in the past.
Of course, any travelling wardrobe is specific to the trip itself, depending heavily on the location, the purpose, and the people being met.
But Permanent Style readers will doubtless find a need to travel with a similar level of formality to the one described here. And the general principles apply more broadly.
I can look separately at what I pack besides clothes, in hand luggage, and more general travel points.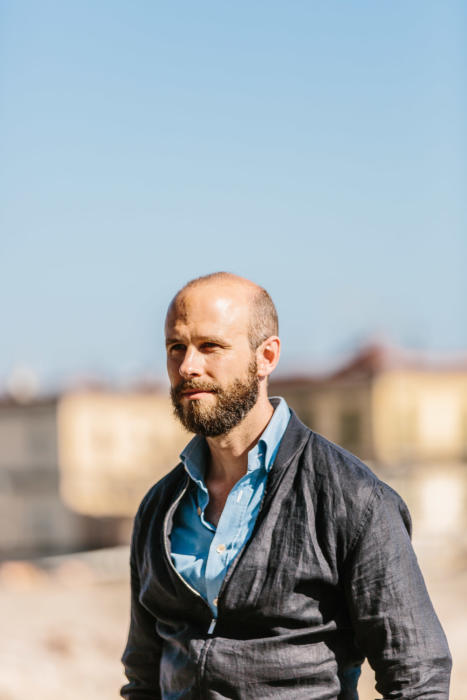 Travelling
The list below is what I might pack for a trip of five days – so five full days on location, with travel either side.
For that travel, I would generally wear something more obviously comfortable than the tailored pieces I will be wearing every day.
However, I wouldn't resort to jeans and a T-shirt; and I always want something where I can keep passport, boarding pass etc – without resorting to my back pocket.
So a summer example would be:
For an Autumn/Winter equivalent, you could swap in Incotex chinos for the shorts, and my navy-suede jacket from Stoffa for the linen blouson.
In my hand luggage I will often have a mid-weight piece of knitwear, in case the plane is chilly. I wouldn't wear the jacket on the plane.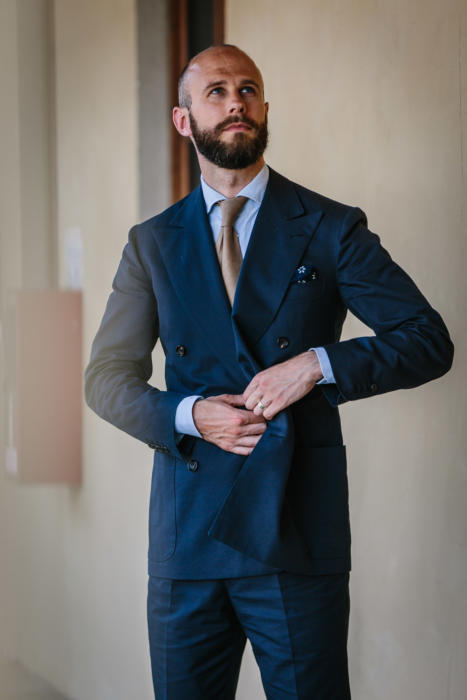 One suit
I rarely travel on a trip of this length without a suit. It's always good to know I can turn to something more formal if the need arises – for a particular dinner, or an event.
That suit will usually be navy or grey, and I will aim to have something where the jacket or trousers can also be worn with other items.
A 'three-way suit' like my Pirozzi corduroy would be perfect in one way, as the trousers and jacket can be worn on their own with the right partners, and can be worn together as a suit.
However, such three-way suits tend to be in more casual materials like cotton, and therefore don't cover my need for formality. An exception would be a navy cotton suit, or a heavy hopsack.
Suits I more usually turn to, therefore, are my brown Crispaire from Dalcuore (whose trousers are quite versatile) or my Anderson & Sheppard grey-flannel suit.
More detail on all these pieces can be found at those links.
Two jacket/trouser combinations
For a five-day trip like this, I would also pack two jacket/trouser combinations. So two jackets, each with a pair of trousers to be worn with them.
If the two can be swapped over, or work with part of the suit, all the better.
As with all pieces taken on a trip, there is an urge to take the most versatile, functional pieces. Examples would be:
The advantage to these four pieces is that each can be worn with the other trouser. However, if this is overkill in terms of versatility, one of the jackets could be more unusual – such as the Liverano purple flannel.
Note also that cream is probably the most versatile trouser there is, in terms of what it can go with.
The only problem is that cream trousers are not suited to every destination and season. If they are in a particular case, bring them.
With these tailored pieces, I would have three outfits for the first three days.
On the last two days, I could then wear other combinations of these, or two of the outfits again (perhaps with different shirts or accessories).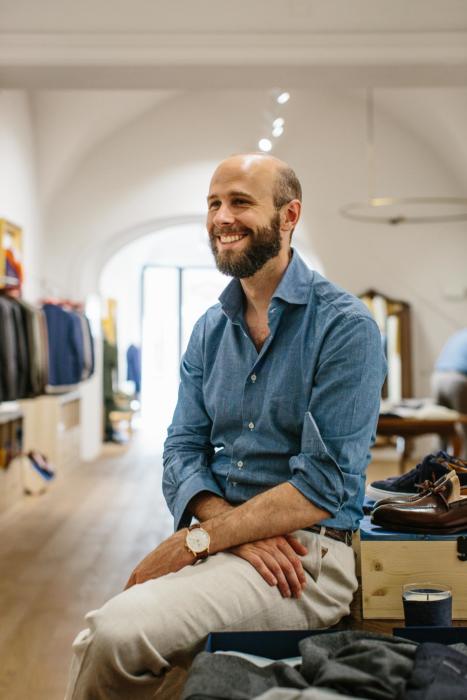 Shirts, ties and hanks
Shirts are usually most versatile in a plain blue, then white – or with subtle patterns that make them no different in effect from plains.
In order to avoid this being boring, I would tend to mix up materials (eg cotton/linen) or design (a long-sleeved polo shirt for a tieless day, instead of a button-down shirt).
Ideally the shirt collars are such that they can be worn effectively both with and without a tie – as most of mine now are, whether spread or button-down.
My favourite travel ties are a navy and black large-knot grenadine. But to avoid this being too boring, I would chuck in one or two more interesting options – perhaps my dusty-orange Mattabisch.
And I always have two handkerchiefs with me: a white linen and a dark silk or wool/silk, eg the navy Drake's I wore on Monday.
Plus one brighter selection- eg yellow and cream from Rubinacci.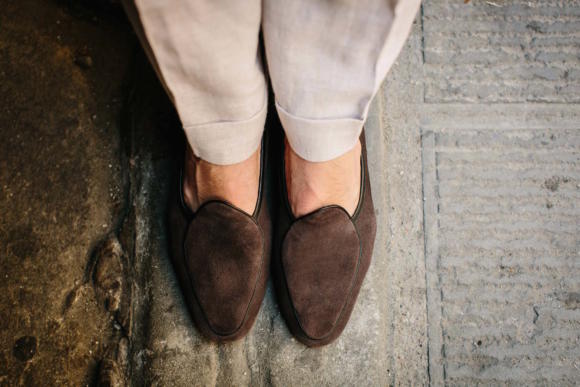 Shoes and everything else
I usually take three pairs of shoes, all brown.
One pair must be such a dark brown that it can be worn with a smart, dark suit – such as my Edward Green Oundles.
The others can be mid- or light browns, but as with everything else it's helpful if they can go with multiple pairs of trousers.
In the summer, one pair at least is Sagans from Baudoin & Lange. And even in the winter, I try to fit in a pair, as a fourth shoe.
There's nothing worse that finding one pair of shoes – for whatever mysterious reason – becomes uncomfortable when you're travelling, and leaving you with just one other pair, to wear every day.
Having had that experience, on any trip of more than a couple of days I take three pairs of shoes.
Socks are pretty much all my favourite dark green. They go with everything, and they have a little personality. The perfect combination.
There will be one piece of knitwear in there, that goes with almost everything – usually a navy crewneck.
Plus (if I have room) one cardigan or similar that can add interest to an otherwise versatile (read: dull) outfit. Such as a cream or burnt-orange colour.
And last of all: a lightweight scarf. It takes up hardly any room but makes a big difference on a cold evening.
Any questions, problems, or votes on future travel pieces, please let me know.
Photography: Jamie Ferguson @jkf_man