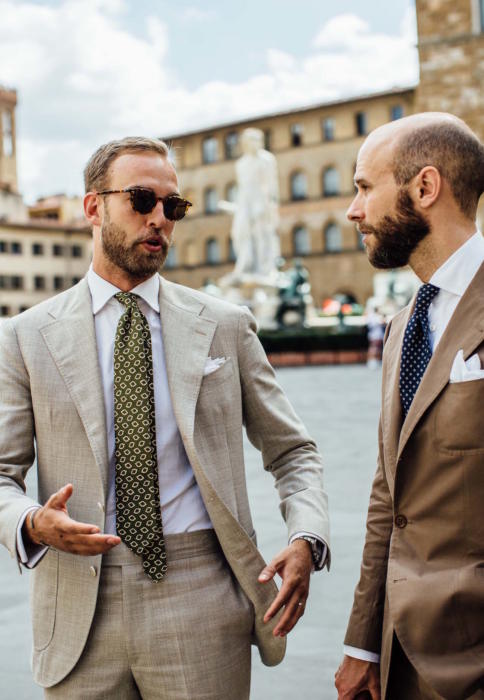 A reader recently commented that the site could do with some more practical pieces about putting clothes together – rather than commissioning them.
I am deeply appreciative of such feedback. I do try to keep a balance between the pursuits of style, of quality products, and of the fineries of tailoring, but my writing inevitably follows the direction of my activities. Always nice to have a corrective.
In this post, I thought I would make two points about wearing summer suits and jackets.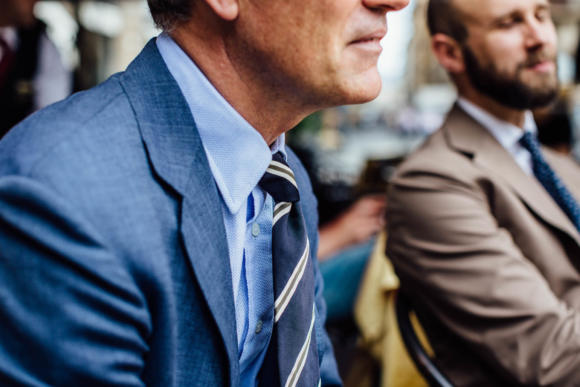 First, that in the buying of such pieces, it is often best to stick to quieter or muted versions of the bright cloths of summer. So pale grey rather than cream. Light brown rather than yellow.
Despite the colonial associations that this approach aims to avoid, its central theme of elegant conservatism is a deeply English one, and something that always made English style attractive to the rest of the world.
Using the images here from our 'Rakish men's' breakfast in Florence as examples, note the pale-grey worsted of Andreas Weinas's suit above top (made to measure from Eidos). The muted tone of my own cotton suit (from Caliendo). And the sugarbag-blue of Douglas Cordeaux's above.
Even Greg Lellouche's tobacco linen suit (below, ready-made from Formosa), is arguably more subtle than most summer suits offered by ready-to-wear brands, which feel the need to shout about the brightness of the day, rather than quietly reflect it.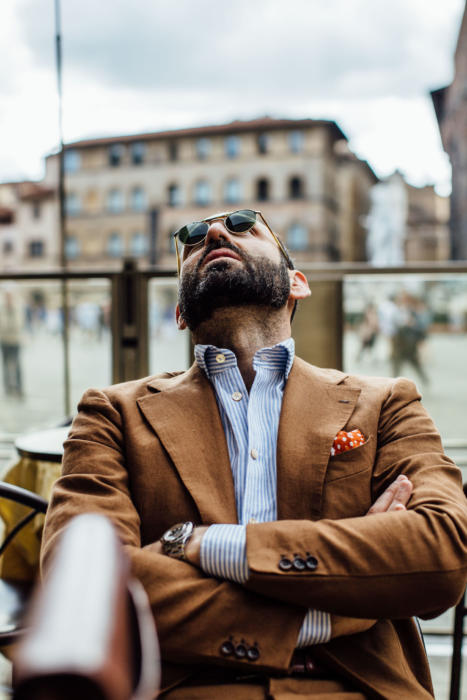 My second point – focusing more on that reader's request – is what these summer pieces are worn with.
Generally speaking, we have all chosen to combine them with either simple, conservative shirt-and-tie combinations, or very bold open-necked shirts.
So myself and Andreas wear white shirts and pretty muted ties. Both sit comfortably without the outfit and create a harmonious whole. Greg's blue/white striped shirt is equally subtle.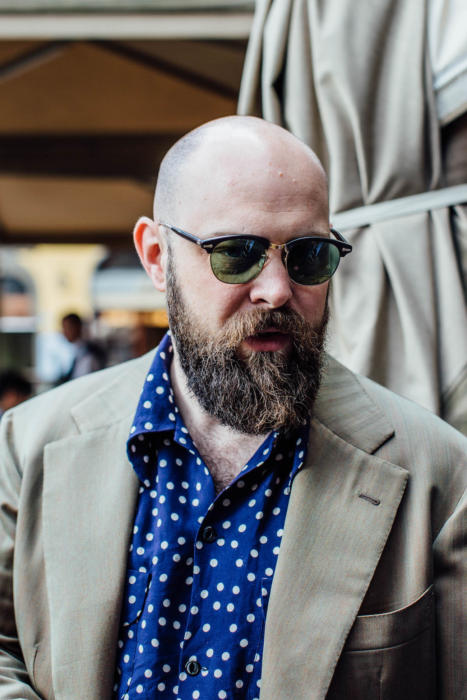 Ethan Newton (above) and George Wang (below) on the other hand, take the opportunity to wear strong colour and pattern in the summer sun – but do so in a casual shirt rather than a loud suit or tie.
Often a shirt is the perfect setting for such expression, where the same in a suit would be too loud, and in an accessory could look gimmicky.
Ethan's solaro suit (from Dalcuore) is also a muted summer tone, and even George's cream jacket below is in a thickly woven linen that creates a more matte, textured background to his bright shirt.
Hopefully that's an interesting style angle for our reader to play with over the rest of the summer.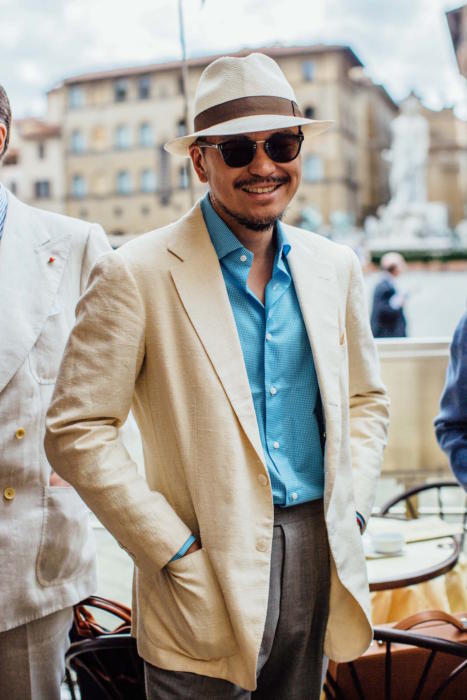 Photography: Jamie Ferguson
Below, Greg's bag from Christian Kimber and hat from Post-Imperial, both from No Man Walks Alone.