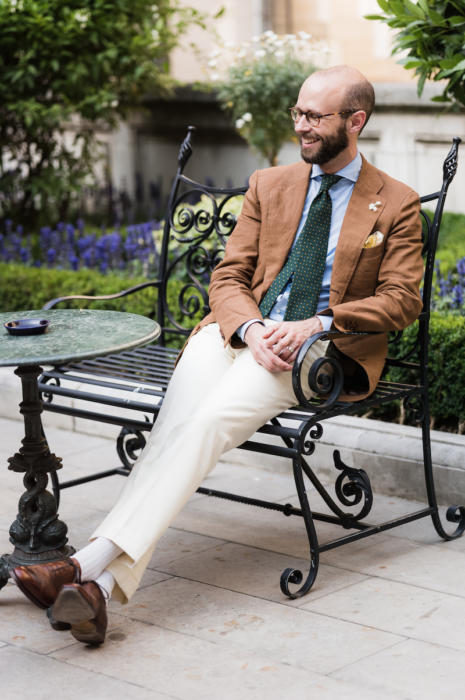 At the BTBA party last month I wanted to try wearing my tobacco-linen jacket separately. It is part of a suit of course, but it was commissioned from Sastreria Langa in Madrid with a 'shirt' sleeve and patch pockets to make it casual enough to wear on its own.
So first thing picked: the jacket. Next, on to the trousers. Although the linen (from Scabal) is a strong colour it is also a mid-tone, neither that light or that dark. As a result, it requires trousers that are rather light or dark, to achieve enough contrast. Linen was also discounted: as in most situations, the same material would have looked odd as both odd jacket and odd trouser.
I tried tan cotton, pale-grey fresco and cream gabardine. The latter two both worked (tan was too similar in tone) but cream gabardine was selected purely on the basis that these lovely Anderson & Sheppard trousers don't get worn very much. Gabardine is pretty formal, cream particularly, and so they rarely get worn to the office.


Blue shirt (white hard to differentiate from the trousers); cream socks (always match the trousers be default – and this didn't need any more colour); tan Stefano Bemer oxfords (the default for cream trousers unless you like spectators, which I don't).
There were far more options with the tie, but this fresh green worked particularly nicely with the tobacco colour of the jacket and the outside, summer setting. The printed tie is also wool (from Shibumi) which helps keep everything casual. (Printed silk can work with an odd jacket, but you have to work hard to avoid it looking too formal.)
The yellow silk handkerchief, from Rubinacci, performed a supporting role despite its relatively strong colour. Another silk would have competed too much with the jacket and tie, making the whole outfit too colourful and a little top-heavy. This yellow, with some cream in the pattern, feels like it is echoing the trousers rather than trying to make its own statement.


I have the opposite opinion of boutonnieres: they can be much stronger or unusual in colour because of their usually small size. Here I chose a simple white flower, but a pink or purple might have worked where it would have been too much as a handkerchief. More on that in another post.
Overall, a relatively simple outfit, but a satisfying match to the event and use of the tobacco linen.
(Incidentally, I've had a few problems with the Langa suit – the shoulders are still off and will need to be re-made by Graham Browne, and the pockets have shown to be fused, making them pucker. The colour is still wonderful, but I haven't been that impressed with how it has worn.)