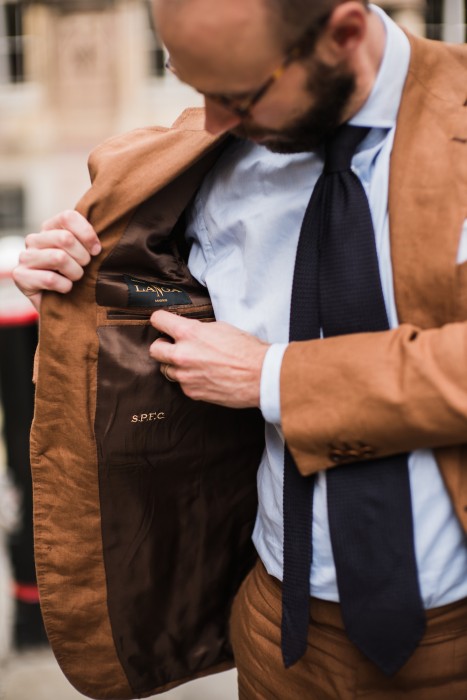 Some close-up details here on the linen suit from Sastreria Langa that we featured earlier in the week. You can see a few of the tailoring idiosyncrasies, as well as the cloth and work itself in more detail.
Langa include both a label for their own brand and one describing the cloth on the inside of the jacket. I'd prefer to not have the former, but can live with it, while the latter is worth avoiding – it stems from an assumption with smaller tailors that the cloth merchant is more prestigious than they are. There are also embroidered initials, which are decently done.
One shortcut with the make is the insert around the in-breast pockets, which can be seen in the close-up at the bottom of this post. The cloth is cut, rather than continuing seamlessly around the pocket, which is a lot easier to do but a little bit of a shame aesthetically.
That image also shows the top stitching on the lining around these pockets. It's nice to have this by hand (most English tailors don't bother) but it is a little wobbly in places.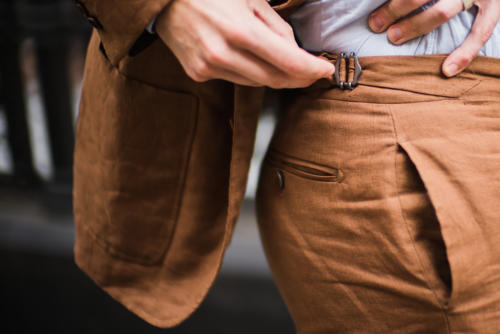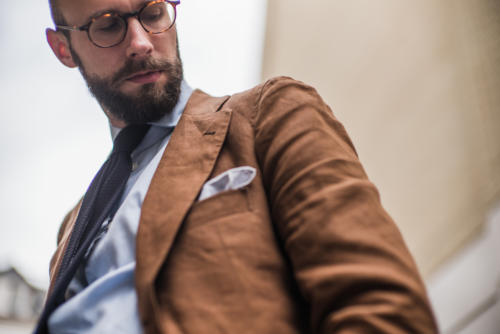 On the image of the trouser's side strap you can see that the lining of the waistband is attached by machine. This is a peculiarity, as I have yet to use a tailor that does this by machine. Even the cheaper tailors like Graham Browne tack this by hand, considering that it makes the waistband more comfortable.
A bigger issue is the side strap itself, the length of which makes it prone to slipping. A shorter strap can hold the cloth underneath it more easily, and that's particularly needed on linen. You can also see that the strap has a little keeper on the left, which isn't particularly well placed – it covers the strap and makes it hard to pull. On the plus side, the pointed design and handwork around the points is attractive.
Elsewhere there are some nice touches. The swelled edges around the lapel and out-breast pocket are well done, and there are two neat change pockets on the trousers, just under the waistband.
As with the style and fit, discussed in Tuesday's post, there is room for improvement here but it remains a very good-value suit.