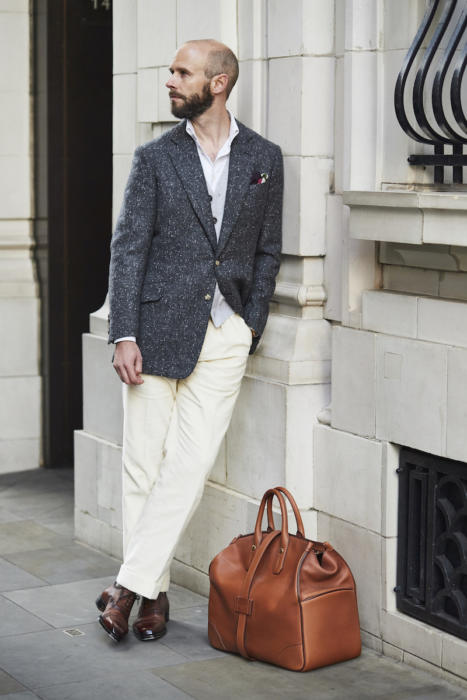 The starting point for any decision about what shoes to wear with an outfit, is that they should be darker than the trousers.
So with a charcoal trouser, a black shoe or very dark brown. With a mid-grey trouser, dark or mid-brown (below). And only with a very light grey or cream trouser, a tan shoe (above).
This looks subtler and more elegant than a bright shoe against a dark trouser. And as a result it has become common practice, social convention, and finally something we can call a rule of menswear.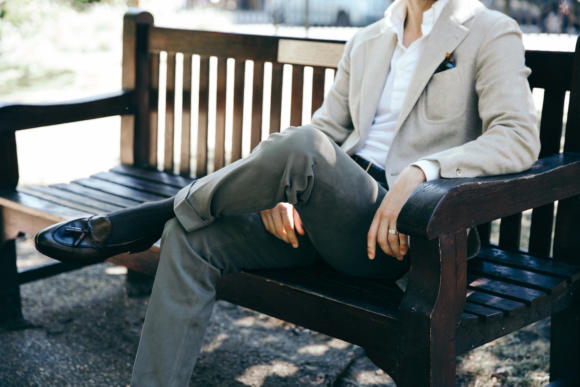 However, there is a tendency to think that this means wearing tan shoes with every beige or cream trouser.
Readers have often commented that a combination of mine would look nicer with a tan shoe, rather than the brown I've gone with.
Personally, I think it's important to remember that what's worn above the waist is also relevant. For as lovely as tan shoes are, they can look out of place with a dark tie, shirt or certainly shirt-tie combination up top.
Let's say we're wearing a beige trouser and a tan shoe. Above the waist, a mid-blue shirt and navy tie is OK.
But as soon as you darken that top half more – with a denim shirt, a grey polo shirt, or a navy roll neck – the contrast with a bright shoe becomes too strong.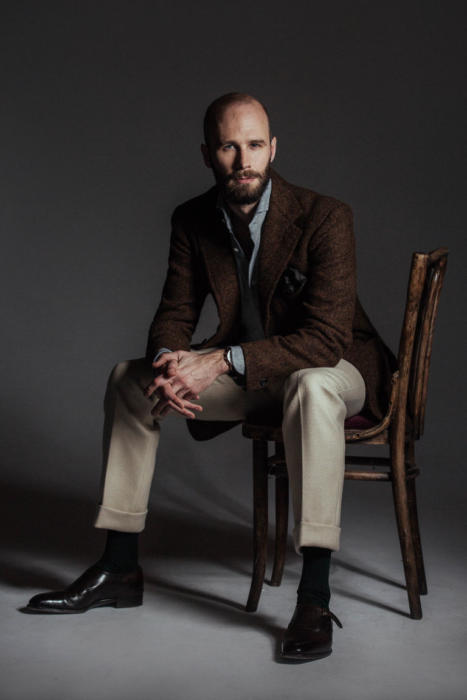 I know I've probably lost all first-time readers at this point. Who thinks about their shoe/shirt/trouser combinations this much?
Fortunately I know a good number of PS nerds will be on board, so I'll carry on. Everyone else, just scroll through the pretty pictures.
So. Even with cream or beige trousers, if I'm wearing something dark above the waist, I'll wear a mid- or even dark-brown shoe.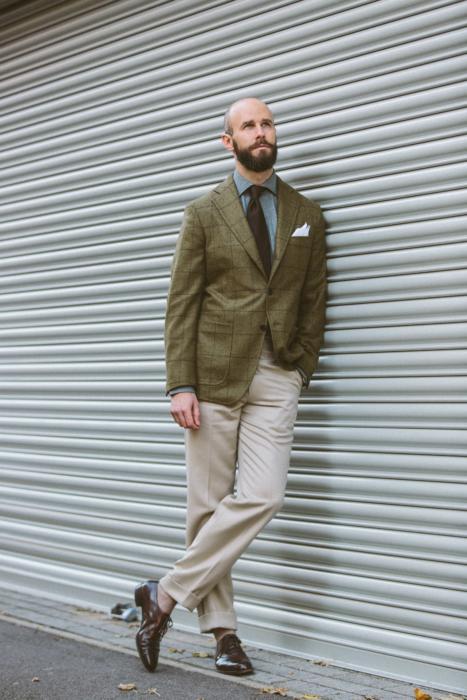 Take the example above.
That beige colour of trouser would look great with a tan shoe – perhaps even tan suede. The bottom half would really pop.
And with a white shirt above the waist, that would be fine.
But with a dark shirt like this grey brushed-cotton, a light shoe would be out of place with the rest of the outfit. It would be too light and too bright.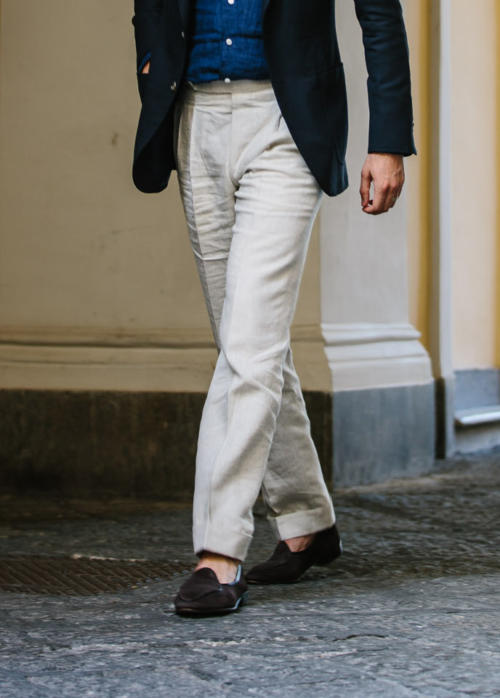 Same with this next example, with an indigo-coloured shirt.
Tan shoes would be beautiful with the natural-colour of linen trouser. But they would be ill-matched with the dark shirt.
And one more below. The charcoal roll neck is the dark thing above the waist; it's under an overcoat, but that could just as easily be a jacket.
It would be tempting to wear tan here. But a mid-brown shoe like these G&G adelaides is much more fitting.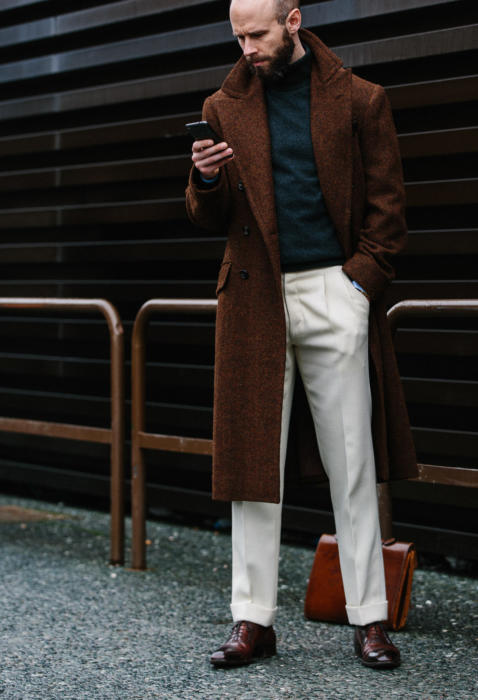 It might seem obvious when spelt out like this, but it's the kind of thing I've done for years without knowing why.
And it's nice to be able to put it into words. Readers often say they like this about Permanent Style – that it explains and formalises their habits and instincts.
In this case, I have to credit Benedikt Fries from Shibumi for helping me formulate my thoughts.
Benedikt mentioned it during his appearance at our recent pop-up in Fortnum & Mason, and it immediately made sense.
Benedikt is also a good example of how this works with a tie: he wears ties far more than me, and says he is more likely to wear a dark shoe when he is wearing a dark tie.
Again, dark up top matched by dark below.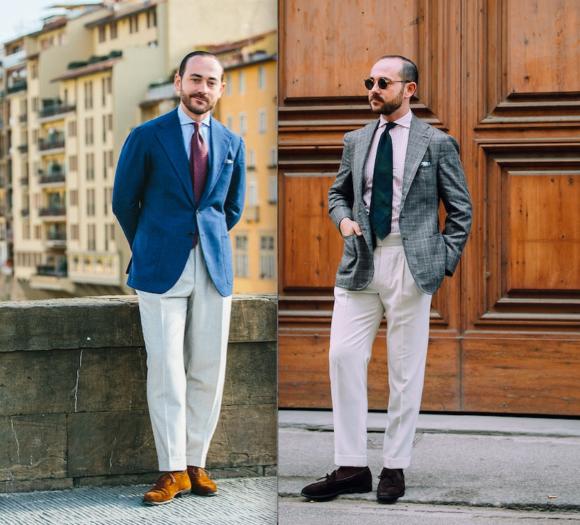 I think that image on the left of Benedikt also shows the difference the colour of a jacket can make.
Although the tie and shirt are probably the most important things here, any strong, summery colours elsewhere also help make a tan shoe part of the whole.
I think it helps in my combination below, as well.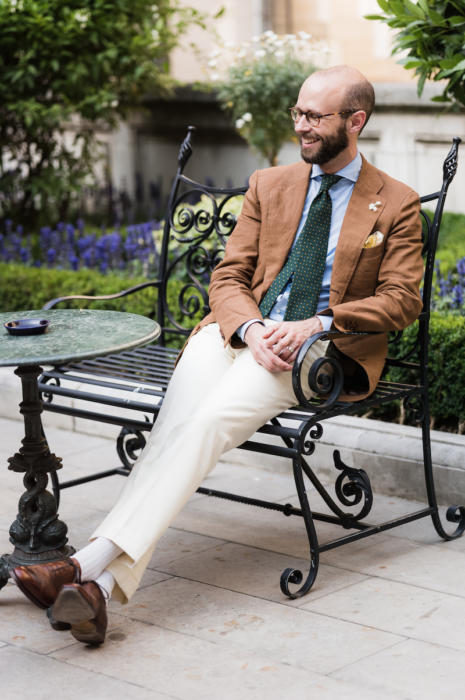 This post by the way, is part of the 'Rules' series, where I explain why certain rules or guidelines exist in menswear and then – once that is thoroughly understood – how and where they can be broken.
You can break the rules whenever you want of course, but it's seldom recognised that when the best dressers do so, they're fully aware of what they're giving up.
The full list of posts in that series can be found on the dedicated page here.
Photography: Jamie Ferguson @jkf_man