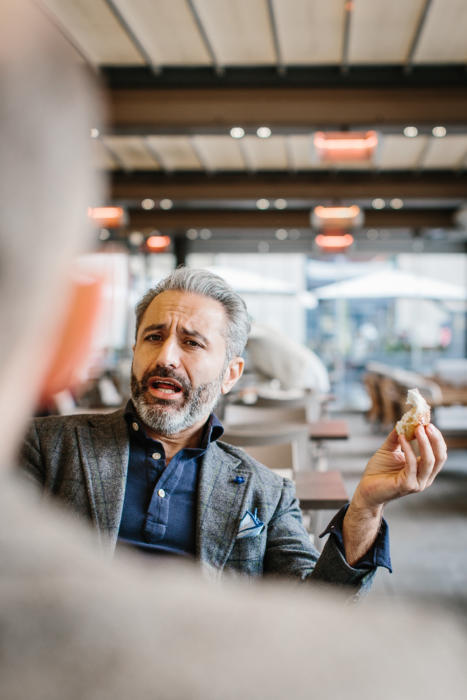 Our ever-popular Friday Polos are back, in the four colours of navy, brown, green and light grey.
You can buy them on the shop page here.
Please don't forget to include the size you want and the colour(s) in the notes section.
We dropped white this time around, as it was consistently the least popular of the colours - and it allows us to do a full run of brown, which was so popular last time.
Shipping will begin on Wednesday this week. We've extended stock again, so these should last a few weeks (hopefully into the tenure of our Savile Row pop-up shop).
I continue to find my Friday Polos useful for bridging the gap between casual and formal.
Most often, they are worn with a sports jacket and trousers, as pictured here.
(I'm wearing my Dalcoure brown-donegal jacket and Caliendo cream-Pardessus trousers.)
But they also get a lot of use without a jacket. With a tailored pair of cotton trousers, for instance, they can do very well at the weekend, perhaps with a pair of loafers and a light coat.
In the images I am wearing our light-grey colour, with Tommaso Melani, Tommaso Capozzoli and Filippo Parri of Stefano Bemer wearing the other colours.
Tommaso Melani (in the navy polo) is wearing his particularly casually, with the cuffs turned back.
Our old friend Capozzoli favours the brown, which goes particularly nicely with his green tweed jacket.
And Filippo wears his green with grey worsted.
For anyone that's not familiar with the Friday Polos, including their design, handmade-in-Naples origin, and of course sizing, please see this last post here.
And here is the standard product information again.
Four colours available: Navy, Green, Brown and Grey
Four sizes: Small, Medium, Large and Extra-large
Shipping by FedEx, from Naples
Deliberately sold at a below-retail price to readers
Buy from the shop page here
Product details
Mid-weight Caccioppoli pique-cotton fabric, good for nine months of the year (in England!)
Hand cut and partly hand sewn, all in an atelier in Naples that makes for several big designer brands
Cutting and work overseen by Luca Avitabile, bespoke shirtmaker
Mother of pearl buttons
Stand collar, like a shirt, to help it sit under tailored jackets
Long tail and front, like a shirt, as the polo is designed to be worn tucked in
Will not shrink when washed, but should expand slightly in the waist. Do wash cool and line dry
Photos taken by Jamie Ferguson, at Gilli in Florence.