Wearing black (in a sports jacket)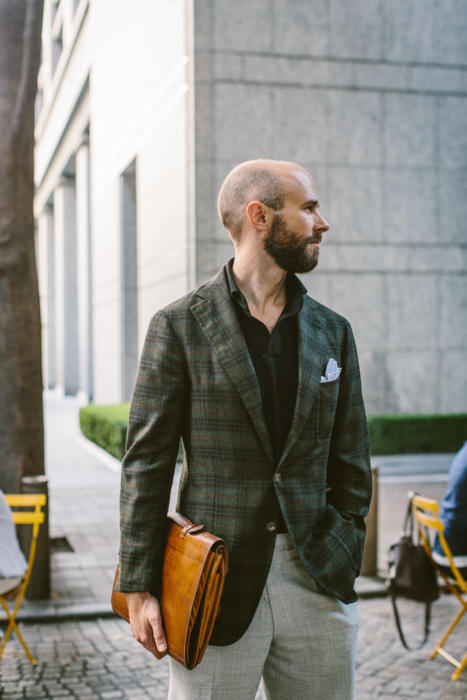 I recently remembered these shots we took last year in Japan - it was September, but Tokyo was hot and humid, as Europe has been in recent weeks.
Although wool, the checked jacket is 9 ounces and half lined, wearing pretty cool.
It was a useful piece, therefore, but also extremely versatile in its colour and pattern - which never fails to surprise me.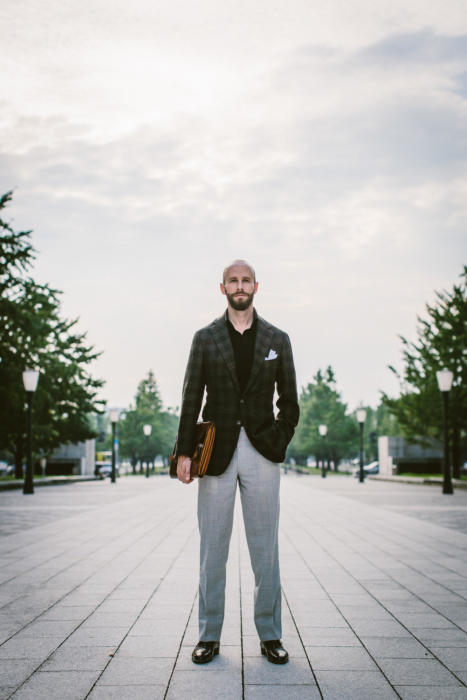 It is helpful if a sports jacket - that is, a jacket worn on its own rather than part of a suit - has texture or pattern to clearly distinguish it from the trousers.
Hence why so many sports jackets are checked.
However, if that check is large or bold, the jacket can become dandyish, striking and - perhaps worst of all - limited in how you can wear it.
Better a definite but subtle check, as we have here in black on green - with a faint overcheck of orange.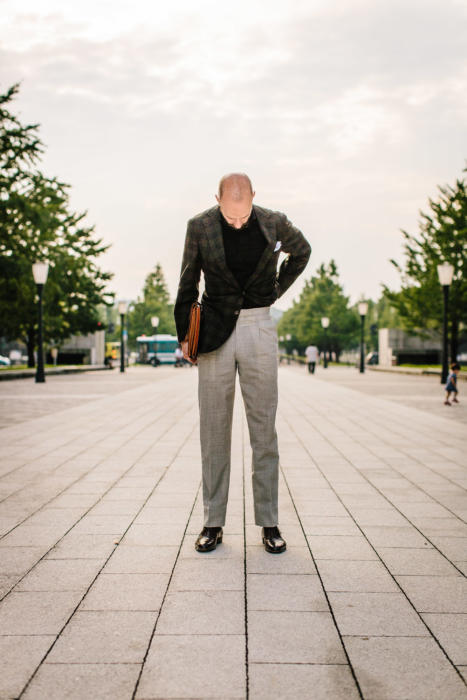 I still clearly remember the afternoon I selected this cloth, from the Caccioppoli jacketings bunch, in the Solito atelier in Naples.
Gennaro was watching over my shoulder; it was a baking day; I was sweating hard.
Having found out that the cloth I wanted - a much more standard blue-and-brown check - was sold out, I opted for the next one in the bunch without thinking it through.
I was convinced the green/black/orange combination would be unwearable, but it turned out to be one of the most useful things I own.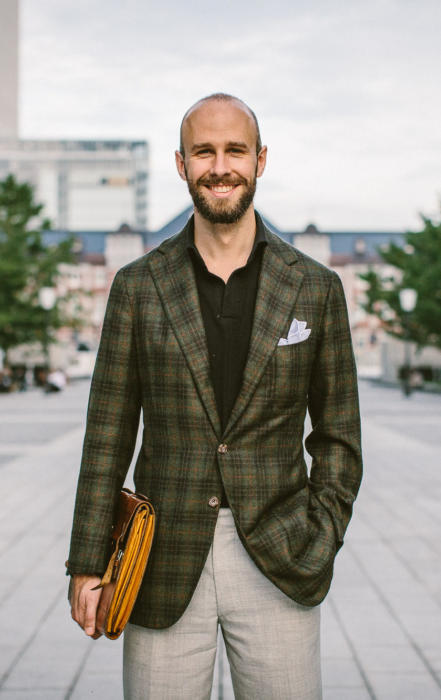 Much of that is down to the subtlety of the check, and general subdued tone of the jacket.
But black as a secondary colour has also proved to be surprisingly useful.
Black is generally a colour we avoid in tailoring, unless for evening wear, given navy is so close yet richer and smarter.
But in an accessory or secondary colour it can be nice. Generally black works best with shades of grey (eg black knitwear with pale-grey flannels), but it is also nice with dark greens. I have a black shawl-collar cotton sweater from Paul Stuart that always pairs best with dark-green linen or flannel trousers.
Green tartans or tweeds can be equally effective.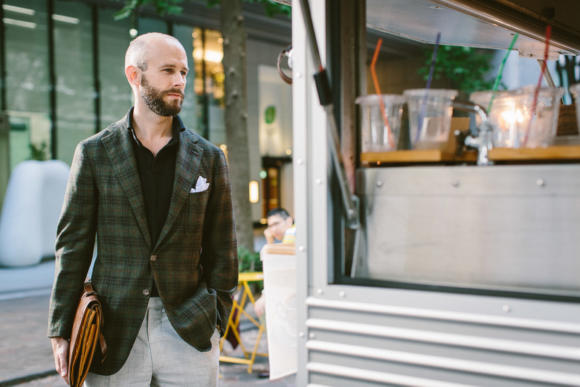 In these images, the black in my jacket is picked up by a black long-sleeved polo shirt.
Again, there are few things I would naturally wear such a colour of polo shirt with, other than greys and greens (and perhaps the right shade of tan).
The polo is from Testoria Korea. I continue to try and wear polo shirts other than the Friday Polos we sell - both for market research and because each has its own idiosyncrasies that can be nice to play with.
This model does use a great pique, but the lack of any buttons on the placket does give it a pleasingly unusual, clean look.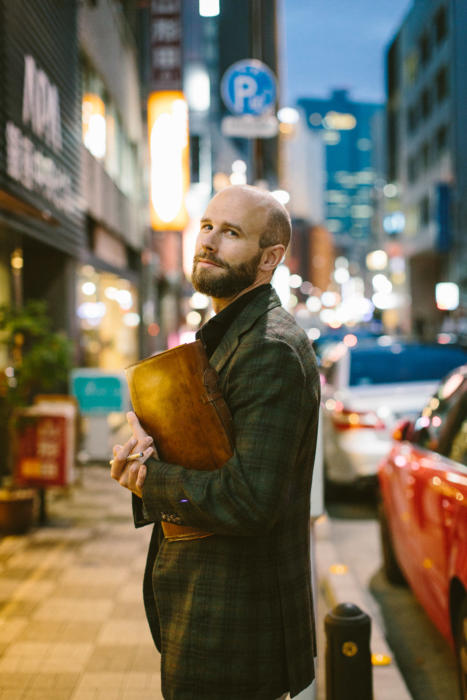 Elsewhere in the images, my grey-linen handkerchief with white border is a nice change from the normal white (and not as formal).
The pale-grey fresco trousers are my pair from Ambrosi (which were reviewed here).
And the vintage folio is from Bentley's Antiques. A beautiful piece, if not always the most practical thing in the world.
Photography: Jamie Ferguson @jkf_man