Jean-Manuel Moreau, Paris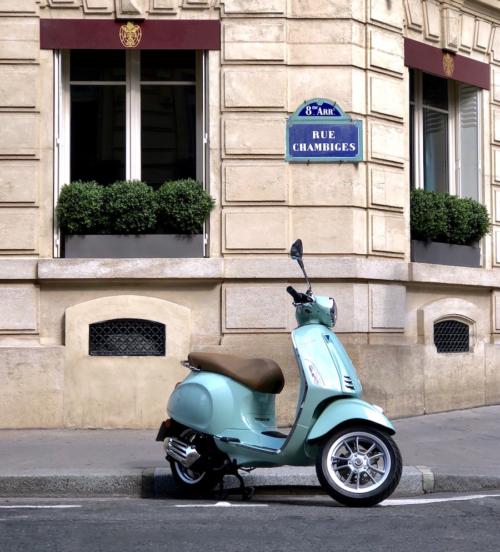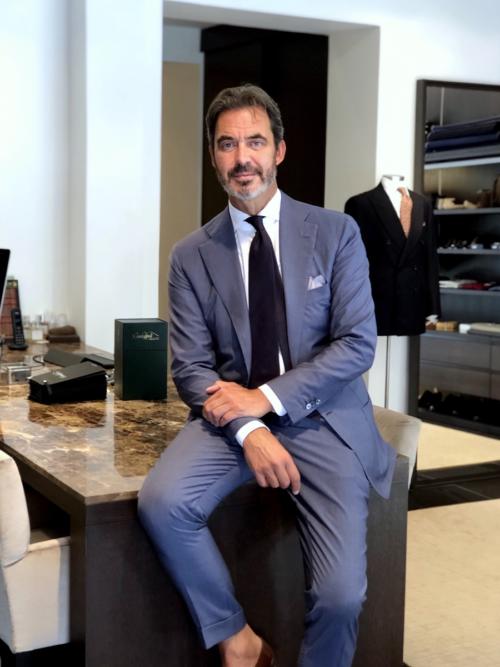 Perhaps the most striking thing about Jean-Manuel Moreau's operation in Paris is how long it's been around.
Most shops we cover track their origins back 10 or 12 years. It's in this period that stores like Trunk, The Armoury, Anderson & Sheppard Haberdashery and many other independents have been founded. As well as countless brands.
Basically, Jean-Manuel pre-dates #menswear.
He started 18 years ago, as a made-to-measure shirt operation out of a small showroom. Two years later he added tailoring, working with Orazio Luciano in Naples, becoming one of the first to offer their product.
JM was prescient there too, anticipating by several years the Neapolitan vogue. "For a while I was the only one offering it in Paris, and it took a lot of explanation," he says. "The shirt shoulder, the pleats in the top of the sleeve – most customers hadn't seen it before."
He has a similarly long relationship with Domenico Mazzarelli in Puglia for shirts.
Today, Jean-Manuel has a bigger operation, in a brand-new shop.
He moved in 2019, to a quiet street around the corner from Avenue Montaigne. It's an open, light-filled space, with the back half sectioned off for appointments.
The larger store also gives him more room to exhibit the casual wear he's increasingly been adding. There are nice long-sleeved polo shirts, sahariana jackets from 100 Hands, and both ready-made and MTM blousons from Sartoria Melina. Plus the Mazzarelli shirt range.
My impression has always been that Parisian men are less likely to dress up, or to spend money on clothing, and Jean-Manuel backs this up. "People still wear suits for fun and special occasions, but for business it's almost obsolete," he says.
"So we offer more and more options for wearing good clothes casually: a sports jacket with chinos, or a polo shirt and safari jacket. There's still a real gap there for quality, because many men don't know how to wear this style, or where to get the best product."
Jean-Manuel has a particularly strong reputation for customer service.
I asked several friends in Paris about their impressions or experience, and the level of care was mentioned time and again.
"He will stop at nothing to make sure the customer is happy, and takes a genuine interest in everyone," commented one. "I've been buying clothing from him for 10 years, and the thing that keeps me coming back most is that confidence that he will make sure I get what I want," said another.
The shop used to do more trunk shows with visiting artisans, but those have been cut back for this reason: it was too hard to guarantee the product.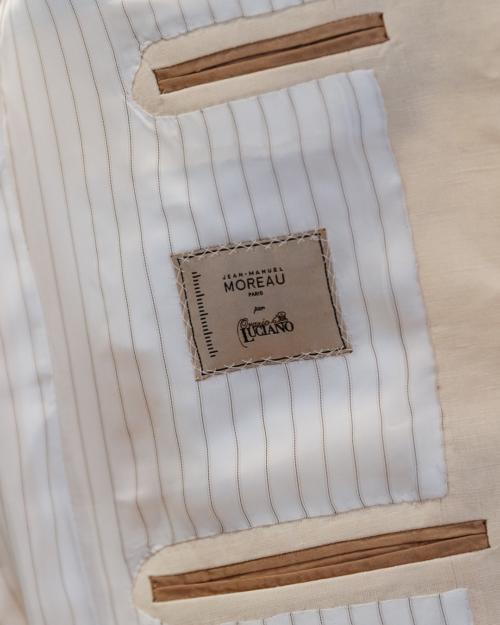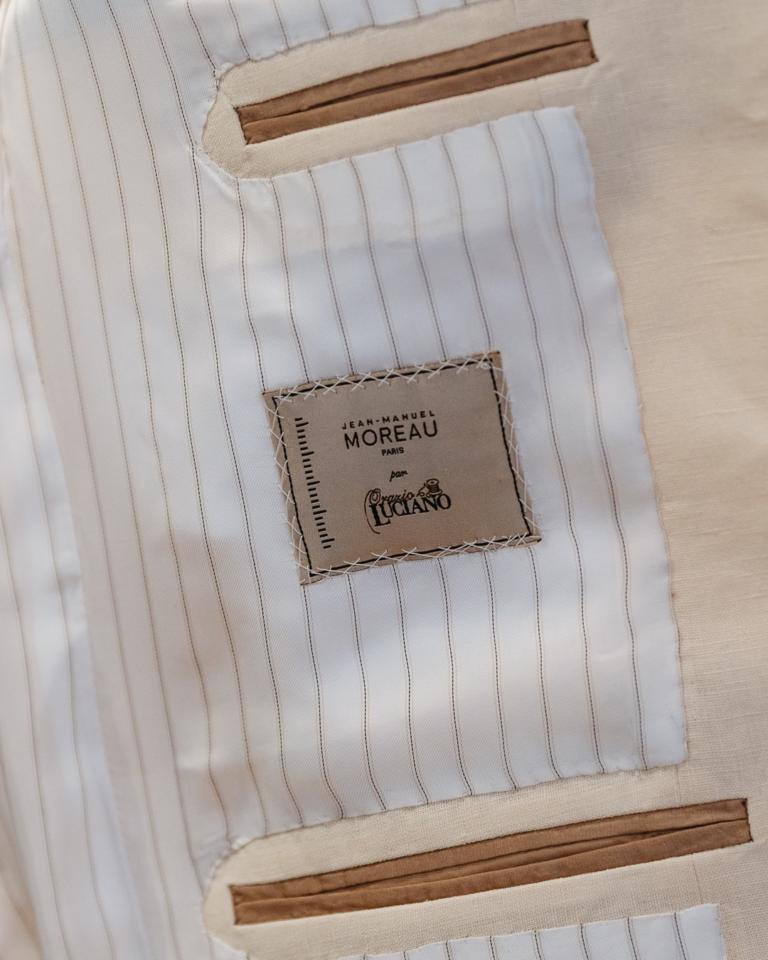 Jean-Manuel also works in his own way with Orazio Luciano.
So although Orazio makes up a completed suit in the same way it would with anyone else, JM uses his own worksop for all alterations. This gives him greater control, as well as speed.
"I want to be very involved in the process, and this is the only way to do it," he says. "It also means I can make small changes very easily, like the sleeve lining or different buttons."
The model Jean-Manuel offers is also slightly different to standard Orazio. It is longer, more roomy in the body, and has a lower gorge. The buttoning point is a little lower, and the quarters rather open. In general, it's more conservative and less Neapolitan.
"That started right at the beginning, when I needed something that was more approachable for the French customer," he says. "We made it cleaner, perhaps more English. And now it is our standard – it's a very specific model that we maintain at the Orazio factory."
Friends in Paris also commented on Jean-Manuel's style, which while very classic, often incorporates strong colour.
He wears quite a lot of royal blue, for example, and sometimes paler shoes. That means some of the accessories in the shop, and colours of shirts or shoes, are a little bright for me – but at the same time, I would also look to him for ideas on how to wear colour effectively.
One French reader commented that this sophistication was something that particularly set Jean-Manuel apart from the many, cheaper MTM houses that have sprung up in Paris in recent years.
I was initially interested in Jean-Manuel because the made-to-measure tailoring was recommended to me.
It is also quite accessible to readers, as he travels frequently to Geneva, regularly to New York (5/6 times a year) and occasionally to London and Brussels (2/3 times a year). He has several large clients in Africa too.
So when I went to the store last year, I commissioned a cream-linen suit, to replace the Kent Haste & Lachter one I had made years ago. Same linen, just a very different style and make.
The pictures here were taken when I picked up the suit (after two fittings) in Paris. Below is Nicholas, who has been working with Jean-Manuel for over 10 years (and actually recently became a partner in the business).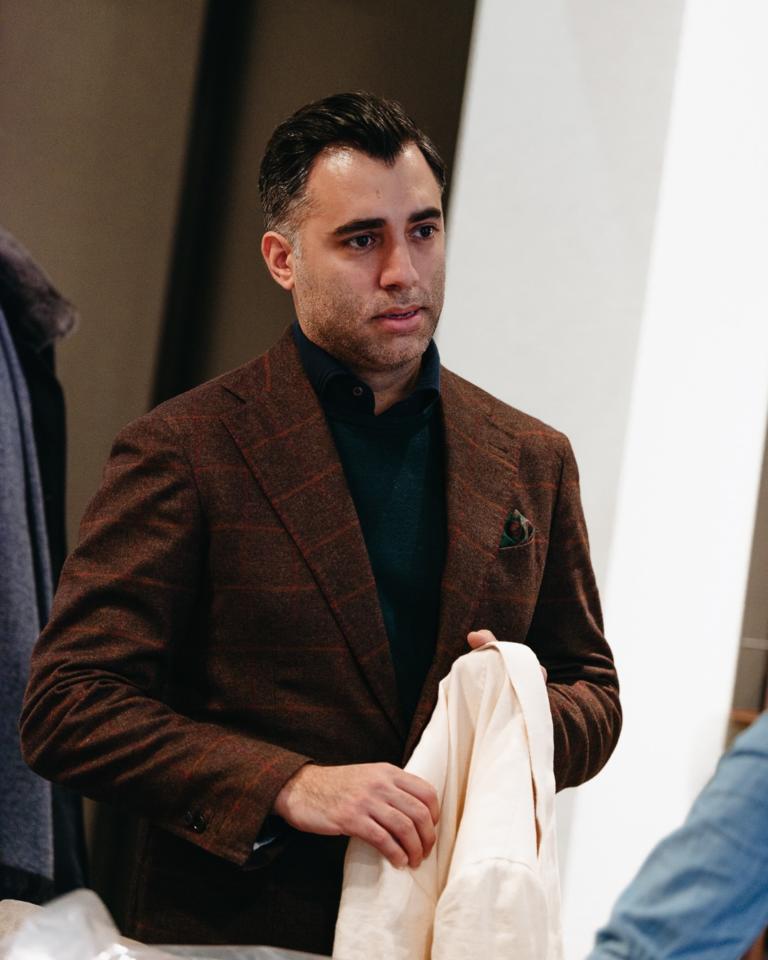 Coverage of the suit will come later, with a focus specifically on reviewing it and comparing to other made-to-measure.
For the moment, I can certainly recommend Jean-Manuel, his shop and whole team to anyone visiting Paris.
I'm also interested to see how his offering develops in the coming years, given the more casual options he's adding. And I'm keen to try the shoes of Gian Luca Bocache from Bocache Salvucci Calzolai in Rome (below).
Bocache makes bespoke shoes, visiting the JMM shop once a month at least, as well as often travelling with him to New York. The bespoke starts at €2000, and JMM also carries some as RTW in the shop, made to the same standard.
Photography: Alex Natt @adnatt, or Jean-Manuel Moreau
Jean-Manuel Moreau's made-to-measure suits start at €2400, and jackets €1800.
Made-to-measure shirts start at €240.
Many thanks to Jean-Manuel and the whole team for their hospitality during my different visits.