Sartoria Pirozzi at E Marinella, and the 'three-way' suit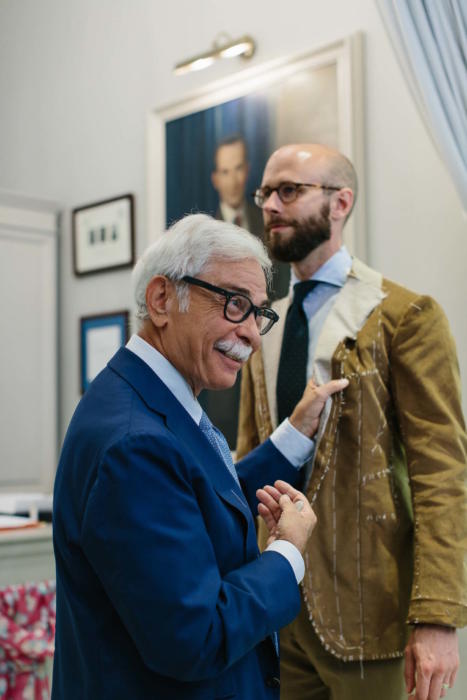 The amount of good soft-tailoring in London seems to increase by the month. And not just because people decide to start travelling: sometimes I just miss them.
Nunzio Pirozzi has been travelling to the E Marinella store on Maddox Street for several years, but it was only recently that I got round to meeting him.
Nunzio's good value too - not something you always expect when a tailor has trunk shows in a retail store (given the store is normally taking a cut). Suits start at £2300, which is what I paid for my corduroy suit being fitted here.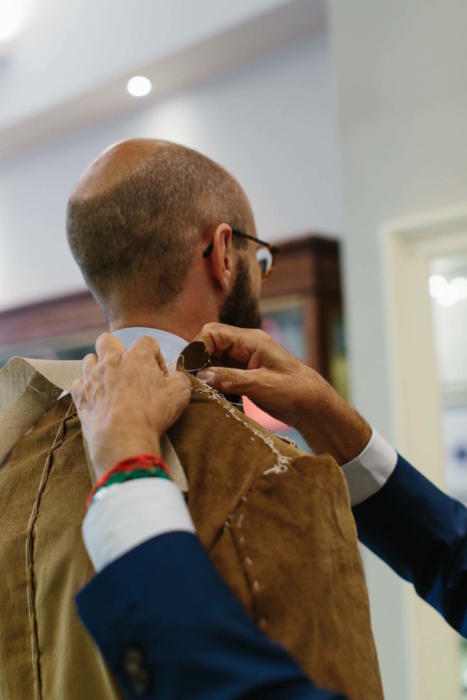 I mentioned a few weeks ago, while discussing the style points of my Anderson & Sheppard corduroy suit, that I liked the cloth so much I'd love one in a single- as well as a double-breasted.
So when Nunzio started a conversation about cotton and suitings, this biscuit-coloured corduroy leapt to mind (it's a cotton/cashmere mix, from Scabal).
I mentioned on the corduroy style post that ideally the suit would have been in a soft, Neapolitan cut, to enable it to be worn more easily with open-necked shirts. This will do that perfectly.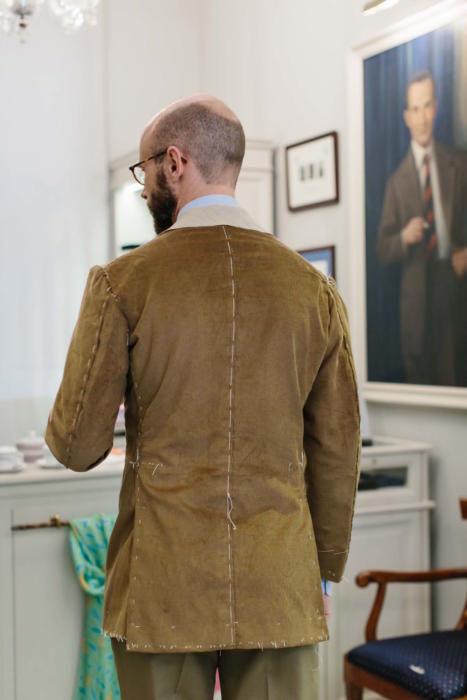 In fact, it's a great demonstration of what could be called the 'three-way suit' - where jacket, trousers and suit can all be worn separately (with the suit combination often being a little showy/dandy).
Readers often seem to be aiming for a three-way suit with their commissions, with the aim of versatility and therefore economy. But it's rarely possible.
A jacketing is usually defined by the openness of the weave or softness of the material, both of which are anathema to a good, straight hanging trouser. Navy hopsack can work, but the trousers aren't always that useful.
The easiest materials for a three-way suit are therefore casual ones like linen, corduroy or other cottons. Less formal colours also have potential, like a pale grey or the royal blue of my A&S flannel suit.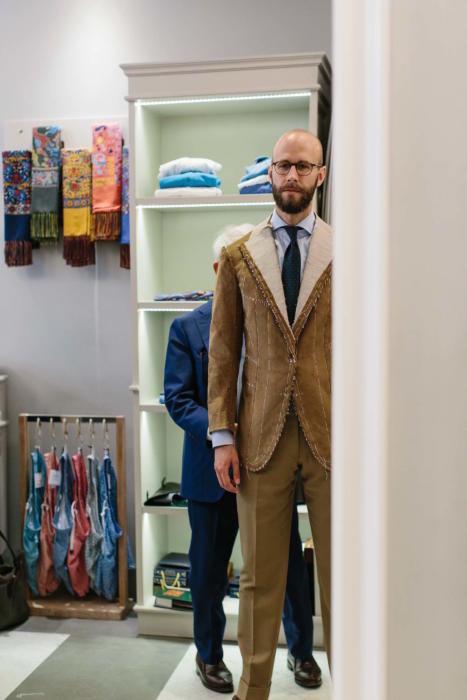 The fitting here with Nunzio was my first, and there were a couple of striking things about it. (Other than the sleeves being oddly short.)
First, the cutaway below the waist button (shown above), was noticeably sharp, even though it had the nice, smooth roundness of a typical Neapolitan jacket.
And the shoulder was a touch more extended than most Neapolitan jackets, which I don't dislike. It will be interesting to see what it looks like at the forward fitting - where you can tell far more about the style. (An old rule of thumb has it that the first fitting is for the tailor, the second fitting for you.)
Nunzio was absolutely lovely to work with, and indeed I know is widely liked in Naples. He also probably has the best moustache in menswear.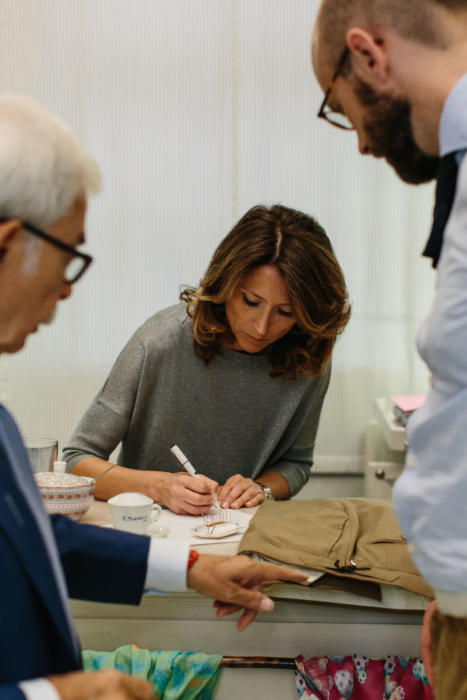 Nunzio founded his tailoring house himself in 1964 and it is not small, with 15 people in-house and various outworkers. His son Domenico cuts alongside Nunzio, and other family members count among the staff, from Domenico's daughter and nephew to Nunzio's brother Felice Pirozzi.
He comes to the Marinella store in London every 6-8 weeks, making him a good, regular option for those looking to try out the Neapolitan style so suited to modern lifestyles.
He tries to always do first customers in two fittings, and repeat customers in one, but it's not always possible.
(If in doubt, my advice is to always permit the extra fitting. Better that than having to send the suit back, or wait another 8 weeks just to get the alterations confirmed.)
Contact for London through the Marinella store at [email protected]
Photography: Jamie Ferguson @jkf_man