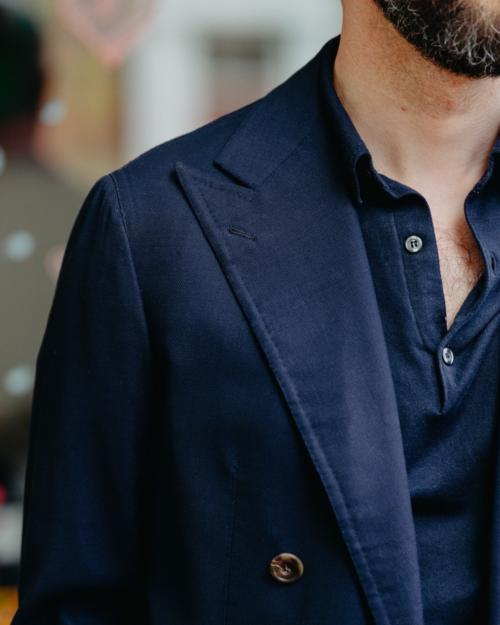 Last week I explained why I find the knit polo shirt to be such a fundamental part of my summer wardrobe.
This week, I'm using that polo and a pair of cream linen trousers as the basis for three different looks – three different ways of doing 'smart casual' in the summer.
There's no suit and tie here, but no T-shirt or shorts either. All three sit somewhere in between.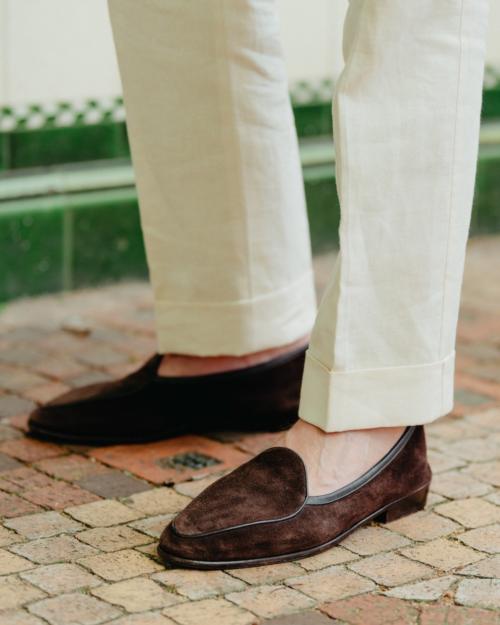 As with the 'which office' article, I've kept the same colour scheme throughout, allowing us to focus on the materials and proportions.
Those colours can be easily changed, and using warmer, less high-contrast ones would make each outfit more casual. As it is, the stark navy-and-white means this is probably the smartest colour option for each.
With each look I keep the polo and linen trousers the same, but swap the outerwear and the shoes.
The shoes and outerwear are broadly similar each time in terms of formality. But that doesn't mean you can't swap them around if you feel it works: I'd happily wear the espadrilles with the blazer, for example, though perhaps not the tennis shoes.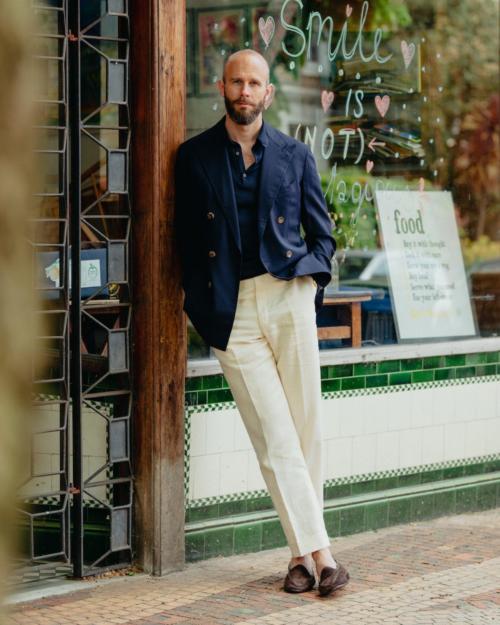 1: Blazer and loafers
Outfit 1, the smartest of the three, combines the polo and trousers with a hopsack blazer and lightweight loafers.
The blazer is my double-breasted from Elia Caliendo, in Naples, and the loafers are the Classic Sagan from Baudoin & Lange.
A normal, Goodyear-welted loafer would also work, but the Sagan is particularly nice in the summer, with its softness and lightness. It's also a little more casual.
The blazer only works because it has a Neapolitan structure and cut – anything heavier would be too smart, and crush the polo collar. Even here, it has a tendency to move around and flip outside of the jacket.
Grey or brown trousers, in linen or in a high-twist wool, would make the outfit less striking, and perhaps more office appropriate.
2: Overshirt and espadrilles
In outfit 2, the blazer is replaced with a linen overshirt, which immediately makes things more casual. There's nothing like removing the line of a tailored shoulder to make everyone relax.
The overshirt is an old one from Drake's, with just two breast pockets and nothing on the hips. Personally it's the style I prefer, but the current-season ones with two hip pockets are made just as well.
The espadrilles are also from Drake's, and are something I've been wearing regularly when the weather's warm. It's not an office shoe, of course, and not great for a long walk. But otherwise, in a dark colour like this, espadrilles are rather versatile.
They can be worn around the house, to the shops, and for work if everyone else is in trainers. They could also happily be worn with either of the other two outfits.
I'll do a separate piece on them, and the models I prefer, at a late date I think. The different brands and models vary a lot in make and last.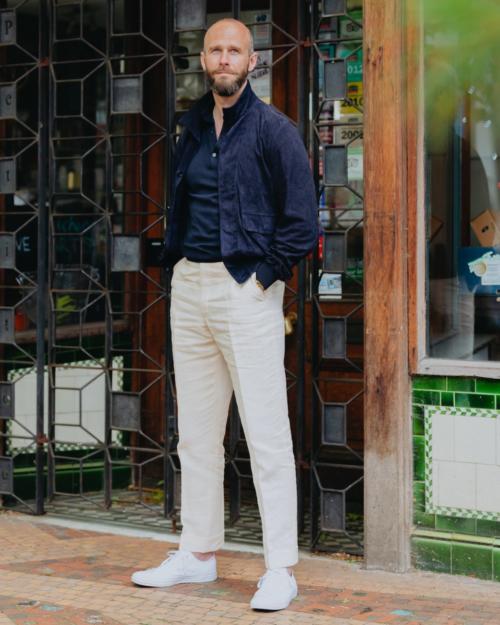 3: Bomber and tennis shoes
The last outfit, number 3, is the most casual.
The outerwear is a suede bomber from Anderson & Sheppard, which is rather warmer than the other two jackets, even though it's unlined. If you're this casual, you might also feel you don't need anything on top.
But a lightweight suede is useful as a place to keep keys and wallet, and nice when the temperature drops in the evening. Plus it's lovely against the skin.
The shoes are plain-white Converse All Stars.
The process that led to buying these shoes also deserves its own piece at some point. I spent so long trying to find a white tennis shoe in a slim last, made well. I tried over a dozen brands, from Spring Court to PRAS, Doek to Margaret Howell.
But only Converse worked. The others were all off-white or too chunky. And these do achieve the Slim-Aarons-chic-poolside-waiter concept I had in my head.
If anyone knows an alternative, made to a higher standard than Converse, please let me know.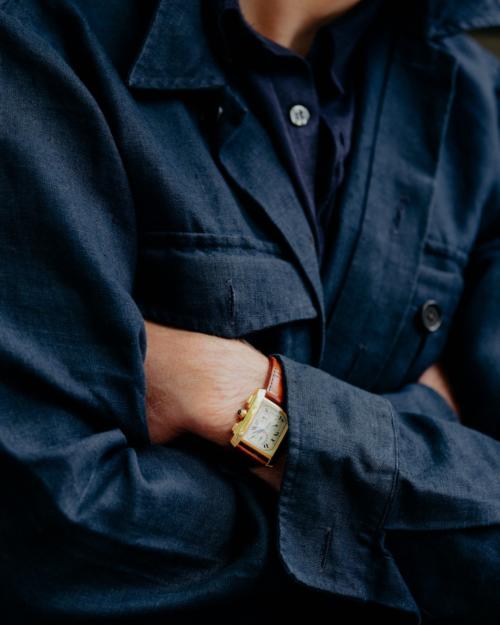 There are many variations on these three looks, and other variables we could have chosen.
A nice pair of white jeans could make everything more casual, and would certainly work with outfits 2 and 3. Chic shorts would also be good.
The polo could be swapped for a light-blue linen or cotton/linen shirt, if you wanted something smarter. And a grey T-shirt would make outfits 2 and 3 more casual, plus make the look less showy.
Perhaps we'll do another set later in the summer, keeping one outfit but just varying the material. That would be similar to the way 'Which sports jacket' played with materials as an alternative to 'Which office'.
Hopefully each exercise makes you think, along a different line, in a different season. That's the certainly the aim.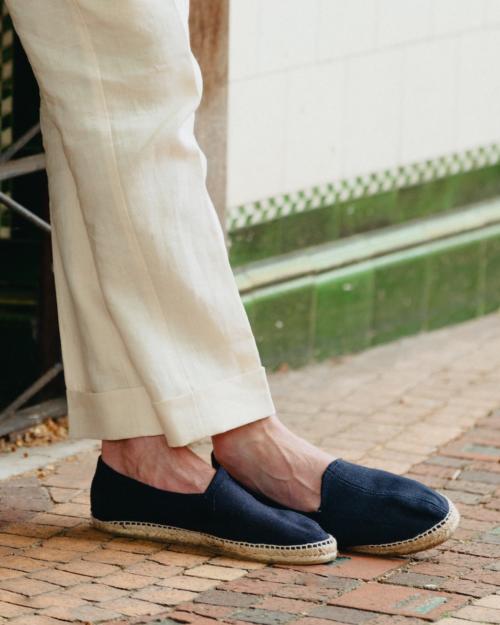 Knit polo is the 'Adrian' from John Smedley.
Cream linen trousers are made-to-measure from Jean-Manuel Moreau.
Photography: Alex Natt @adnatt. Thank you to the wonderful Petitou cafe for the background.