My colours in the Baudoin & Lange 'Ginkgo' loafer
Baudoin & Lange recently launched a new, perhaps more conventional range to their shoes, called the Ginkgo.
Allan asked me if I'd like to pick a colour or two of suede to make up in this style, and offer as part of the collection - as I did with the classic Sagans a few years ago.
I really enjoyed the process last time, adding the Bark Grey to the more B&L classic colours. It was interesting seeking out something that would be useful, yet unexpected.
So I happily agreed with the Ginkgo, and spent a few weeks back in the Spring going back and forth with suedes and deerskins, before sampling a handful.
The two shown here are the ones I went for: similar but subtly different shades of suede, which we're calling Pecan (below, top) and Walnut (below that).
The Ginkgo range is heavy on the neutrals, with creams, caramels and beige, and has classic black and brown as well as a couple of greens.
But most of the loafers I wear are brown, and with Summer shoes, some variation around a mid-brown; though nothing too pale, as they have to be worn with paler trousers or would create a rather strong look with something darker.
So several of my samples were shades of mid-brown, and these are my two favourites.
The walnut is a more classic mid-brown: warm in tone and something readers will be more familiar with from other, welted shoes.
The pecan is a little paler and colder. There's more yellow in the mix, even a slight green cast.
Interestingly, though, of the two styles, I find I'm wearing the pecan most. It's lovely with light colours such as the pale-biscuit linen shown here, but also good with mid-greys and all shades of green.
The walnut is a better partner to navy and other blues, though also sits nicely with grey, with pale colours and with darker greens.
The walnut has also been made up with a darker sole and heel, which suits it more and makes it a bit more classic.
Both are available on the Baudoin & Lange site, in their normal size range.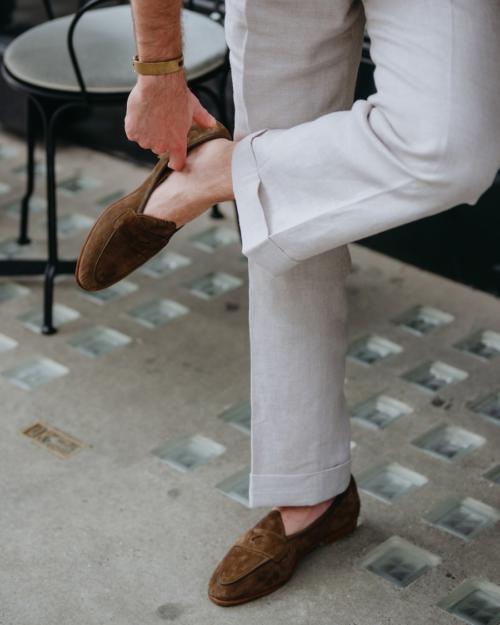 I described the Ginkgo as more conventional than the original Sagan, and I think that's a good way to think about it.
The original Sagan is a very soft, unlined shoe, which is great in the Summer when lightness is a priority. But I know it's also a little too soft, perhaps even a little feminine, for some.
The Ginkgo is more like a normal cemented loafer in this respect. It's lined (though in very thin leather) and uses a calf suede rather than lamb. Those two combine to make it look more substantial, as well as actually being more robust.
I can imagine the style will have a slightly broader appeal than the classic Sagans: more mainstream, less niche.
Interestingly, when you have lined lambskin, that's often when shoes look the most delicate. The kind of super-soft, floppy loafers sold by Italian designer brands like Dolce & Gabbana or Gucci are usually in that combination.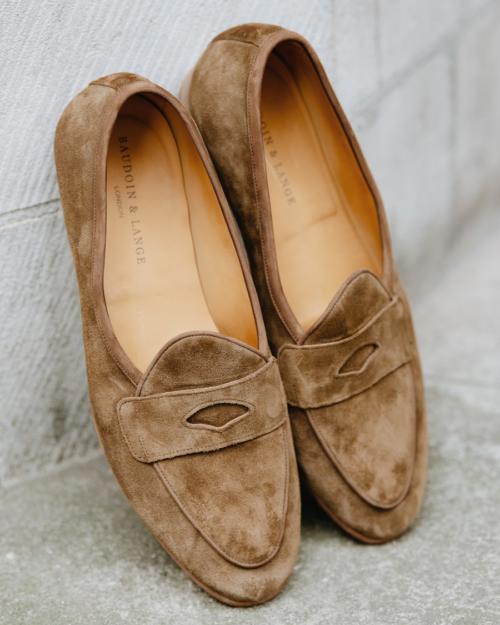 The calf, the lining and the strap all make the Ginkgo more expensive than the original Sagan, which I can imagine will put them out of the reach of some: £390 rather than £325.
But as with the lambskin Sagan, you can't argue with the quality of the materials. The suede on the Ginkgos is particularly nice - a small calf, with a lovely soft nap. (The Italians call this type 'scritto', describing the fact that the nap means you can write in it with your finger.)
And as a reader commented recently, the design of the strap is appealing. It's wide, but softer at the corners than the one on the Sagan Grand, which is sharper and looks smarter.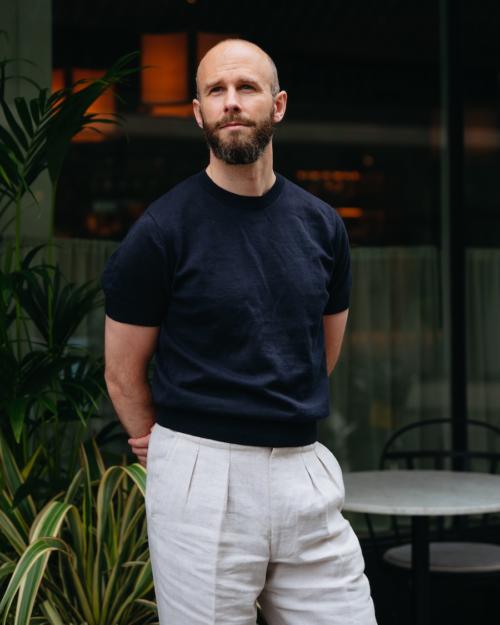 Pictured here with the two Ginkgos is my navy knitted T-shirt from the Anthology, recommended recently in the Summer Top Five.
The design was tweaked slightly to make the body longer, and as a result it's wearable with both mid- and high-rise trousers. That's not necessary with these trousers though, as they're the higher waisted Hollywood tops, from Edward Sexton. More on those here.
Readers following Permanent Style on Instagram will also have noted I recently talked about a similar outfit, in navy and cream, as perhaps an example of casual chic. It's a very simple combination, yet well-fitted, high quality, and not without personality.
Photography: Alex Natt @adnatt